Peru is an incredible country, rich in history and full of incredible people and experiences. Having spent 6 months working here, there are still countless things I missed out on and would love to return to see. I didn't hike Macchu Pichu, I didn't visit Cusco, I spent the briefest 12 hours in Lima and I didn't visit the Amazon rainforest.
However! Despite the long list of things I didn't do, I had the most incredible 6 months and Peru has absolutely stolen my heart. I will be back!
Teaching and volunteering in the small coastal town of Huanchaco, I did not have a huge amount of time out to explore the country. However, I filled every weekend, evening and the occasional day off, with as many incredible experiences as I could squeeze in. So here are my top 10 things to do in Northern Peru!
Hike in Huaraz
Huaraz has to top my list as it absolutely blew me away! The views and hikes we experienced in our 5 days here have been unrivaled in all my other travels. Even if hiking isn't your cup of tea, I would recommend a visit nonetheless. There are many options for guided tours and day trips to historical sights which do not require quite as much walking!
Definitely, the most breathtaking tour was the hike to Laguna 69 – which is a beautiful lake of the most insane blue and can only be accessed by a rather arduous hike. Be warned, this is high altitude stuff so it's hard going even if you fit and relatively used to hiking. We did a few lower altitude hikes beforehand and spent a few days getting used to the altitude in Huaraz before embarking on this hike!
 Sandboard in Conache
This was a rather spontaneous experience for us! Conache is a lagoon not far from the large city of Trujillo which is the capital of the region. They have a wide range of activities you can have a go at including sandboarding, ziplining, and canoeing. We decided to try our hand at sandboarding and it was brilliant fun!
If you are a skateboarder or surfer, then this is a must-do for you. I will admit, that before venturing to Peru, I was very much neither but I still very much enjoyed the experience. The basic idea, is to 'surf' down the sand dunes on a board, not unlike snowboarding but rather warmer! It took a few tries to get the balance sussed out, but once we managed, it was really great fun! (Although the climb back up the dunes was a little tiring!)
If sporty activities aren't your thing, Conache still has a wealth to offer with beautiful views, lakeside walks, a bustling cafe, and a troop of friendly alpacas to cuddle up to!
 Experience Inca history in Cajamarca
Cajamarca is another town in the mountains, about a day's bus ride from Trujillo. We took the overnight bus and arrived in the early hours of the morning, but were still able to check into a (very bizarre) hostel right on the Plaza de Armas (main square). The town itself is a beautiful throwback to Peru's colonial era, with Iberian-style buildings in beautiful shades of yellow and orange. Some of the buildings make you feel as if you're in the Mediterranean countryside and not the mountains of Northern Peru.
From Cajamarca, there is a multitude of beautiful cultural tours you can embark on. In the town itself, you can climb up to the Inca Seat for an incredible view over the city – we would highly recommend a trip up to watch the sun go down! Just a short bus ride from the city there are various historical sites and ruins you can visit.
We would highly recommend a visit to the Inca Baths, where you can rent your own private bath and chill in the steamy waters of the mountains. If you don't fancy diving in, there is a museum and outdoor ruin to explore on the site, as well as a beautiful artisanal market full of the perfect Peruvian souvenirs!
 Surf on the longest left-hand wave in the world at Chicama
If there's one thing this part of Peru is famous for – it's surfing! The town we stayed in – Huanchaco – is home to many international surfing athletes and has an incredible surfing scene; with surf shops and schools lining the seafront and the sea constantly dotted with cruising figures. Whilst in Huanchaco, I went from an absolute surfing novice to … well, slightly less of a surfing novice. I can stand up on the board and ride a wave to shore now, that's good enough for me!
But if surfing really is your thing, Chicama is the place to be. Personally, I didn't surf at Chicama as I found the waves a little intimidating, but I did visit to watch a surfing competition in action and it was a sight to behold!
Most importantly, surfing aside, it is one of many stunning beaches which are dotted along the coast of this part of the country.
 Party on the beach in Mancora
I loved Mancora so much, I went back 3 times during my 6-month stay. It really is a party like no other. Not only is it a little paradise, with white sandy beaches and almost eternal sunshine, it is also the party capital of Northern Peru. Again, about a day's bus journey from Trujillo, Mancora lies just before the border into Ecuador – so a convenient location to start or end your Peruvian adventure if you're planning a trip through multiple countries.
We stayed at Loki hostel, which is the parties of parties if that's what you are after. Not only was the hostel directly on the beachfront, meaning you had instant access to the beach during the day including a range of water activities from surfing, to canoeing, to windsurfing, to jet skis, but it also had a party every night. Each night was themed and the party carried on until the early hours. If that's still not enough for you, just a short walk will take you to a row of bars and nightclubs that are quite literally ON THE BEACH – like, I actually got wet feet on the dancefloor at one point!
I know this won't be everyone's scene but there are other delights to be had in and around Mancora. There are beautiful day and night markets, you can climb up to the lighthouse overlooking the town for beautiful sunset views, or take a short 'moto' ride down the coast and swim with sea turtles at El Nuro!
 Experience Moche history at Chan Chan
Chan Chan is an ancient city in the desert, about a 15-minute taxi ride from Trujillo. There are various ruins you can visit and there are varying ticket prices depending on which ones you would like to see. There is the town of Chan Chan, which takes a couple of hours to explore. Then there are the Huacas de La Luna y del sol – two temples with some incredibly preserved indigenous artwork.
I would recommend getting a tour guide for these areas as there is so much to be learnt about the history of the ruins from pictures and carvings that would be difficult to pick up without a knowledgeable local.
 Eat Ceviche in Huanchaco
Huanchaco, the town where I spent most of my trip, is not only famous for surfing. Fishing is a big part of the livelihood here and, if you wake up early enough, you can watch the local fisherman head out on their 'Caballito de Totoras' (fishing boats made of reeds). A Huanchaco breakfast consists of a whole fried fish accompanied by coffee, bread, and jam. Almost every restaurant in Huanchaco is seafood oriented and that's because the freshness of the fish makes for the perfect delicacy.
There are many different seafood dishes to try in Huanchaco; 'arroz de mariscos' is mixed seafood and rice dish not dissimilar to a Spanish 'paella', 'chicharrones de pescado' is a dish of fried pieces of fish accompanied with yam or 'yuca' as it is known in Peru, or you can go for the traditional Huanchaco breakfast. However, you simply cannot leave Huanchaco without trying 'Ceviche'. Ceviche is an incredible dish consisting of raw fish, pickled in lemon juice and spices – doesn't sound all too appealing right? Get ready to be proven wrong! I was skeptical at first but had been told it was a must-try, and I have to say, I was absolutely blown away! It was delicious and I would encourage anyone traveling to Peru to give it a go!
Be aware that often it will be quite spicy, so if spice isn't for you make sure to ask for a plainer version.
 Go Cactus hunting in Cerro Campana
Most of Northern Peru is made up of coastal desert, and what do you find in a desert – Cacti of course! The Cerro Campana is an area of desert situated close to the town of Huanchaco. We were lucky enough to travel there with a local guide who had an in-depth knowledge of the local flora and fauna.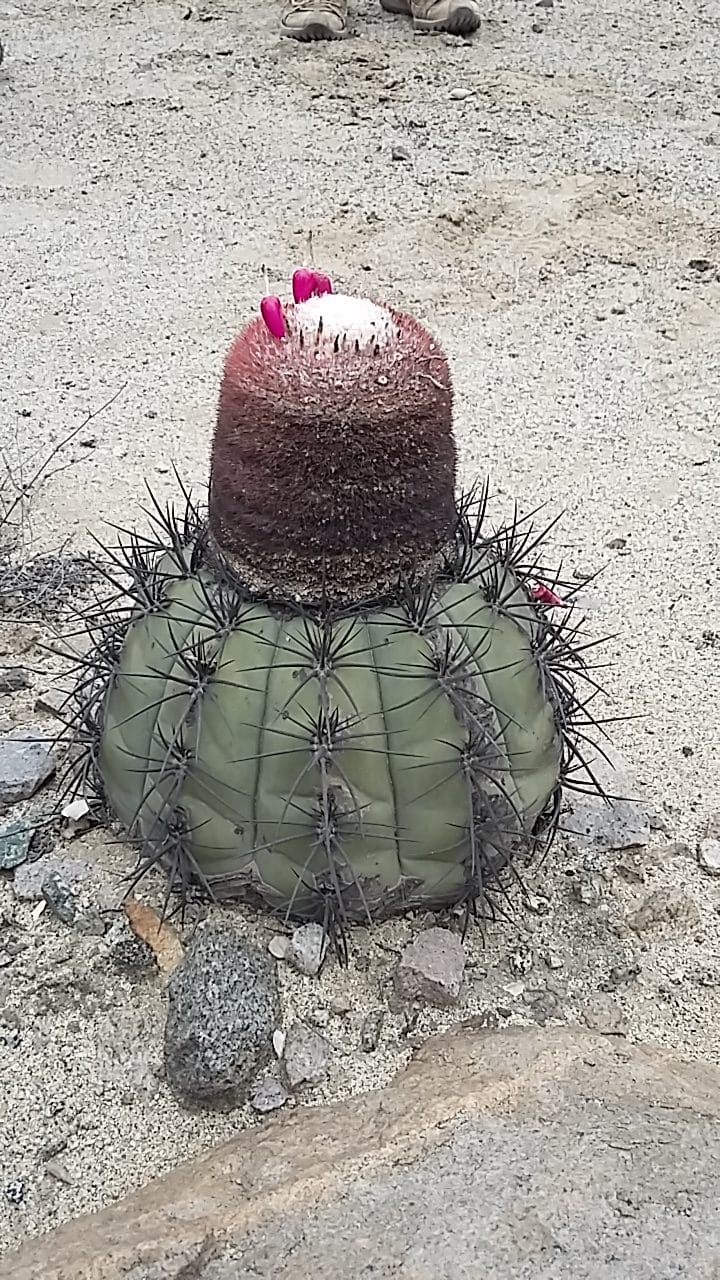 We saw everything from cacti as tall as a house to tiny cacti with sweet edible flowers. This isn't necessarily an experience that all travelers seek out but it was a great way to spend a day if you like getting outdoors on a trek!
Be warned, this is a desert, so be well prepared with filling snacks and plenty of water and sun cream before you go!
 Swim with turtles in El Nuro
I mentioned this briefly when talking about Mancora, but I felt it needed a shout-out of its own! This was a real bucket list item for me and it really didn't disappoint.
When in Mancora, take a 'moto' ride a few miles down the coast to the visitor center at El Nuro. Here you can buy a ticket to head onto the pier. From the pier, you will be given a life jacket and can enter the water alongside the pier. Unless you are incredibly unlucky, before long, you will encounter the beautiful sea turtles which frequent the area surrounding you. At first, this can be somewhat nerve-wracking, as they are large creatures but as long as you follow the rules and be respectful, you can enjoy bobbing around in their company without any fear. I would recommend picking up a snorkel to take along so you can immerse yourself even more.
Another top tip, if you want somewhere a little less crowded, ask a local 'moto' driver to take you a little further up the coast where you will find another pier where you can swim which is cheaper to enter and much less crowded. I was lucky enough to travel to Mancora with a group of locals from Huanchaco who suggested this!
 Immerse yourself in the local culture!
Last but not least, get to know the people. I know this isn't always easy, especially if you are not somewhere for long. However, the people I encountered in Peru were without a doubt the most welcoming, community-focused, friendly, and warm people I have ever come across. It was after only a few days that I would be greeted by familiar faces on my morning stroll to work and, after only a couple of weeks, I felt part of their community.
Get stuck in and chat to people, get to know your surf instructor, go to local bars and restaurants, go to salsa nights, join in with bonfires on the beach, respond when people say hello, and make a real effort to learn a little of the language. A little goes a long way and the locals will want you to get involved.
I also stayed in a homestay whilst in Peru and if you can do this I would highly recommend it. This really helped me to get involved with the community in a big way and I met lots of people this way who are still my friends to this day!
So that's that, a really brief whistle-stop tour of my favorite things to do in Northern Peru. Peru absolutely stole my heart and I have promised myself I will get back there one day. Meanwhile, if you are planning a trip to Peru and have any questions or would like some help, please let me know in the comments below or email us at [email protected]