4 Things to do in Ningbo, Zhejiang Province
Ningbo, China. It's not as well known as Shanghai or Hangzhou but it certainly has its adventures. I've lived in Ningbo since January 2019 and I've been lucky enough to explore as many parts of it as possible, especially with COVID restricting travel out of China.
This list isn't extensive but it does give a brief outline of things I've enjoyed in and around Ningbo City while experiencing COVID travel restrictions!
 Xikou/ Xuedoushan – Golden Buddha

Looking out to Buddha
A trip to Xikou has to be one of my favourite trips in Ningbo. Each time I've visited, I've taken a private car with friends that is 600RMB for the day BUT there is a cheaper alternative. From Ningbo South Bus Station, there is a direct bus (Number 988) to the area which takes around 1 hour. Much cheaper at around 7RMB!
The first time I visited the weather was damp and misty, the second time dry and warmer but not too warm. The warmer weather made for better views as everything was viewable from afar while the damp weather gave a mysterious atmosphere and some cool misted photos (although I never actually saw the Buddha on that trip).
First visit in the mist
Tickets cost 150RMB (around £15) for the whole Scenic Area and Buddha entrance. Once in the Scenic Area, you can purchase the train and cable car ticket which is 50RMB (£5) for both, this saves having to walk back up all the areas you've just come down. Another additional purchase is in the Golden Buddha area, here you can pay 20RMB to go higher up to Buddha's feet. Worth it if you want to take panoramic views of the whole area.
View from up top
 Dongqian Lake (Dongqianhu)
Dongqian Lake is probably one of the most well known places in Ningbo. The Lake is huge with a series of places around it. Even to this day, there are parts of the Lake area that I haven't been to yet. To reach the more well known area with Xiaoputuo you can take 2 buses from Ningbo Railway Station, Bus 916 (this will take you to the general Dongqianhu area) then Bus 917 will take you to the entrance for the Scenic Area. Both buses cost 2RMB each.
Xiaoputuo Scenic Area is worth checking out, its a nice picnic area as well as calm and usually peaceful. To enter this area currently it's free and you could spend the day. Inside there's a Lawson store, a Temple and snack stalls.

Xiaoputuo Area
Just outside the Scenic Area, you can walk through the villages which represent older Ningbo life. These offer a stark contrast to the modern and high-rise style of Ningbo City. Many people live here still and you can catch them going about their everyday life. Further round the Lake you will find Taogongdao Tourism Area, for 30RMB you can walk through here which is similar to an old fishing village. It actually comes out at the start of one of Dongqianhu's older villages and follows round to Xiaoputuo.
 Cicheng Ancient Town
Cihu Park entrance in Cicheng
Cicheng isn't a famous Ancient Town like others, but it does showcase some amazing 'Ancient' aspects. From Ningbo's Laowaitan to Cicheng Ancient Town take the direct 331 bus for 2RMB (20p).
Cicheng is home to current construction, where buildings are being restored to their original ancient looks and developed to match the desired aesthetic of the area.
Once you arrive in Cicheng, which is only 20 minutes by DiDi (Uber in China) from Jiangbei District in Ningbo, you can walk around freely without any cost and choose what you wish to see. First you will see the regular streets with lots of small chain shops and food options, to enter the Ancient Town you just need to head down one of the side streets to the right.
My second visit here took me down a different street which was home to the Confucian Temple. According to the stone slab outside this temple, it has been named an UNESCO Heritage Site (although not findable via UNESCO). The temple is 20RMB to enter and hours can be spent inside this area reading about Confucian eras and looking at preserved relics from the opening of this temple.
Another part which is fun to see is the actual streets of the Ancient Town. You can see how they have modernised an ancient town to suit visitors while keeping the history alive. Many local/independant shops or businesses line the main streets and guards stand to check behaviour. The photo opportunities in this area are great because every street is completely different.
Old photos line the buildings along certain streets in the town.
 Qiantong Ancient Town
Qiantong is somewhere I have wanted to visit for a long time. This is just outside of Ningbo City in Ninghai County, technically still Ningbo. I had the chance to visit here during Golden Week 2020 (Mid-Autumn Festival, falling in October). This also meant that the Ancient Town was really busy at the time. We took the train from Ningbo – Ninghai and then DiDi to the Ancient Town (costing around 45RMB for the DiDi ride).
The ticket office is at the top of a street just opposite the Ancient Town entrance and has shuttle buses between the office and the old town running regularly, this costs 5RMB(50p) one way or 10RMB(£1) both ways. We actually walked up the road, it only took around 5 minutes, to the ticket office then took the bus back down to the entrance. The ticket to the Village costs 60RMB (£6).
The town just continues running, as if no one has to pay to enter. The locals will just wash their clothes in the stream running down the main entrance path as if they don't realise you're around. The shops are happy to greet anyone and many unusual purchases can be made in the Ancient Town.
Noodles line the street through Qiantong
After the village area it could be worth checking out the Hill. Across the street from the Entranceway is a series of steps. These steps look like nothing, but in reality, they lead up a hill to an old memorial pagoda. The steps stop around halfway and the rest of the climb is a free climb over grass and overgrown grassed areas. The view from above is definitely worth it. Plus this part is free so can be seen without having to pay for the village.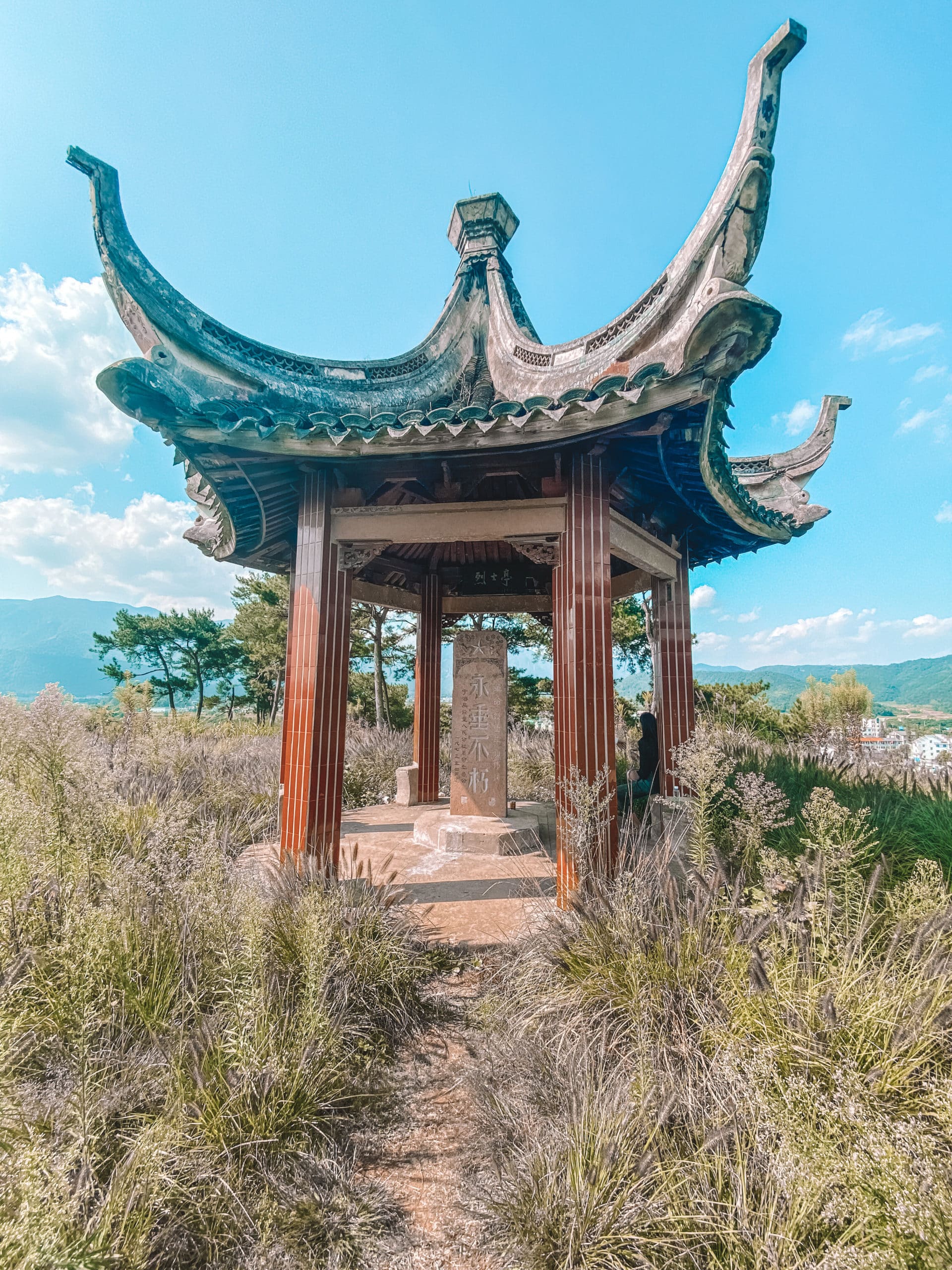 Ningbo is a great city with so many sights to see. Find further links to my blog posts detailing more about these places and comment below if you have any places you think I should write about.
HAPPY EXPLORING!