Munich is the third-largest city in Germany which located in the state of Bavaria. It is also known for the Oktoberfest celebration and its beer halls. I traveled to Munich after Oktoberfest but still, there were a lot of people everywhere 😅. Truly beer traffic in town! I cannot imagine how it could be during the festival 😂.
Marienplatz
Marienplatz appears to be a historic and popular tourist square. There are a lot of historical monuments, museums, churches, and events located around here.
Although there were too many smart obstacles to take a selfie and it was so much happening, the crowds itself frame a stunning picture and it did not stop us from continuously exploring every corner of this town. Basically, you can just explore everywhere on foot.
Neues Rathaus
Within this beautiful and open city, stands a huge Gothic-style building. Neues Rathaus is home to the Glockenspiel.
Before I visited the Glockenspiel, I had already watched many recordings online. However, to witness this in real, it was like another dream came true.
Munich's old century Glockenspiel has caught my heart 😍😍😍
Glockenspiel performs every day at 11 am and 12 pm. Also, at 5 pm in March to October. I am not sure if there is a special performance at 9 pm (lullaby) as it stated online.
I found The Battle Scenes and Dances of Joy an interesting read and I bet you will love it too 😉.
Frauenkirche
Frauenkirche is also known as "Cathedral of Our Dear Lady". It is also the most famous landmark in Munich.
The significant twin towers of the Frauenkirche is easy to spot because of its "onion" domes 😂😂😂.
You just can't simply miss it if you are hanging around in the town. Probably it might be the "devil's" call too 😂
The exterior of the building is very simple yet gothic. Once you step into the church, you will find incredible statues around every corner. A lot of them had been destroyed during World War II but some had been successfully restored.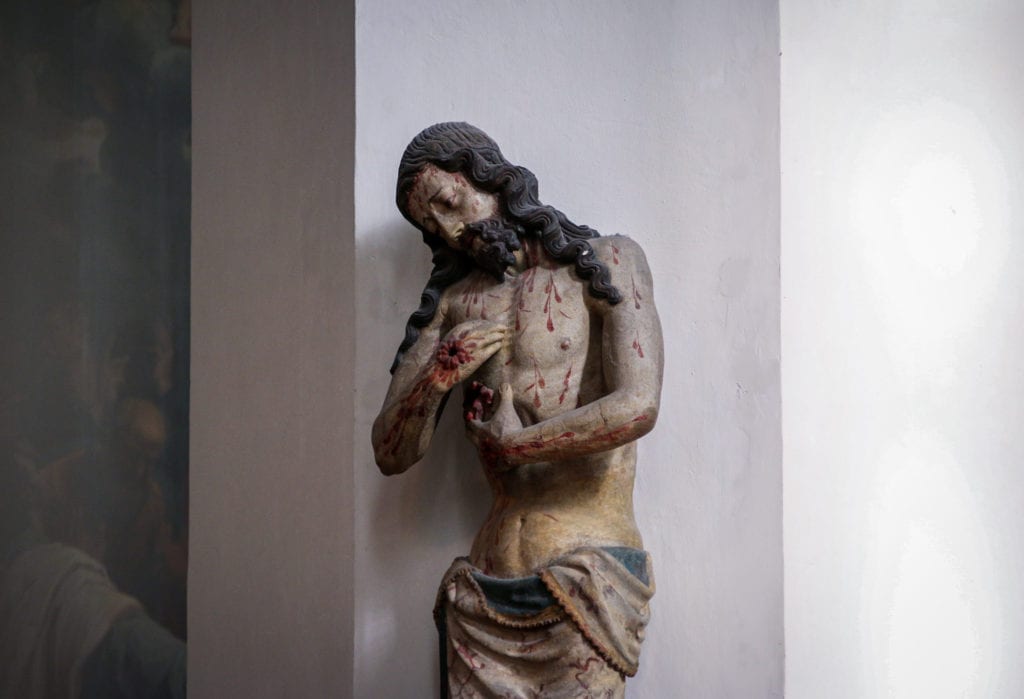 Apart from history, there was this dark tale of the devil's footprint had been taken over for years and became the reason why you must visit.
Myths about the devil's footprint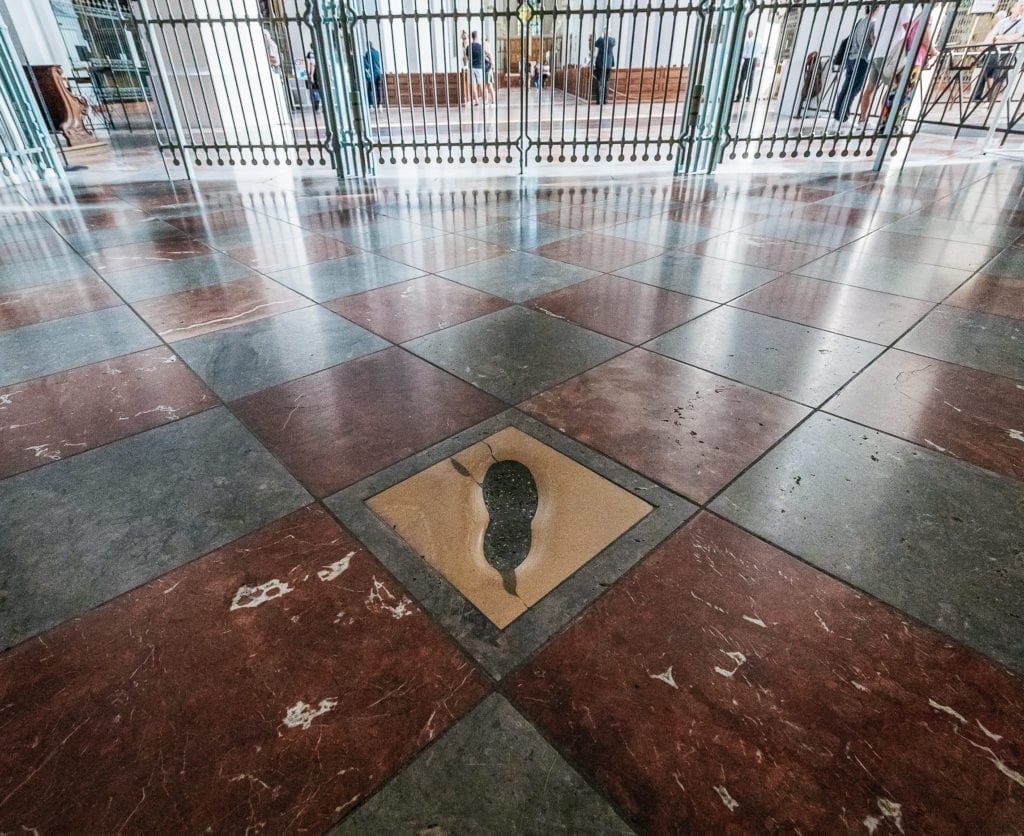 Back when the church was almost done building up, the devil was very furious to find out this new church. He noticed it wasn't a single window that had been built at the entrance hall. He laughed as he thought it was stupid. He landed on the ground and left his footprint behind. When he took another step forwards, he noticed that there were windows. They were just covered by massive pillars and the former Gothic high altar.
Until today, people believed that the devil had transformed himself into a powerful storm to tear down the church. Eventually, he failed.
I found the devil's footprint very unique and appealing.
A large statue of Jesus is displayed at the altar amongst stunning stained glass windows. This is definitely one of the most beautiful church I had visited in Munich with stunning exterior and clean interior. I did not have high expectation at first but I am totally impressed after all.
Rooftop view
The rooftop can be accessed. You can climb on top of the south tower of Frauenkirche to enjoy a wide view across the rooftop of Munich and the Alps.
However, we did not choose to climb up here. We chose to climb up to St. Peter's Church instead.
*** EXPECT LONG WAITING LINE ***
Viktualienmarkt
Viktualienmarkt is located in the old town and it used to be a farmers' market where fresh fruits, vegetables, cheeses, hams, jams, truffles, spices, honey, wine, sausages can be found. Today, it has also become home for all travelers and food hunters. It is one of central Europe's finest gourmet markets.
During our visit to Germany, we came back to this market quite frequently because it is really convenient and you just can't simply pass by it without leaving your footprint behind 😂
I bought some souvenirs and after a long day exploring in the crowd, we decided to take a juicy break instead of squeezing into the beer traffic 😎.
In addition, if you want to see a traditional Maibaum, you can simply stroll over to Viktualienmarkt and you will find a few of them.
Auer Dult
Auer Dult is a traditional market held three times a year on the Mariahlifplatz in the Munich district called Au. Each event lasts around 9 days.
Estimate period of time for its opening every year:
Maidult (end of April – the beginning of May)

Jakobidult (end of July – the beginning of August)

Kirchweihdult (mid-end of October)
*** Dates and time may be slightly different every year *** 
It took us 20mins to walk from Marienplatz to district Au and it was a bit hidden. I almost gave up as I couldn't find it on the map. I thought I must have missed the date. Since we were there, we decided to explore a little within this district.
We were lucky we did! Because right after a few mins walk, we accidentally discovered an area which was lit by fancy lights and surrounded by music and people. We were not sure at first whether it was the right place. And yes! We were here 😍😍😍
There were many open-air vintage stores with a rich selection of stuff that was very eye-catching and it just made my heart beat faster.
Imagine from a variety of snacks to toys and kitchenware, many authentic traditional garments can be found here. Everyone was busily hunting for their treasures, and so did my treasures hunt start here 😆😆😆
There was also fairground with lots of rides to enjoy, such as children horseback riding, puppet shows, mini Ferris wheel, spin swing, bumper cars, shooting galleries – Awww! This is just cute and heavenly! 😍
Without any doubt, this is a perfect place for every generation. It made me felt like I was actually traveling back in the old days. I believe this place creates wonderful memories for everyone and it will surely not be forgotten.
The Journey has just begun… 
The contrasts of blending the old and new architectures and cultures have eventually created a wonderful city of myths.
There are so much more to see and do in Munich, this is just the beginning of our journey 😉
---
Home Sweet Home
⭐⭐⭐⭐⭐
We planned our stay with DD Suites Serviced Apartment
It was quite a decent and comfortable stay. The room is very clean and room service will be provided. The staffs are very helpful and so do the neighbors. It is very secured as a password is required at the main entrance. Quiet neighborhood and easy to access. Mini markets and cafes are just downstair.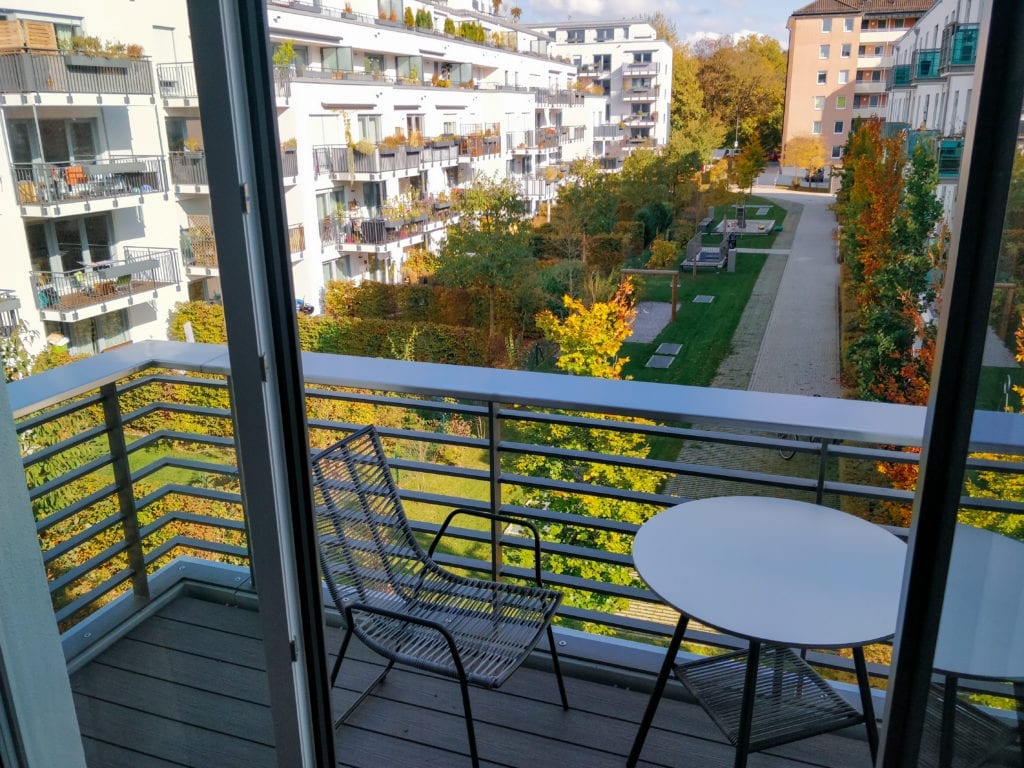 The bed is very comfortable and right next to it is a balcony that offers a great view of the neighborhood. The kitchen is very well equipped. They have laundry service with charges apply too.
It will only take about 4 minutes to walk to the train station (Mittersendling) and 20 minutes ride to Marienplatz.
I definitely recommend this place as it is a wonderful stay!
---
– Germany, Oct 2019 –