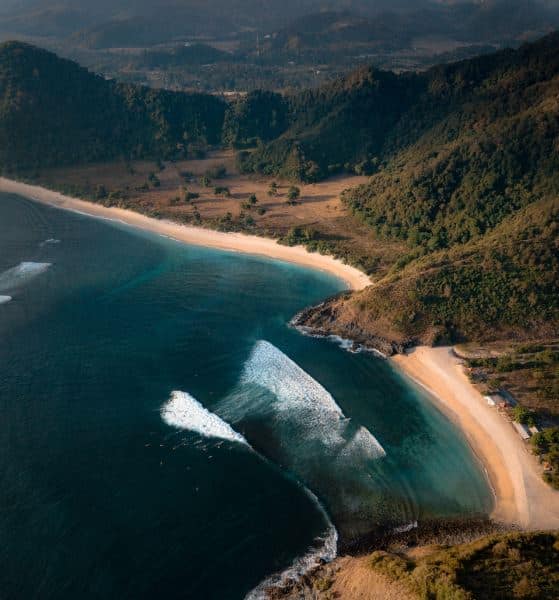 Lombok was the first stop of my honeymoon and I couldn't be happier with it!
Lombok is one of the many islands from the Indonesian archipelago and it's located very close to Bali. So if you're planning vacations in Bali, I would suggest taking some extra days to visit Lombok.
Below I will explain to you how to get to Lombok and the places you can't miss!
You can reach Lombok by plane, although you might have to do some layovers, as not all international flights go to Lombok, or you can go by boat.
Going by boat is a great option as it will be cheaper and there are several stops. So if you're planning to visit several islands, the boats that travel between Lombok and Bali also stop in the Nusa Islands (Penida and Lembongan) and the Gili islands (Meno, Air and Trawangan).
We chose the boats as we had no flights within the schedule we wanted and there are two boat options! A typical fast boat and a bigger boat, I'll explain the differences below:
Fast boats: these boats will take you to your destination faster (between Bali and Lombok we took around 3 hours) and are normally cheaper. However, these boats also have less organization and structures: they will start and stop at the beach as they don't stop in harbours so it might be tricky for a person with mobility issues or a lot of bags to get on and get off the boat. The company we used was Fast Scoot Cruises.
Big fast boats: there's a company named Ekajaya that provides fast boats, but they are bigger and more structured. They stop in proper harbours, there's more assistance from the staff and the boat itself is more comfortable with several floors and a lot of places to seat. The only thing you have to take into account if you wish to take the boat is seasickness! Although the boat is bigger and that normally means less balance, here the opposite happens. As these boats go fast and they go to deeper waters than the smaller boats you will feel more turbulence.
Choose the option you're more comfortable with and see which boat can take you closer to your hotel as the islands have several stops. Once you book the boat try to book as well a transfer from the boat stop to your hotel. It will be cheaper and you don't have to look for transports once you arrive.
NOW, LET'S DIVE INTO THE MOST IMPORTANT: WHAT TO DO!
While I enjoyed most of my time in Lombok to relax and do snorkelling, there's much more you can do:
Save some days to climb to Mount Rinjani
Mount Rinjani is a massive volcano on Lombok island and it's the second-highest mountain in Indonesia, with 3,726 meters (12224 ft / 2 miles 554 yd)!
You can climb it all the way to the top or just do part of the hiking! A lot of people go just to see the famous Seganara Anak Lake, which has a new volcano on its waters!
If you can, do the three days trekking route in a group so you can have the full experience. This is considered one of the best trekkings in South East Asia!
I advise you to check the official website so you can see all the places and all the different types of tours. There are private tours and group tours where you sleep in tents or hotels. For any of them, you need a good physical shape because this is not easy trekking!
We couldn't do it because I had a leg injury, but I want to go back to do it!
Explore the Pink Beaches
One of the most instagramable beaches must be the pink beaches of Indonesia! Although the most famous one is in the Komodo island, in the area of Kuta in Lombok there's also one and it's really beautiful! You can access it by car or by boat! We used a boat as we went on a snorkelling tour that took us there!
If you're also looking for some white sand beaches to relax, the area of Kuta is also for you!
Explore the Gili Islands and go for a snorkelling
Gili means small island or a small piece of land and there are so many Gilis around Lombok! The most famous ones are the Gili Meno, Air and Lombok and they're great to spend some days (you can read my blog post about them here – https://travellingtothegreen.net/gili-islands-when-to-visit-for-how-long-what-to-do/), but Lombok has amazing small Gilis that are perfect for a snorkelling day! My favourite ones were Gili Layar and Gili Rengit as they had the best snorkelling spots! But here are some others you can visit:
Gili Goleng
Gili Asahan
Gili Gede
Some of these Gilis are so close to each other that you can do a boat day trip and stop in all of them!
Senggigi
Senggigi is the centre of the island in terms of commerce and life. If you're looking to have a massage or to go to restaurants or bars, this is the place! You can also visit the area at the sunset and you won't regret it, it's super beautiful!
Sunset
These are the best sunset points in Lombok:
Senggigi Beach
Malimbu Hill
Bukit Batu Idung
Tanjung Aan
And then, of course, do not forget to explore the rice fields, the markets and all the amazing landscape the island offers! Lombok is a great island if you're on an exploring mood or if you want some vacations to relax!
Had you ever visited Lombok? Let me know in the comments.
If you haven't, I hope you can make it on your next journey!
Yours,
Patrícia Mano Ahmad, Travelling to the Green