Meghalaya is also known as the Abode of Clouds. It takes the distinction of being among the wettest places on earth. The Cherrapunji belt receives the highest rainfall in the world. Meghalaya is one of the most picturesque states in India. Here is a Guide to Meghalaya for those looking for an ideal gateway in search of beauty and tranquility.
Truly an Abode of Clouds
Meghalaya is also known as one of the Seven Sisters of North-East India the others being Assam, Mizoram, Manipur, Tripura, Nagaland, and Arunachal Pradesh. The dense forests here are inhabited by many rare species of birds and animals including elephants, Tigers, Golden Cats, Monkeys, and birds like Hornbills, Partridges, Teals, Snipes, and Quails.
A Guide to Meghalaya: An Introduction
| | |
| --- | --- |
| Best time to Visit | Peak Season: April – June, can also be visited from November – March |
| Climate | Varies based on altitude with an average temperature of 21 °C in Peak season and 9 °C in winter |
| Getting there (By Road) | National Highway 6 connects Shillong to Guwahati in Assam |
| Getting there (By Flight) | Nearest airport – Lokpriya Gopinath Bordoloi International Airport, Guwahati. Direct Flights from Kolkata, New Delhi, Ahmedabad, Chennai, Bangalore, Hyderabad, Bagdogra, Agartala, and Imphal |
| Getting there (By Train) | Nearest railway station – Guwahati which is well connected to all the major cities in India by train |
A Guide to Meghalaya: Day 1
Shillong, the capital city of Meghalaya is located in the Khasi and Jaintia hills is one of the fast-growing tourist destinations in India. You can reach Shillong from Guwahati in about 3 hours (100 km). Another option is to get to Shillong after an adventurous safari from Kaziranga National Park (186 km) which I did.
Umiam Lake (Water Sports Complex):
Umiam Lake
En route to Shillong, you can visit Umiam Lake (Water Sports Complex). The Lake is a part of a dam, constructed as the first Hydel Power Project in this North-East Indian State. The Lake quickly became one of the most popular tourist spots in Shillong, becoming a prominent venue for kayaking, water cycling, boating, and scooting. Tourists can also enjoy riding rowboats, paddle boats, sailing boats, cruise boats, and speed boats as well. Due to its picturesque surrounding, it is also at times compared with the beautiful Lakes of Scotland.
Timings: 9 AM – 5 PM for Water sports
Barapani Viewpoint:
Barapani Viewpoint
Image Source: https://www.trawell.in/admin/images/upload/648495950Shillong_Umiam_Lake_Main.jpg
After enjoying the water sports and mesmerizing view, proceed towards the Barapani Viewpoint or "Big Water". This point gives you a panoramic surrounding view of the Umiam Lake. You can have a pleasant time viewing the Sunset from the View Point along with hot and delicious "Bhutta (Maize)". In the evening, proceed towards Shillong which is about 15 km from the lake. As the night falls, you'll start feeling the chill and fog in the air. The narrow lanes with happy faces and disciplined traffic make you forget your hectic city life. Reach your hotel for a comfortable overnight stay.
Beautiful view from Hotel Nalgre
A Guide to Meghalaya: Day 2 – Shillong City Tour
Today you will experience the calmness of Shillong City.
Top Attractions in Shillong
Don Bosco Museum (Must Visit)
Lady Hydari Park & Zoo
Wards Lake
Cathedral Catholic Church
Shillong Golf Course
Cathedral Catholic Church:
Cathedral Catholic Church
Exterior View of the Cathedral Catholic Church
Start early the next morning as there are many attractions in Shillong that you'll not want to miss. First visit the Cathedral Catholic Church, which is built in Gothic architectural style and lies amidst expansive lush lawns. This cathedral was made a shrine in the year 1980. It was constructed atop an emerald-colored hill and has stunning stained glass installations and tall arches.
Timing: 7:00 AM – 6:30 PM
Lady Hydari Park & Zoo (Phan Nonglait Park):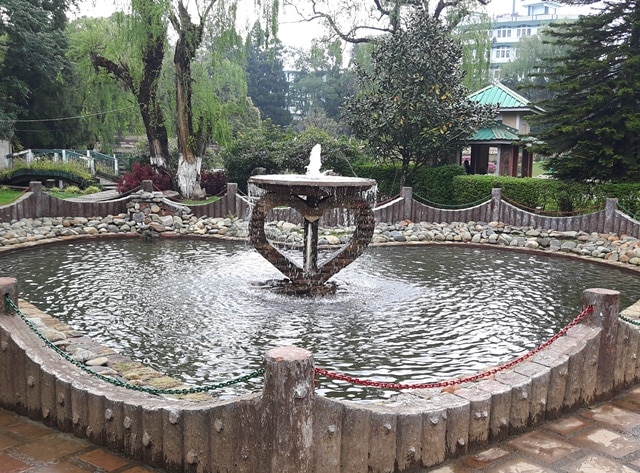 Fountain
in Lady Hydari Park & Zoo
Colourful Flowers in Lady Hydari Park & Zoo
Next, you can visit the Lady Hydari Park & Zoo. The first thing you'll notice here is the Japanese-style gardens. There is a mini-zoo inside the Lady Hydari Park and that's a major attraction because it's the only such place in Shillong and its surrounding areas. The museum inside the park offers much to see though it is rather small in size. There are stuffed leopards, elephant skulls, and photographs of rare species of wildlife. There is a dried skin of a giant python clipped to the wall, which attracts you the most.
Timings: 8 AM – 5 PM, Closed on Mondays Entry Fees: Rs. 10/- per head
Ward's Lake:
Boat ride at Ward's Lake
View from the bridge at Ward's Lake
Proceed further to Ward's Lake which is a must-visit on your Shillong itinerary. It is surrounded by lush green lawns on all sides and is located in the center of the city. This artificial lake also known as Pollock's Lake or Nan Polok is more than 100 years old. There is a bridge over Ward's Lake that looks straight out of a storybook. This is a very nice place to spend some "Me Time" feeding the fish and birds in the lake. The boat ride on the lake gives you a pleasant time with your friends and family.
A click in Khasi Attire
Don't miss to get yourself clicked in the traditional Khasi attire of Meghalaya. For women, the traditional costume is known as Jainsen. This unstitched garment is made of mulberry silk which is cultivated in Meghalaya locally and is worn around the body. The traditional Khasi male dress is a Jymphong, a longish sleeveless coat without a collar, fastened by thongs in front.
Piping Hot Soupy Noodles
There is a small restaurant in the Lake premises that offers you a wide range of cuisines from Momos, Dosas, the all-time favorite Maggi, Punjabi, etc. at reasonable rates. You can enjoy a sumptuous lunch before moving on.
Timings: November – February – 8:30 AM – 5:30 PM, March – October – 8:30 AM – 7:00 PM Entry Fees: Rs. 10/- per head Boating Charges: Rs. 25/- per head for 30 mins. Khasi Attire Cost: Rs. 50/- per head
Shillong Golf Course:
An extravagant view of Shillong Golf Course
Shillong Golf Course is also known as the Gleneagles of the East. It is the largest and the only natural golf course in the whole of Asia. Golf was introduced in Shillong in 1898 by a group of British civil service officers after they constructed a 9-hole course. Presently it has an 18-hole course, which was inaugurated in 1924.
Don Bosco Centre for Indigenous Cultures:
Don Bosco Museum Entrance
Image Source: https://www.trawell.in/admin/images/upload/648495829Shillong_Don_Bosco_Museum_Main.jpg
After a ride around the Shillong Golf Course, reach the Don Bosco Centre for Indigenous Cultures which provides a glimpse of the rich and multi-cultural lifestyles of the indigenous peoples of North East India. It is about 4 km away from Police Bazar in Shillong. You need at least 2-3 hours to get a feel of the life and culture in this region. There are 16 galleries in the museum, each of which deals with a different aspect. A few of these galleries are – Agriculture, Art, Ornament and Costume Jewellery, Basketry, Fishing and Hunting, Food, Culture and Religion, Housing, Our Neighbors, etc.
Depiction of Women making Baskets
Image Source: https://static2.tripoto.com/media/filter/tst/img/585232/TripDocument/1523725150_don_bosco_center_for.jpg
A Guide to Meghalaya – A Look at different Galleries at Don Bosco Center
Baskets of North East India and especially Meghalaya are quite famous and the Basketry section has a diverse variety of bamboo baskets. In the tribes of North East India, jewelry and ornaments play a special role and native tribes do these during church services, festivities, official functions, etc. You will find ornaments made of feathers, beads, metal, semi-precious stones, bamboo, cloth, and embroidered patches.
Don Bosco Museum
Image Source: https://sevendiary.com/wp-content/uploads/2013/03/Status-models-at-Don-Bosco-Centre-for-Indigenous-Cultures.jpg
The Food Gallery displays photographs and models of different kinds of cooked dishes typical to each state of North East India.
Gallery at the Don Bosco Center
Image Source: https://dbcic.org/wp-content/themes/museum/images/j4.jpg
The Neighboring Countries section is a very interesting section with photographs and models of neighboring countries of North East India like Bhutan, China, Nepal, Myanmar, and Bangladesh. Basic data of each country and its culture is provided on a touch screen that visitors can use freely to expand their knowledge. This is just a glimpse of the richness this Museum offers and has many more surprises in store.
Timing: Feb – Nov, 9 AM to 5:30 PM, Dec – Jan, 9 AM to 4:30 PM Entry Fees: Rs. 100 /- per adult, Rs. 50 /- per student
After a long day of getting a feel of the Meghalaya capital, get ready for some shopping at the Police Bazar. Collect some local artifacts as memories for yourself. Enjoy a sumptuous dinner in one of the restaurants and get set for a new adventure for the next few days.