Arriving in beautiful Vienna
Despite the fact that Vienna is so close to us, we somehow never really had this city on our list… Without reason! We were welcomed with wonderful sunshine – and that should stay that way the whole weekend 🙂 If the weather is clear, every city looks at least twice as beautiful to me 🙂 (Except Edinburgh, this city is always incredibly atmospheric and characteristically beautiful! ) On the way to our accommodation we already saw the first colorful houses 🙂 The anticipation for a first exploration became bigger and bigger 🙂
Vienna Tip 1: The location of the accommodation is not too big a factor in Vienna 😉 With public transport, you can get from A to B without any problems. Some of the sights are very far apart anyway, so you should use public transport in between. 
We stayed at the Hotel Shani, which was chosen because of its proximity to the central station. After a short refreshing and a small welcome drink, we set off.
Vienna Tip 2: I took an Ottakringer Helles (beer) as a welcome drink. I really liked that very much! If you like beer, you should try it 🙂
Imposing palaces everywhere! 🏯🏰
Our first stop was the Belvedere Palace! I think that this is the most beautiful palace in Vienna! 🙂 I love the reflection in the water in front of it 😍 The effects of Corona (covid-19) were already visible here. For us at this time still positive (because there were hardly any Asian tourists there and the attractions were even more enjoyable this way 🙂 )… but we would be even happier if we could soon laugh and celebrate together with our friends all over the world again! 🙂 But now back to Vienna 😀
And what goes with every palace? Right! Strange statues where you wonder in what state of mind they were designed! 😀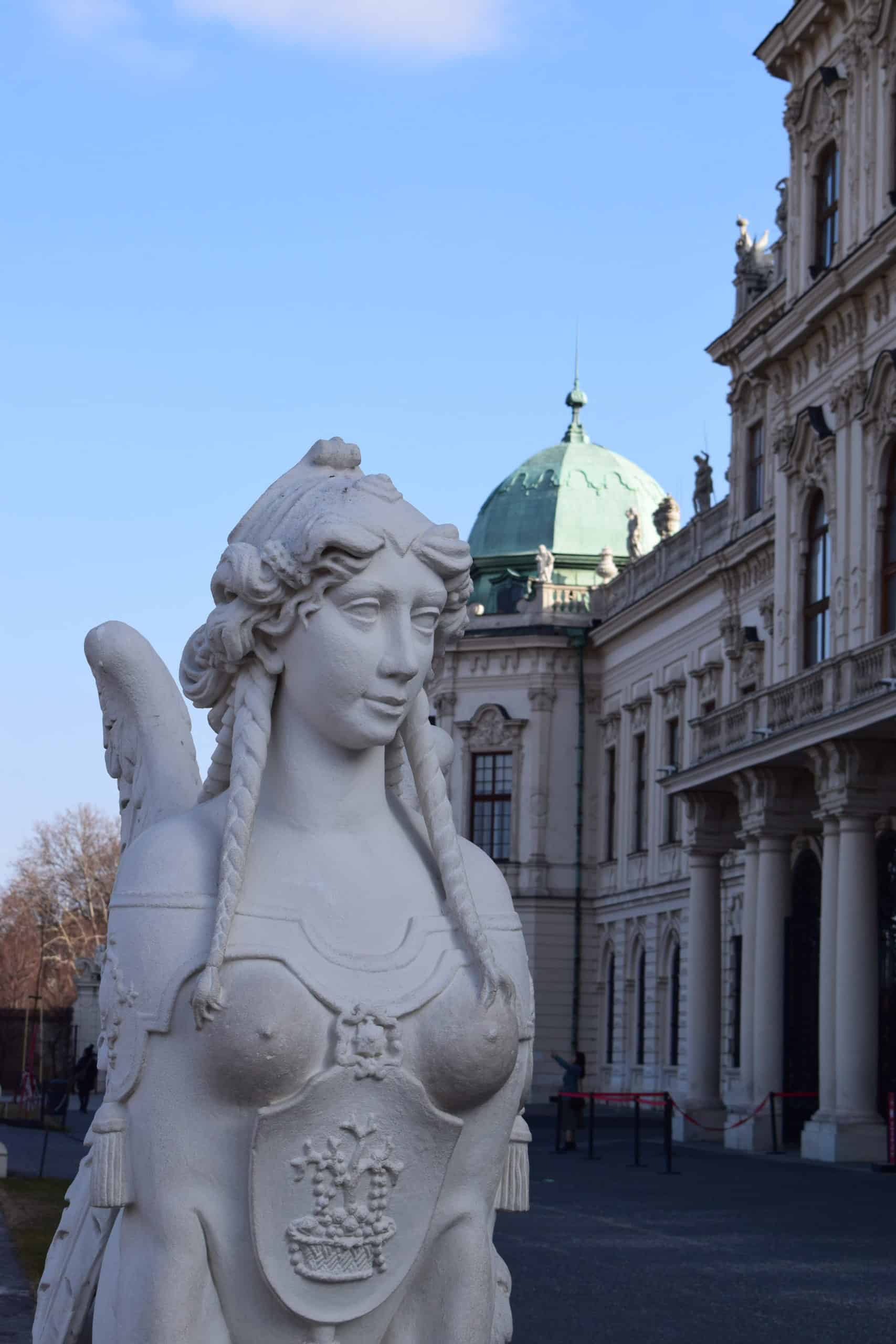 Then there is the probably most famous palace in Vienna – Schoenbrunn Palace! The area is really huge! You can stay here for several hours without any problems 🙂 Of course only if you like to walk around or visit the museum 🙂
Vienna Tip 3: You should definitely travel here by public transport! I wouldn't buy anything at the souvenir shops on site, because the prices are already slightly higher 😉
At the palace I took a picture with my lensball again – this time even with "Making of" for you 😛
After the "professional" part there was some fooling around 😛
You can already see that Vienna is a very rich city 😀 The idea that such palaces were really the homes of such a few people unimaginable to me! There is more staff in this house than many start-ups have nowadays 😀 Nevertheless very nice to look at and also a great photo opportunity for your travel pictures 🙂
Food in Vienna – World-famous Wiener Schnitzel and much more! 🍖🌭🍰🍮
Now we come to the part that I always look forward to when I travel to a city – food and beverages! 😀
Vienna Tip 4: You definitely don't have to starve to death here! 😀 There's a lot to try 😍 If you're traveling as a couple, it's best to take just one portion everywhere and share it 🙂
Which brings us to the first " snack" – the Wiener Würstl! You can get it everywhere in the city. Super tasty… but be careful when biting into it! – Hot fat 😀 🌭🔥
If you are preferring a little "healthier" snack, you will definitely find it at the Viennese Naschmarkt! Here really is something for everyone and every taste 🙂 Even if you are not hungry, the Naschmarkt is definitely worth a visit!
Vienna Tip 5: We bought a small Sachertorte here for a relatively low price 🙂 As a real "cake-fan" I expected a little bit more 🙁 But convince yourself 🙂
At the Naschmarkt, there are not only stalls and smaller shops where you can buy all kinds of things, but also some very good restaurants! 🙂 Here we had our first larger meal.
Vienna Tip 6: Our choice was NENI. And that was perfect! The kitchen is a mix of Mediterranean, Middle Eastern and Israeli. Just our taste and everything was really super delicious!
Inspired by the delicious food, we have already planned our next trip to Israel roughly in our heads 😀 Even if it will have to wait a little bit 🙁
And in case you are already full – we felt exactly the same! 😀 But hey, we have to get through this now! 😛
Vienna Tip 7: Eat an incredibly delicious apple strudel in a Viennese coffee house! 😍😍😍 You can tell by the exuberant use of smileys 😀 For me this was really the culinary highlight in Vienna 🙂 We had it in Kaffee Alt Wien and added some vanilla sauce 🙂
In the coffee house, you should take some time to relax, have a coffee and enjoy the atmosphere.
Now we have almost made it – we are facing the final boss! 😀 The Wiener Schnitzel! 😱
Vienna Tip 8: Prepare yourself for a food coma 😀
We ate our schnitzel at Salm Bräu. And it was once again very, very good! 🙂 As Salm Bräu has its own brewery, we used the evening to enjoy the richly built up basis of the day 😀 So we had a couple of beers afterwards and spent a very nice and long evening here 🙂
Vienna Tip 8: If you can deal with spicy food/drinks well, Burning Hell is a very interesting choice! 😀
After so much food you sleep like a rock in Vienna 🙂 But now let's get to some nice places for (very necessary!) digestive walks 🙂
Great city center and gorgeous parks for long walks 🚶
To go for a walk also means to pay attention to each other and to love each other 🙂 What you can also see here in the cute traffic lights 💓
One of the main attractions of Vienna – St. Stephen's Cathedral! You can also use it as a great orientation help 🙂 In the nearby area, you will find countless possibilities for shopping 😛 One of the bigger (or even the biggest? ) shopping streets leads you directly to St. Stephen's Cathedral. But we resisted the temptation and just bought a postcard for our travel wall at home 😀
All right… I might have fibbed a little… 😀 we only almost resisted the temptation! 😀 And once again, food was our weakness 😀 Because typically for Vienna we also got something from a Manner shop! 🙂
Vienna tip 9: Manner chocolate is also a great souvenir for your family and friends at home 🙂 But by no means go hungry in the shop! The choice is huge and you can spend money very quickly here 😀
But now it was time for art and culture 😛 I would like to start with the most interesting building in Vienna – the Hundertwasser House! I must honestly admit that until 2 weeks before the trip, I didn't even know that this house existed 😀 But when I saw it for the first time, it went straight to the top of my Vienna To-Do list! 🙂 A really great and unique building!
Vienna Tip 10: Inside the house, you can watch a short video about the artist and the history of its creation 🙂 Totally free of charge and available in several languages!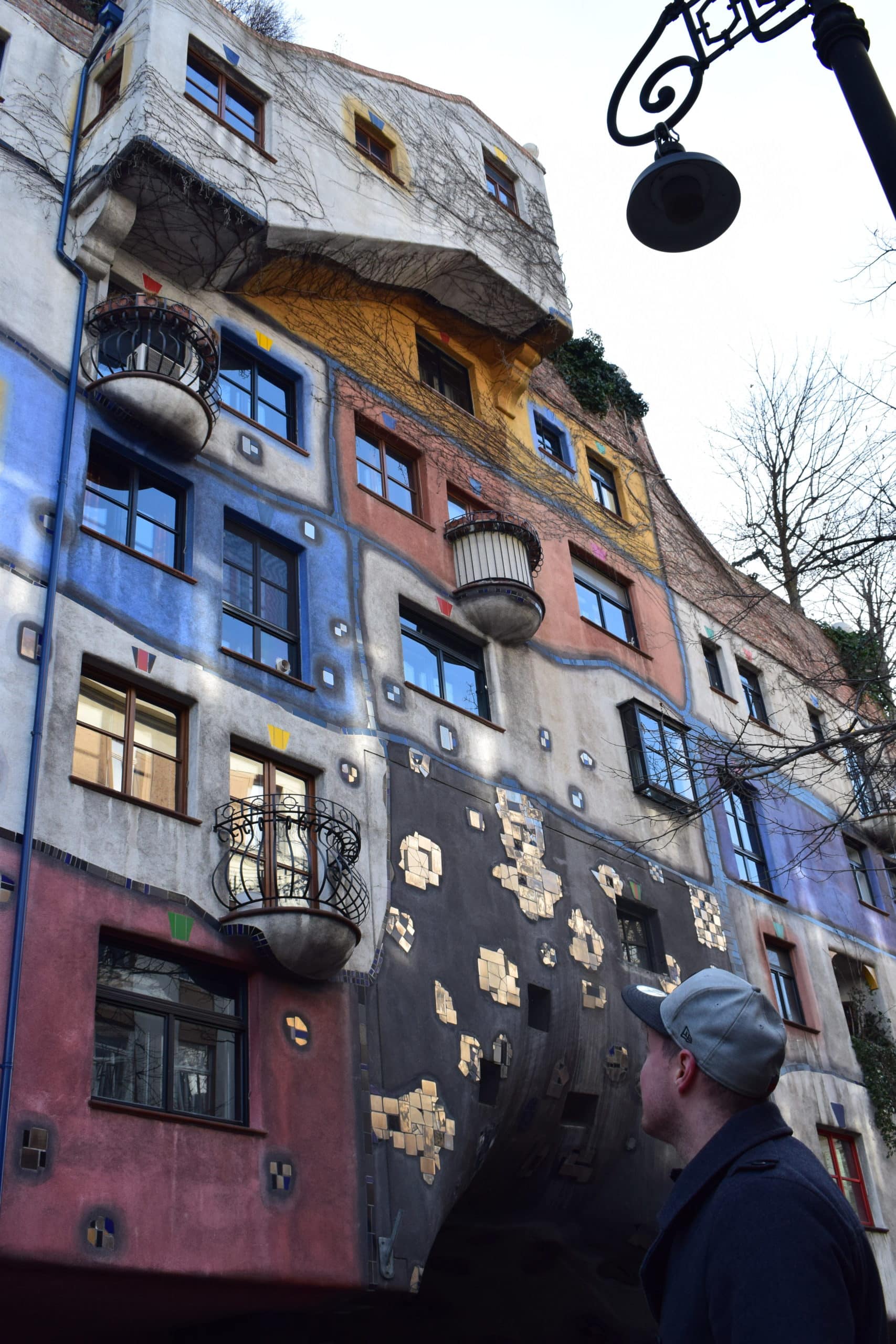 And Vanessa's "culture part" had to be covered, of course… Sisi… Well 😀 Since it was my Christmas present, I got around the Sisi-Museum 😀 The carriages and the Hofburg were still very nice to look at 🙂 But a carriage ride is very expensive… We decided against it 🙂
The Viennese really know how to make the most of their free time! In February several ice rinks are set up in front of the city hall! The Vienna Ice Dream ⚛ In addition there is good music, delicious food (of course! :D) and hot winter drinks 🙂 A great atmosphere! I want something like this in my city every year! 😀
And then, there are stunning parks! 🙂 Which we also used extensively for walking. I love it when a big city has a lot of green spaces as well 🙂 If you are more the water type, you can also walk along the Danube 🙂
Vienna Tip 11: In Vienna, we have been walking so much, we could have used our hiking boots 😛
And once again, time passes so quickly…
Summary Vienna
Vienna is a city for young and old 🙂 I can well imagine that Vienna has the highest quality of life worldwide 🙂 I had a rather stuffy image of Vienna before, but I must say that this is absolutely not the case 🙂 Depending on where your interests lie, you will not be bored here. We were here for 2 nights and this time another night would have been really good. One or two things we couldn't do anymore (like a "Tatort" public viewing in a Viennese cafe :P)…But I guess this only means that we have to come back again! 🙂