We visited many cities in Turkey but never heard about Alacati. It is a small seaside town located near Izmir. Before only locals knew about this hidden city. But now within two years, it has become very popular in summer among the tourists.
Alacati is beautiful in every its corner. Here you can relax and chill at night. This city differs from other cities in Turkey. It looks like Greece in all things. Moreover, people here are also different: more intelligent.
How to reach Alacati, you will ask? Easily! You fly to Izmir and from there by car, it takes an hour to reach this little city.
Now I'll share with you all my experience in this amazing place!❤️
Coming to Turkey you must choose 5 stars hotel because in summer you stay there the whole day.
We started to search and found the Biblos resort. We booked for one week and breakfast was included in price. The hotel Biblos is the best in the city. Prices are high, but worth it!
On the territory of it, there is a swimming pool, access to the beach. We booked a room with a terrace that opened to the pool. But our time we spend on the beach. There you can have drinks, eat ice-cream and fast food. Moreover, on the territory, there are 3 restaurants: one is a pool bar, other for an evening with fish food and the last one for breakfast. At night on the territory of the hotel in the pool bar, there is live music.
Furthermore, you can do water sports and take instructors with you.
Biblos is also famous for its best spa. It is originally designed and all offers there are amazing. But be ready- it's too much expensive.
People who even don't stay in the hotel come to chill here.
Next is coming the most interesting part- the city center.
It is very beautiful and worth visiting! It is in a greek style and everything you see is two colors- blue and white. You will walk through narrow streets that are all colored and designed. You will find local restaurants and shops. You can buy clothes and jewelry at very good prices. Also, you can eat the most delicious local fish here. Moreover, there are local designers and you can find beautiful dresses for a special events. So you feel relaxed here and admire the beauty of this city.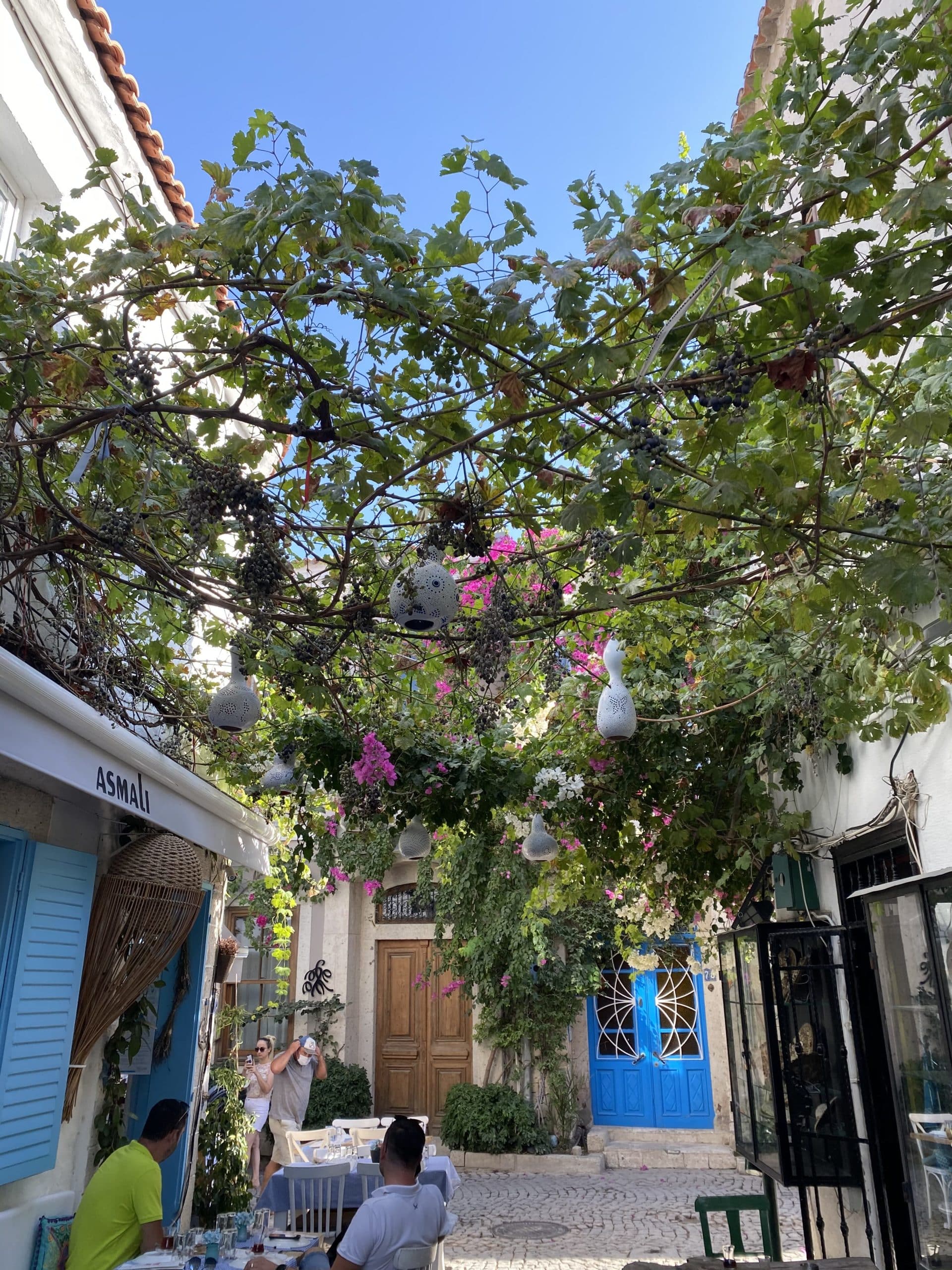 The next one is – Party!
When you are walking in the city center at night you will hear music everywhere! There are numerous clubs and bars around where you can chill and drink! The atmosphere is amazing! There are playing local DJs or singing some singers. People sing, and dance inside and even in the streets. So if you are a party lover, come to this amazing city🥳
 Alacati is famous also for its famous beaches.
The main parties are held on these beaches. They are all designed originally and are private, so to have access you must pay. One of them is the beach of Momo. It is all designed in Boho style and is very beautiful. Here are playing local and foreign DJs and you can just spend your time here at the beach. The atmosphere is beautiful!
But beaches in Alacati are always crowded so to visit it you must book places before coming!
And the last one – Restaurants.
As I told there are a lot of restaurants in the city center and in the hotel.
One of the beautiful restaurants is Ferdi Baba. There you can delicious local fish and admire the view of the boats and sea.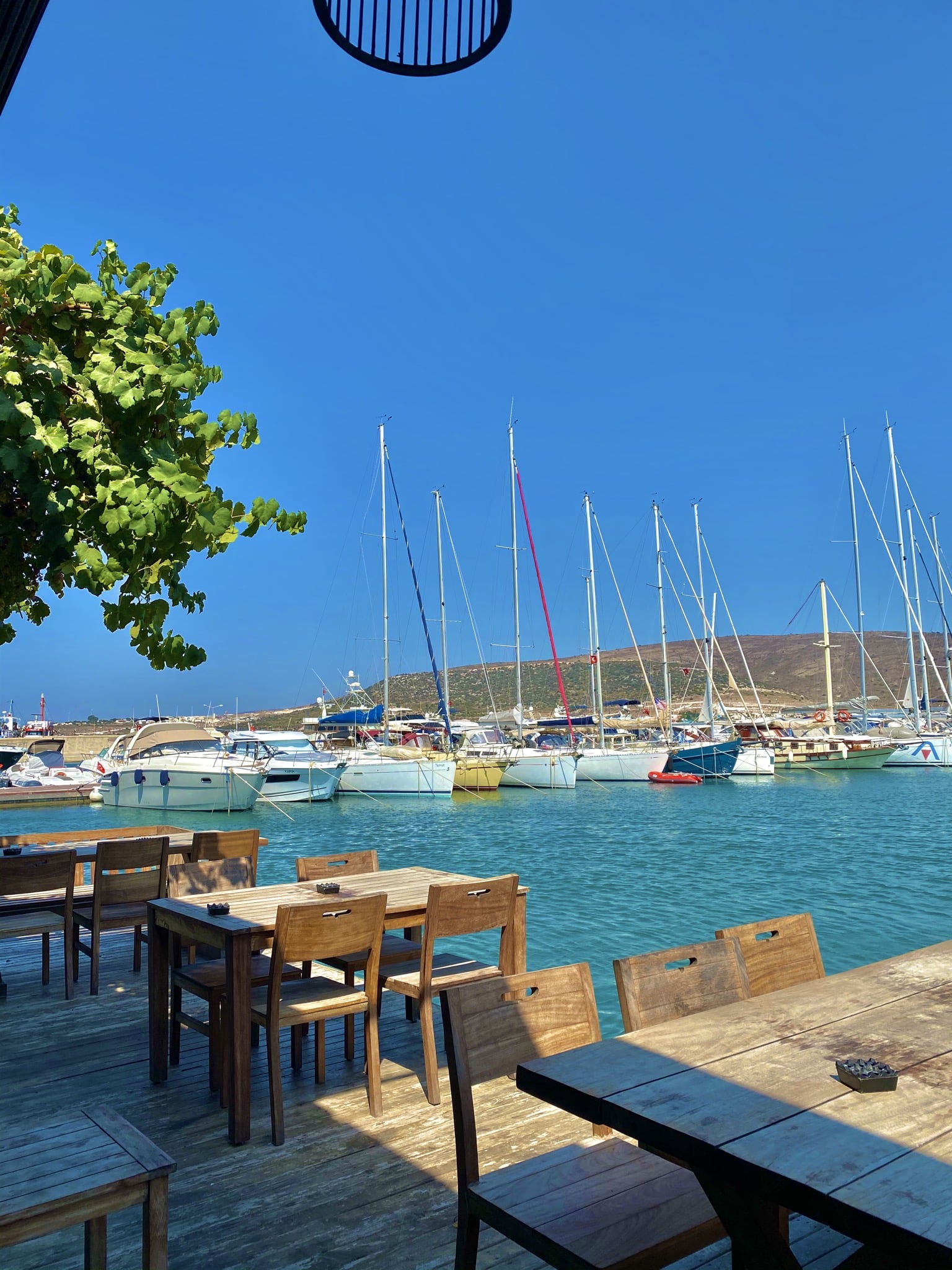 And all restaurants in the city center! There are some also interesting bars with live music where you will chill and eat tasty food!
I'll continue in the next part❤️
Thanks for reading me!