It was not the first time I had visited Spain, but it was the first time that I decided to rent a car. I landed in Málaga and I was renting a car from the rental company "sixty". It cost about 50 euros a day with basic insurance. As a reminder, always make the best insurance. Your vacation is so that you can rest and not worry about any damage to your car. I was staying in Málaga for two days.
First stop: Málaga
In Málaga, I went to visit a quite unique and interesting museum of fashion and motorization. Entry cost from 7-9 euros. You will see amazing-looking cars and clothes designed by famous people. You can see the car you probably remember from the Titanic movie. But  I like the pinkest one 🙂
The beach in Malaga is not beautiful, especially the sand, but you can rest on the grass under a palm tree in the natural shade 🙂 (it makes sense if you don't like sand everywhere and you need to hide from the full sun 🙂
You can try swimming on the SUP (paddling pool), a very popular water sport in Malaga. It was 20 euros an hour. When there are little waves it is really easy.
In Málaga, the Roman theater shouldn't be missed. Beautiful flowers and old walls around it make it look amazing.
One evening as the sun goes down you should go to the viewpoint. Although a lot of people stay in one place that looks like a balcony, I recommend going higher. Fewer people and a better view.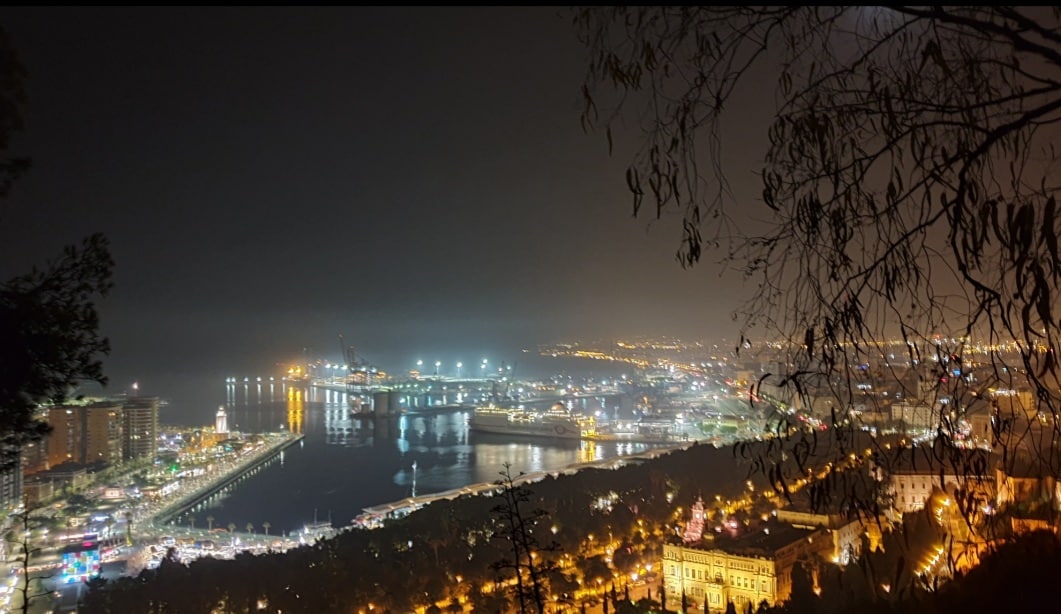 As a vegetarian, I was not satisfied with the Spanish food, but I recommend you try churito, fresh orange juice, gazpacho, and patatas bravas.
Second stop: Marbella
When I took the car, at first I went to Marbella. It is quite a cozy city located approximately 47 km from the center of Malaga. When you are there you must go to the old town. You can see that the inhabitants care about their beautiful city. The blue flower pots make this place so special. Actually, the Old Town is not that big, so even if you go there for 2 or 3  hours, you will definitely feel the atmosphere there.
Third stop: Ronda
As Ronda was the next stage of my trip, I booked a room there for the night. I reserve a room the night before arriving so you should have no problem getting something easily. Ronda is another small town so wherever you find a place to stay just book it as it is close to everywhere.
Ronda is beautiful at night as during the day and looks a bit different, so I recommend walking day and night.
There is one museum in Ronda which was fun to see but you have to be prepared for a long time to walk downstairs. So wear comfortable shoes 🙂
Must-see stop: Setenil de las Bodegas
The next day after visiting the museum, I decided to visit one of the most breathtaking places in Spain. After seeing this place I think if you are a traveler this is a must-see place in Andalusia -Setenil de las Bodegas is a town in southern Spain, 18 km from Ronda in the rocky canyon of the Río Trejo River. You can only stay there for an hour to walk under the rocks and take thousands of photos 🙂
Final stop: Nerja
The last step before returning to Malaga was Nerja, where I was kayaking and snorkeling. This amazing adventure lasted about 3 hours. It costs 75 euros but is totally amazing. A group of about 10 kayaks goes on a long sea trip. There are 2 guides who will explain everything and take care of you all the time. During the tour, you enter a cave and the guides challenge you to swim between the rocks. Unfortunately, taking my camera with me was not safe, so I have no photos. Be ready for it cause it is really a big adventure 🙂 You can swim two of you or just single.
The last night I spent in Malaga cause all the places to stay around Nerja was already booked.
I hope you will like this trip as much as I did.