Hambantota Birds Park is located around 16 km from Hambantota town in Nagarawewa. This bird park expands on a huge landscape of 35 acres. It dedicates to bird lovers and bird enthusiasts who study ornithology. This Birds Park is home to both endemic and exotic birds with over 180 varieties and around 3200 birds. It is the best opportunity in Sri Lanka to meet and interacts with beautiful feathered friends.
The park has a lot of colorful birds, tours take about 1.5 hours. Among the exotic and rare species, the most prominent are the birds bought from Amazon rain forests. As well as, there are several species of colorful Macaws and they will easily steal your heart with their attractive appearance. Cockatoos, Peacocks, Ducks, Love Birds, Parrots, and many more lovely birds are living here. If you are a bird lover, remember not to miss Hambantota Birds Park, while touring the city.
The climate of the Hambantota area is totally different from Galle and Matara cities. Since it belongs to the dry zone it has a hot climate with an average temperature that fluctuates around 30 °C. This area gets significantly less annual rainfall, an average of 1,050 mm. Since Hambantota has year-round dry weather, visitors need to protect themselves without exposing to too much heat. It is better to wear cotton, loose-fitting dresses and drink a lot of water during outdoor activities.
Access to Birds Park
If you are coming from Colombo take Southern Highway to Galle or Matara and come to Hambanthota Town. Then come to Katuwewa Junction and turn left. 7km From Katuwewa junction you will find our Birds Research Center & Resort. Please follow the sign boards. That will make it easier to get the location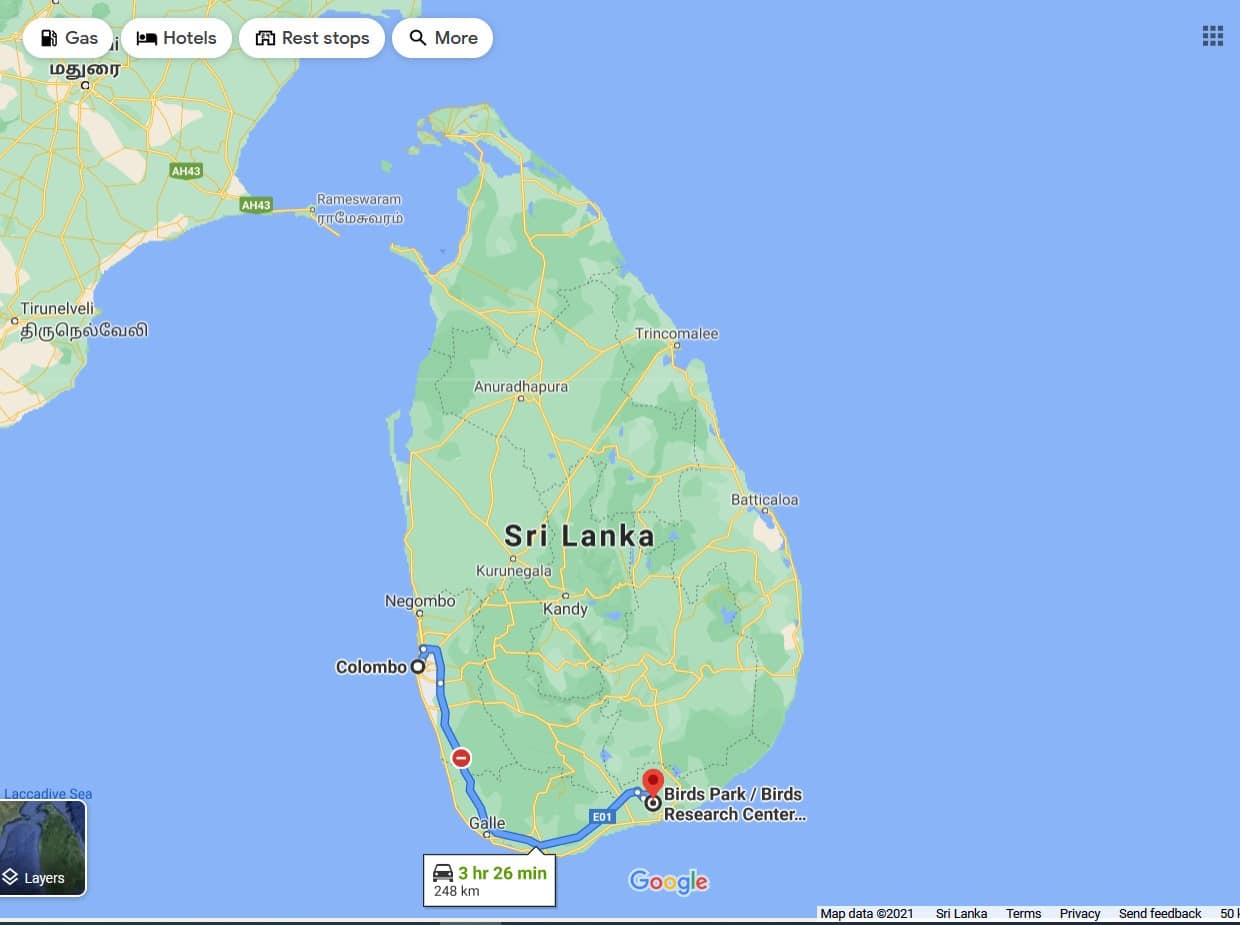 Zones of Bird's Park
They have categorized the park into 5 Zones as follows,
Wetlands
The Wetlands Exhibit at Bird Park plans to feature the different bird lives as well as create awareness of the importance of wetland ecosystems and how we can take action to protect them. Wetlands are vital for providing clean water to urban areas. They further develop water quality by catching destructive toxins in residue and retaining overabundance of supplements.
Wings of Asia
Home to the region's most exotic and endangered birds, take a walk into this free-flight aviary and admire one of the largest collections of Asian birds. The Aviary is home to the critically endangered as well as endemic birds of Asia and Sri Lanka.
Flightless birds
 Flightless birds will be birds that through advancement lost the capacity to fly. There are many species to look at including the well-known ratites such as the ostrich, emu, and rhea, and many domesticated birds, such as the domestic chicken and domestic duck, although their ancestral species are the red jungle fowl and mallard.
Macaws and cockatoos 
Macaws and cockatoos can be tamed and raised as pets without any serious injuries to humans. They have wonderful and complex personalities, great intelligence, and live a long time. They are extremely inquisitive, curious, affectionate, and playful animals. These birds live in a great variety of environments from hot tropical rainforests.
Parrot Paradise 
Bird Park Hambantota houses a large collection of parrots with an impressive showcase of some of the world's most unique parrots. Their ability to mimic human voices and sounds has also endeared them to many and that is why they are popular pets. One can even feed the parrots and interact with them  
The entire park is very well maintained and clear directions are given throughout. This is a lovely place to admire the wonder of many birds from other countries. Though the birds are in enclosures they are given ample space. It took about 2 hours to walk around the park and the most enjoyable part was feeding the birds. This park is well organized and there are display boards at each cage. I really enjoyed the hours with the birds.
We can walk along the shaded pathways with trees on both sides therefore the heat is bearable. Very educational for kids and adults alike. They allow feeding birds in an enclosed area at a small cost. They have a café and a souvenir shop as well. Road condition is currently not so good due to nearby highway constructions but it's only a small pain considering the overall experience and satisfaction.