The first challenge – driving in Montenegro!
We also traveled by car in Montenegro. If you need some tips for planning a Balkan road trip, just drop by my Bosnia and Herzegovina and Croatia Post 🙂 If you have already read my Bosnia and Herzegovina post, you know what comes next… another maps.me moment! 😀 I can only repeat my advice!
Montenegro Tip 1: Be sure to inform yourself in advance if you are traveling with offline maps! 😀 The indicated routes are not always passable with all cars and can lead to adventurous situations! It's best to stay on the larger main roads.
But I don't want the post to start with you being deterred by Montenegro 😀 So first let me show you the beautiful Montenegrin landscape 🙂
Now let's get straight to the point. The main road in Montenegro runs completely along the coast (which is also a really great view!). But we wanted to save some time and drive straight through the interior of the country… and so we left the main road. We didn't save any time! 😀
The roads there are very curvy and at no point, two cars fit next to each other. If somebody comes towards you, one of you has to back up several turns until a private driveway is free… There you park for a short time and the other one can drive by. We had this experience 3 times 😀 But that was not the highlight yet.
At some point, we decided to drive back to the main road and take the detour. The maps.me moment… Only one straight road (about 1km) and we should be back on the main road. The road went steeply downhill (about 50 degrees) and our car was just about the right size. When we arrived at the bottom an old Montenegrin men came towards us and indicated with his hands that we couldn't get through here with a car… 1km completely backward on this narrow road!? I still don't know how we managed this without scratching the car… the clutch still stunk for several days 😀 From that moment on we never left the main road again 😀
Perast
Perast is a nice little fishing village right on the coast. Here we had a short break after the stressful trip 😀
Montenegro Tip 2: We checked Perast before and didn't read anything about parking fees anywhere… Nevertheless, two men came straight to us and took 2€ for a parking space. We were not in the mood for discussions and just paid. But I think that you have to be careful here and usually don't have to pay for parking space.
The parking guy sold us a boat ticket for a trip to the lady of the rocks too 😀 But we did not regret this decision, because we just made it before it started raining more heavily.
If the weather is fine you can also sit outside and have something to eat or drink. Maybe even a freshly caught fish 😉
After about one hour we set off again
Kotor – Cat City 🙂
For me, as a cat lover, Kotor has definitely been the highlight in Montenegro! 😀 There is even a small (but very informative and interesting!) cat museum. In the museum, you can also make a small donation for the many street cats. The owner does his best to take care of as many cats as possible!
But of course, Kotor has more to offer 😉 If you still have enough energy, you can take a hike to a mountain behind the city. At the top, you will find the Castle of San Giovanni and the Kotor Fortress. You also have a breathtaking view of the bay and the old town of Kotor.
Montenegro Tip 3: Good hiking boots can be of enormous use on the steep paths!
And of course, you will meet some cute cats on the way 😛
On top of that, the old town of Kotor is absolutely stunning! I love the architecture and the view that you can enjoy from any place! Also, there are extremely delicious fish restaurants here!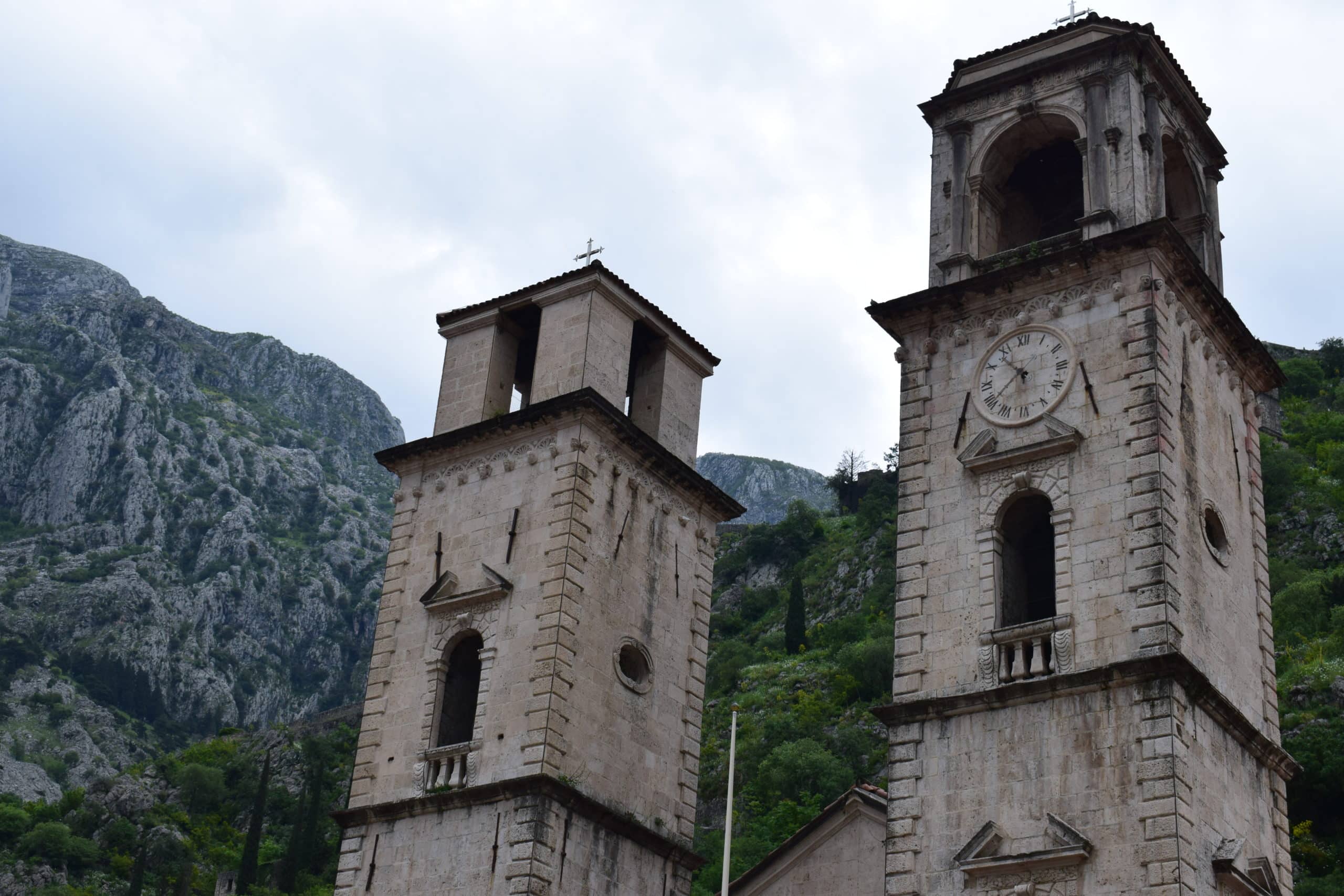 Montenegro Tip 4: If you want to try some fish we can recommend the Scala Santa 🙂 We really liked it here and the service was perfect!
Furthermore, there is a small Hard Rock Shop in Kotor 😀 This was perfect for me because I love to bring me a new Hard Rock Cafe Shirt from my trips! Additionally, Kotor has a small beach as well 🙂 But you should also bring your water shoes if you would like to go into the water. A beautiful day in Kotor came to an end 🙁
Sveti Stefan
Sveti Stefan was the last stop for us. Here we just relaxed and enjoyed the rest of our holidays.
Montenegro Tip 5: There's really not much going on here in the off-season. For example, there was only one restaurant open 😀 Fortunately this restaurant was very good 😛
We briefly thought about going to Lovćen National Park. But the weather was way too bad… I have never seen such a strong fog in my life! 😀 After a short time, we turn back 😛 For this National Park alone, I would like to go back to Montenegro!
Montenegro summary
3 great days in Montenegro are gone so fast! The people here are incredibly nice! Even in bad weather, the landscape is unique! My conclusion: Come back with more time and hope for better weather 😛