Every year again! The most beautiful time of the year Christmas is coming closer and closer. You want to make your loved ones happy and not just give "something" as a present? This is the reason why I like to look for presents in time to find just the right thing. It is especially easy for me to find a cool and original gift if someone loves traveling as much as I do.
But what is the best Christmas gift for travelers, globetrotters, or frequent travelers in 2021? Check out our 62 ideas to spread love 🙂 Basically, globetrotters are very thrifty, because after all, their money should be spent on their next travel or short trip. Therefore travelers are often very happy about personal, clever, and above all useful travel gadgets that they can use on their travels. But sometimes it may also be simply something funny or something to satisfy the wanderlust at home, at least until the next trip. Especially in the current time, when Covid-19 makes traveling possible only to a limited extent, the last is certainly a good idea.
I once put together the most wonderful Christmas presents, which travelers should definitely have under the Christmas tree. There are really many great travel gadgets out there that make life easier for travelers and are just waiting to be given away by you.
The Traxplorio Gift Guide for Christmas 2021
Best Travel Gifts – Low Budget (0-25$)
If you travel around the world, you can't get around without a universal travel adapter. The Travel Adapter is characterized by its international compatibility and covers more than 150 countries. Small, light, and easy to carry – this Christmas gift is definitely one of the useful ones!
Many travelers rely on Packing Cubes to make the most of the space in their backpack or luggage. We can totally recommend this procedure because you can really save so much space. Therefore a clear purchase and gift recommendation!
3. RFID Passport Holder & Travel Wallet
A Passport Holder is an inexpensive and at the same time pretty Christmas gift – especially a must for frequent travelers who are also lovers of order! It protects the travel documents, cards, and above all the passport of your presentee… and in addition there are many great designs around traveling!
4. Rechargeable Hand Warmers & Power Bank
It is Christmas and outside it is freezing cold? There is only one thing that helps: a "warm" gift! We have the perfect gift idea for this purpose: a rechargeable hand warmer that also serves as a power bank. During your travel, it works as a backup battery for your smartphone and also warms the body – a fantastic 2-in-1 function!
Probably we will have to wear masks for some time during our travels and also in everyday life. So why not wear one with a particularly cool design? For travelers, there are cool masks in world map design. So this mask is a really good gift for this Christmas, which every travel lover can definitely need.
6. JBL CLIP 3 – Waterproof Portable Bluetooth Speaker
Sometimes you want to share music with others on your journey. For this, there are great and cheap Bluetooth speakers. Travelers of course love the smallest, lightest and waterproof models. Some are even so handy that they fit easily into any jacket pocket and are therefore perfect for all adventurers. If your traveler friend likes to listen to music, such a box is a good investment.
Every globetrotter needs a travel journal – either to record all his or her experiences and to reminisce about them afterward or as a reminder for his or her next travel blog entry. If the book is also in a great design, it is even more fun. And since a travel diary fills up quickly, your travel buddy can certainly use one for his next travels.
8. Ultra Lightweight Packable Backpack
You can always use a backpack. It is very practical to have a backpack that is light and can be folded very small. This small practical ultra lightweight packable backpack is perfect for every travel! We are really surprised by how comfortable and robust it is. A clear recommendation!
To be honest, a Portable Toothbrush Sanitizer is not exactly the kind of gift under your travel buddy's Christmas tree that will bring him to tears, but it's very practical! A Toothbrush Sanitizer is especially useful for travelers who travel a lot in hostels or accommodations with shared bathrooms. It kills 99.9% of the bacteria and viruses that are on the toothbrush, which is kind of a comforting and good feeling (especially in times of Covid-19), isn't it?
10. Multifunctional Head Scarf
Whether as a scarf, as sun protection, as a pretty headband, or as a sweatband. A multifunctional scarf is versatile and therefore very practical for almost all traveling. There are many different designs, so you can choose a suitable scarf as a gift.
You have no idea what your recipient really needs? The only thing you know: traveling is his/her passion. No problem, an Amazon gift card is always a good idea! You can order online and print it out very easily. You can also choose a very individual amount of money and have a wide range of designs – would you prefer something suitable for Christmas, a travel motif, or a great photo of your last travel together? Everything is possible!
Best Travel Gifts – Medium Budget (26-100$)
The dream of all of us is to fall asleep at take-off and wake up again at landing. This Travel Pillow is by far the most comfortable Travel Pillow I have ever had. Not only is it a must on every air travel, but it can also be a great help on long train rides to help you take a little nap. This way you have more energy to use your time more efficiently and explore the area.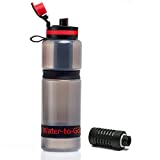 A water bottle with a replaceable filter is the perfect companion when camping in nature or hiking. Backpackers love to travel with as little and light luggage as possible. Taking care of heavy water supplies is really no fun. It is much easier with such a bottle. You can simply enjoy clean and freshwater from the nearest river, pond, or stream. Of course, it is also more sustainable than buying plastic bottles on-site!
You surely all know someone who loves to tell about their travels and share their experiences. Why not create their own blog and reach an even wider audience? With Bluehost you can create a blog with little money and without IT knowledge and even get a domain of your choice. You can't give away a better starting point for an own travel blog. And if you want to give your recipient some first good tips, share our article "How to start a Travel Blog – 10 Steps to your first post" with him/her.
We use our Powerbank almost daily and carry it with us at all times when we travel. If you want to give a gift to a traveler who cannot live without a full smartphone battery, a Powerbank is the perfect Christmas present.
16. Little Donkey Andy Women's Softshell Jacket
If your recipient is a woman, you can choose a ladies model instead of the unisex model. These softshell jackets are available in other pretty colors and with a waisted shape. The breathable construction is ideal for sports and leisure wear, so a softshell jacket is not only a Christmas gift for the next travel but for every day.
A softshell jacket is a real all-rounder, with which you are ready for whatever the weather brings. The material is made of woven fabrics, so it is especially practical in light rain and wind. This jacket is perfect for traveling in inconsistent weather, making it a Christmas gift for any globetrotter.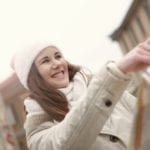 You don't want to present material gifts but rather special moments? Then a GetYourGuide gift card is a really great idea for your travel buddy. If you're not quite sure which destination is planned next, instead of a certain experience, you can simply give away a neutral gift card with a pretty design, so that your recipient can choose his or her own dream tour. GetYourGuide offers experiences worldwide. A voucher is therefore always a good and individual Christmas present for travelers.
Unique Luxury Travel Gifts
19. Osprey Rook 65 Men's Backpacking Backpack
Traveling with a backpack is so much easier than with a suitcase or travel bag. It is of course important to have a backpack that is adapted to your weight and size so that it fits comfortably on your back for long trips. So if your Christmas gift is allowed to cost a little more, your presentee will surely be very happy about a travel backpack.
20. Deuter Aircontact Lite 60+10 SL Backpacking Pack Women
Deuter also offers travel backpacks with a matching design for women. The backpacks offer plenty of space and are perfectly adapted to the female anatomy. As a result, these models have a shorter back, narrower shoulder straps, and rounded hip belts. Since not everyone meets the standard, women's models can also fit men well and men's models can be comfortable for women.
21. Noise Cancelling Headphones
Preparing for a long flight? What better way to pass the time than with good music or a movie? One thing is especially important: the right headphones! After all, you only want to listen to your music and not the annoying noises of the plane. Therefore, your choice should be Noise Cancelling headphones. Certainly not cheap, but extremely practical for long travels. Every traveler will love you for this Christmas gift!
Do you have to give a traveling bookworm as a present this year? Then you can certainly make him/her happy with a Kindle. An e-reader is a perfect gift for anyone who travels a lot and enjoys reading. Of course, there are plenty of other providers, but a Kindle is especially convenient because it is linked to your Amazon account and you can access the entire Amazon offering from anywhere in the world, even in different languages. It also has a battery life of two to four weeks and is much easier on the eyes than a tablet or smartphone. If your recipient already owns a Kindle, you can also give them a protective cover or a 12-month membership to Kindle Unlimited. On Christmas Eve your presentee can read a nice Christmas story on his Kindle while drinking mulled wine and eating cookies – enchanting!
A small action cam is the must-have for every adventurer! No matter if you are paddling across a raging river, riding your mountain bike, or falling out of an airplane – an action camera captures every adventure in brilliant pictures!
With such a Christmas gift you are guaranteed to make yourself popular and you'll certainly get to see the great pictures first.
If you don't want to give away just any excursion, but a real experience or an overnight stay in unique accommodation, an Airbnb gift card is a great way to do so. Airbnb offers nearly 8 million accommodations and over 50,000 discoveries worldwide and is probably known to every travel junkie. You can choose a coupon value between $25 and $500 and your gift will be the opportunity to discover something new.
25. Individual Travel Map – My Travel map
This Christmas gift is an absolute eye-catcher and at the same time a great travel memory for your living room! My Travelmap offers the possibility to create a very personal world map for coloring and pinning. You can choose a personal title, phrase or quote in your favorite font and color to make the map very special. All accessories can be ordered directly from the online store. The high quality is definitely the special thing about this world map. We have already tried many world maps for scratching and were annoyed about the bad quality, with this world map it is completely different! It is worth its price and by the way, My Travelmap donates 1€ with every order, so you do something good as well. Use the code traxplorio and get 15% discount!
Fun Travel Gifts
Your presentee is a traveling security fanatic? A Security Door Stop Alarm is the perfect gift and to be honest, it's a bit funny to give something like that as a present, isn't it? If someone tries to break into the room on the trip, this wedge will block the door and also sound the alarm so everyone will be awake.
27. Underwear Travel Organizer
The organization is half the battle! Therefore, an underwear organizer is a practical gift, especially for women. The most beautiful bras are ruined in a suitcase or backpack – who doesn't know this? Between you and me, you should only put this gift under the tree if you know the person you are giving it to, otherwise, it might look a bit strange.
Walking barefoot is healthy, but sometimes you wish you had some comfortable slippers during your travel. In this case, a pair of light and foldable slippers that feel like walking barefoot is a great choice. In addition, there are many different designs, whether colorful or plain. Your traveling friend will surely be happy about this comfortable and practical Christmas gift.
29. Christmas Compression Socks
Do you think socks as a Christmas gift are boring? Then check out these cool and practical compression socks. Compression socks let the blood circulate during long flights and hikes and help with tired legs. They make an extremely good Christmas present for frequent travelers and are also available in these fancy Christmas designs.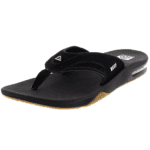 30. Flip Flops with Bottle Opener
You are sitting cozily on the beach and want to enjoy a cool bottle of beer, but the bottle opener is missing! Now it would be perfect if there was an integrated bottle opener on your flip flops, you think. And the great news is: there is! So if your travel enthusiast is traveling and beer at the same time, you should definitely buy him these flip flops, because you'll certainly make him laugh and have fun.
A travel laundry bag is an ideal gift for globetrotters to keep order and to store laundry. It can store up to 20 liters of volume. In addition, it is not only practical but also pretty. You can choose between different designs with a travel theme – a great Christmas gift!
No matter if bear, penguin, rabbit, koala or, fitting for Christmas, moose, and reindeer – these sleep masks are amazing! They are super soft and extremely cute and the most important thing is: they help to get a good night's sleep. Such a sweet and funny sleep mask should not be missing under a traveler's Christmas tree.
Safety First! To protect your valuables during your trip and for example on the beach, you can use a travel safe, so that your treasures are locked with a combination lock. This Christmas present is first and foremost very practical.
What should definitely not be missing at Christmas? Right, Christmas cookies! And to make sure they get the right shape, there is this cookie cutter for travel enthusiasts. Your travelaholic presentee will certainly be thrilled. It's best to give him or her a few homemade cookies in airplane design or a voucher for "baking together".
These fancy cup holders are absolute eye-catchers! Surely this gift will cause a stir at Christmas. These cup holders are an absolute must for travelers who like to go to beach and pool parties and they are also easy to store because they are inflatable. With these drink holders you are perfectly equipped for the next vacation!
UNO is simply THE vacation game. You can play it with anyone at any time, especially at the beach or pool it is fun to play around. But who does not know it? The wet hair drips on the cards and they are ruined? Now there is a solution: UNO Splash! You can play UNO not only with everyone but also everywhere because the cards are waterproof. The clip on the cards also allows you to easily attach the cards to your backpack. This is a genius travel gift!
Best Travel Gifts for your Home
Are you looking for a super beautiful, creative, and homemade gift idea? We have the perfect Christmas present for your traveling buddy: a fairy light chain decorated with past travel photos! Globetrotters have tons of great vacation photos just waiting to be printed and hung up. In addition, a string of lights is very cozy, especially at Christmas and wintertime.
And by the way, this chain of lights sweeten the time until the next vacation!
38. Travel Savings Suitcase Bank
You need money to travel! A beautiful money box can remind a traveler of this fact from time to time. This way your travel-loving friend won't lose sight of his destination and saving might be a little easier. The best thing is to add a piggy directly to the savings box so that the journey can start soon.
The cork globe does not only look good, you can also mark with pins where in the world you have been or maybe just where you want to go next.  A wonderful gift for all frequent travelers.
40. Individual photo calendar/photo book
Presenting someone with a photo book is a truly unique and personal gift, as it is full of special moments that you have probably experienced together. With Christmas approaching, it is the perfect time to think about capturing your last travel adventure in a photo book. With this perfect gift for your travel buddy, every trip will be remembered long after you return home. We can especially recommend the photo books from Saal, the quality is just great!
41. Dirty Dining: An Adventurer's Cookbook
Sometimes it's just great to have the time instead of giving stuff away. For example, how about a cooking evening together with dishes from all over the world? The Dirty Dining: An Adventurer's Cookbook, a cookbook for food lovers and travelers alike, provides inspiration. By the way, the author of the book developed the recipes while exploring the world on her motorcycle, making the recipes especially suitable for travel. So you can also combine a camping trip with your cooking evening. Your travel friend will certainly be very happy!
There are great tasting packages for travel enthusiasts who feel like a culinary journey with drinks, snacks, food, and spices from all over the world. These help to have an authentic culinary experience at home and are currently in Covid-19 times a small diversion for each travel lover.
Travel Gifts for Outdoor Travelers
43. Travel Hammock Double & Single
A hammock is the perfect Christmas gift for all travelers who like to hang out. Hammocks made of parachute nylon are especially suitable for traveling because they are small, extremely light, and with the right accessories they can be safely hung up almost anywhere. A travel hammock can also be used as a comfortable and inexpensive place to sleep. Alternatively, it can also be opened on the balcony for a travel feel.
A multifunctional tool is great for traveling to open bottles and cans, cut meat and fruit or crack a wire. This gift will be appreciated if your presentee travels a lot in nature.
45. USB Rechargeable LED Headlight Flashlight
In places where there is no electricity, a headlamp can light the way to the toilet, the path on a hike, or act as a reading lamp. Best of all, it is also waterproof in case it gets wet. For outdoor enthusiasts who like to spend the night in the wilderness, a headlamp is very useful – a great Christmas present!
46. Fast Drying Microfiber Travel Towel
If you don't want to go on a wellness vacation, but just want it to be practical, small, and light, there is only one perfect towel choice: the famous microfiber towel. Unfortunately, it is not as thick and fluffy as a terry towel, which we have at home, but it is still soft and above all, it dries quickly. For travelers, you can't go wrong with this Christmas gift. There are different sizes and colors, so there is something for everyone.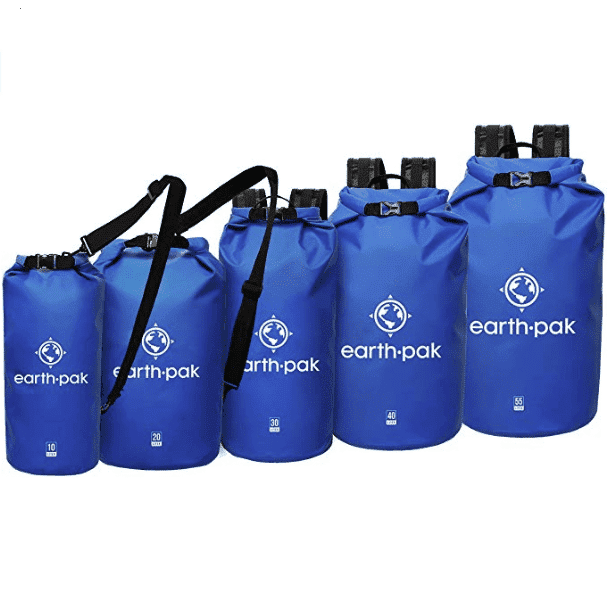 47. Earth Pak -Waterproof Dry Bag
A Dry Bag backpack is a great companion for all outdoor travelers to carry and protect all their equipment during their travels. Whether your presentee is hiking outdoors, going on a wilderness canoe trip, or planning a sailing trip, with a Dry Bag he doesn't have to worry about moisture and wetness getting to his stuff. At night the backpack can also serve as a camping pillow. Just great for every adventure!
48. Insulated Coffee Mug with Handle
Does your travel buddy love camping? Then a practical and pretty camping mug should not be missing from his repertoire. In the practical thermo design, it even offers the possibility to hold the temperature of the drink.
Perfect for on the road, the 4-in-1 camping cutlery: knife, fork, spoon, and bottle opener in one. Of course, you could also just take plastic cutlery with you every time. Alternatively, you could do something for the environment. This is a very practical and useful gift for environmentally-conscious travelers!
Travel Gifts for Travel Photographers
A Gorillapod tripod has flexible, bendable legs and is compact and lightweight! It can be mounted almost anywhere, even in impossible places like handrails, tree branches, etc. The GorillaPod is a good gift for taking long-time exposures and night shots without having to set up a tripod.
A camera clip is the safest, most comfortable, and accessible way to carry a camera. In contrast to a camera strap, the clip holds your camera while you are hiking, biking, or any other movement. A big advantage when traveling is that your camera is right at hand when you have a great photo opportunity. For example, your travel buddy can quickly capture the passing lion on his African safari.
You can't have arms that long! If you want to take a selfie with your smartphone, you will soon reach your limits in terms of perspective: your friend doesn't fit on the photo, the background is too small and the angle of view is not the one that makes you look best. With a Selfie stick, taking photos is now much more flexible and easier. For all travel photographers, a Selfie Stick is a must-have! Besides, sometimes it's really funny to take photos with a Selfie Stick.
A practical and fashionable camera backpack is a great Christmas gift for photographers. Typical camera bags are often inconvenient, so a backpack is simply much more comfortable to carry and offers a lot of storage space in which camera equipment can be perfectly stowed away. There is also enough room for food, clothing, and other things. The rucksack is characterized by the fact that it is theft-proof, but at the same time allows quick access to the camera.
54. Adjustable Protective Camera Wrap
The Camera Cloth is ideal for all photographers who do not want to use a photo bag and want space-saving camera protection for their travels. It is water-repellent and serves as a buffer against scratches and shocks. The protective cover was not only developed for cameras but can also be used for other electronic devices such as tablets, lenses, etc. and is, therefore, a versatile Christmas gift.
Best Travel Books
There's nothing like vagabonding: taking time off from your normal life—from six weeks to four months to two years—to discover and experience the world on your own terms. In this one-of-a-kind handbook, veteran travel writer Rolf Potts explains how anyone armed with an independent spirit can achieve the dream of extended overseas travel.
Filled with beautiful National Geographic photography, wisdom from expert hikers like Andrew Skurka, need-to-know travel information, and practical wildlife-spotting tips, this inspirational guide offers the planet's best experiences for hikers and sightseers. From short day hikes to multiday excursions like Mt. Meru in Tanzania and multi-week treks, you'll find a hike that matches your interests and skill level.
57. The Best American Travel Writing
An eclectic compendium of the best travel writing essays published in 2019, collected by esteemed guest editor Robert Macfarlane, author of Mountains of the Mind and Underland. The Best American Travel Writing gathers together a satisfyingly varied medley of perspectives, all exploring what it means to travel somewhere new. For the past two decades, readers have come to recognize this annual volume as the gold standard for excellence in travel writing.
58. 1000 Places to See Before You Die
1,000 Places to See Before You Die is the world's bestselling travel book and a #1 New York Times bestseller. 1,000 Places reinvented the idea of travel book as both wish list and practical guide. As Newsweek wrote, it "tells you what's beautiful, what's fun, and what's just unforgettable—everywhere on earth."
59. Travel the World on $50 a day
If you've ever dreamed of traveling the world, flying off to Europe, a honeymoon the Seychelles, or just taking your family to Disney or a trip to London, How to Travel the World on $50 a Day will give you the practical, step-by-step instructions to get your there – from start to finish on $50 a day (or less). Matt reveals the tips, tricks, and secrets to comfortable budget travel that you won't find anywhere else.
As self-confessed travel geeks, we regularly ask ourselves: where are the best places in the world to visit right now? It's a very hotly contested topic at Lonely Planet and generates more discussion than any other. Best in Travel is our definitive answer.
61. Couchsurfing in Iran: Revealing a Hidden World
In Couchsurfing in Iran, award-winning author Stephan Orth spends sixty-two days on the road in this mysterious Islamic republic to provide a revealing, behind-the-scenes look at life in one of the world's most closed societies. Through the unsurpassed hospitality of twenty-two hosts, he skips the guidebooks and tourist attractions and travels from Persian carpet to bed to cot, covering more than 8,400 kilometers to recount "this world's hidden doings."
62. Lonely Planet's Where To Go When
Where To Go When, the ultimate trip planner for every month of the year, is a beautifully illustrated book that is both practical and inspiring. For every month of the year it presents 30 recommendations of destinations that are at their best during each month, whether due to their climate, or value or because there's a lot going on.
Now it is time to give joy and adventure!
We hope you have found the perfect Christmas gift for the traveler in your life among our creative, practical and original gift ideas 2021. You can be sure that these gifts will make the hearts of all globetrotters and travelers beat faster.
No matter what kind of Christmas gift you are looking for. Whether it should be a small surprise, a luxurious present, a gift for someone who is in love with nature, a photographic enthusiasts or an extraordinary fun travel gift, here you are guaranteed to find something special for your beloved ones. You can be sure that whoever is in love with traveling, is going to love these gifts as we are using most of them on adventures as well. One more advice: if you know the next destination of your presentee you can check our specific packing list for even more inspiration (e.g. Cuba, Iceland and Mexico).
We wish you a fabulous Christmas time. Have fun shopping and don't forget to give yourself a little present as well. In Covid-19 times it is sometimes encouraging to give yourself time to reminisce about old vacation memories or make new travel plans for the future. You can find many inspiring travel stories on Traxplorio.com.
Do you have another great gift idea for travelers? Which gift would you be most happy about? Tell us in the comments.