Enjoying an active vacation in the mountains in bright sunshine? Sounds great! 😎 No sooner said than done – on our road trip through the south of Germany, our journey took us from Neuschwanstein Castle on to Tyrol in Austria, where we arrived in the small, dreamy town of Galtür, right next to the Silvretta Alps. 🏔 Most visitors who go to Paznauntal tend to spend their vacations in the neighboring vacation and après-ski resort of Ischgl. We actually didn't like the place at all when passing through in summer, as it was littered with construction cranes and rubble. So rather drive on to the idyllic Galtür. 😉
Arrival at the Hotel Zontaja 🏨
Small but nice – that is the village of Galtür and the family-run Hotel Zontaja, located in the middle of the green meadows of the Paznaun Valley. We felt right at home. Our room offered a beautiful view of the peaked mountains, a small stream, and the goats nibbling grass in the meadow. I can repeat it again: absolutely idyllic! And it's right outside the door. 🐐🌿
The Tyrollean 3 star hotel offers not only a great location for the perfect vacation in the mountains but also soooo delicious food. 😍 Through a last-minute deal, we got a particularly good rate for the hotel with meals (all-inclusive light, which means breakfast, afternoon snack, and dinner). The breakfast buffet was filled with all sorts of regional products to start the day fresh and energized every day. 🍎🍳 Unfortunately, we could not try the afternoon snack, because we were either still full from breakfast or on an excursion. But in the evening we always had a ravenous appetite! 😅 The menu consists of several courses. One dish was tastier than the other. I must really praise the kitchen and also our cordial service! We fell into bed every night happy and round as a ball. 😃
By the way, there is also a small modern sauna area in the hotel, which we tried right on the first evening after the rainy journey. The steam bath and sauna are not spectacular, but at least nice-to-have if you are just frozen through. 🛀
Paragliding – above the clouds… ⛅
What would be an active vacation without real adventure? How about paragliding? Yes, we do! 💪 We booked a tandem flight and could hardly wait. Well, we felt a little bit queasy when we were actually riding in the jeep up the mountain from which we were supposed to take off at any moment. 🙈 But if you are a little adrenaline junkie like us and you would like to "fly", I can recommend it to you: do it! It was so much fun to float through the air and see the world from above. 💙
We booked the tandem flight quite practically in advance at the hotel, because the landing field of Twinfly is located directly behind the hotel. We received a special discount because the owners of Hotel Zontaja and Twinfly know each other. 💸 Our flying partner Daniel, who is also the owner of Twinfly, gave us a lot of encouragement beforehand and explained exactly what was important. In paragliding, you run into the abyss so that the glider opens. It's a pretty strange feeling when your brain tells you that you'd better not do exactly that. 😅 I had great weather conditions during my flight and was even allowed to steer the glider for a short time and make it swing – really awesome and many thanks to the wonderful experience! 🤗 … I almost forgot: unfortunately you don't fly above the clouds, but almost… at least it feels like it. 😃
Hiker's paradise in the Silvretta Alps 🏔
Mountains, mountains, mountains – wherever you look. The impressive mountains simply invite you to go hiking. Therefore, we laced up our hiking boots and set off in the direction of the Silvretta Alps. With a choice of more than 20 hiking routes, the decision is of course not so easy. 😏 But since the day was already half over after our paragliding trip, we decided on a very relaxed tour, namely to the hut Scheibenalm. In total, the hike takes about 2.5 hours and covers 12 km. ⏳
The hike starts at the village square in Galtür. From there we walked along the Alpinarium and turned left into the district Winkl. We reached the hiking trail in the direction of the Jamtal. Right at the beginning, you have a unique view of the beautiful nature and the Jamtal glacier. 🍀 We hiked along the stream and past idyllic cow meadows, which are traditionally decorated in Austria with thick bells and can be heard from afar. 🐮 (A snapshot with the pretty inhabitants of the mountains had to be😃).
Surrounded left and right by shimmering blue glaciers, green alpine meadows, wildflowers, and clear streams – that makes the hiker's heart beat faster! 🌸💗 I recommend you simply pack a small snack or a cool beer and throw yourself into the meadow at a nice place (don't worry, there are extremely many of them) to enjoy the nature, sun, and silence – simply fantastic! 🍻 (And please do not forget to take the garbage back with you, so that many visitors after you can enjoy this hiking paradise. 🙂)
If you are in the mood for a trip to the lake, then I can warmly recommend the reservoir Kops. You can park right by the reservoir and take a walk around the super nice turquoise lake. 🌾 In the background are the mountains and along the way, you will discover many purple flowers, really a dream! 🌺
The most beautiful alpine pastures & huts 🍗
Galtür is home to some authentic alpine pastures and huts with unique mountain panoramas and lovingly prepared meals from regional products. 🍲 To recharge your batteries on your hike through the mountains, a stop in the alpine pastures is perfect. Which alpine pastures should you definitely not miss?
Well, I particularly enjoyed the Scheiben Alm, which we visited on our hike in the Jamtal. It is a cozy stop for refreshments with a beautiful view over the Jamtal and the mountains – love it! 💖 In addition, the family-run Alm offers delicious food from its own production. We enjoyed the Almkäse soup and apple strudel with a view of the Jamtal glacier – mmmmmh! 🧀
On the way to the Scheiben Alm, you also pass the small Menta Alm after 40 minutes. There we refreshed ourselves with wheat beer and delicious fresh blueberry buttermilk – absolute recommendation!🍺
Last but not least: the Weiberhimml (translates as Women Heaven 😃)! This hut is located directly on the road Kopsstraße, so you can easily reach it by car or even bus. 🚌 The Weiberhimml offers a great indoor area with a cozy lounge, a great outdoor area with a view of the valley, and super delicious Käsespätzle, which you must have tried when you're on vacation in Austria! 😍 But beware: the spaetzle is (even if it doesn't look like it at first glance) extremely filling. From the Weiberhimml you can also watch the cable car Breitspitzbahn, which is used mainly in the winter season for skiing. ⛷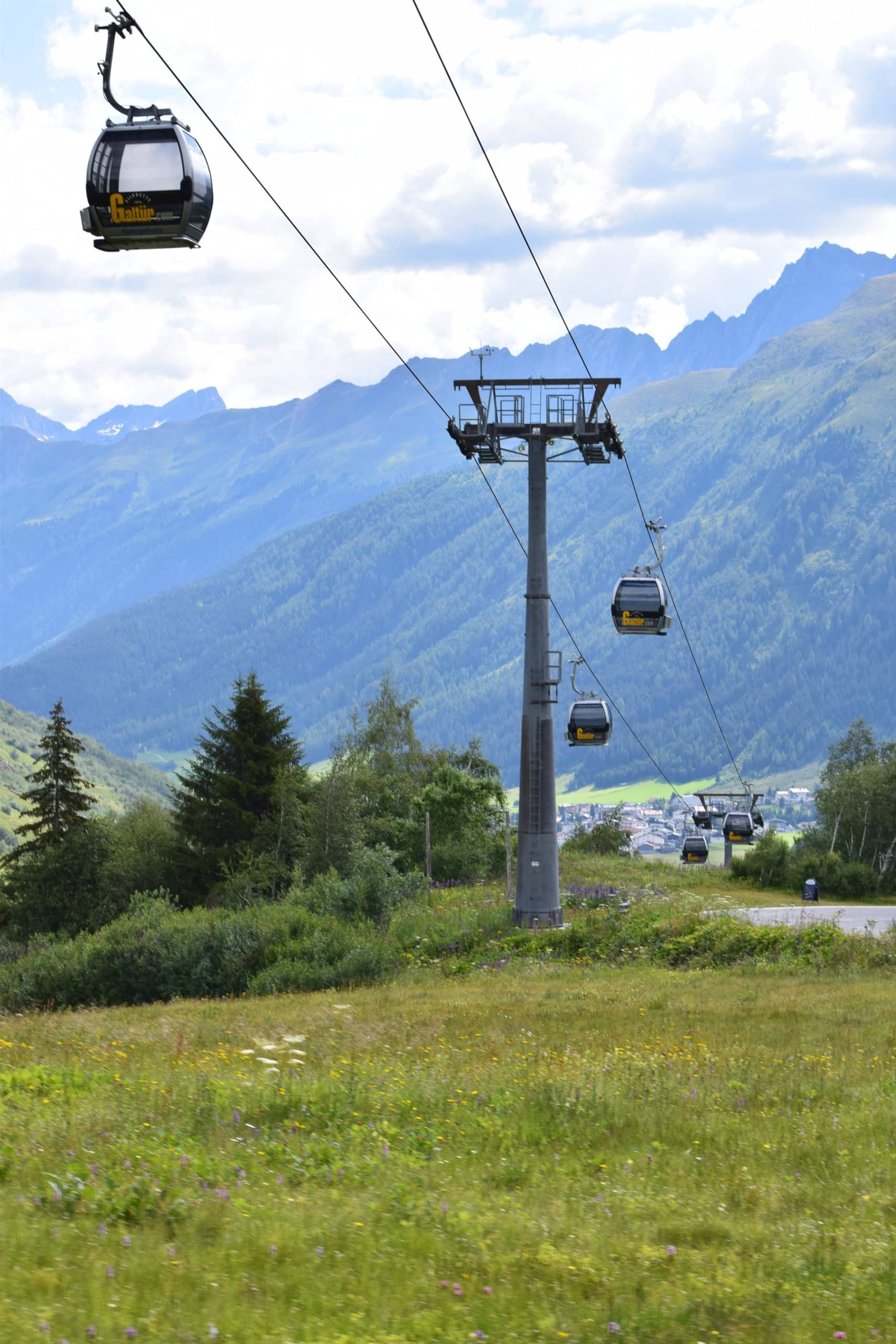 By the way, the height at which Galtür or the alpine pastures are located should not be underestimated. 👆It may well be that you get dizzy or have nosebleeds like me. So listen best to your body and take a break if you are not feeling so well. 😌
Road trip over the Silvretta High Alpine Road 🚗
For all car and motorcycle freaks, Galtür also offers just the right thing: the Silvretta High Alpine Road, one of the most beautiful and popular panoramic roads in the Alps. 🛣 It connects the Paznaun Valley with the Montafon in Vorarlberg and runs from Galtür for 10 km along with breathtaking mountain scenery up to 2,032 m, the Bielerhöhe. The route is especially popular for its many curves and magnificent views. ⛰ Don't drive too fast though, cows will cross your path from time to time. 🐄 Once at the top, be sure to make a stop at the Silvretta reservoir. It's so beautifully turquoise and you have a view of the highest mountain in the Silvretta range, Piz Buin. As always, you can also take a hike here with a fantastic panorama.🚶
I almost forgot: the Silvretta High Alpine Road is subject to tolls and costs 16.50€ per vehicle, if necessary it makes sense to buy the Silvretta Card, which includes, among other things, the ride on the road. Fortunately, the Hotel Zontaja provided us with the Silvretta Card Basis free of charge, so we could even benefit from it twice. 🤑 Once during our day trip to the Silvretta reservoir and once during our onward journey to Liechtenstein. Liechtenstein? Yes exactly, that was our next and last destination on our summer road trip. Bye Austria – Hoi Liechtenstein! 👋