The next trip to the sunset, my friend. I went to Patong beach. The beach was beautiful, yes I enjoyed myself. My friend didn't swim on the beach – but I didn't swim for long either because I had another trip coming up that was a little more challenging. We rented a motorcycle. Because I was excited to swim, some of my friends were looking for a motorcycle rental. I was a little nervous because I had to leave my passport there…. but since my friends did it too, I was a bit more reassured – positive thoughts here 😛
Our first trip was to the "Big Buddha". This trip is like climbing a mountain but with the beauty of the sea always next to you. I really wanted to go down for a short moment to enjoy it. Because I understood Google Maps, I had to guide us 😀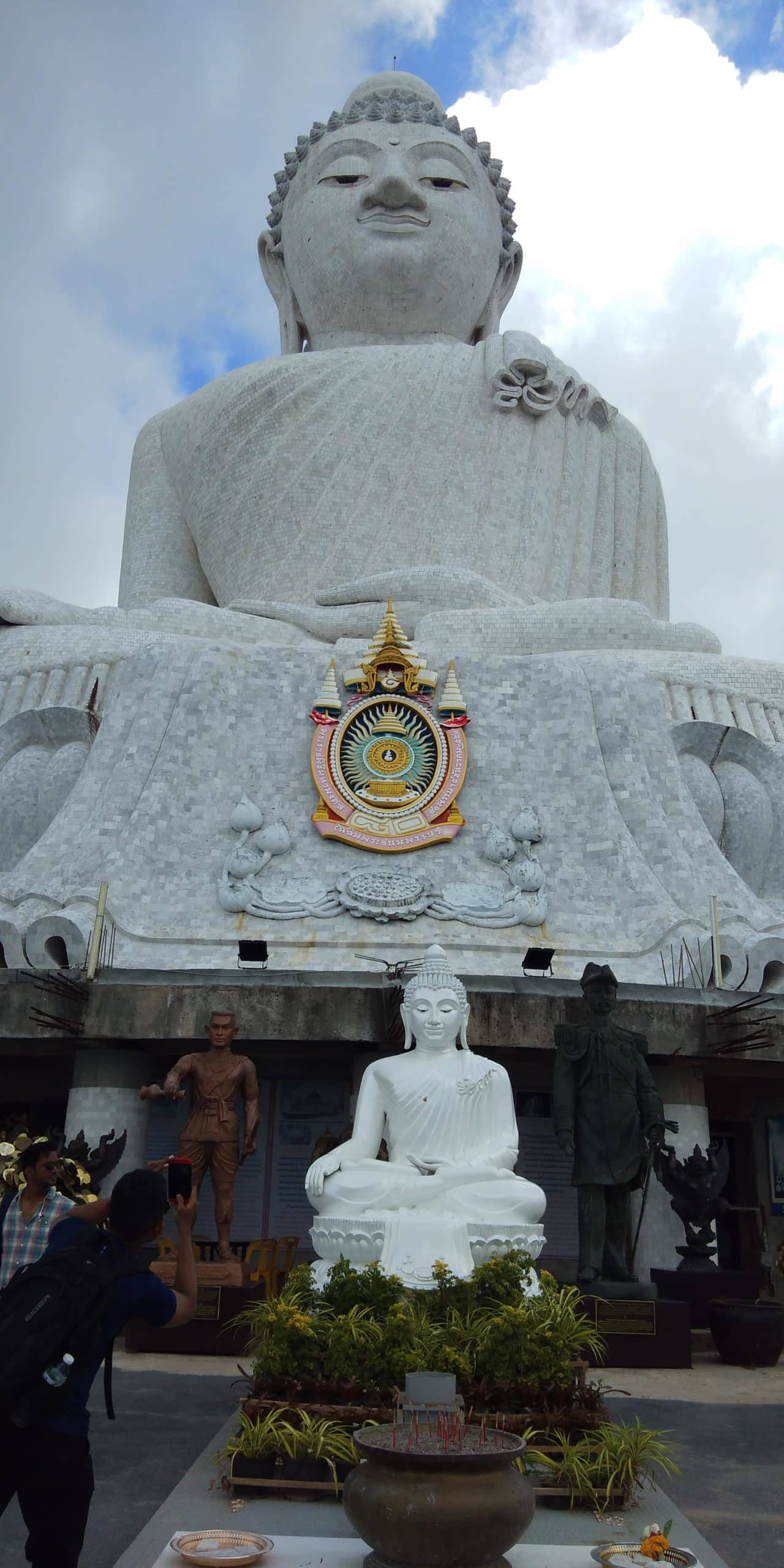 When I arrived at the Big Buddha, I was very, very surprised because it was a huge white Buddha statue. Here is some information I got. The official name was Phra Phutta Ming Mongkol Eknakiri, the height of the statue reaches 45 meters and it is also located in the Mueang Phuket District. On Google Maps you just have to type "Big Buddha" and you will find it quickly.
If you go to the Big Buddha, I suggest bringing a hat and sunglasses – because it will blind you from the sun and the beauty of the beach. I don't know why, but when I was there, everything I saw was beautiful – from the architecture, the place to the details. Maybe it was good to have been there when they were fixing certain things. Inside there were also many small statues for sale. Some are sculpted, others are printed. I bought a sculpted one for my family. If you look from the top and turn around, you have a beautiful view. Enjoy the sea and the land, which is very beautiful. The sea is green and blue. I recommend you to come here because you can see the beautiful scenery. At the big Buddha, there are also four prayer trees and several golden Buddha statues.
Next, I wanted us to continue our journey to Karon Viewpoint. In my opinion, the view here is very beautiful. However, there are also very many tourists piled up here. So we waited a bit until we left for Promthrp Cape. Before we went to Promthrp Cape, we had lunch first because we were very hungry.
Because I had an evening program planned with my boyfriend, my boyfriend and I went home first to the Next we went to see Simon Cabaret Phuket. This is very famous. There are very funny performances here. However, as a woman, I have to say – wow, I'm a little sad because the performers are prettier than me 😀 I only saw this cabaret. We also met a few other people. Later there was a photo session with the talents there. It costs 100 bath for a photo with one person and 200 bath with 2 people. So be careful. After that, I returned to the hotel and sent my motorcycle home because I had to go to Bangkok the next day in the morning. At midnight I went to Patong Street for dinner. That was a nice day 🙂