When I first thought of Ethiopia pictures of starving children and a hostile and infertile landscape clicked into my mind. But as often imaginations can be wrong, Ethiopia is still a very poor country and is facing lots of struggles. However, it is also full of amazing colors, flavors, and buzzing life. Ethiopia has a lot to offer – beautiful landscapes, rich heritage and ancient traditions, amazing wildlife, and the best coffee in the world plus tasty food.
Here comes a picture journey of my most impressive Ethiopian experiences:
The People
Fascinated me the most  – first of all how they master their daily survival with improvisation. They are turning the smallest things into a little income. Second, the locals are so friendly and keen on having a chat with that white-colored foreigner. Especially in the countryside, you will be surrounded by hordes of smiling children all trying to get your attention……it´s overwhelming and heart-warming.
Market and Street Life
Streetlife in the capital can be described in one word – chaotic. Traffic has no rules. Streets are packed with people and cars – it is wild, loud, and noisy, but also varied and interesting to observe. Street vendors trying to make a lean income out of almost nothing, little blue and white-colored tuk-tuk's finding their way through the chaos, heavily loaded donkeys….and so much more.
Street markets – in a way the whole city is one big, exotic open-air market. However, the central market of Addis – called Addis Merkato, takes this up to a completely new level.
The Addis Merkato is the biggest open-air market in Africa and was for me the most impressive visit on my trip. It is amazing how inventive people are in what they are selling. The area is huge – and an estimated 13000 people are working here in around 7000 smaller and bigger business stalls. It is just a big and never-ending WOW.
Ethiopian Coffee
Unarguable Ethiopian coffee counts as the best in the world. Coffee production in Ethiopia is a longstanding tradition, which dates back dozens of centuries. Ethiopia is where Coffee Arabica, the coffee plant, originates. It comes with a full coffee-making ceremony. The coffee is served in small cups similar to a Mocca. Strong and very tasty, will get you going the whole day!
Ethiopian Food
In terms of culinary delights, traditional Ethiopian food comes right behind outstanding coffee.
Injera is a sourdough flatbread made of teff flour. It is the national dish of Ethiopia as well as Eritrea. The bread will be spread out on a plate and different dishes (mainly kinds of stews) are placed on top of it. Some extra Injera bread is served which you take in your hand (always the right one) and grab the food with it. Quite messy if you are not used to eating with your hands, but the food tastes extra delicious in this style.
 Lucy
The National Museum of Ethiopia is home to a very famous resident – "Lucy". When some members of our group asked before the travel if Lucy will be at home, I thought who the f*** is Lucy???? I should have paid more attention to history lessons, shame on me. Lucy is an early hominid. And you can see her or better her fossilized remains in the basement of the museum. The question if she is at home was justified as dear old Lucy is traveling quite a lot and might be on one of her world tours to other museums. But we were lucky: Lucy was in da' house!
Countryside Living
At a first glance, the countryside looks quite peaceful and romantic, however, it is a very hard life out there with many compromises. Modernization basically doesn´t exist in rural Ethiopia. The vast majority of farmers still live in the traditional thatched huts, which are according to the income of the family different in size and amenities. The better ones are now made of wood and mud. But still, most of them are without electricity and running water. Toilette is out in the bush.
Religion
Religion is very present in Ethiopia and you can experience a deeply religious society. Roughly two-thirds of the population is Christian (mainly Orthodox) and one-third is Muslim. In general, there is a broad tolerance and respect for religious diversity. Churches and mosques are often situated in close proximity. In all religious groups, you can observe additional spiritual traditional beliefs. For tourists, a visit to one of the picturesque monasteries like the Debre Libanos Monastery is highly recommended (long clothing and a scarf for ladies are required).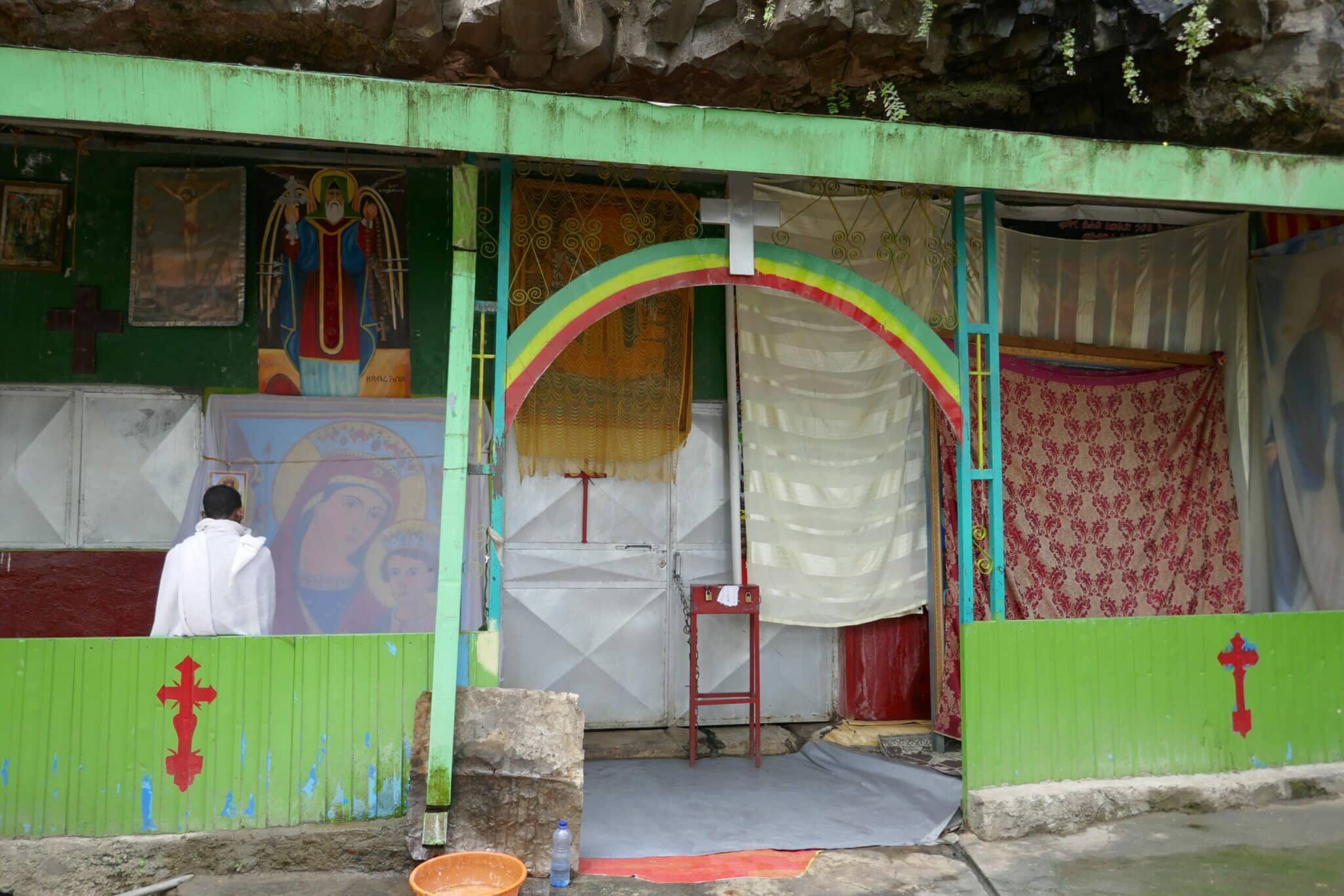 Natural Beauty
Unfortunately, I didn't have enough time on this trip to explore all of the vast natural beauty that this country has to offer. But I was already very impressed with the Wenchi Crater Lake, which is located around 150 km west of Addis Ababa. The extinct volcano has become a lake with a small island in the middle. The lake is surrounded by beautiful farmland.
Another natural highlight was the Canyon around the so-called Portuguese bridge. This canyon is part of the Great Riff Valley and is more than spectacular. If you have time you can do some very scenic hikes in and around the Canyon.
Of course, there are still many severe problems that this country has to solve – as substandard housing or homelessness. Also, the circumcision of young girls is still a common procedure, especially in the countryside. Resulting in many victims. A lot of education has still to be done in the future. But with the responsible and conscious development of tourism, money can be generated in order to support an improvement.