Kilimanjaro
Climbing to the highest point in Africa, Uhuru Peak, Kilimanjaro, was one of the most physically difficult and mentally exhausting things that we have ever done.  It was also the most rewarding! We are sharing our experiences, tips and advice for anyone considering climbing this incredible mountain.
Kilimanjaro is the highest mountain in Africa and the highest single free-standing mountain in the world at 5,895 metres (19,341 ft) above sea level.
There are seven routes that you can take to climb Kilimanjaro – Marangu, Machame, Lemosho, Shira, Rongai, Northern Circuit and Umbwe. We took the Machame route, and it took us 6 days. It is considered a difficult route and best suited for more adventurous folks and those with some hiking or backpacking experience (which we had very little of!)
We booked our trip to Kilimanjaro a year before we left; we felt that we needed this time to prepare, buy all our kit and to research. We also needed to save money because this was not a cheap trip.
We went with two other couples we were friends with and that was definitely a good decision. Having a big group of supportive people was a definite help because, even though this trip was amazing, there were times it was overwhelming and it would have been easy to give up.
Preparation
We are both very fit, and so physically we didn't need to do too much training.  We did go on a lot of very long walks though, and we tried to do them in places where there were lots of hills.  We also wanted to make sure that we had worn in our hiking boots and that they were as comfy as possible.
We did a lot of research and also spoke to our doctors about things like altitude sickness because we knew that this would be our biggest challenge.  Through our research we read a lot of information about the altitude sickness pill, Diamox.  We decided against taking this as we had heard from our doctors, and other people who had completed the climb, that the side effects of Diamox could be worse than the altitude sickness. One person even said that the she had completed Kilimanjaro with a group and the only person who didn't reach the summit was a lady who had used Diamox, we definitely didn't want to risk it!
We also did a lot of research into our kit; what we would need, extra things to take and also just things that would make our trip more enjoyable. One of these  was taking cordial to put in our water bottles.  The guides collect water from the mountain for you and boil it, however it doesn't always taste great so we took the little squeezy bottles of Robinsons Fruit Juice with us. These were a game changer; we needed to drink 4-5 litres of water a day and this definitely helped! We also took lots of extra snacks, playing cards, UNO and things to do in the evenings.   That said, most evenings we were so tired from our day of walking that we just went straight to bed after dinner.
Arriving in Tanzania
We arrived in Arusha and checked into the Rivertrees Lodge; this was a really beautiful place to stay so we could get some rest, eat as much as possible and relax before our climb. The next day we would be meeting our guide for our Pre-Climb Briefing.
We woke up early the next day and went to meet Penda, our guide for our Kilimanjaro climb.  He has climbed Kili hundreds of times and went through everything that we would face and explained the Machame Route, the different climates, the challenges we would face with altitude, all the health and safety aspects and everything we could possibly need to know.  This definitely put our minds at ease.
Penda, checked our heart rates and oxygen levels and noted them down.  This is done everyday throughout the climb at breakfast and again at dinner.
He went on to check and weigh our kit.  We had already decided that we wanted to hire the mattresses, trekking poles and an extra water bottle each. Our tents were provided for us as part of the package
We also hired a personal toilet for our trip.  We cannot stress enough that this was an absolute godsend!
Day 1 – 29th December 2019 – 5-6 hours walking – 8.2km
Our Trek started at the Machame Gate which is at 1,840m, here we had to register, sign disclaimers and show our passports before we could set off.  We met our personal porters who would be carrying our duffel bags for the duration of the hike and they set off ahead of us.
We were nervous but excited as we made our way through the heavily rooted forest area, it was hot and humid and rained a bit so we all had to stop and take our waterproof kit out and put it on over our trousers and t-shirts.  It was too hot to wear anything else.  We had our head guide Penda, Assistant guides, Calvin & Prosper, and our Medic, Anthony, with us the entire time. Our team in total for the climb was over 25 people for our group of 6!
We stopped to eat lunch along the way and by mid-afternoon we could see our first campsite, Machame Camp, which is at 2,835m. The porters who had gone on ahead, had already set up the campsite, the chefs had prepared our meals, and as we arrived, they were all singing, dancing, and clapping us in.  The guides and porters and everyone who makes up the team are incredible, and they will get you through your climb!  The porters had also left bowls of hot water outside all of our tents and after we had a quick wash, we soaked our feet in them, it was heaven!
The chef had cooked us a delicious dinner, we were all feeling positive and happy, with very few signs of altitude sickness.  We were tired but stayed up playing UNO for a little while before going to bed – this was the only night that we played cards!
Day Two – 30th December 2019 – 5-6 hours walking – 5km.
We were woken up early in the morning by our waiter who brought us each a cup of tea or coffee. W we were then given about 30 minutes to get up, get dressed and pack away our sleeping bags and prepare our day bags.  Once we were finished and out of our empty tents we headed to breakfast while the porters packed everything away and headed off to the next camp. The breakfast was fabulous, there was toast, fresh fruit, coffee and porridge; the guides make sure you eat as much as possible as you need the energy. Once again we had our heart rates and oxygen levels checked.  This was our daily morning routine.
This was also the day that we first saw the peak of Kilimanjaro, it had been overcast the day before when we arrived in camp; it looked very far away!
We started our climb, the words steep, rocky and difficult do not even begin to do the start of our journey justice!  We were going up incredibly steep paths, scrambling, falling and struggling in general, whilst the porters (from other groups, Machame is a very busy route) were almost sprinting past us as if it were no more than a gentle incline – they were also carrying all of the equipment, bags, food for the week, and everything else needed on their heads.  It was mind-blowing to see them, and the respect that we have for these amazing men and women will last with us forever.
We climbed over ridges, going up and down valleys and through stunning scenery and rock formations.  The views kept us going and we were still feeling positive and any nerves had now gone, but the tiredness and altitude were starting to affect us, we were breathing more heavily, and it was a really tough day. We needed to stop more frequently for snacks and drinks and toilet breaks (you just have to go au naturel, the portable toilet is only situated at the campsite).
As we started to approach our second campsite (Shira Camp at 3,830m) our porters had come back up the path to greet us and take our day bags, they carried them for the last 10 minutes of the hike back to camp. We honestly can't go into enough detail about how wonderful they all are!
We had another excellent lunch and were then given the option of going on a little hike to a slightly higher altitude and spending a couple of hours there, which we took. It wasn't very far and we could still see the camp site, we had fun with the guides taking selfies and photos and hoping we would acclimatise a bit.
After this we headed back to the camp, where once again we had our dinner, our daily de-brief, our vitals checked and went to bed.  Sleeping was now starting to get more difficult.
Day 3 – 31st December 2019 – 5-6 hours walking – 5km
After the morning routine we set off from Shira Camp and started with a fairly gentle hike before encountering rocks and boulders that looked like they belonged on Mars. The hiking on this day wasn't difficult, however we were really starting to struggle with the altitude; we were breathing like we had just sprinted for an hour even though we were moving at a snail's pace. We all had horrendous headaches and we our legs felt heavy. Once again, we were stopping for breaks more and more frequently, with our guides and medic monitoring us carefully and making sure we were all drinking and eating enough.
We were heading to Lava Tower (4,530m).  The point of the day's hike was to acclimatise. We would have lunch at Lava Tower before descending to almost the same altitude that we had spent the night before at.  We were given lunch, and by this point we could barely eat, the altitude was really affecting us and we were forcing food in, we knew we needed to eat and the chef had made another lovely meal, however the nausea was almost too much to bear.  We stayed at Lava Tower for about an hour before descending to Barranco Camp at 3,900m. Immediately on the outskirts of the camp you can see a sheer cliff face known as the Barranco Wall which we were told that we would be scaling first thing in the morning. We were all very nervous!
Once again we had dinner and got an early night, you may have noticed the date of our climb above, and at midnight full New Year's celebrations were underway all around the campsite; these lasted for about half an hour and we got out of our tents to watch the singing and dancing and the banging of pots and pans.  It was also the first time we had seen the stars on our trip – it was a fabulous sight and the most memorable New Year's Eve we have ever had!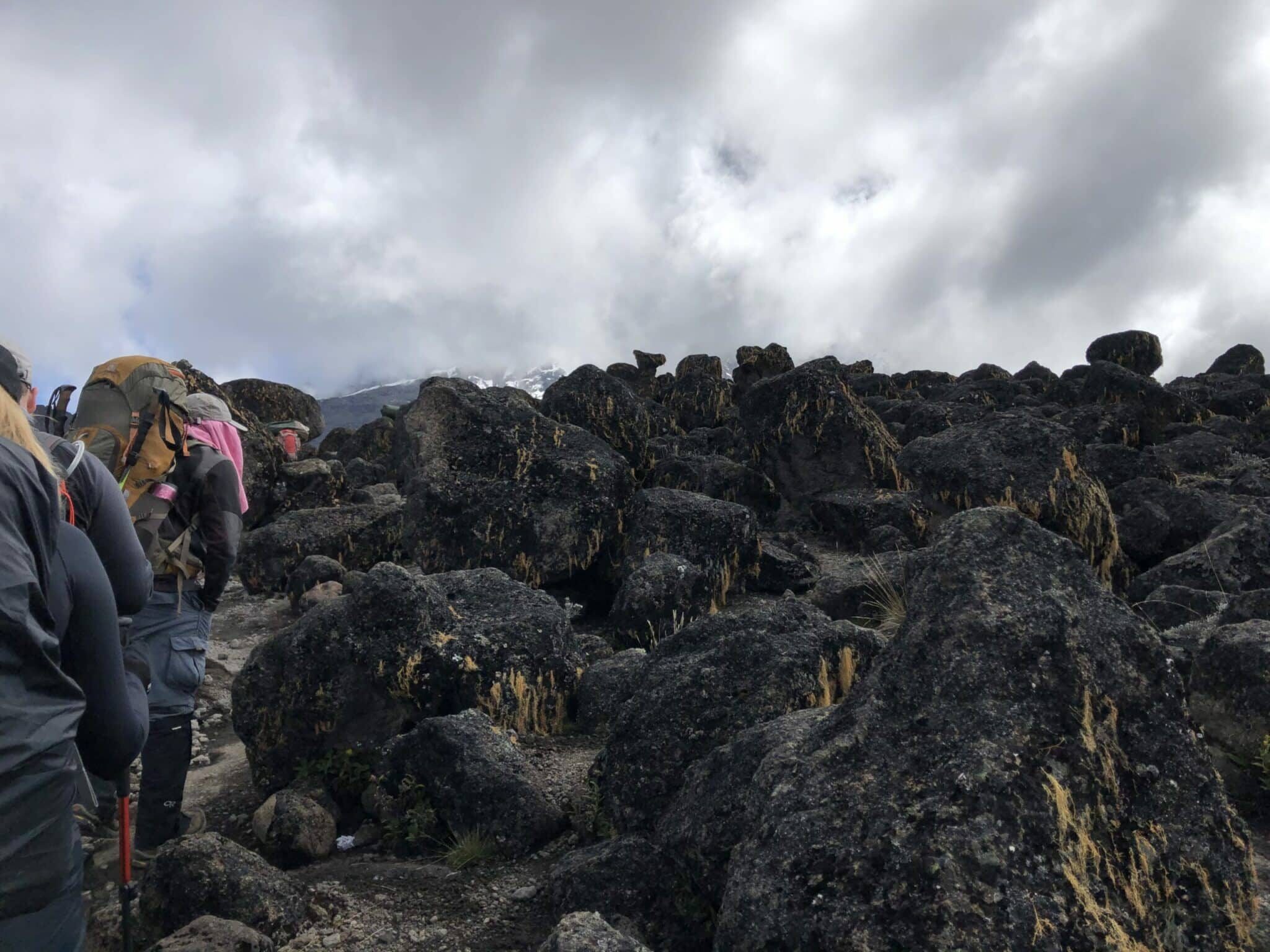 Day 4 – 1st January 2020 8-9 hours walking. 10.4km Barafu Camp ( 4,330m) :
We had very little sleep again on this night, partly due to the celebrations and partly because sleeping at altitude is very difficult. We had our usual morning routine and set off to scale the Barranco Wall.
It took us about 2 hours to climb the wall, it was very steep, but as always, the guides looked after us, told us where to step and what to do.  The views were breath-taking, and it was a thrilling experience.  We had all been very apprehensive about this climb, but it was our favourite part of the entire hike (with the exception of reaching the summit!).
After reaching the top, the walk was much easier and we trekked (very slowly) along a series of ascending and descending ridges up to Barafu Camp (Base Camp) at 4,330m.
When we reached Barafu camp we had a very early dinner and went straight to bed as we were told that we would be woken up at 11pm to have breakfast, ready to leave the for the summit at midnight.  Leon was sick straight after dinner.  The guides took him away to monitor him and check that he would be healthy enough to do the climb, we were all very worried.  Leon was told that he would need to go to bed, but that he had to make sure to have a big breakfast when we were woken up again. It was hard to sleep, we were feeling lightheaded, nauseous and exhasuted.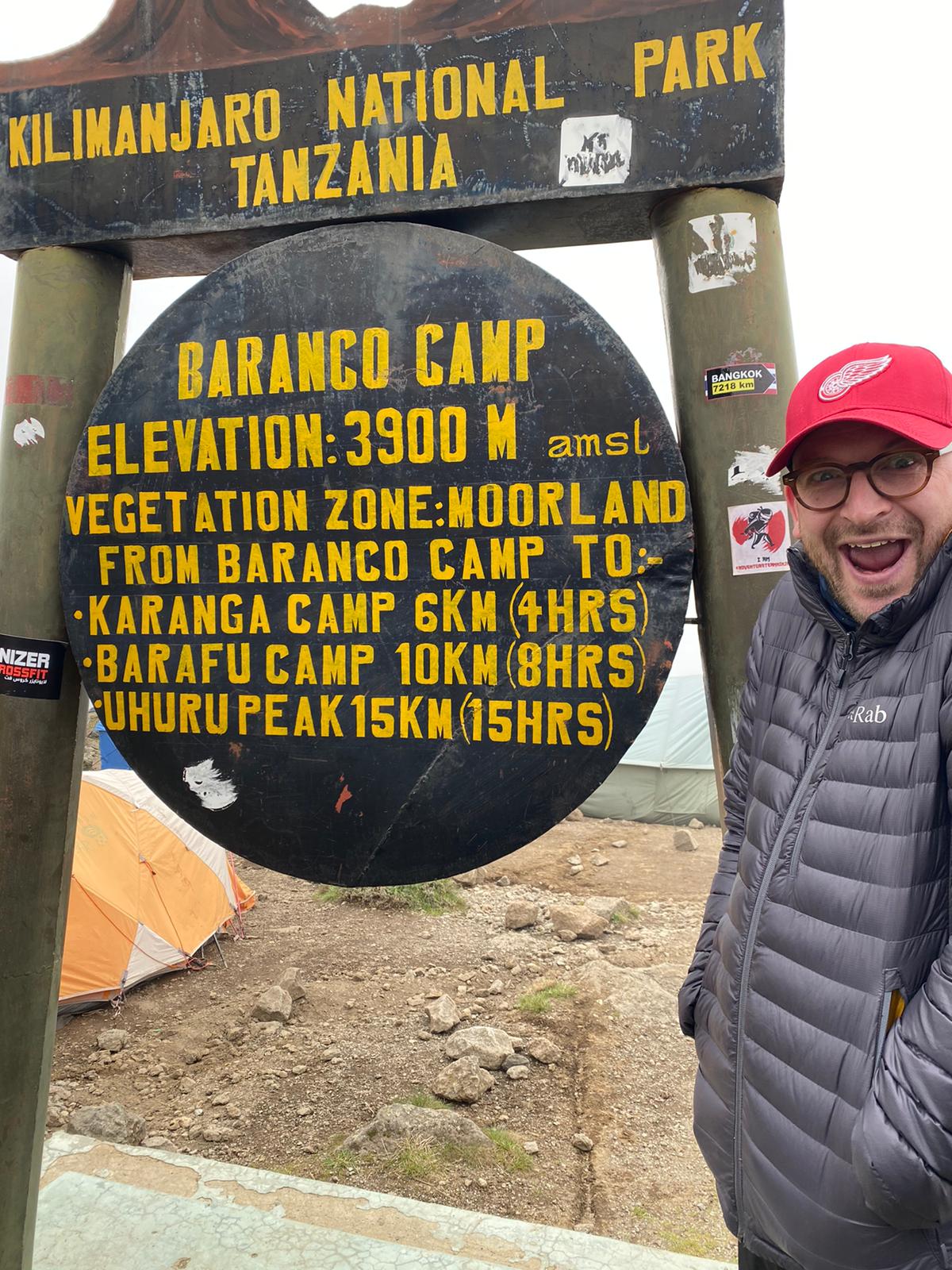 Day 5 – Summit Day – 2nd January 2020 -16 hours walking – 8km:
We were woken up at midnight, got dressed quickly and headed straight to breakfast; there was no need to pack up our things because we would be heading back to camp after we had summited.
We started our final ascent it was very slow-going and also absolutely freezing, we had all of our layers on to keep warm. We could see the lights of the towns below and the night sky above and we could also see the lights of everyone else snaking up the mountain which looked stunning.
The novelty of this soon wore off. I was feeling terrible and knew I was going to be sick. I was trying to hold it in and I was crying.  I thought that if I was sick, that I might not be allowed to continue the climb.  Inevitably, I threw up everywhere, the guides monitored me for a bit, forced me to drink and eat a Snickers (which I could only manage a few bites of) before allowing me to continue.  I was sick again about an hour later.  After this time though, I felt much better.
We carried on walking through the night although we had stopped talking to each other, it was hard even breathing normally, but the sun was beginning to rise and the rocks were slowly becoming more and more snowy the higher we got.   When the sun finally broke it was glorious; we started getting a bit warmer and were able to see where we were going which really lifted our spirits. Then Penda told us that we had been exceptionally slow and still had a long way ahead of us.
When we finally reached the rim of the Crater and Stella Point (5,756m), I gave up. I was shattered and I didn't feel like I could go any further.  I could see Uhuru peak way in the distance and genuinely didn't believe I could make it.  One of our group was being checked by medics and was on the floor.  I really felt we were at our limit.
Leon took me to one side and said, 'You will never forgive yourself if you give up now. Get moving.'  He pushed me onto the path and our medic came with us, one of the other couples we were with were not far behind us.  We walked along the icy path and finally made it to Uhuru Peak (5,895m)! The relief, sense of accomplishment and sheer joy, completely outweighed everything else that we felt and for a moment we no longer felt tired or sick. The second couple joined us not long after and we hugged and celebrated, we looked over the horizon for a sign of the final couple.  We were told that they were on the way but that we could only wait at the top for another 15 minutes as we had to start the descent.  After 10 minutes, we saw them coming, all of us burst in tears (except Leon – he has a robot heart). We had all made it and, even though we had taken nearly double the time we should have, we were all there together.
We did, however, now have to go back down again.  It was a steep, dusty, and the rocks were loose underfoot and so we kept falling over. We were now over our high from reaching the top and faced with a very long and difficult walk/tumble back to camp.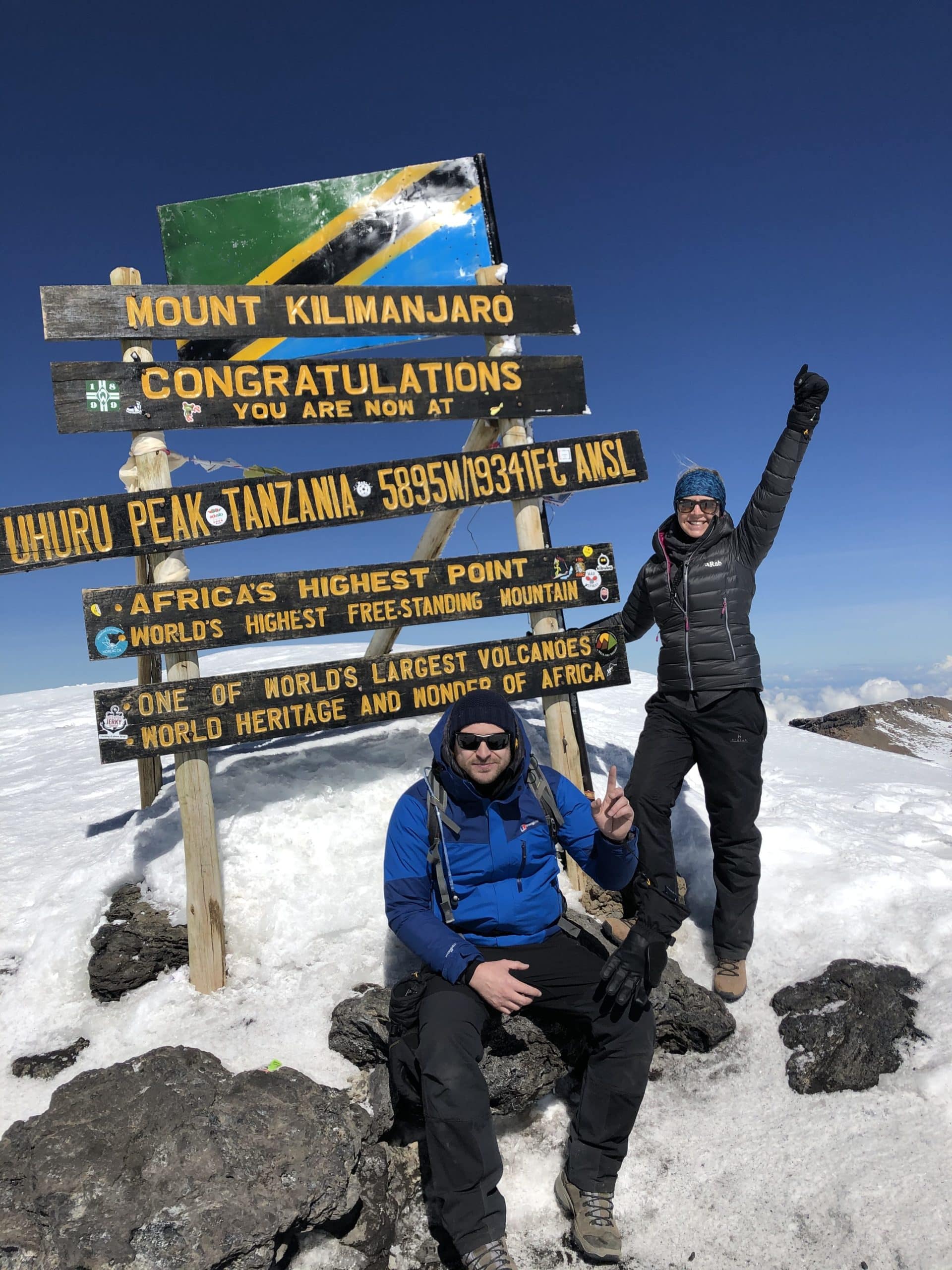 We eventually made it after about 14 hours of walking.  We were supposed to have had a break and some lunch before heading back to Mweka Camp (3,100m), however because we had taken so long, the guides changed the plan as they didn't feel that any of us could walk much further, so instead we headed to High Camp (3,950m) which was lot closer and were told it would mean we would have to get up earlier the following morning and walk further. We were all OK with this and very grateful! We had a rest and set off again.
When we reached High Camp, we were ecstatic, we had completed the climb and even though we hadn't come down as far as we should have, we could already feel the effect that the lower altitude was having on us. We changed and washed with the hot water provided by the porters and relaxed.
Later that night we were told about the tipping ceremony which would take place in the morning.(I will explain more about the tipping ceremony at the very end of this blog because we think it is very important and were not given enough information about it before we left.)
Day 6 – 3rd January 2020 – 14-16hrs walking 20km:
We woke up the next day feeling much better. We had slept well and were ready to go back to the hotel. One thing we all noticed was the horrendous sunburn on our faces.  Throughout the climb to Uhuru Peak, none of us had put any on, so make sure that this is packed and easily reachable!
We had a really fun morning, with lots of singing and dancing with the guides and porters as the tipping ceremony went underway. After this we packed up our things for the last time and set off.
The walk back was relatively easy although steep in places and, with every step, it got easier and easier to breathe. We felt hungry again and we had more energy.
We finally made it back to Mweka Gate and signed out of Kilimanjaro National Park!  We went for a final lunch with all of our guides and porters to say thank you and goodbye and received our certificates before heading back to Rivertrees for a much-needed shower and rest!
Finally – The guides and tipping ceremony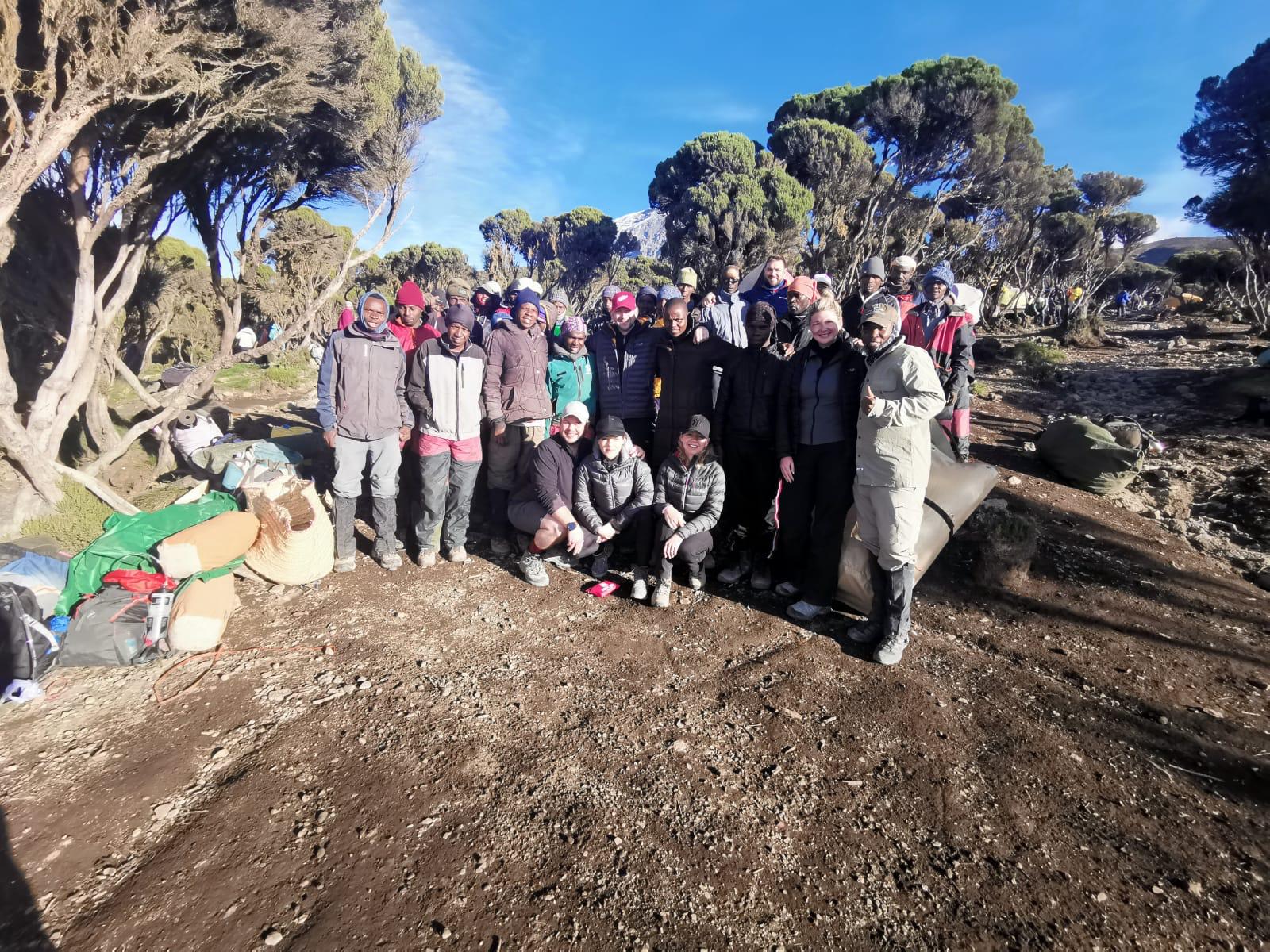 The guides, medics, chefs, porters and entire team that got us to the top of Kilimanjaro are the most incredible and hard-working people that we have ever encountered. We were astounded by them every single day.  We had been told about the tipping ceremony before we left but felt that the information we had been given was incorrect and so wanted to make sure that this does not happen to others.
We hadn't taken enough money for the tipping ceremony, we had been told $100 dollars per day ($600 in total) between us would be enough. This was nowhere near enough.
Luckily, we were due to be staying in Tanzania for a further 8 days, and because we had all of our money with us for the entire trip, we could tip more than we had budgeted. Which was closer to $2000.  Had we had more we would have given more, we would not have completed this trip without them. We also gave away huge amounts of our kit, trainers, walking boots, our camel packs, sleeping bag liners and  most of our clothes, which the guides and porters were very grateful for. We have attached a guide to tipping below:
Head Guide $20 per day
Assistant Guides $10-20 per day per guide
Cook $10 per day
Waiter $10 per day
Porters $5 per day.