Hey, everyone, we hope you all are doing great. We are hoomies back again with a new, beautiful destination that is Sri Lanka. We visited this place during our winter break in the months of December around Christmas 🎄 time and to spend the New Year with family.
We took a flight from New Delhi's Indira Gandhi International airport to Colombo's Bandaranaike International Airport. It took us around 3 – 4 hours. The flight timings depend upon your budget and departure city. The flight was really nice with a bit of turbulence as we approached Sri Lanka. On arrival, we crossed the immigration and proceeded forwards. We had already booked our self a rental taxi to take us to the Bentota. The taxi takes around 1 hour 40 minutes to reach Bentota.
ABOUT BENTOTA
Bentota is a resort town on Sri Lanka's southwest coast. This town is situated on the southern bank of the Bentota River mouth, at an elevation of 3 meters above sea level. The name of the town was derived from a mythical story that claims a demon named 'Bem' ruled the tota or riverbank. The place is located at a distance of 110 km from Colombo.
It is a famous tourist destination with a limited number of hotels. It is famous for water sports. Apart from that an alcoholic beverage was known as "toddy" is very famous. Bentota has a turtle Hatchery that attracts a lot of tourists. The city is surrounded by beautiful amazing palm trees and a serene atmosphere.
ATTRACTIONS IN BENTOTA
Bentota beach
Turtle Hatchery
Bentota Garden
Galle
Galapata Vihara
By the time we reached Bentota at our resort, we were already tired. By the time we arrived, it was quite dark. We just had dinner and went on to sleep. We headed over to our rooms but what amazed us was the music of the sea. We could hear the beach the whole night. The next morning, we got up all excited to explore this beautiful town. Following our breakfast, we went towards a beautiful beach which was just a walk away from our resort. The beach was so fresh, amazing with the very little crowd. Had a really nice time on the beach.
Today we had planned to visit this beautiful town. We proceeded for the Madhu Ganga boat ride.  This is one of the very famous places in Bentota. Being approximately 19 km away from our resort.
Madhu Ganga is the second biggest wetland in Sri Lanka. This wetland is abundantly rich in biodiversity covering around 14 mangroves. The view is just breath-taking. Such serene amazing place to visit. It covers at least 150 acres of land. It is one of the last remaining tracts of mangrove forests. Even this place is famous for fishing and farming. Home to so many beautiful mangroves it felt like heaven on earth.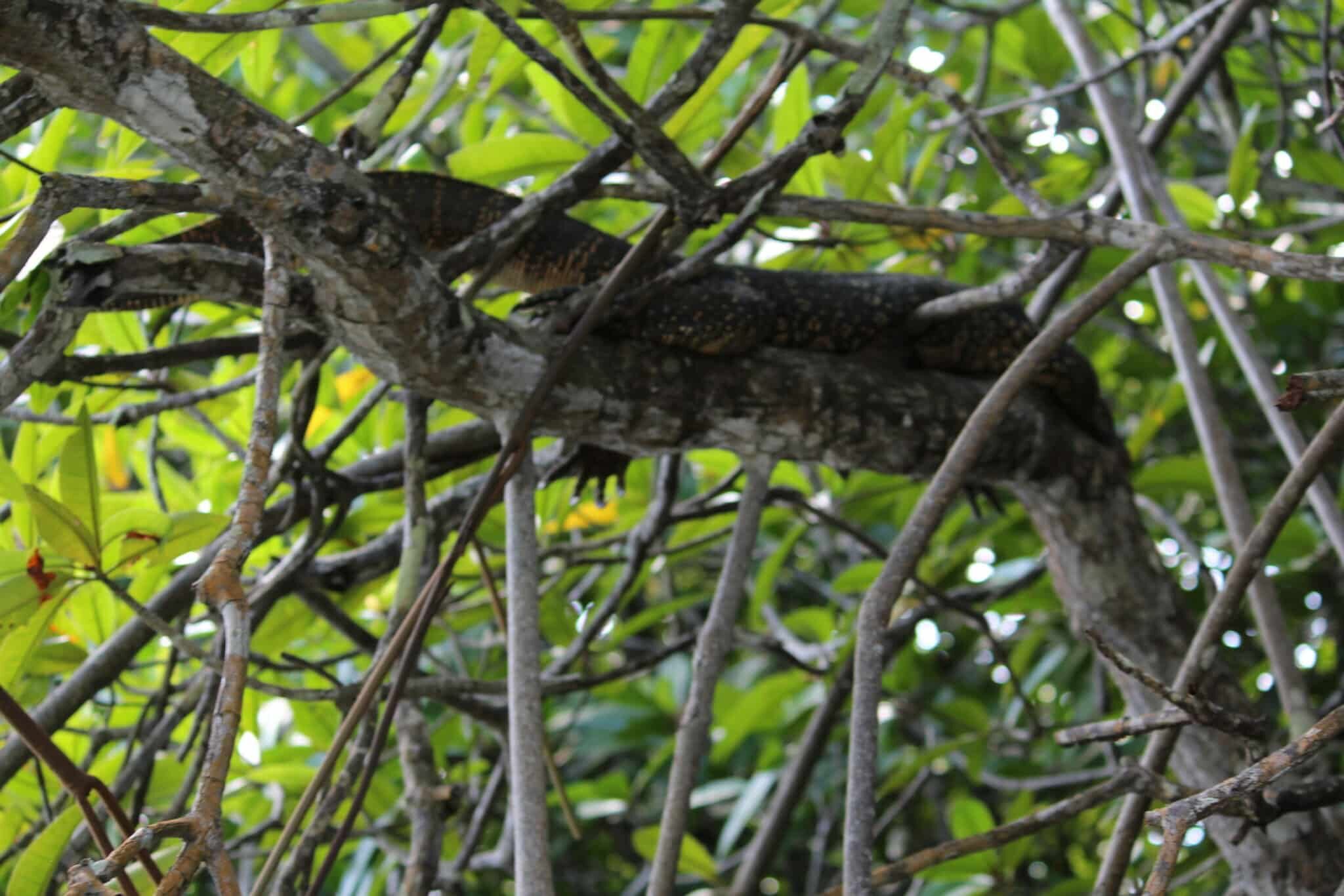 We got into our boats ready for the boat ride which usually takes around 2 -3 hours. The boat is accompanied by trained professionals and local fishermen. They take you to explore and enjoy the beauty of mangroves as boats traverse through the thick mangrove forest. A much visit place in Bentota. We got to see beautiful birds, some thrilling snakes over the trees, wild boars during our ride. Even they say if you are lucky (or unlucky) you can get to see crocodiles.
The entire river houses 25 islands of which only 15 are considered safe to visit.
Apart from the beautiful scenery, we were amazed by the local people who have built some temporary boats along the route in the river selling coconut water. One of the must things to taste in Sri Lanka. On inquiry, they told us they have parked their boats in the river and they come by morning to sell coconut water to the tourists and go back in the evenings.
Another amazing thing is getting yourself a fish spa in the midst of the river during the boat ride. The experience is overwhelming with a fantastic amazing natural environment. You would love the view as you travel through the forest. Tickets have to be taken if you are willing for a fish spa.
TIMINGS
6 AM to 6 PM
TICKETS
Pre-book them in advance if visiting in peak season
Costs around USD 10 per person (GROUP TOURS)
And 25-40 USD for the whole boat
Extra prices for fish spa
After enjoying ourselves we headed over to our resort. The next day after a great breakfast we had plans to visit the beautiful Galle fort.
We took a day trip to Galle
Port of Galle is Sri Lanka's fourth biggest town around 115 km south of Colombo. This town is rich in history and was a center of Dutch rule in the 17th century. The Galle Fort has been declared the World Heritage Site and is the largest remaining fortress in Asia built by European occupiers. This is the provincial capital of Sri Lanka.
The city of Galle is famous for beautiful delicate handmade lace and ebony carvings. Even we got to see the Galle International Cricket Stadium.
The Galle fort was just amazing. With beautiful scenery all around. You will have to do a little walk to reach the top of the fort. They even a little place to eat inside. Outside the fort is a small shopping area selling beautiful souvenirs.
TOURIST ATTRACTIONS IN GALLE
Dutch Museum
Groote Kerk
National Maritime Museum
BEST TIME TO VISIT
November to April due to its tropical climate.
CURRENCY
Sri Lanka Rupee
LANGUAGES SPOKEN
THINGS TO BUY
HATS
HANDICRAFTS
BATIKS
GEMS
SILK CLOTHES
THINGS TO PACK
HATS / CAPS
SUNSCREEN
SUNGLASSES
WATER BOTTLES
COMFY CLOTHES
COMFY PAIR OF SLIPPERS
MOSQUITO REPELLENTS
VISA DOCUMENTS
PASSPORT
CAMERAS
SMALL BAG PACK (FOR YOUR ACCESSORIES)
Thank you for reading us hope it inspires you and helps you out while planning your trip to Bentota.