I last visited Dubai in 2017 as part of a multi-destination trip back-to-back with Jamaica. I know they are on completely different sides of the world, but when you set your mind to it, anything is possible, right?! Rather than staying in the central area, which can be quite pricey, we opted to stay an hour away in Ajman and for anyone who has been to Dubai multiple times already, I would recommend opting for something similar on your next trip. It allows you to experience the top things to do in Dubai but from a different perspective and you get to see the quieter life away from the hustle and bustle of the City center.
Below are my Top 5 must do's when in Dubai
Dubai Marina (daytime)
Dubai's man-made marina is one of the city's busiest neighborhoods where you will never be bored! It's a great area for all ages to spend the day whether you want to shop, eat or play. Dubai Marina Mall consists of more than 130 restaurants, cafes, and shops targeted towards all budgets, but the biggest attraction situated within the mall itself is Dubai Aquarium & Underwater Zoo! For a more leisurely approach to experiencing the Marina and its surroundings, the promenade is the place to stroll along and watch the world go by. Dubai is all about luxury and the 'high life', so why not hire a private yacht for the day?! For those with a more adventurous spirit, soar over the marina on the longest urban zipline!
Dubai Marina (at night)
The landscape of Dubai becomes a dazzling array of sparkling lights as night falls, bringing a whole new atmosphere to the City. In my opinion, the evening is the best time to view Burj Khalifa from the outside, as the infamous light show illuminated the building from 7.45 pm until 10.45 pm every 30 minutes from Tuesday to Saturday. Whilst you're there be sure to also catch the water fountains come to life with color and motion as the water sways in time to a range of melodies. The display runs every 30 minutes from 6 pm, daily.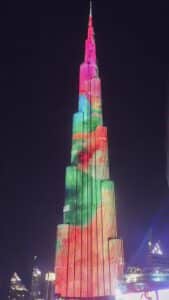 Dubai Creek & Gold Souq's
Dubai Creek has been the lifeblood of the city for generations and continues to be a vibrant hub for locals and tourists alike. A great way to get a taste of the local life is by riding along the creek on an 'Abra' – one of Dubai's many traditional boats; They run frequently as water taxis throughout the day across four stations along Dubai Creek and are largely used to cross the creek that separates Bur Dubai from Deira, Dubai's city center. You can either purchase a one-way ticket or hire your own Abra for an hour to explore further up the creek. On the ride, you'll be able to observe local traders, wooden dhows, and the occasional ship sail past as well as the contrasting views of old and new Dubai such as traditional houses, towers, and minarets.
If you didn't already know, Dubai is also known as the City of Gold. For over a century, traders have traveled to Dubai's Souq's (markets) in search of spices, pearls, and gold. A great part of Dubai's success with Gold is down to its geographic location; Gold brokers are able to benefit highly as their working hours cover every time zone from East to West. The real attention grabber for tourists to visit the Gold Souq's other than to grasp the cultural heritage of Dubai is that gold is tax-free for tourists!
Desert Safari
If you were to go on a desert safari in only one place in the world, it has got to be in Dubai as a late afternoon/evening experience! After all, before Dubai became the luxurious scene as we know it today, it was merely a sandpit! But one that proclaims a somewhat exotic legacy as I like to think of it. A typical desert safari involves a very bumpy ride through the desert in a 4×4, with the optional camel ride, sand boarding or Quad Buggy dune bashing followed by an entertaining show and meal after watching the sun go down.
Being a part of the United Arab Emirates means that Dubai has strong ties to the Arabic lifestyle and traditions. This is reflected in the entertainment of the evening which consists of belly dancing and Sufi whirling among other performances. The background music is in the traditional tune of their own melodies; Emirati music dates back to the time of the Bedouins and would've been sung by camel herdsmen and professional performers.
Dubai Parks and Resorts
Head South of Jebel Ali to experience Dubai Parks and Resorts which opened in 2017 (I am yet still to visit) and is the largest group of resorts and parks in the Middle East consisting of 3 theme parks: Motiongate Dubai, Bollywood Parks Dubai, and Legoland Dubai as well as Legoland Water Park. Whilst Legoland Dubai and Legoland Water Park are aimed towards families, Motiongate Dubai and Bollywood Parks Dubai offer rides, attractions, and experiences that all ages will enjoy!
Fancy a free glimpse of all the excitement waiting for you at Dubai Parks and Resorts? Riverland Dubai is a bustling destination in its own right with something to keep everyone entertained! Riverland Dubai acts as a gateway to all the parks with 4 vibrant districts to explore before even stepping foot into one of the theme parks! The Boardwalk leads into Motiongate Dubai, India Gate leads into Bollywood Parks Dubai, and The French Village will direct you to both Legoland establishments, whilst The Peninsula is surrounded by the river and is central to all parks in Dubai Parks and Resorts. You can even enjoy an Abra ride along the river! If you want to be closer to the action, Lapita Hotel, Rove at the Park, and opening soon – Legoland Hotel are the on-site resort hotels to choose from. Each of the 5 sections I have mentioned offers a wealth of shops to browse and eateries catered with something for everyone.