So with this crazy pandemic still going on, I haven't been able to reenter China. Of course, I'm not the only one in this situation and it's certain that fellow Chinese friends stuck in the U.S. are missing their country a whole lot more than I am. There's probably nothing more they'd like than to find a flight back home. However as I think about all that's going on in the present, I can't help but reflect on my first trip to China, where I stayed for a little over a month.
I arrived in the city of Shanghai, and my experiences then were so unforgettable that I was later inspired to move there! Everything from the food to the language was new and exciting to me!
However while I have much to say about this city and country, I'd like to solely focus on Shanghai's nightlife here so you can know how to MAKE THE MOST of your time when you go!
HERE ARE MY TOP THREE RECOMMENDATIONS TO HELP YOU GET STARTED:
1) BAR ROUGE: Let's talk about these free cocktails and ice cream! Um hello, this is probably why you decided to read this post in the first place. Located in Huangpu district, this venue is both bar and nightclub. It's got a terrace space where you can sit and drink or just look out and gaze at the view. The seats here are for those willing to spend a minimum amount of cha-ching so unless you want to ball out like an NBA player, you'll probably remain standing like me. However let it be known that this will NOT end up mattering! This is because the place plays cool enough music for you to swing your hips to and forget about the fact that your feet are probably killing you from those heels you decided to throw on (ladies am I right?)
Ah, but speaking of women, this place has a ladies night where one can enter before 11 pm to receive free cocktails! The last time I went, there were also free manicures being given (of course I got one) and free ice cream being served by a BEAUTIFUL Brazilian man.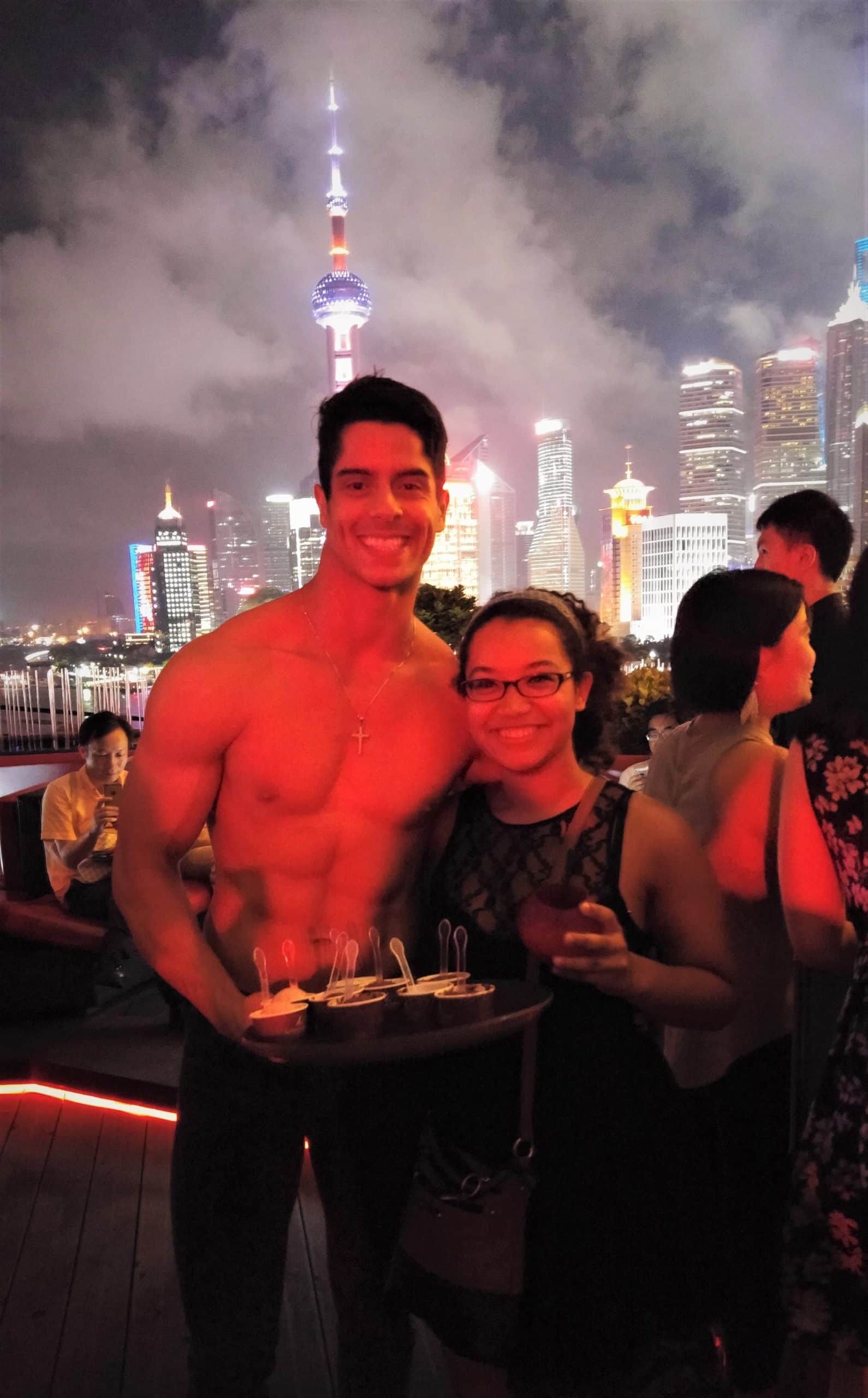 However if you're reading this and thinking, "But Angy, I'm no lady!!" then have no fear my friend – Bar Rouge will still let you in! Of course, you might just have to pay a cover charge. In either case, Bar Rouge also hosts a ton of different themed parties throughout the week, so it's just a matter of seeing which events spark your interest for any given night! Finally, I think it's worth mentioning that the club is extremely accessible in the sense that it's right on the Bund and only a ten minute walk away from the East Nanjing Rd. metro station. So dress up and head on over!
2) EAST NANJING ROAD: So essentially here, I'm advising you to go check out a road lol. But trust me, it's so much more than that! There's shopping, dining, karaoke AND it's a pedestrian walkway! I even remember getting a luxury foot massage at some point.
You won't have to worry about cars or scooters running you over but you should be mindful of bumping into people because it's always PACKED. It might even remind you of Times Square in NYC! Still, I recommend visiting East Nanjing – just be weary of all the people coming up to you to sell fake purses, watches, shoes, etc. since this is pretty common.
THE BUND: Otherwise known as Wai Tan, the Bund is a long walkway that faces the water and some of Shanghai's most beautiful skyscrapers. Generally speaking, the Bund is great for an afternoon stroll or people watching; if you're not looking at someone, it's certain someone's staring at you or asking for a picture (this is especially true for non-Asian visitors).
Since many tourists go to the Bund, it can get quite crowded – so avoid going here on the weekends to enjoy a quieter experience. Finally, note that you CAN book a small cruise on the Huangpu River if you so desire to look back at everyone else on the promenade.