My wife and I decided to do a once in a lifetime trip to Bali for our honeymoon. It was off to a rough start when our travel agent called 2 days before our wedding and 5 days before we were supposed to leave to let us know that our flight was cancelled. Fortunately, we could find a new flight for the same price just two days earlier and managed to change our hotel reservations to make it work.
The agenda for the trip shaped out to be:
6 days in Nusa Dua
3 days in Kuta
2 days in Ubud
We pre-arranged for a car to pick us up at the airport. This worked quite well, and we ended up hiring the driver for most of our trips around the island. While this was more expensive than a cab (which are super cheap in Bali), we had a nice guy that was fluent in English and a clean car with air conditioning – it was very hot for the entire trip.
Nusa Dua is a resort area with beaches, spas, restaurants, and all-inclusive hotels. We stayed at the Bali Tropic Resort & Spa which seemed to be the favourite destination of German and Australian tourists. I immediately spotted the swim-up bar in the pool and made some new friends. A word of advice here, if you can, buy an all-inclusive package where ever you are staying. Even if you are just on the resort in the mornings and evenings. Drinks are very expensive in Nusa Dua, especially imported ones.
The jetlag hit us hard on our first night (12-hour time difference to Toronto) so we were up before sunrise. However, that gave us the chance to watch the sunrise with a cup of tea.
We didn't do much for the rest of the day and just enjoyed the pool, the bars, the restaurants, and the Spa. The hotel itself is quite well equipped for entertainment during the day. However, after dark it gets very quiet – not just on this resort, but in Nusa Dua in general.
The next day we decided to visit Sundays Beach Club which was a ca. 30 min drive from our hotel. There is an entry fee and drinks are again not cheap. But the sights are amazing. You walk down the side of a cliff and take a small cable car to a private beach loaded with umbrellas and bean bags. It was an afternoon filled with blue skies, turquoise water, and white sand. Pretty close to my definition of paradise.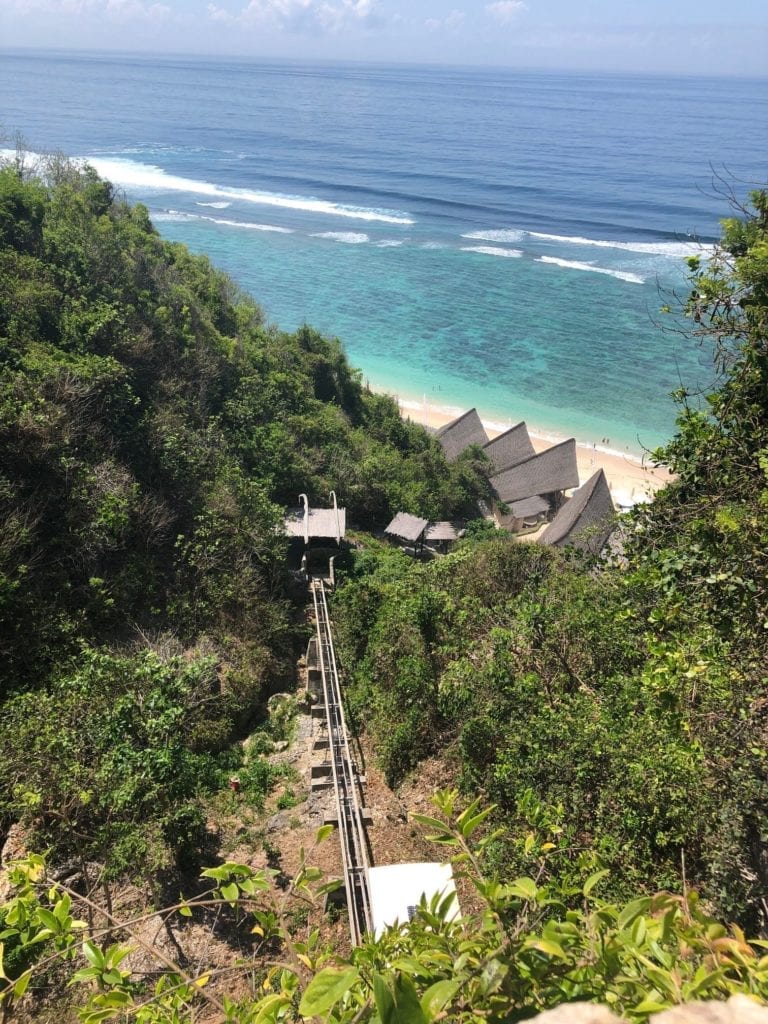 After the beach club we went to a beach restaurant to have a seafood dinner while watching the sunset. Most of the seafood in Bali is freshly caught and extremely delicious. Bali is a great destination for (sea)foodies.
While planning some of our next adventures, a few people at the pool told us about golf course close to our resort, Bali National, so we decided to play 9 holes. The course is very well maintained. Green fees, rentals, and supplies are expensive. But well worth it. This was the first time I had a caddie ride with me on the back of my golf cart. It puts a little pressure on you when people you don't know what you golf game, but I managed to suck with confidence. In the end, it was all about good fun and playing a round of golf in a nice location.
The next morning, we did a day trip to the Mason Elephant park. It was an interesting experience where we could feed the elephants and ride on one through the jungle – I know there are some mixed feelings about riding Elephants, but we were too curious to say no. I've also never been this close to an Elephant before. They are impressive animals and I'd recommend a trip to this park to whoever is curious.
After the first leg of our trip we moved on to Kuta where we stayed at the Four Points by Sheraton. The hotel was nice, and the staff was friendly. One of the highlights here was the rooftop pool with another swim-up bar. We reserved a floating breakfast in the rooftop pool for the next day when we arrived which was excellent.
Kuta itself is very touristy and it's hard to walk down the road without somebody trying to sell you something. Some people like that, some people don't. We also planned to go surfing but the beach and the water was much too crowded to enjoy it. However, the nightlife is where Kuta shines. Drinks are cheap, places are lively, and the atmosphere is great. If you're travelling on a tight budget but still want to party, Kuta is the place for you.
We then moved to the final part of our trip in Ubud. Ubud is located 2 hours north of Kuta and the drive leads you through farms, fields, and little villages. In Ubud, we rented a private villa via Airbnb. The place was nice and clean and had a small pool. The only downside was that there was a gap between the roof and the walls for airflow in the house. We therefore needed to sleep under mosquito nets and heard everything around us. It was more like camping in a city. So unfortunately, we didn't get much sleep for the two nights in Ubud.
On our first day in Ubud, we visited the monkey sanctuary. It's a cool spot where monkeys just run around freely, and you can see them in their (somewhat) natural habitat. The real reason why they stay there is because they are getting fed. It's worth a trip, if you like nature and monkeys.
Our last day in Ubud was packed with activities. We used an app called Withlocals to find a local guide. The trip started early in the morning and took us to almost every sight in the area. We visited a traditional house, a goldsmith, had lunch overseeing beautiful rice fields, visited the Mother Temple, walked through rice fields, saw Lake Buyan, and ended the tour walking through the Ubud market. Our guide was knowledgeable, helpful, and fluent in English. It was a great experience. However, I should mention that this day trip involved a lot of walking in high temperatures which was worth it for us but may not be for everyone.
Overall it was a phenomenal honeymoon with lots of new experiences, great food, and ultimately great memories. One piece of advice I'd give to anybody going to Bali is to order some Indonesian Rupiah from your bank before you leave and bring them on the trip. You can pay with a credit card at most places, but it never hurts to have a reserve on you.