The first question is, why did I plan this trip?
With more than 3 years living in Sweden as an expatriate and traveling in all Scandinavia, I took the decision to come back to my home country (France). Before, I always wanted to make this trip but never took the time. That is why I absolutely wanted to make it before leaving the country.
After a long trip from Stockholm (Around 15H by train), I finally arrived in Kiruna in the Swedish Lapland. The total journey took 6 days but I stayed there 4 days with a long way to go. The goal was to enjoy the city and visit Abisko National Park.
Kiruna is located in the north of Sweden, 145 kilometers (90 mi) north of the Arctic circle, and was at one time listed as the largest city in the world by area, even if most of its territory was non-urban.
I have decided to rent an Airbnb to enjoy good facilities inside (such as a nice bath and sauna). These little houses are typically the Kiruna style!
Day 1: KIRUNA VISIT
Kiruna is a small mining town, make the visit then does not take that much time and there is not many spots to see.
However, it is nice to walk around and feel the vibes. Temperatures were below -15° and I definitely recommend stopping somewhere for having a hot coffee or chocolate (at SPiS for example).
In the city, I have seen the lovely wooden church with its beautiful architecture. This church has the reputation to be one of the prettiest in the country. I have visited a lot of Swedish cities and I definitely agree with it!
After an active morning strolling through the town, I wanted to eat something typical. I have heard about "Stejk Street Food" and I wanted to test. The location is near a petrol station who did not convince me first. However after made the order, the staff invites you to go inside the tipi front of. The atmosphere was pretty cozy with a nice fire camp in the middle. I took the famous moose meat which is the local specialty. Î definitely recommend this place for an affordable good culinary experience to go with a nice concept.
For the afternoon I went outside the city to the famous ICE Hotel. The Icehotel is a hotel rebuilt each year with snow and ice in the village of Jukkasjärvi. It is known to be the biggest hotel of ice and snow in the world.
It was a pity that I could not sleep there but at this period of the year and if you do not book in advance, the cost was about €250/night and it was not planed in my budget. Anyway, the night would have been a nice experience but the visit was enough and quite impressive. Everything inside are made with ice such as bars, chairs, and even beds!
Day 2-3: ABISKO NATIONAL PARK
Abisko National Park is about 100 kilometers west of Kiruna. The national park is easy to get to by train. I have experienced it during wintertime but I would love to go back again during summertime. Enjoy the midnight sun and the big nature diversity would be awesome too. I can not complain about this winter experience which was incredible.
I particularly appreciated walking several hours without seeing not many people around. The feeling to be alone lost above the arctic circle, contemplating the wild nature and the long expanses of white.
From the big frozen lakes to the famous mount Njulla view, crossing the famous « Kungsleden » (King's highway) or the pretty little Saami houses (indigenous people from the North), this long trek was amazing.
There are also some activities to do such as dog sledding that I did not experience. I guess just see those beautiful dogs was enough for me 😊
Day 4-5: THE GREAT AURORA CHASE
I of course enjoyed a lot this trip but something was missing: The Northern Lights.
I was already aware that there are possibilities to not see anything and not focus my trip only on that otherwise I would be disappointed.
In fact, in addition to a lot of technical data, The best conditions to view the lights are when the sky is dark and clear of any clouds. Cloud cover ultimately blocks the view of the light. Ideally, the lights will be best viewed away from any light pollution, in remote areas. The northern lights are most active between November and March.
That is why, besides persistence of finding the good spots and patience, there is also a big part of luck. Unfortunately, the first days were not as good as expected. The day before I finally found my first aurora.
This one was small but I remember how happy and hopeful I was. I have decided to maximize my chance to find them and I have spent my day to take information, learn how to catch them well with a camera, and also take a nap because I was ready to chase them all night if necessary!
Around 10-11 pm, I went outside town and walked around with my headlamp. The first hours were not that successful and then around 1 am the first lights appeared. Those lights were still weak and hard to see only with eyes (yes, the camera catches things that the eyes can not see). However more or less an hour later the great show started!
Chasing the Northern Lights
More and more lights appeared and were more intensive. I was clearly stunned by this amazing moment, see all those colorful lights moving in the sky with such elegancy. I understand better the other surname of the northern light « The dancing green lady ».
It is hard to express my feelings during this incredible show, it was below -25°, cold and late (I stayed past 4 am) but I was standing and filled with wonder. A feeling of peace, joy, and serenity. Actually, see the northern light was one of my childhood dreams (as many of us I guess) and that feeling of living a dream was incredible.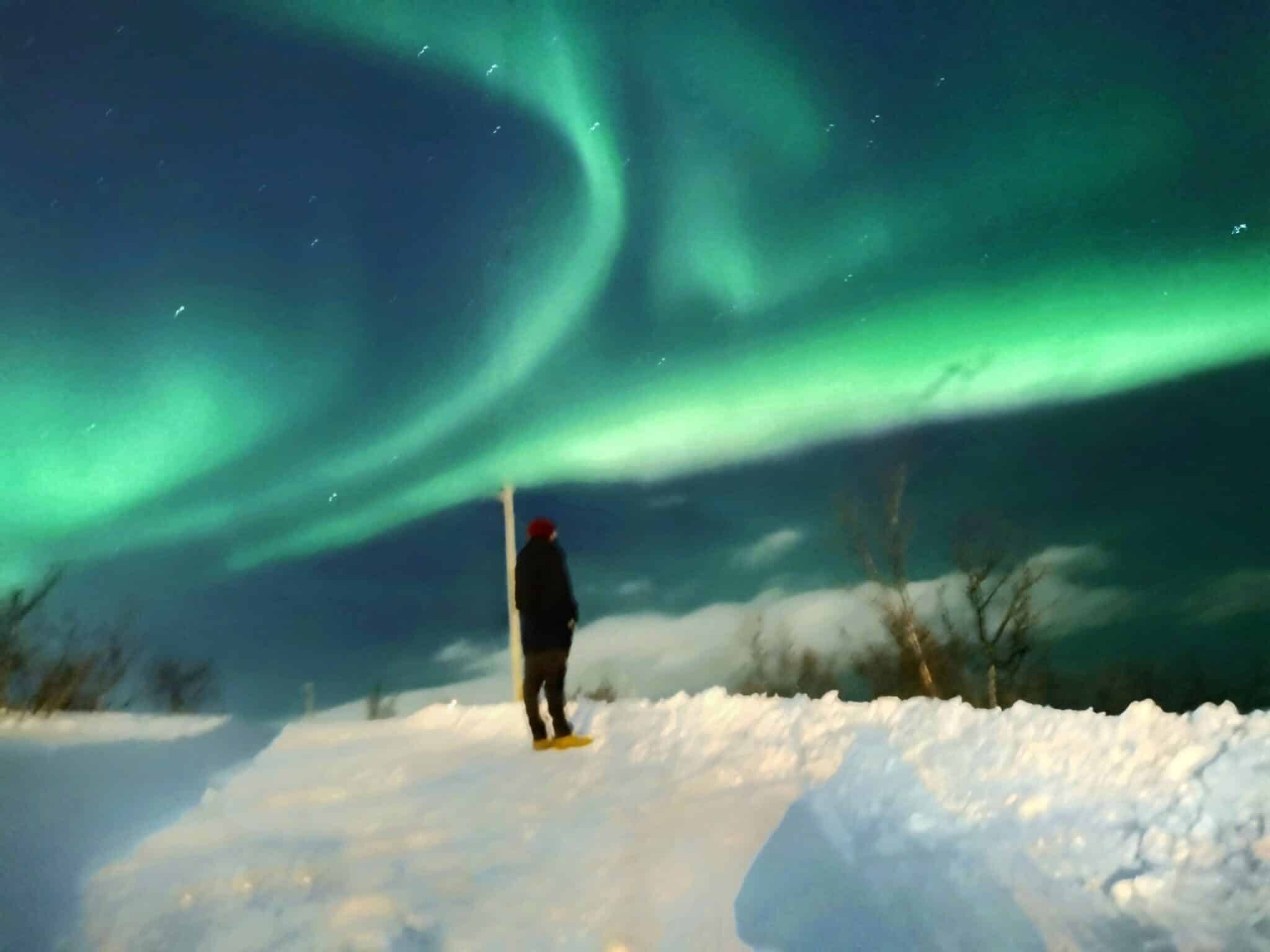 The only little regret I have was not being enough equipped for pictures. Taking good Aurora pictures is not that easy and the hardest part is to not move at all… Which is difficult with the cold. I remember that I took my gloves off for better handling… what a mistake! After few minutes my hands were frozen and not easy to put them inside the gloves again 😱
What I really appreciated besides the magnificent show was the pleasure of « chasing »: walking around, find the good spots where I could better see and admire, always looking at the sky… to finally be rewarded after persistence.
I knew that conditions and lights could be better but I also have been grateful to at least enjoyed a nice show because even if my journey was awesome, the Northern Lights was the masterpiece. I definitely recommend traveling there but with other expectations than just seeing them, which is more of a "bonus", the element that will make this trip even more magical. ✨
After a short sleep, I simply enjoyed my last moment walking in the town, packed my stuff, and prepared my departure since a long trip back was waiting for me (more than 20h by train).
I hope you will have the opportunity to go there one day and enjoy it as much as I did! ✌
Jessy