Are you looking for more information for your perfect trip to Austria in 2021? Get ready for spectacular ski slopes, romantic cities, crystal clear lakes, and breathtaking mountain landscapes. In historic Vienna, you'll have the chance to feel like Empress Sissi and stroll by the beautiful castles. In the Alps, you will admire the view of the vast mountains and enjoy huge amounts of snow in winter. You are spoilt for choice between the city, cultural, skiing, and hiking vacations in nature. Austria, as you will quickly realize, is absolutely versatile and is one of the world's most popular destinations for hiking and skiing. And what's more, it has very hospitable people and fabulous delicacies like the Wiener Schnitzel, Mozartkugeln, apple strudel, and Tafelspitz. In fact, some planning beforehand is highly recommended to ensure that you see and experience as much as possible on your trip to Austria.
"I'm going on vacation and I'm taking with me…" – every time you ask yourself the same questions when packing a suitcase… "Do I really have everything with me?" We want to prevent these questions and help you out with our 18 Must-Have Austria Packing List Travel Gadgets. In addition, you will find other very useful information such as tips on the 4 seasons, special accommodations, the most beautiful ski resorts, and special landmarks and attractions in Austria. Some interesting and funny facts about Austria are also included. All in all, with this information you will be able to prepare and plan your trip to Austria perfectly, so you don't have to worry about having everything you need and you can fully concentrate on your trip. This saves time, money, and nerves.
We would also like to give you one more piece of advice that is quite useful… Take a look at the section about the different seasons and their activities in advance. This is going to help you to decide what gadgets you really need from our packing list. As always, we have tested the travel gadgets ourselves in Austria and look forward to your feedback in the comments!
Regardless of your next destination, we also have some general information and tips for you in this article:
Smart Travel Planning – 5 Tips to Save Money on your next Trip
17 Travel Gadgets you need on your Austria Packing List!
More Austria Packing List Gadgets which may come in handy
Bonus Tip: Travel Insurance
Unfortunately, the Covid-19 pandemic has shown us how quickly something unexpected can happen. However, in order for you to worry as little as possible during your well-deserved vacation, we have fought our way through the insurance jungle for you and looked for a reliable partner. Thereby we have stumbled upon WorldNomads.com. Insurance is always a very sensitive topic and honestly, we would rather do without it and spend the money on vacation for other nice things. But if something should happen, you are more than happy to have a partner like WorldNomads on your side!
Why WorldNomads has impressed us so much?
Backed by specialized insurance providers and global assistance partners
You can always buy the insurance online, even if you are already traveling
You can adjust your insurance coverage during the trip and claim online
They cover a range of adventure sports and activities
Very high availability worldwide
6 Things you DO NOT need in Austria
Too many toiletries
Besides our great refillable bottles with hook, you don't really need anything else in Austria. Many even fill up their supplies in Austria, as hygiene products are comparatively cheap here. So don't worry too much about packing.
Binoculars
Many have this gadget on their Austria packing list. However, it is very heavy and the mountains look more beautiful from a distance anyway 😊 But if you do want to watch some mountain goats, you can borrow binoculars at many alpine pastures.
Earplugs
If you don't really need earplugs to fall asleep, we strongly recommend you leave them at home. After all, one of the reasons why millions of people travel to Austria every year is the breathtaking nature. So enjoy it with all your senses! 😊
Medication
In Austria, there are several "Apotheken" (pharmacies) with an excellent range of products in every town. So you don't have to be afraid of diarrhea or something like that 😛 The Austrians will take good care of you 🙂
German Phrasebook
This is not needed for 2 reasons – First, Austrians speak with a very strong dialect, so you will probably have a hard time understanding them anyway 😀 And second, almost all Austrians speak very good English 😊
Valuables
And as always, leave your valuables at home 🙂 Things that you do not absolutely need, you should not take – also because of weight and space reasons. However, Austria is a very safe country and Vienna is even one of the safest destinations in Europe.
3 Special Accommodations to stay in Austria
Budget flights to Austria
4 seasons in Austria. What to experience and what to be aware of
Spring in Austria (March – May)

Surely you are wondering: is there a best season for your trip to Austria? It is difficult to say, it all depends on your individual needs. Austria is one of the most mountainous European countries and is subject to a wide range of climatic influences. Therefore, the country offers you a wide range of activities throughout the year and various options for summer and winter vacations depending on the region and season. For example, it is possible that a 3,000 m high mountain in the Alps is still covered with snow in summer, and at the same time you are lying in the sun at Lake Constance at 25°C – pretty freaky, isn't it?
Let's start with spring. From March on, temperatures start to rise, and you can expect temperatures around 13°C, especially in the east of the country, for example in the capital Vienna. In April and May, it can even get warm between 15°-20°C quite often. From time to time it can still come to rain showers. Accordingly, the landscape becomes increasingly greener. The shrubs and fruit trees blossom. Birds start to chirp and the sun invites you to enjoy a latte macchiato on one of the terraces of the Viennese coffee houses.
Spring is generally a very attractive season to travel to Austria, as the temperatures are very pleasant, the rainy days are fewer and the country is just waking up from its winter sleep. For this reason, there are not so many tourists in the country and especially not in the popular cities. In addition, you can make real deals at this time of year, so keep your eyes open!
Which activities are most recommended in spring?
The Austrian spring is perfect for a trip to the most beautiful cities in the country. In order to make your choice easier, we have prepared some more information 🙂
We have compiled our top 3 cities for you
Vienna
The capital of Austria, Vienna, is considered one of the most beautiful metropolises in Europe. The city has extremely much to offer especially for romantics, culture, and art enthusiasts. There are many magnificent buildings such as the Hofburg, the Natural History Museum, and St. Stephen's Cathedral as well as several palaces such as the lovely Schönbrunn Palace, where the beloved Empress Sisi also once lived. A visit to the world-famous Ferris wheel on the Prater should not be missed during your visit. And as a culinary highlight, there is Wiener Schnitzel and Sachertorte!
Salzburg
The view from Hohensalzburg Castle of the historic old town with its medieval flair will give you the feeling that you are in a fairy tale! The charming Salzburg city is characterized by winding streets, old buildings, and golden roofs. Take a boat trip on the river Salzach and visit the birthplace of the famous composer Mozart. It's also just a stone's throw to the mountains, such as Zell am See, where you can enjoy a great alpine panorama.
Hallstatt
Tourists from all over the world come to the small village of Hallstatt in Upper Austria to see the idyllic little town. It is part of the UNESCO World Heritage region and is even so famous that it has a doppelganger in China. You can expect fresh mountain air, a beautiful old town, and gorgeous views around Lake Hallstatt. The region is truly a paradise for hikers and nature enthusiasts. As a reward, a piece of "world heritage cake" awaits you after the ascent of the Salzberg, yummy.

Summer in Austria (June – August)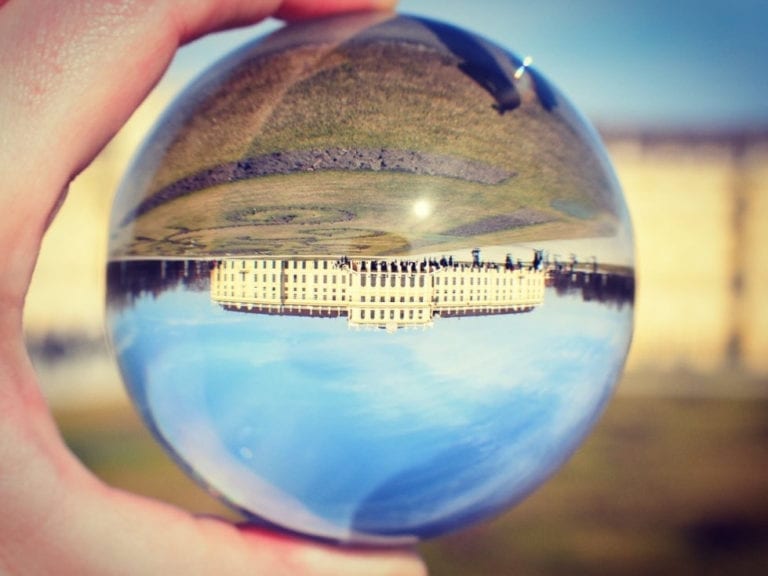 The summer in Austria provides warm temperatures between 20 ° and 30 ° Celsius. In July, temperatures can sometimes exceed the 35°C marks. In August, however, the humidity increases, and the temperatures are milder again. On the higher mountains, pleasant temperatures of about 18°C dominate and invite you to hikes.
In summer you can do basically everything in Austria, well except skiing maybe, but even that is possible on the very high mountains of the country. If it gets too warm for you in the valleys of Austria, it is best to refresh yourself in the cool mountain lakes. Alternatively, summer is great for exploring popular landmarks and attractions of the country, because as we all know, everything is prettier in sunny weather!
Which activities are most recommended in summer?
Austria has soooo much to offer – what are the must-do's for your summer trip? We've listed our 3 highlights for you. Keep in mind, though, that summer is Austria's peak travel season and you should book early to avoid a long queue or no space at all.
Amazing landmarks and attractions for your Austria trip
Natural History Museum Vienna
The building alone that houses the Natural History Museum Vienna is a work of art. It has detailed decorations and ornate murals. Inside, you'll find an impressive collection of over 30 million artifacts related to prehistory and the evolution of man. The museum also houses the world's largest collection of meteorites! In addition, Vienna offers you all kinds of cultural highlights. How about a visit to a Mozart concert in the Golden Hall or a Viennese concert where you get to know the culinary highlights of Austria? By the way, you can also combine your stay in Vienna with a day trip to Bratislava, the capital of Slovakia, quite practical!
Melk Benedictine Abbey
Melk is located at the beginning of the Wachau region and is also part of the UNESCO World Heritage Site. The small town is a real eye-catcher with its baroque Melk Benedictine Abbey, positioned on a rocky plateau. We recommend that you take a tour of Melk Abbey. You will explore the Emperor's Wing, the marble hall of emperors and kings that once served as a party room, the collegiate church with its high golden dome, and the breathtaking library, which will definitely create a wow effect for all book-lovers!
Wachau Valley
Right on the sunny banks of the Danube lie the best vines in Austria, in Wachau. Above the vineyards, medieval castles are enthroned and the surroundings are just absolutely picturesque and idyllic. It is not for nothing that Wachau was named a UNESCO World Heritage Site. It is one of the most scenic river valleys in Europe. You can therefore take a boat across the Danube, drink good wine, and enjoy the view of the vineyards and the beautiful castles, such as the ruins of Dürnstein, absolutely gorgeous!
Autumn in Austria (September – November)

From autumn until the end of October, the climate in Austria is mild and warm. Temperatures drop, but the thermometer still shows 15° to 20°C. Precipitation is rather rare and the snow season has not yet begun. In Tyrol, the Föhn, a warm wind, provides excellent weather conditions for hiking, walking, and climbing.
The forests shine in the most beautiful colors in autumn and the leaves begin to fall to the ground. In the morning there is fog over the vines and dew on the meadows. The days are slowly getting shorter again, at the latest in November the nights are cooler and coziness is gradually returning to Austria.
Autumn is also the time of the grape harvest and fruit picking. You can expect culinary highlights during these months and hike through the vineyards. If the weather should be rainy and chilly during your trip, make yourself comfortable in front of a fireplace with a glass of wine.
Which activities are most recommended in autumn?
You should enjoy autumn with all your senses, and the best way to do that is to be in the middle of nature. The autumn months are especially inviting for hiking and all kinds of activities in nature, experience the Indian Summer in Austria!
Our top 3 hiking trails for everyone
Eagle Walk, Tyrol
It is the king of long-distance hiking trails: the Tyrolean Eagle Walk runs for about 320 km through the whole of Austria. In 24 daily stages, you can cross the Tyrol region and get to know it better. The course of the trail resembles the silhouette of an eagle and thus gave the trail its name. One thing is for sure, you should be free of giddiness and sure-footed because the trail is not an easy walk. But you will be rewarded with countless breathtaking views of the mountain world. In the Achensee region, there are two 360° viewing platforms, the "Adlerblicke" (view of an eagle).
Where to stay: Sporthotel Austria
Lünersee, Rätikon Alps
The turquoise-blue Lünersee in the Rätikon hiking area offers relaxing walks and challenging hikes. The round trip of the Lünersee is the ideal hiking trail for beginners and families and offers breathtaking views of the Lünersee and the Rätikon Alps. The tour begins with the ascent of the Lünerseebahn cable car. There are several huts along the hiking route to stop at and recharge your batteries.
Where to stay: Hotel Garni Tannleger B&B
Pinzgauer Spaziergang , Zell am See – Kaprun
Even though this hiking trail calls itself a "walk", you should definitely not underestimate it. The 17 km long hiking trail at 2,081 meters above sea level leads along the Salzach valley and you have views of famous peaks like the Großglockner, the Kitzsteinhorn, and the Großvenediger. There are no huts on the route, thus take enough provisions and water with you in any case.
Where to stay: Hotel Pension Schmittental
Winter in Austria (December – February)

Welcome to the winter wonderland! Winter is coming and the temperatures drop during the winter months in the south as well as in the north. Temperatures of 10°C are almost never exceeded and from the end of November, you are guaranteed snow in large parts of Austria. It is not for nothing that the country is a popular destination for skiing vacations.
When it comes to winter vacations, Austria presents a veritable snow paradise. Especially in the Tyrolean Alps and in the Salzburg region the ski season starts. In total, the country offers more than 300 ski resorts, where you can enjoy a wide variety of snow activities, such as snow hiking. Many slopes have snowmaking systems, which is why the areas offer snow reliability. Meaning you don't even have to rely completely on the weather.
By the way, you can also take a snow vacation in Austria beyond winter until April. At this time, the accommodations are often a bit cheaper and the weather is a bit warmer, but still suitable for skiing.
Which activities are most recommended in winter?
Ski, snowboard, and après-ski – and that's best every day! Many of the ski resorts in Austria offer great snow-covered slopes and also great mountain restaurants, fantastic sun terraces, and cozy ski huts. Which ski resorts offer exactly that?
Our top 3 ski resorts for your perfect ski holiday in 2021
Ischgl
Ischgl is a paradise for skiers and snowboarders! The ski resort in the Silvretta Alps offers over 200 km of perfectly groomed slopes. In addition, you have the opportunity to take snow walks and go over the sledding track. There are fine restaurants and authentic Austrian mountain huts. After a sporty day on the slopes, head to one of the many après ski huts to warm up and party. In Ischgl, there is really something going on! For those who are more interested in wellness and relaxation, Ischgl offers an indoor pool and sauna village.
Where to stay: Wolfs Aparts + More
Sölden
The ski resort of Sölden is one of the most famous ski resorts in the Alps and has some highlights to offer for winter sports fans. There are no less than three peaks that are more than 3,000 meters high! All of them are equipped with modern lifts and outstanding mountain gastronomy. The glacier areas are very well developed, allowing you to look forward to exciting downhill runs as early as autumn. If you want to hit the slopes for the first time, there are also good ski and snowboard schools in Sölden. The experts will give you valuable tips.
Where to stay: Pension Sonnenheim
St. Anton
The Tyrolean mountain village of St. Anton am Arlberg is considered a pioneer of modern skiing. It is located in the middle of the largest ski area in Austria and offers a total of 305 km of slopes. However, St. Anton is not only known for skiing, but also invites you to cross-country skiing, tobogganing, ice skating, and hiking. In addition, there is a modern sports center where you can enjoy indoor activities such as tennis, volleyball, climbing and trampoline jumping. You can relax, for example, in the Wellnesspark Arlberg Stanzertal or in one of the beautiful huts with cocoa right in front of the fireplace. At Christmas time, from the beginning of December, St. Anton turns into a small Christmas village, is festively decorated and there are themed places with local food and mulled wine.
Where to stay: Hotel Pension Kirchplatz
10 Interesting Facts about Austria!
Vienna is the city with the highest quality of life in the whole world
Vienna is a wonderful city – and not only for tourists! Vienna was awarded eight times in a row as the city with the highest quality of life worldwide. The judging factors included a wide variety of areas such as politics, health, education, crime, transportation, environment, and much more.
The people of Vienna are real wine experts
Vienna is one of the few capitals in the world that produces an incredible amount of its own wine. More than 700 hectares around Vienna are used for grape growing. This means that it doesn't always have to be Italy or France if you want to enjoy a first-class wine.
Austria has a world famous coffeehouse culture
You can find coffee houses all over Austria – especially in Vienna. But only a few people know that this idea actually came from the Turks. They left several bags of coffee beans in Austria at the time, which gave rise to the iconic coffeehouses.
The national flag of Austria is one of the oldest in the world
Three stripes – red, white red. This is how the Austrian flag has looked since the 12th century. However, the exact date is unfortunately not known. The meaning also fits perfectly to that time. The red is supposed to stand for the blood that has been spilled by Duke Leopold V at the Siege of Acre.
Beach lovers need to be strong – Austria has no coastline!
But Austria shares this fate with many countries in Central Europe. Over the years, the borders have shifted somewhat, but it was still a long time ago that Austria was located directly on the sea. The country will definitely make you forget this fact quickly and knows how to convince in other ways! By the way, the borders of Austria are with the Czech Republic, Slovakia, Hungary, Slovenia, Italy, Germany, Liechtenstein, and Switzerland.
Schönbrunn Palace has over 1400 rooms!
To be exact, there are 1441 rooms! You can easily reach Schönbrunn Palace by public transport in Vienna. By the way, the vast majority of the rooms were for the service staff. Such a large castle must be maintained after all 😊 The Habsburg rulers lived there for many years. Today it is a popular tourist attraction.
Austria is one oft he world's most eco-friendly countries
The Austrians are extremely proud of this status. But they are not resting on it and are eager to improve even further. Anyone who has seen the beautiful nature in Austria understands why one should protect the environment. Currently, more than 63% of waste is recycled in Austria and they are also very far ahead when it comes to renewable energy.
Postcards were first published in Austria
This started a worldwide trend! Today, postcards are sent around the world or collected as a souvenir. However, with the breathtaking landscapes that Austria has to offer, it is also not surprising that the first postcards were published there. Do you also collect postcards from your travels? Feel free to write us in the comments 😊
The oldest person in Europe is an Austrian
Many in Europe know and love him – Ötzi! The popular iceman was found in the mountains near the Italian border in 1991. Several analyses revealed that he died around 3300 BC. In addition, there is another scary fact. Ötzi was found with an arrowhead in his shoulder. This makes Ötzi at the same time the oldest unsolved murder case in the world.
Furthermore, Austria hosts the oldest zoo in the world
It is very close to a sight we have already met… at the Schönbrunn Tiergarten. It was opened back in 1752 and is still open today. Currently, the zoo is home to over 700 different species. The absolute crowd favorite are the Giant Pandas 😊