We all know that on a Boating day, anything can happen 🙂 Your packing list should therefore contain some important items that will be very helpful for your next boating trip. With our 11 must-have gadgets, you are ready for the perfect trip in 2020 and beyond.
This packing list contains items that we have tested ourselves on several boating days. We kept it a bit more general because there are endless possibilities on a boat and if we would list everything, this packing list would not fit in any backpack in the world
11 Must-Have Travel Gadgets for your Boating Packing List
With the UNO Splash Special Edition you get waterproof plastic cards of the popular game classic. A useful clip also ensures that no card gets lost. Great quality for fun while driving to your next diving or snorkeling spot 🙂
This powerful solar charger, a huge battery backup for use in all kinds of outdoor activities. Additionally, it is waterproof. An iPhone 11 for example can be fully charged over 3 times! Perfect for a sunny boat-day to charge up your equipment. Make sure to put this one on your boating packing list.
The sun immediately brings up a holiday mood worldwide. Especially on a boat, you will need good sun protection! After all, you want to stay healthy for a long time and enjoy many more hours of the sun 😊 This sun lotion also comes with a seductive exotic scent.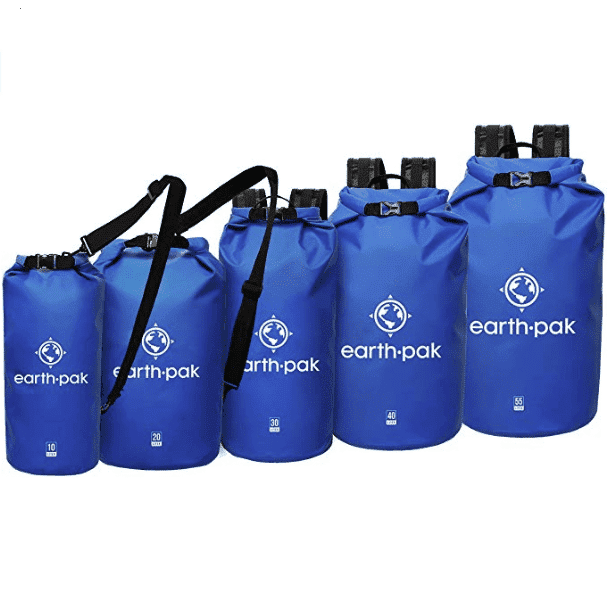 This Dry Bag Collection Backpack is one of the most reliable – and durable – companions to have by your side. You can carry and protect all your gear. From 30L to 55L sizes, the Dry Bag Backpack is sure to cover more than just the basics for your awesome adventures. It is very useful on a boat so don't miss it on your packing list.
The strong wind on a boat can be quite hard. With this multifunctional scarf you can protect practically your whole face and neck. You don't want to wake up the next day with an ear or throat ache 😉
The bite away is an electronic device for chemical-free external treatment for insect bites/stings such as mosquitoes, wasp, and bees. Thanks to it, a minor insect bite or irritant does not need to turn into an ongoing issue. It is simple to use: by pressing one of the two buttons just once (3 – 5 seconds) a temperature of around 124°F is reached and maintained for the selected time, providing relief from itching and swelling within seconds.
I really love this Jacket! You'll be ready for whatever the day brings. Softshell is made from woven fabric, making it comfortable in light rain and windy areas. It is a great companion on a boat day. Definitely one of the first things my packing list 🙂
The Columbia Jacket is somewhat of an all-rounder – you'll be ready for whatever the day brings. It features Omni-Tech technology that guarantees waterproof and breathable fully seamed construction to shield you from rain-heavy days when you're out on the trail. We own it ourselves and it is really useful on a windy boat.
Made of flexible and breathable material so that these water shoes are breathable and your feet are not stuffy. The uneven pattern in the camo rubber outsole ensures these water shoes have a good grip and prevent you from slipping in slippery conditions. I highly recommend putting these on your packing list if you are planning on doing any water activity.
10. Fast Drying Microfiber Travel Towel
More absorbent than ordinary towels, and can be air-dried and reused in a short time. It's also very light weighted, you can hardly feel it when you put it around your neck. A perfect addition to your boating packing list 🙂
11. Waterproof Cell Phone Pouch
And finally a small Waterproof Cell Phone Pouch for your Smartphone 😉 You might not always want to store it in the big dry bag, because you want to take some pictures in between. It can even be taken on a snorkel trip. With this your boating packing list is complete 🙂
Conclusion
Now there is nothing left to say but to wish you lots of fun on your next boating trip! We hope that this packing list will help you a little bit. We are also looking forward to ideas for further gadgets or feedback on the existing ones. Feel free to write in the comments 🙂
Safe travels, your Traxplorio Team!