Camping is becoming increasingly popular – and for a good reason! 🙂 When camping, it is especially important to be properly prepared. Therefore we have arranged our camping packing list for you. Here you can find must-have gadgets for your next camping trip.
This packing list contains items that we have tested ourselves on several camping trips. No matter if you just want to camp for one night or plan a longer trip – here you will definitely find a useful gadget that is not yet on your packing list 🙂
20 Must-Have Travel Gadgets for your Camping Packing List
1. USB Rechargeable LED Headlight
Almost every activity becomes impossible at night. With this headlight, it is no longer a problem. Whether you are looking for something or need to find the right direction. Even in emergency situations, an emergency signal can be sent. Therefore you do not have to be afraid at night during the camping 🙂
This powerful solar charger, a huge battery backup for use in all kinds of outdoor activities. Additionally, it is waterproof. An iPhone 11 for example can be fully charged over 3 times! Perfect for your next camping trip to charge up your equipment. Make sure to put this one on your camping packing list.
Of course, the fun should not be neglected when camping! Do you already know Spikeball? It's an incredibly fun game that you can play with the whole family or several friends. The longer you play it, the more fun it is!
The next camping gadget is about a sensitive topic. Of course, a lady has to go behind the bush from time to time 😛 Discreet, reusable, funnel-shaped female urination device. GoGirl provides a revolutionary bathroom solution for women to go anywhere. Great for traveling and a must-have for your camping packing list!
Good clothing is especially important when camping. With this multifunctional scarf, you can protect practically your whole face and neck. No matter what the weather is like, this scarf will give you optimal protection so you won't wake up sick the next day.
This gadget is very useful if you forgot to use the insect protection or the effect has worn off. The bite away is an electronic device for chemical-free external treatment for insect bites/stings such as mosquitoes, wasp, and bees. Thanks to it, a minor insect bite or irritant does not need to turn into an ongoing issue. It is simple to use: by pressing one of the two buttons just once (3 – 5 seconds) a temperature of around 124°F is reached and maintained for the selected time, providing relief from itching and swelling within seconds.
I really love this Jacket! You'll be ready for whatever the day brings. Softshell is made from woven fabric, making it comfortable in light rain and windy areas. It is a great companion for your camping trip. Definitely one of the first things on my packing list 🙂
8. Little Donkey Andy Women's Softshell Jacket
The Little Donkey Andy Jacket is somewhat of an all-rounder – you'll be ready for whatever the day brings. It features Omni-Tech technology that guarantees waterproof and breathable fully seamed construction to shield you from rain-heavy days when you're out on the trail. We own it ourselves and it is really useful for all kinds of outdoor activities.
When camping you have to eat something in between! This mobile notebook grill is perfect for this. Having a barbecue next to the campfire in the evening creates the best atmosphere for camping 🙂 Moreover, this grill is especially light and space-saving.
10. Fast Drying Microfiber Travel Towel
More absorbent than ordinary towels, and can be air-dried and reused in a short time. This way you dry yourself in seconds after the morning bath in the river. It's also very light weighted, you can hardly feel it when you put it around your neck. A perfect addition to your camping packing list 🙂
11. JBL CLIP 3 – Waterproof Portable Bluetooth Speaker
Clip and Play Like no other, the JBL Clip 3 is a unique ultra-portable, ultra-rugged and waterproof Bluetooth speaker that is small in size but with a surprisingly big sound. But do not turn the music up too loud when camping. After all, you are there to enjoy nature and you don't want to disturb the animals 🙂 The carabiner clips to your clothes, belt loop, or backpack, making the Clip 3 your outdoor companion on every adventure.
This awesome cookware kit is designed for anyone who loves outdoor camping with families and friends! It is super-portable, making it much more convenient for camping, hiking, backpacking, and other outdoor activities! Each piece has a non-stick Teflon coating for easy cleaning and durability. It conducts heat quickly and is built to last for a long time. Of course, it is a must-have on your camping packing list!
13. Camping Hammock Double & Single
Relaxation in nature? No problem with this camping hammock! You can even hang out together 🙂 All you need are two trees or anything else you can attach them to and the relaxation can begin. I not only use them at camping but also at home on the balcony 😛
14. Rechargeable ThorFire LED Camping Lantern
These led lights can be used as flashlights or lanterns. You will never need to worry about draining batteries! Never be out of power! ThorFire camping lanterns can be either charged via regular Micro USB charging cable or hand cranking when you are out of power supply. Very easy to recharge this light. Also, it can be used as an emergency power bank 😉
15. MSR Hubba Lightweight Backpacking Tent (1 or 2 Person Tents available)
The ultimate backpacking camping tent! It is a quintessential 3-season tent. Easy to carry, quick to set up, and roomy enough for hanging out, it lives at the intersection of lightweight and livable. While others are still setting up their tent, you can already relax around the campfire 😛
16. Lowa Men's Renegade GTX Mid Hiking Boot
This hiking boot is your perfect companion!
AT A GLANCE:
All-terrain, GORE-TEX waterproof, breathable hiking boots for day hikes and light backpacking
Climate-control footbed wicks away moisture for comfort
Durable Monowrap frame reduces boot weight
Full-length nylon shank for stability
Rugged Vibram outsole helps maintain grip
17. Lowa Women's Renegade GTX Mid Hiking Boot
Of course, this hiking boot has all the advantages of the version for men. Additionally, it is perfectly adapted to the female anatomy. We have tested both pairs and used them for years. A clear recommendation for your camping packing list.
You only need one tool when it changes into 16 – perfect for Camping and Survival Kits. It's small and lightweight makes it easy for backpackers wanting to travel very light and fits into every pocket. There is not much more to say. Experienced campers have long appreciated the value of multitools and this one has many excellent ratings.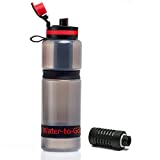 Last but not least we think about your health! Dehydration is an often-underestimated danger. With the water bottle from WATER TO GO you can filter freshwater from the river and enjoy it in seconds. A must-have for your packing list, not only when camping.
And if you should have injured yourself somewhere, this practical small first aid kit also ensures first aid! We have it with us on every travel 🙂
Conclusion
Well, have a great time in nature! You will surely experience something unique and have a lot of fun. With our packing list, you can easily solve every problem in no time 🙂 We are also looking forward to ideas for further gadgets or feedback on the existing ones. Feel free to write in the comments 🙂
Safe travels, your Traxplorio Team!