Costa Rica was one of the most popular destinations in Central America even before Covid-19. During the pandemic, this has not changed. In fact, it has become even more popular, as it is one of the first countries to restore safe travel and open its borders to international tourism. To make sure you are prepared for your perfect trip to Costa Rica in 2021, we have compiled our 20 must-have travel gadgets on this Costa Rica packing list. As always, you will also find useful information on popular activities, the 4 seasons, special accommodations, and much more.
Besides the most important fact that a trip to Costa Rica is currently safe, there are numerous other reasons that speak for this dreamlike country. Take your chance and experience, Costa Rica, like never before. Due to Covid-19, nature has recovered a bit and mass tourism in some places has decreased. Thus, you can now experience it from a different and beautiful side.
Never before have the beautiful Caribbean beaches been so empty. This coupled with the Pura Vida felt by the local people lets you experience an unforgettable vacation. You will immediately fall in love with the country and the people. But also adventurers can explore the jungle and rainforest of Costa Rica like never before. Costa Rica is high on our bucket list for 2021 because it really offers something special for EVERYONE.
In order to enjoy all this without any problems, good planning is essential. This way you can save time and money and enjoy your vacation in Costa Rica to the fullest.
Regardless of your next destination, we also have some general information and tips for you in this article:
20 Travel Gadgets you need on your Costa Rica Packing List!
More Costa Rica Packing List Gadgets which may come in handy
Bonus Tip: Travel Insurance
Unfortunately, the Covid-19 pandemic has shown us how quickly something unexpected can happen. However, in order for you to worry as little as possible during your well-deserved vacation, we have fought our way through the insurance jungle for you and looked for a reliable partner. Thereby we have stumbled upon WorldNomads.com. Insurance is always a very sensitive topic and honestly, we would rather do without it and spend the money on vacation for other nice things. But if something should happen, you are more than happy to have a partner like WorldNomads on your side!
Why WorldNomads has impressed us so much?
Backed by specialized insurance providers and global assistance partners
You can always buy the insurance online, even if you are already traveling
You can adjust your insurance coverage during the trip and claim online
They cover a range of adventure sports and activities
Very high availability worldwide
6 Things you DO NOT need in Costa Rica
Umbrellas
The first question is, who wants to travel when already planning with bad weather? 😛 We see a rain umbrella therefore as not necessary on your Costa Rica packing list. Even during the rainy season, there are usually only short showers, which is why the right clothes are recommended.
Valuables
Of course, our advice to leave your valuables (that you don't really need) at home. However, Costa Rica is one of the safest countries in Central America and a good start for anyone who wants to visit these regions.
More than 1 Credit/Debit Card
Otherwise, we always recommend that you have as little cash with you as possible (for the same reason as valuables). However, in Costa Rica it is difficult to find an ATM in some regions. Therefore, we recommend you to take only your travel credit card (since card payment is not yet so widespread) and withdraw enough money there.
Unpractical and warm clothes
In Costa Rica it is warm all year round. So you don't need any clothing to protect you from cold weather. We only recommend a softshell or rain jacket to be prepared for the changeable weather. Also, the people of Costa Rica do not like fancy clothes. So get into you comfy clothes and enjoy the Pura Vida feeling 🙂
Binoculars
We have seen this gadget on many Costa Rica packing lists. And it is also quite useful! In Costa Rica, there are as already mentioned countless different animals. Especially the exotic birds can be admired much better with binoculars. Be that as it may, you can also rent this heavy gadget locally or buy it cheaply. So save some weight 🙂
Rain boots
Finally, another gadget that is often recommended… but is not really useful from our point of view. We'd take a good pair of hiking boots over rain boots any day. But you can also buy a pair of colorful rain boots for a good price in Costa Rica.
3 Special Accommodations to stay in Costa Rica
Budget flights to Costa Rica
4 seasons in Costa Rica. What to experience and what to be aware of
Spring in Costa Rica (March – May)

Costa Rica is known as the green paradise and invites you to a wonderful vacation all year round. Of course, there are different weather conditions depending on the region, which are influenced by the altitudes and coasts. A distinction is made between rainy and dry seasons. It should not be forgotten that Costa Rica always has a tropical climate, so there is high humidity all year round.
Spring is dominated by both rainy and dry seasons. March and April are characterized by constant weather conditions with an average of 25-30°C during the day. On the Pacific coasts, it can get even warmer, up to 40°C. The Caribbean coast has an equatorial climate with showers throughout the year. In the spring months until the end of April, however, you are most likely to be spared from them. The humidity throughout the country is more bearable in spring, especially for those who are otherwise less exposed to humidity, as there is not as much rain.
From May on, the rainy season starts gradually all over the country and you should expect daily rain showers. However, the rainy season does not automatically mean continuous rain. It is really a rarity. Most of the time the rains start at noon and last for a few hours. In the morning and late afternoon, it is sunny and warm. The advantage in May is for sure that you still have the chance for sunny vacations and at the same time the tourists are leaving, so that you can maybe make one or the other bargain.
Which activities are most recommended in spring?
Spring is perfect for a vacation on the Pacific or Caribbean coast. So how about taking some time off at the beach and just unwinding?
Our top 3 beaches
If a pure beach vacation is too boring for you, Costa Rica offers enough alternatives. For example, if you have always wanted to go diving, now is your chance! Costa Rica is a true diver's paradise, whether you are a novice or a professional. So spring is a great time to explore the Pacific coast underwater.
And if the underwater world is not your cup of tea, Costa Rica also offers phenomenal waves. For surfing, you should visit the Pacific coast from April to August and the Caribbean coast from December to March. The famous surf spot Pavones on the Pacific coast is a special highlight. Sure, you will have to put up with rains and muddy roads from May on, but you will be rewarded with the surf of your life.
Summer in Costa Rica (June – August)

The Costa Rican summer is the rainy season and you can expect more rain showers and cooler temperatures (although they are still around 25°C). Humidity is correspondingly high. While the Caribbean islands are often plagued by hurricanes in the summer, these, fortunately, do not occur in Costa Rica. During the hurricane season (July to October), it tends to be cooler and rainier there.
Despite the rain, the summer months also have their advantages. Especially the months from May to August are also called the "little rainy season" because in these months a rain shower can come down from time to time. But if you are lucky, it rains almost not at all or at night, when you don't notice it anyway. In addition, the summer months are much cheaper and the beaches are empty. And last but not least, the rainy season is absolutely perfect to explore blooming Costa Rica and its rainforests.
Which activities are most recommended in summer?
If you travel to Costa Rica in summer, hiking through the rainforests is a must! You will get absolutely impressive impressions of the diverse flora and fauna. The chances of seeing unique animals and bird species are highest during this time of year. Since these animals like to camouflage themselves well in the thicket of the jungle, it is recommended to book a tour with a national park guide.
Our top 3 national parks that you should definitely visit
Manuel Antonio National Park
Costa Rica's smallest national park was named one of the most beautiful national parks in the world by Forbes magazine, as it combines both white sand beaches and green and biodiverse rainforests with huge trees. The scenery on the beach is absolutely stunning. Also, don't forget your snorkeling gear for the beautiful coral reefs.
Where to stay: Jungle Beach Hotel Manuel Antonio
Tortuguero National Park
A different kind of national park is Tortuguero National Park on the Caribbean coast, which you can explore comfortably by boat or kayak and observe many animals like colorful parrots and sloths. The national park is named after the sea turtles, which in the summer cavort on the beaches and lay their eggs there. The best time to see the hatching turtles is at night. Unfortunately, the green sea turtles are now threatened with extinction and the Tortuguero National Park is trying to protect the turtles and provide them with a suitable habitat. It is best to book a guided tour so that the turtles are not disturbed.
Where to stay: Casa Turtle Bogue
Monteverde Cloud Forest Reserve
Monteverde Cloud Forest is one of the most popular rainforests in Costa Rica. 10% of the plants found there can only be seen there and nowhere else in the world. In addition, the national park is characterized by its enormous biodiversity. As nature and animal lover, you will get your money's worth. Speaking about costs: the proceeds of the entrance fees go completely into the education and research programs. In this national park, you can also see the continental divide, where the water runs towards the Caribbean on one side and the Pacific on the other. If you can't get enough of rainforests, the Monteverde Cloud Forest is the perfect choice for you.
Where to stay: Rainbow Valley Lodge
Autumn in Costa Rica (September – November)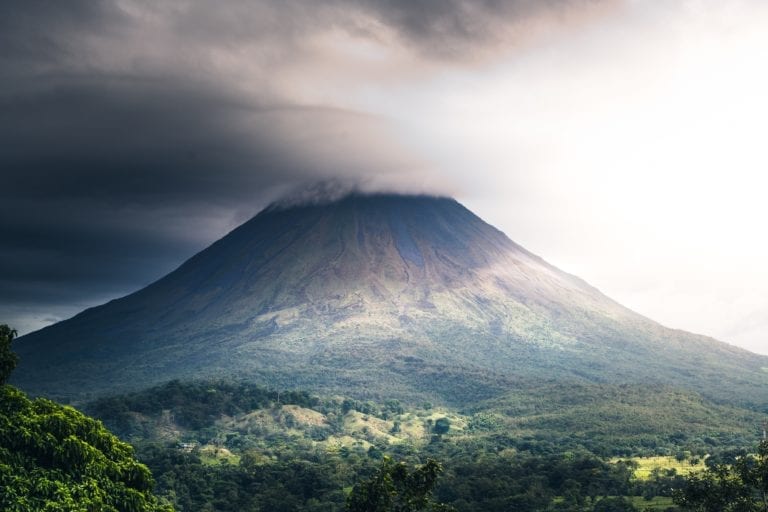 In autumn, similar to summer, the rainy season predominates, although from October onwards, especially on the Caribbean coast, the sunny season lasts longer and from November onwards the dry season slowly begins in the rest of the country.
So if you are traveling through the country in the fall, we recommend that you still pack waterproof clothing such as a rain jacket and waterproof walking shoes. The weather can change from sunny to rainy quite quickly, turning the roads into muddy areas and small streams. Warm clothes are only needed for the night. Temperatures usually don't drop below 17°C, so you won't really freeze in Costa Rica.
Which activities are most recommended in autumn?
How about a breathtaking volcano hike? The weather in autumn is ideal for exploring the regions along with the six active volcanoes. Which volcanoes you should definitely see?
These are our top 3 volcanoes in Costa Rica
Arenal
The most popular and most visited volcano, Arenal is located in the north of Costa Rica and looks like something out of a picture book because of its symmetrical cone shape. It has been dormant since 2010 and has not erupted since, but smoke still rises from the crater from time to time. On a hike along with the volcano, you can take a closer look at the cooled lava flows and the waterfall La Fortuna. Nearby is the Mistico Arenal Hanging Bridges Park, where you can take a two-hour tour over the hanging bridges and see the rainforest from above, absolutely breathtaking!
Irazú
The rumbling mountain, as the Irazú volcano is translated, is located only 50km from the capital San José and is Costa Rica's highest and most dangerous active volcano, repeatedly spewing ash. Irazú has two craters, one of which has a turquoise-green sulfur lake. Unfortunately, the peaks of the volcano are usually covered in clouds, as they are 3,432 meters high. When the clouds clear, however, you can glimpse both oceans.
Rincón de la Vieja
Since 2017, things have calmed down at Rincón de la Vieja and you can visit hot springs, steaming mud holes, geysers, and numerous waterfalls near the volcano. The volcano owes its name to an old legend in which an Indian princess fell in love with the chief of the enemy. When her father found out, he challenged the chief and threw him into the volcano's crater. The grieving princess is said to have lived on the slope of the crater from then until her death so that today the volcano bears the name "The Place Where the Old Woman Lives."
10 beautiful & active volcanoes for your Costa Rica volcano tour
Would you like to learn more about Costa Rica's breathtaking volcanoes? Then check out our list of Costa Rica's most beautiful & active volcanoes. You will also find valuable information for your next volcano tour!
Winter in Costa Rica (December – February)

Winter is the perfect time to vacation in Costa Rica. It is warm, the humidity is relatively low due to the low rainfall and the sun is shining – what could be better? Whether the central valley with the Costa Rican cities, the Pacific or the Caribbean coast, almost the whole country invites you to stay. This time of the year is also the best time to travel by 4×4 and explore the country on your own. The best road conditions are clearly in the dry season. The only downside is that the good weather also attracts a lot of tourists in the winter months and prices rise.
Which activities are most recommended in winter?
Hiking through the national parks, refreshing in the sea, looking at the fascinating volcanoes and just lying on the beach, you can do all this in Costa Rica even in the winter months. In addition, this time is also a good time to explore Costa Rica's cities and their surroundings.
We have compiled our top 3 cities for you
San Jose
For most vacationers, their vacation starts and ends in the capital San Jose at the international airport Juan Santamaría, which is why you will probably get to know the city right at the beginning. It is by far the largest city in Costa Rica and is surrounded by mountains and volcanoes in Valle Central. You will find a wide range of sights, restaurants, and museums such as the National Museum or the Jade Museum. In addition, from San Jose, you can easily make excursions to the Irazu Volcano and Manuel Antonio National Park.
Puerto Viejo de Talamanca
This small town on the Caribbean coast offers you a little bit of everything. Take a chocolate tour through nature, visit the Cahuita National Park, ride your bike along the road, look at the many different species of birds and learn to surf on the beautiful beaches, because here you can find the strong wave "Salsa Brava".
Turrialba
At the foot of the big volcano, Irazu is the small student town Turrialba, from where you can of course visit the volcano as well as the neighboring volcano of the same name perfectly. Another highlight is the white water rafting, for which the city is famous. In the evening you can stop at one of the cozy bars and let the evening fade away.
As you can see, Costa Rica is a wonderful place to visit all year round, wet or dry. It all depends on what you want to see and experience. If you are a bit flexible, we are sure you will find something suitable for you at any time of the year. With our season planner, you now have the possibility to find the perfect travel time for you.
10 Best Cities to visit in Costa Rica – Ultimate Sightseeing Guide for 2021
Would you like to learn more about Costa Rica's stunning cities? Then check out our list of Costa Rica's best cities including your ultimate sightseeing guide. You will also find valuable information about tours, landmarks, and attractions of those cities!
10 Interesting Facts about Costa Rica!
Costa Rica is one of the happiest countries in the world.
In the ranking of the "Happy Planet Index", which examines the individual satisfaction, prosperity, and sustainability of about 150 countries, Costa Rica repeatedly lands on the winner's podium, although the country has to struggle with poverty and social injustice. So what makes people in Costa Rica so happy? On the one hand, there is this beautiful fascinating nature, a dreamlike climate that provides warm temperatures and sun all year round and a very high life expectancy of the people. On the other hand, since 1950 there is a stable political system of democracy and no army anymore, which gives the locals a lot of security and satisfaction. In addition, the money that has been freed up is used for education, so that the majority of the population can attend school, which is not necessarily a matter of course in the countries of Central America. All this combined with the joy of life and positive attitude of the locals makes them one of the happiest countries in the world.
"La Pura Vida" is the locals' way of life.
Everywhere in Costa Rica, you hear the phrase "Pura Vida", pure life. It is unofficially the motto of Costa Rica and describes the attitude towards the life of the locals. It is impossible to describe exactly what this means, but it is best to experience it for yourself! Pura Vida stands for deep gratitude for life and health as well as the effort to simply enjoy life. The inhabitants concentrate on the essentials and enjoy the little things. Pura Vida is omnipresent and that is why the inhabitants use the phrase to answer "Hello" and "How are you?". They express their life-affirming attitude and that makes everybody happy!
Costa Rica is home to half a million different species of animals.
Costa Rica's tropical climate provides temperatures that are predestined for flora and fauna rich in species. Although Costa Rica occupies only 0.03% of the world's land area, its climate is home to more than 5% of the world's complete biodiversity, impressive isn't it? The inhabitants of Costa Rica are aware of this fascinating wealth, which is why a quarter of the country's entire surface area is protected in order to protect this unique biodiversity. In these forests, beaches and waters live no less than 500,000 different animal species, 830 of which are bird species. Costa Rica is therefore a true paradise for bird watching.
In Costa Rica, the birds dance the moonwalk.
With the diversity of birds in Costa Rica, it is not surprising that there are one or two rather special birds among them, such as the red-capped manakin, which circles around the treetops in Costa Rica. As a courtship ritual, the male red-capped manakin dances on a branch, performing the sophisticated steps of the moonwalk to attract females. This makes you wonder where the moonwalk really comes from and who copied it from whom – the red-capped manakin from Michael Jackson or maybe the other way around?
There are almost no street names.
It may surprise you to know that most of Costa Rica's streets have no names. Instead, there are numbers. Unfortunately, often no one knows these numbers, so how can you even find your way around? Residents simply orient themselves by fixed points, landmarks, distances, and prominent features like churches and supermarkets. So if you ever ask for directions on your Costa Rica trip, don't be surprised to get an answer like, "It's the 3rd house next to the church to the north with the red roof and the big palm tree in the front yard. Next door is a small ladies' boutique." However, thanks to the hospitality of the locals, usually every vacationer finds the right way.
The national anthem is played every morning on the radio.
Almost all Costa Rican radio stations play the national anthem at 7 am. In general, the anthem is very present among the locals and pretty much everyone knows it by heart. In terms of content, the anthem deals mostly with the beauty of the landscape, the climate of Costa Rica, and the hard work that is rewarded with eternal glory and honor. Undoubtedly, the anthem fills the locals with pride and is also sung with full force before soccer matches, for example.
Native Costa Ricans call themselves ticos and ticas.
Residents in Costa Rica are affectionately called ticas (women) and ticos (men). Costa Ricans owe this nickname to the fact that, due to their friendliness, they tend to trivialize common words, ending the diminutive with "tico" rather than "tito" as in other Spanish-speaking countries. Thus, for example, a moment becomes "un momentico".
Costa Rica is one of the most environmentally friendly countries in the world.
One of the most important and interesting facts about Costa Rica is that the country gets more than 99% of its energy from renewable sources. Most of this energy comes from hydroelectric power, which accounts for more than 50%. In addition, there is energy from wind power, geothermal sources, biomass, and solar panels. Costa Rica produces so much energy that there is an energy surplus and this can even be sold to other countries in Central America such as Guatemala, Nicaragua, Panama, and Honduras. Very exemplary in our opinion.
The country is the second largest exporter of bananas in the world.
Costa Rica exported 120 million boxes of bananas around the world in 2019. Only Ecuador exports more annually. Meanwhile, Costa Rica relies on sustainability in the cultivation of the fruit and good working conditions on the banana plantations. So on your Costa Rica trip, be sure to taste one of the delicious local sun-ripened bananas!
In Costa Rica you can meet a "descendant" of Jesus
You already know that Costa Rica is home to a huge variety of animals, but have you heard of the Jesus Christ lizard? This particular lizard, like Jesus, has the ability to walk on water, hence its name. The lizard can complete around ten meters on the water, saving itself from voracious snakes. The whole thing is made possible by its extremely high speed. Hard to believe, isn't it?