If you have made the choice to travel to Italy, you are definitely in for an incredible adventure. Italy is a unique and diverse country. For good reason, it is the 3rd most visited country in Europe and even the 5th most visited country in the world! Every year 64.5 million people are being attracted by the beautiful Bella Italia. That's why it's very wise of you to do your homework before your trip and be prepared for the perfect Italy trip in 2021 😊
In this article, you will find not only our 19 Must-Have Italy Packing List Travel Gadgets, but also a lot of other useful information. We'll give you tips on the 4 seasons, special accommodations, and interesting facts about Italy, as well as advice on our favorite wine regions and other landmarks and attractions in Italy. This will surely give you an advantage over other tourists and help you experience unforgettable moments.
One thing in advance, when you are writing your Italy packing list, read the section about the seasons and activities beforehand, because then you can decide a little better what you really need 😊 As always, we have tested the travel gadgets ourselves in Italy. We would be very happy about feedback in the comments!
Anyway, now we start with the packing list, in order to save you some money and time on your next trip to Italy and enjoy your vacation even more.
Regardless of your next destination, we also have some general information and tips for you in this article:
Smart Travel Planning – 5 Tips to Save Money on your next Trip
18 Travel Gadgets you need on your Italy Packing List!
More Italy Packing List Gadgets which may come in handy
Bonus Tip: Travel Insurance
Unfortunately, the Covid-19 pandemic has shown us how quickly something unexpected can happen. However, in order for you to worry as little as possible during your well-deserved vacation, we have fought our way through the insurance jungle for you and looked for a reliable partner. Thereby we have stumbled upon WorldNomads.com. Insurance is always a very sensitive topic and honestly, we would rather do without it and spend the money on vacation for other nice things. But if something should happen, you are more than happy to have a partner like WorldNomads on your side!
Why WorldNomads has impressed us so much?
Backed by specialized insurance providers and global assistance partners
You can always buy the insurance online, even if you are already traveling
You can adjust your insurance coverage during the trip and claim online
They cover a range of adventure sports and activities
Very high availability worldwide
6 Things you DO NOT need in Italy
Fancy dresses
Milan is one of the fashion capitals of the world. But in fact, the whole of Italy is known for its elegant fashion. Therefore, we strongly recommend you to go shopping in Italy and not to bring clothes from home. That way you can proudly show off your new gems 🙂
A full suitcase
In order to have enough space for your new clothes, but also a variety of other souvenirs, we strongly recommend you to travel with lightweight luggage to Italy. However, it should not be particularly difficult for you, since summer clothing is also quite light and space-saving 😊
Travel umbrella
On many lists, we found a travel umbrella. However, we ask ourselves, who wants to go on vacation if they expect rain? 😛 In Italy, it rains very rarely, so we would rather leave the umbrella at home. Besides, in case of emergency, you can buy them for a good price locally.
Hairdryer
Another gadget that can be found on many lists. Italy's accommodations are well prepared for long hair, so you can leave your Travel Hairdryer at home 😊 In that case, take the Travel Umbrella instead 😀
Valuables
As every time, we would like to point out that you should not pack any unnecessary valuables. Of course, Italy is very safe, but all over the world there is a saying: An open door may tempt a saint 😉
Too many shorts/skirts
When you travel to Italy, you will certainly not only visit the beautiful landscapes and beaches. Italy has an incredible amount of culture to offer. A big part of it is churches and other buildings, where you are only allowed to enter with covered shoulders and long pants. So pack at least one full-length outfit 😊
3 Special Accommodations to stay in Italy
Budget flights to Italy
4 seasons in Italy. What to experience and what to be aware of
Spring in Italy (March – May)

Ciao Bella Italia! A trip to Italy is, of course, an excellent idea at any time of the year. However, each season has its pros and cons. First, we want to tell you a little more about Italy's Primavera (spring). Italy has a variable climate. This means that the weather can vary greatly in different regions. Italy's spring is absolutely beautiful. Flowers are blooming and people are already celebrating the first colorful festivals. For example, the wine festival – Vinitaly, which takes place in Verona in April.
The temperatures in spring are between 16°C and 24°C. This combined with the even smaller crowds of tourists makes it one of the best seasons in Italy for us. However, Holy Week around the first of May is certainly an exception here. This is considered as high season in many cities in Italy. The weather is perfect for exploring Italy's culture-rich cities like Rome and Florence, but also not too cold to spend some sunny hours on Italy's gorgeous beaches. If you want to reduce the risk of rain, we recommend a trip to the south of Italy. This way you can cross the umbrella of your Italy packing list for sure 😊
Which activities are most recommended in spring?
We love taking a little time off at the beach in Italy in spring. Here are our top 3 most beautiful beaches in Italy:
Our top 3 beaches
Summer in Italy (June – August)

Welcome to Italy's Estate (Summer) 😊 This is Italy's absolute high season. But in Italy's divine season you also have the guarantee of breathtaking sunny days and a Mediterranean climate. First of all, we would like to introduce you to our favorite summer festival. In Tuscany the Festa Dell'Unicorno (Unicorn Festival) takes place. It is in July and is celebrated in Vinci for 3 days. There, the joy of life of the Italians is literally touchable. If you have the opportunity and are in the neighborhood, you should spend at least a few hours there.
Of course, the temperatures also rise in the summer. Temperatures between 25°C and 30°C are expected. This might make the beaches mentioned above a bit more attractive for you 😛 However, it is no reason to drop all other activities. It would be fatal if you travel to Italy and return without seeing at least some of the impressive landmarks and attractions. The beautiful weather definitely enables you to take the best vacation pictures to remember this trip with great memories later on.
Which activities are most recommended in summer?
If you had been in Rome for one week only, you probably wouldn't have explored everything yet 😀 That's why we have summed up our 3 Italy highlights for you. We always remember these experiences with a smile. However, in summer you should make sure to book in advance. Besides the risk that the tours are fully booked, you certainly don't want to stand in line in the heat 😊
Our top 3 landmarks and attractions you should visit
Mount Etna
A hike to the highest active volcano in Europe has always been on your bucket list? Then you can finally cross it off 😊 With an experienced guide you can admire the fascinating beauty of Etna and the surrounding area from the summit craters. On this tour, you should definitely bring your hiking boots. But be sure to check in advance how active Etna is at the moment. The tours start, but the guides can only get as close to Etna as the current situation allows. Ask your guide for more information 😊 We guarantee that this day will be one of the highlights of your trip to Italy!
Recommended tours:
St Mark's Basilica and Grand Canal, Venice
Of course, a gondola ride in Venice can not be missed! The gondola is also a kind of public transport in Venice and can be found everywhere. Our recommendation is to combine the gondola ride with a small city tour 😊 We got a small quiet private gondola. It was a dreamy moment feeling the magic of Venice in the beautiful canals. Our tour went through Murano, Burano, and Torcello. Many trips start at St. Mark's Square. This leads us to St.Mark's Basilica, which for us is the most beautiful building in Venice and therefore should definitely be visited!
Recommended tours:
Pompeii and Herculaneum, Naples
We have often mentioned Italy's great culture and history. That's why Pompeii is an absolute must-see on your Italy trip. Normally I am not a fan of guided tours with "experts". But here it is worthwhile to go with an archaeologist through the impressive complex and thus discover hidden highlights. This makes history fun! On the tour, you will also learn a little more about the eruption of Vesuvius in 79. We took this as an opportunity to visit Vesuvius as well. You will have a great day, full of new impressions and experiences 😊
Recommended tours:
Autumn in Italy (September – November)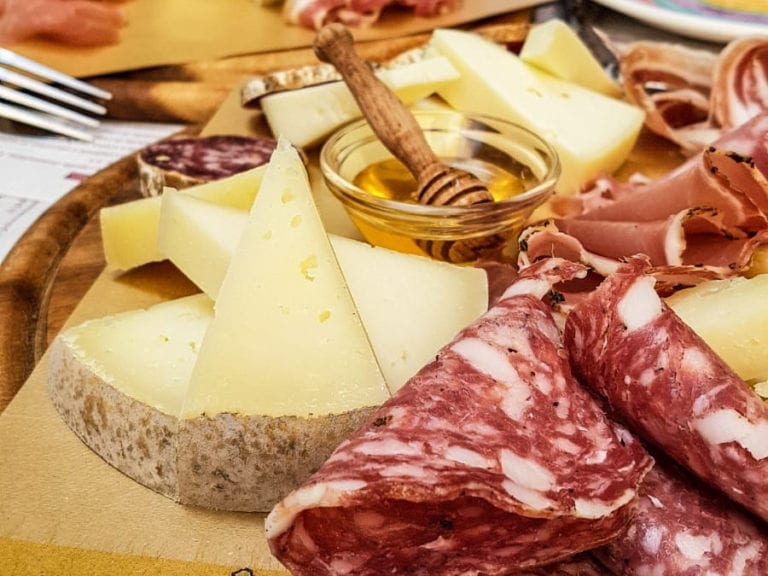 After summer comes Autunno (Autumn). This season, along with spring, is perfect for your first visit to Italy. These are the months with the least tourists, but still pleasant temperatures. The temperatures may already be too cold for you to swim in the sea… however, there are a variety of water sports and events taking place in Italy now. For example the "Barcelona" (yes you are still on the Italy packing list :P). It's a great sailing race that takes place in October.
The temperatures in autumn are between 18°C and 24°C. So it's not much colder than in spring. Therefore, feel free to pack your swimwear 😊 But the season brings most of all the optimal climate for the grape harvest. We were even allowed to harvest a few grapes ourselves at a winery in Tuscany. A great experience!
Which activities are most recommended in autumn?
You probably guessed it – it's time for a wine tasting! Italy is known worldwide for its delicious wine. And if you're already helping with the harvest, you might as well reward yourself after the work is done 😛 Here are 3 tips for your first wine experience in Italy 😊
These are our top 3 wine regions in Italy
Tuscany
We have already mentioned our love for Tuscany and its wineries. Tuscany is one of the most famous wine regions in the world, which is why it was our first wine destination in Italy. In Tuscany, there are numerous wineries that you can visit. We especially liked San Gimignano. However, we can not give a neutral opinion, because the wine there tasted very good 😀 The wineries in San Gimignano are mostly located in small villages on top of hills and therefore also offer a unique view. For your first visit to a wine region, we strongly recommend you to choose Tuscany.
Veneto
Veneto is a wine region with a lot of history and character. It is located in the northeast of Italy and is therefore home to wonderful wineries as well as the popular city of Venice, and the beautiful Dolomites. In addition to the delicious wines, Prosecco is also produced here. This is the pride of the locals. Despite the fame of Venice, we liked the city of Verona a little better. From there, there are several opportunities to do a wine tasting. Veneto is one of the few regions in Italy that produces more white wine than red. But that does not mean that there is not also excellent red wine there 😊
Lombardy
Lombardy is one of the largest wine regions in Italy. Probably the most famous city in Lombardy is Milan. We are located in the northwest of Italy (south of Switzerland). In terms of landscape, we like the region especially because of the beautiful lakes. For example Lake Garda and Lake Como. But now let's get back to wine. Milan was the central marketplace where wine was traded already in the Middle Ages. The best red wines can be found in Valtellina. We recommend you not to leave Milan without a wine tasting.
Winter in Italy (December – February)

The year has passed so quickly. We have reached the Inverno (winter) of Italy. Remember the variable climate in Italy? Depending on where you are traveling in winter, you should definitely double-check and adjust your Italy packing list accordingly 😊 Winter is perfect for enjoying Italy's culture. However, outdoor activities in winter are also very trendy. Tourists are especially drawn to the Italian Alps and Dolomites.
Temperatures drop to between 10°C and 13°C. In the mountains, of course, much colder. Besides spring, winter is the best season for an extended hike through Italy's breathtakingly beautiful landscapes. We also recommend you to visit a city in winter, because the prices are a bit lower and the tourists are becoming fewer.
Which activities are most recommended in winter?
Now you might be wondering which city in Italy you should visit first? As always, we would like to give you our top 3 recommendations. However, this choice was extremely difficult for us in Italy. There are so many beautiful and unique cities… but we had to choose 😊
We have compiled our top 3 cities for you
Rome
The Colosseum, the Trevi Fountain, the Pantheon, St. Peter's Basilica, the Vatican, the Sistine Chapel, the Roman Forum, the Spanish Steps, …. We could go on forever. This already illustrates how much there is to see in Rome. That is why Rome is one of the most visited cities in the world. But we would also like to give you 3 small tips that maybe not everyone knows 😊 Have you heard of the Santo Stefano Rotondo Church? It is the first round church in Rome. Or walk the longest and oldest street in Rome, the Via Appia Antica, with great awareness for once. And while we are on the subject of paths in Rome, perhaps you would like to walk the secret escape route of the Pope on the II Passetto di Borgo. We are excited to hear what else you might discover in Rome!
Florence
There is also enough to discover in Florence to stay there for several days. Here on Traxplorio, you will be able to find many guides about the squares, parks, and other places of interest in Florence. Some of the most famous Florentines are Dante, Michelangelo, Donatello, Galileo, or Raphael. Today Florence is considered one of the most culturally rich and historic cities in the world. Our highlights are Giotto's Campanile and the Baptistery of St. John. Some Assasins Creed fans may know this city a little better 😛
Milan
Welcome to one of the fashion capitals of the world. Milan! As up-to-date as fashion, so is the rest of Milan. It is one of the most modern cities in Italy. But this does not mean that there are not also numerous impressive buildings and culture. This mix of modernity and tradition is unique in Italy. The most famous square is Piazza del Duomo. When you stand there you will be overwhelmed by the impressive architecture. We recommend that you just let yourself drift from there. And if you are a soccer fan, you should definitely visit the San Siro stadium – maybe even watch a match 😊
10 Interesting Facts about Italy!
Italy is one of Europes youngest countries
To be precise, it is one of the youngest countries in Western Europe. Italy was founded as a country as late as 1861. In contrast, Italy's history and culture are one of the oldest in the world. Rome, for example, is more than 2000 years old. It is said that it was founded already in 753 BC. By the way, the reunion of Italy has been celebrated every year on June 2 since 1861.
The Trevi Fountain (Rome) receives an incredible donation every year in the amount of…
More than 1.000.000€!!! You read correctly… You could become a millionaire just through the money tourists throw into the Trevi Fountain every year 😛 But before you start making plans – of course, it's not allowed to collect the money from the fountain. The city collects the money every day and then donates it to charity.
The official language in Italy is German…
However, only next to Italy of course 😀 and also only in a few regions in Northern Italy. This applies especially to the region Trentino-South Tyrol. Therefore, you can already learn some German here, if you are planning a European trip and Germany is also on your list 😊 For all those who already speak German, this region might then be the perfect starting point for the Italy vacation 😛
Italy has the most volcanoes in europe
If you travel to Italy, you can fulfill your thirst for adventure by taking a real volcano tour. Besides the most famous (and even continuously active) volcanoes like Vesuvius, Etna & Stromboli, there are numerous others. In fact, the activity of the volcanoes greatly benefits the wine harvest.
Almost 80% of Italy consists of mountains or hills
With the numerous volcanoes, you've probably already figured that there are some uplands in Italy. In addition, there are extensive mountain ranges such as the Alps and the Dolomites. In other words, Italy is also a paradise for hikers, climbers, and winter fans.
Pasta was eaten as a sweet dish in the beginning
Although many associate pasta with Italy, it was actually brought in by the Arabs in the 13th century. In Arabia, people traditionally tend to eat sweet dishes, which is why pasta was served with honey and sugar. It wasn't until the 17th century that Italians started eating their pasta with tomato sauce. Hard to imagine that pasta was eaten longer without than with tomato sauce 😀
Italy has the most UNESCO World Heritage Sites in the world
However, Italy has to share first place with China. Both have 55 UNESCO World Heritage Sites. Some examples are the Colosseum in Rome or the city of Pompeii. Nevertheless, Italy combines its World Heritage Sites in a much smaller area compared to China.
Italians adore coffee. They drink 14 billion espressos each year!
Unbelievable but true. The 14 billion espressos are consumed by just 60 million Italians. No wonder the average Italian household consumes 37 kg of coffee a year. That's more than 3kg per month! If you are also a coffee lover, you will surely be able to find a good one in Italy 😊
Within Italy you will find the smallest country in the world
Many people might know it… it's Vatican City. With its capital (and only city :P) Vatican City. A funny comparison… Vatican City would fit almost 8 times in Central Park in New York. However, for its size, Vatican City (which is located in Rome) has some of the most famous sights in the world to offer and is a true pilgrimage site for religious people.
The Italian police has Lamborghinis as their official cars
Watch out, thieves and traffic violators! In Italy, you should think twice about getting into a chase with the police 😛 The patrol cars reach a top speed of up to 300kmh (190mph). They are often used to transport organ donations.