The world's favorite winter sport – skiing! Of course, this also includes snowboarding 🙂 Every year, millions of people look forward to their winter vacation and hunt down the slopes. Of course, you should be prepared for this. We intentionally left out the standard equipment like a pair of skis etc., because you might want to rent it on-site first to see how you like skiing 🙂 On our ski packing list, you will find important must-have gadgets for your next trip.
The gadgets on this packing list have excellent ratings and most of them have been tested by us personally. We would love to hear about your experiences with the products in the comments 🙂
7 Must-Have Travel Gadgets for your Ski Packing List
The most important thing when skiing is of course that you have a clear view and can enjoy the slope! These ski goggles are of excellent quality and guarantee you free vision. Definitely a must-have on your ski-packing list.
When you're skiing down the slope, you can't see everything around you. Or do you even dare to jump over ramps? With this action camera, you can capture unique moments and relive them at home. This product convinces, especially in the price-performance ratio.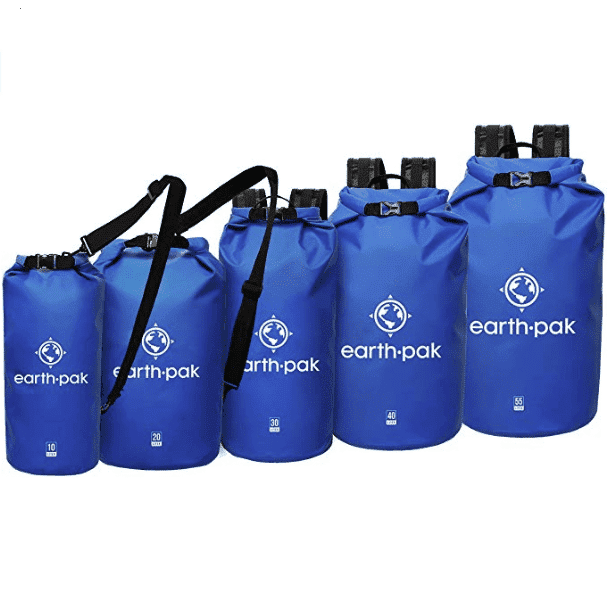 This Dry Bag Collection Backpack is one of the most reliable – and durable – companions to have by your side. You can carry and protect all your gear. From 30L to 55L sizes, the Dry Bag Backpack is sure to cover more than just the basics for your awesome adventures. It is very useful for a skiing trip so don't miss it on your packing list.
Do you know the word "Kaiserwetter"? In Germany, we say that when there is no cloud in the sky. Gorgeous blue sky! Because of the snow and the cold, you quickly forget that the sun is still very strong. So make sure you have a sunscreen lotion on your ski packing list.
Whether strong wind or unexpected rain, the multifunctional head scarf protects you from weather conditions. It has more than 12 different dresses ways. When skiing, wear it as a face mask, headband, scarf bandanna, or neck gaiter. It can protect your face, head, neck, and ears from being overexposed to the harmful rays of the sun and keep your nose/mouth clean from breathing dust.
Now we just have to protect your hands. These gloves convince us especially because they are windproof and you can also use your smartphone with them. This means you first have to take off your gloves in your warm room and you are well prepared for a snowball fight 😛 So add them to your ski packing list.
7. Waterproof Cell Phone Pouch
And finally a small Waterproof Cell Phone Pouch for your Smartphone 😉 You might not always want to store it in the big dry bag because you want to take some pictures in between. Also, you don't have to worry about your phone falling into the snow when you go Apre-skiing :P. With this your ski packing list is complete.
Conclusion
Have fun on your next ski adventure! We love snow-covered landscapes and the action on the slopes. That's why we are excited when you share your experiences on your winter vacation. Did you like the gadgets on the Ski Packing list? Was it your first ski vacation? We are super curious and would be very happy to hear your comments.
Safe travels, your Traxplorio Team!