Does your next vacation have a focus on relaxation? A very good choice! Everybody should take a spa vacation at least once a year 🙂 In order for you to enjoy your next spa trip completely carefreely, we prepared a packing list with our must-have spa gadgets.
The gadgets on this packing list have excellent ratings and most of them have been tested by us personally 😛 We would love to hear your experiences with the products in the comments 🙂 Some products are optional and we believe they are a good addition to your next spa trip.
14 Must-Have Travel Gadgets for your Spa Packing List
Our first and also top recommendation is obviously a super comfortable bathrobe! On a relaxing spa holiday, you don't want to walk around in normal clothes all day. With 100% wool, you can feel completely comfortable at any time, even without annoying clothes. Make sure to have at least one bathrobe on your spa packing list 🙂
Of course, men also want to feel comfortable in the spa vacation 😛 So we don't want to withhold the same comfort from you 🙂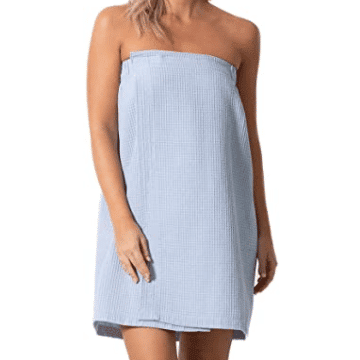 A must-have spa gadget on your packing list! The body wrap is the ideal companion for every sauna visit. No matter if you want to relax on the lounger or if you are on your way from one sauna to the next, with this towel you will always feel comfortable.
4. Soft Microfiber Quick Dry Hair Drying Towels
Drying your hair can be time-consuming. This microfibre hair towel is made from a revolutionary material that feels extremely soft, is super-absorbent, and dries quickly. In just ten minutes it absorbs almost 75% of the water. This should definitely be added to your spa packing list.
5. Fast Drying Microfiber Travel Towel
More absorbent than ordinary towels, and can be air-dried and reused in a short time. This is how the cold shower after the sauna is quickly forgotten 🙂 It's also very light weighted, you can hardly feel it when you put it around your neck. A perfect addition to your spa packing list 🙂
We absolutely love this spa gadget! We were very skeptical at first but now it has earned its spot on our spa packing list 🙂 This mat is Sandproof: you can easily get rid of sand or other debris by lightly shaking the beach mat. Effectively prevent the sand from sticking to the mat. You'll be able to keep the items on the mat clean at all times.
The sun always creates a holiday mood worldwide. No matter where you follow the sun, you need good sun protection! After all, you want to stay healthy for a long time and enjoy many more hours of the sun 😊 This sun lotion also comes with a seductive exotic scent.
Feeling good starts with the smallest things. And what can help more than a pair of fluffy and comfortable socks? Grippers in the sole prevent slipping on slick surfaces like wood and tile floor in those moments when you get to take your shoes off. We love to walk around with these fuzzy socks on our spa days and at home 🙂
This cosmetic bag is well designed for storing your makeups, toiletries, wash items, or other small kinds of stuff. Foldable, portable, waterproof coating, and lightweight when traveling. A perfect companion for your well deserved Spa holiday. Be sure to put this on your spa packing list.
10. Travel Headphones Sleeping Mask
Forgetting the whole world around you during your spa holiday is now even easier. Whether at the pool or during a spa treatment. With the built-in Bluetooth headphones of this eye mask, you can listen to the gentle sound of the ocean or relax your soul with calming music.
11. Bluetooth 5.0 Wireless Headphones in Ear Waterproof
Or do you want to relax but still see something? 😛 With these In-Ear headphones, you'll have audio on the go all day long, easy. Neither pool nor sports are a problem thanks to the waterproof housing. And you have the charging station right in your pocket. Definitely a great addition to your spa packing list.
One more gadget for your spa packing list is this travelsafe. If you want even more safety for your equipment during your sauna session or massage, you can store it in this travelsafe. The Safego travelsafe is a lightweight safe that is small and portable, but strong enough to keep all your valuables (e.g. your wallet, cash, keys, phone, sunglasses) safe. It is simple to use with a key or a three-digit custom combination.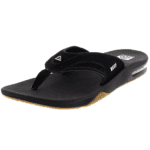 13. Flip Flops with Bottle Opener
You walk along the beach or through the spa area but don't have a bottle opener to open your cold drink? That problem is now history. These very comfortable flip flops have a built-in bottle opener to help you at all times. Isn't that amazing? This way you are always prepared during your spa vacation 😛
14. Reusable Wine Bottle Protector Sleeve Travel Bag
You have found a new favorite wine on holiday, but don't know how to get it home safely? You no longer need towels or newspapers. Just use this practical bottle protector to bring your precious cargo home. This way you can enjoy some more spa time at home.
Conclusion
You are now perfectly prepared for your next spa trip. We would love you to share some of your experiences with us here on Traxplorio 🙂 Of course, we are curious about how you liked the gadgets and what else you think should be on the list. Feel free to write in the comments!
Safe travels, your Traxplorio Team!