You are going on a different and rather untypical vacation? You are an adrenaline junkie and looking for that special kick? We love this kind of experience and travel! On Xtreme vacations, the safety and the experience of others is a very important aspects. Therefore we have arranged our Xtreme packing list for you. Here you can find must-have gadgets for your next Xtreme trip.
When doing an Xtreme activity it is very important that you trust your equipment. The gadgets on this packing list have excellent ratings and most of them have been tested by us personally. We would love to hear about your experiences with the products in the comments 🙂
9 Must-Have Travel Gadgets for your Xtreme Packing List
Are you planning to make a holiday a little more action-packed? Whether it's a paragliding trip or a squad tour! With this action camera, you can capture unique moments and relive all the excitement at home. This product convinces, especially in the price-performance ratio. Make sure to add it to your Xtreme packing list.
2. USB Rechargeable LED Headlight Flashlight
Almost every activity becomes impossible at night. With this headlight, it is no longer a problem. Whether you are looking for something or need to find the right direction. Even in emergency situations, an emergency signal can be sent. This way you are secured at night! And at night many Xtreme activities are even more special! So if you are nocturnal, make sure that this gadget is on your Xtreme packing list.
This awesome cookware kit is designed for anyone who loves outdoor and Xtreme activities with families and friends! It is super-portable, making it much more convenient for camping, hiking, backpacking, and other outdoor activities! Each piece has a non-stick Teflon coating for easy cleaning and durability. It conducts heat quickly and is a must-have survival gear that built to last for a long time. Be sure to add it to your Xtreme packing list.
Whether strong wind or unexpected rain, the multifunctional head scarf protects you from weather conditions. It has more than 12 different dress ways. When doing Xtreme activities, wearing it as a face mask, headband, scarf bandanna, or neck gaiter. It can protect your face, head, neck, and ears from being overexposed to the harmful rays of the sun and keep your nose/mouth clean from breathing dust.
5. Rechargeable LED Camping Lantern
These led lights can be used as flashlights or lanterns. You will never need to worry about draining batteries! Never be out of power! ThorFire camping lanterns can be either charged via regular Micro USB charging cable or hand cranking when you are out of power supply. Very easy to recharge this light. Also, it can be used as an emergency power bank 😉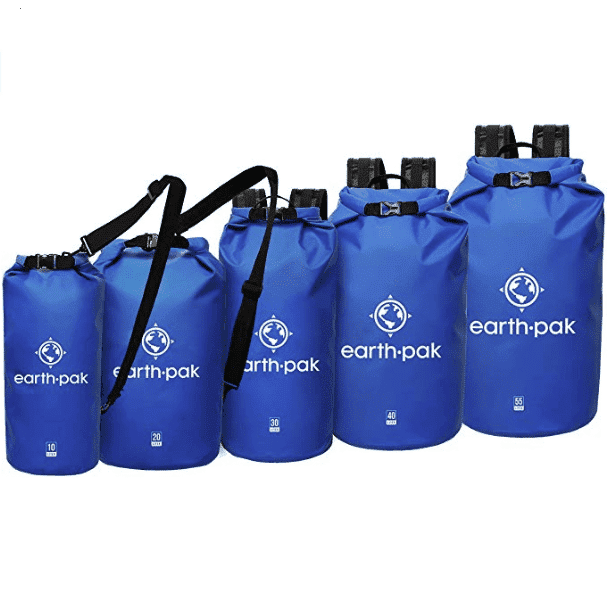 Whether you're going on a day of outdoor trekking or planning a week-long camping trip, this Dry Bag Collection Backpack is one of the most reliable – and durable – companions to have by your side. By day, have it carry and protect all your gear. By night, use it as a camping pillow so it will never leave your side. From 30L to 55L sizes, the Dry Bag Backpack is sure to cover more than just the basics for your awesome adventures. Should not be missing from your Xtreme packing list.
7. Waterproof Cell Phone Pouch
Are you traveling in areas where it gets wet quickly, or do you even practice water activity? If you don't have room for any other camera equipment, but still want to take some memorable pictures in between, this Waterproof Cell Phone Pouch is perfect!
You only need one tool when it changes into 16 – perfect for Xtreme and Survival Kits. It's small and lightweight makes it easy for backpackers wanting to travel very light and fits into every pocket. There is not much more to say. Experienced travelers have long appreciated the value of multitools and this one has many excellent ratings.
And if you should have injured yourself somewhere, this practical small first aid kit also ensures first aid! We have it with us on every travel 🙂
Conclusion
No matter which Xtreme activity you do on your next trip, we wish you safety and health above all! We would be incredibly happy about your valuable experiences 🙂 So please share them with our community and get inspired for your next Xtreme adventure. We hope that our packing list will give you some useful gadget ideas. We are always happy about feedback in the comments 🙂
Safe travels, your Traxplorio Team!