Sintra is a place not to miss if you are planning to visit Portugal!
Just 30 minutes away by car or by train from Lisbon's city centre, in Sintra, you have magical palaces and castles in the forest, ocean views and many other places to explore! Depending on the type of visit you want, it's possible to visit its main highlights in half a day or, for a better knowledge of Sintra, I recommend 1 to 2 days, being the last one if you also want to explore its coastal area.
Let me show you why Sintra is incredible and the places you should not miss.
The city centre
Once you arrive at the centre you can already understand why this place is so special and once you're settled in the centre these are the things you should visit:
The National Palace of Sintra (Palácio da Vila)
This palace is one of the most iconic places of Sintra and the detail that is really impressive is the chonic chimneys that can be seen from anywhere in Sintra. This palace has a lot of different influences as it first began as a mourish castle in the 10th century and then was used as a royal palace. So if you visit it, you can expect Arab architecture mixed with also religious European architecture.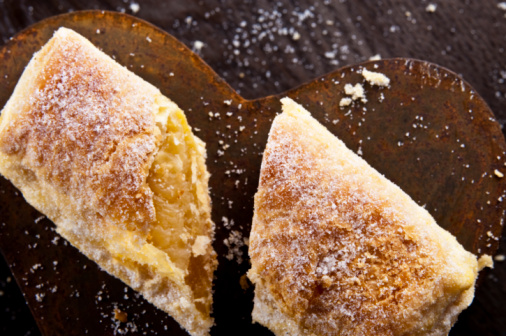 Eat a "Travesseiro de Sintra" and a "Queijada de Sintra" – these are the typical sweets of the city and the best ones are in the pastry shop Piriquita, right at the centre
Visit Quinta da Regaleira, one of the most emblematic monuments of Sintra
Quinta da Regaleira must be the most magical place in Sintra, not only due to its beauty but also to the mystical places you can find on it like caves and grottos with water.
Take the scenic tram ride from Sintra to Maçãs beach
This tram will take you from Sintra to one of the most beautiful beaches in the area, Praia das Maçãs.
The monuments
Sintra is filled with magical monuments in the forest and these are my favourites:
Monserrate Palace
Capuchos Convent
Beaches
Beaches in Sintra are not the greatest for sunbaths and casual divings in the ocean, but if you love a good ocean landscape or if you surf here you will find some of the most beautiful beaches of Portugal. There are plenty of them to visit, but my favourite ones are Adraga, Ursa, Magoito, Azenhas do Mar and Praia das Maçãs.
I brought you a photo of Azenhas do Mar that is located in a small village where you can have great fish and seafood dishes.
Because Sintra is between mountains and the ocean, it has a special microclimatic and normally it's colder here than in Lisbon and it rains more often. The best months to visit are from May to September. I definitely recommend visiting Sintra on your next trip to Lisbon – Portugal!
I hope you enjoyed this article!
For more journeys and tips follow me on @travellingtothegreen