Hola amigos,
I am really excited to share with you all one of the most extraordinary destinations I have been to in my life. Back when I was backpacking through South America, I was fortunate enough to hear find a job as a receptionist at what has been ranked as the top hostel on HostelWorld in Latin America for 2017 & 2018 consecutively. During my 6 month stay, I explored far and wide to find the best hiking trails, beaches, and waterfalls in the lakes district area. I am going to share with you the best spots I found and how you should go about doing them.
But first I would set yourself up for a great time but get your accommodation sorted first.
Accommodation :
This is a no-brainer, I would recommend the best-situated hostel in Pucon, Chili Kiwi Hostel right there on the lakefront and situated around where all the action takes place in Pucon.
https://chilikiwihostel.wixsite.com/chilikiwi
At the hostel, there are stunning lakefront views, craft beers on tap, 3 stocked kitchens (cooking essentials included ie spices, pots), quality private rooms, well-trained attentive staff, a sociable vibe, and above all a perfect spot to watch the sunset each day. The hostel is great as it can help you by giving local information about spots to eat out at and by organizing the tours which come with backpacker discounts.
You can book on booking.com through the link below and pay the same price as everyone else and help support me:
Chili Kiwi Lakefront Backpackers, Pucón
At the hostel they will inform you about the best tours and guiding experiences, I have listed these below.
7 Wicked As Tours & Guided Experiences
Climbing Volcano Villarica
The cost for this is 80,000clp, $100USD. On the experience, you go hiking from 1,400m above sea level until 2,850m. At the crater, you can look down and see lava or even smell a lot of pungent smoke coming from the active volcano. For a backpacker, this is an expensive day out but it is well worth it to get such incredible views of the lakes, mountains, and the possibility of seeing a lava pool. Another highlight is that you will toboggan down on the snow.
Sky diving
The cost for this experience is 180,000clp, $225 USD. This will include a package with videos & photos from their go pro. I understand this to be one of the most expensive activities you can do in Pucon however it is freaking amazing. The flight tour takes you over lake Villarica and flying beside the crater of the active volcano, Villarica. The free fall is around 45 seconds, the feeling of weightlessness is incredible. I think if you're thinking about trying skydiving some time in your life then go for it, you won't regret it!
Thermals Geométricas
The cost for this experience is 35,000clp, $44USD. For me, it was the best thermals I've been to in my life. Here you will find natural waterfalls, a variety of hot pools coming in different shapes, temperatures, and sizes. It is a photogenic spot and a very relaxing full-day activity. Knowing what I know, I wouldn't miss this! Remember to take your camera and some snacks as it's a 2-hour trip there and 2 hours back.
Canyoning
The cost for this experience is 34,000clp, $42.50USD. Canyoning will take you to really beautiful sites where you will go wading down the river taking several high rock jumps and then floating in these clear cold river waters. All the equipment is included, just bring a smile with you, they have nice friendly guides! From my perspective, it is slightly more expensive than comparable attractions but if you enjoy nature, scenery and a good laugh then you'll have a blast!
Hydro speeding
The cost for this is 24,000clp, $30 USD. Essentially this is river boarding down a flowing river with plenty of safety equipment to keep you afloat and secure. Once you have been brought to the river, you will spend 45 minutes in the water, navigating your way through level 3 rapids which is exhilarating. With the thick wetsuit, the water temperature will be bearable but of course cold. As a guided experience it is fairly priced for a unique experience and great for a rainy day.
Rafting
The cost for this is 20,000clp, $25USD. Like hydro speeding, you float through level 3 rapids with fellow paddlers. This is great for families as the raft is unlikely to flip and it is suitable for all weather conditions. As an experience it is cheaper than the other activities but not so great for an adrenaline-seeking backpacker, I would much prefer doing the hydro speeding if I had to choose between the two!
Kayaking on Lake Villarica
Through the Chili Kiwi Hostel, you can do this for 5,000clp, $6.25 USD each. The Kayaks are 2 person kayaks and you must carry them down to the lakefront to board them. Whilst paddling you will get stunning views of the Volcano and the surroundings of the lake. This is a great value for money activity, make sure you go on a clear sunny day and that you check out the many beautiful beaches!!
For those nature lovers, there are plenty of wicked hikes to do too around Pucon, I have featured a list below:
3 Unforgettable Hiking trails:
Villarica Traverse : 3 – 5 day hike. This is another worldly experience. A must do for any backcountry lover. One of my friends did a detailed write-up on how to do the 3-day walk. Please read here : https://schuckyes.com/hiking-guide-3-day-villarrica-traverse/
Huerquehue National Park
There are two-day hikes; The Los lagos walk (easy, leisurely) which has many lakeside lunch spots, 2 waterfalls, and chances to see lake reflections. There is also the wicked hike to the summit of Cerro San Sebastián which has the best viewpoint in Pucon. At the peak, there are outstanding panoramic views, lake views below, volcanos far in the distance. Be warned that this is not for the faint heart as it is a 1,200m ascent and at times very steep. The national park fee is just 5,000clp entrance which is roughly $6 USD, the return bus time goes something like this: 8:30 am from Pucon where you can purchase return tickets for 4,400clp, $5.50 USD from Bus carburgua returning from the park at 17:10.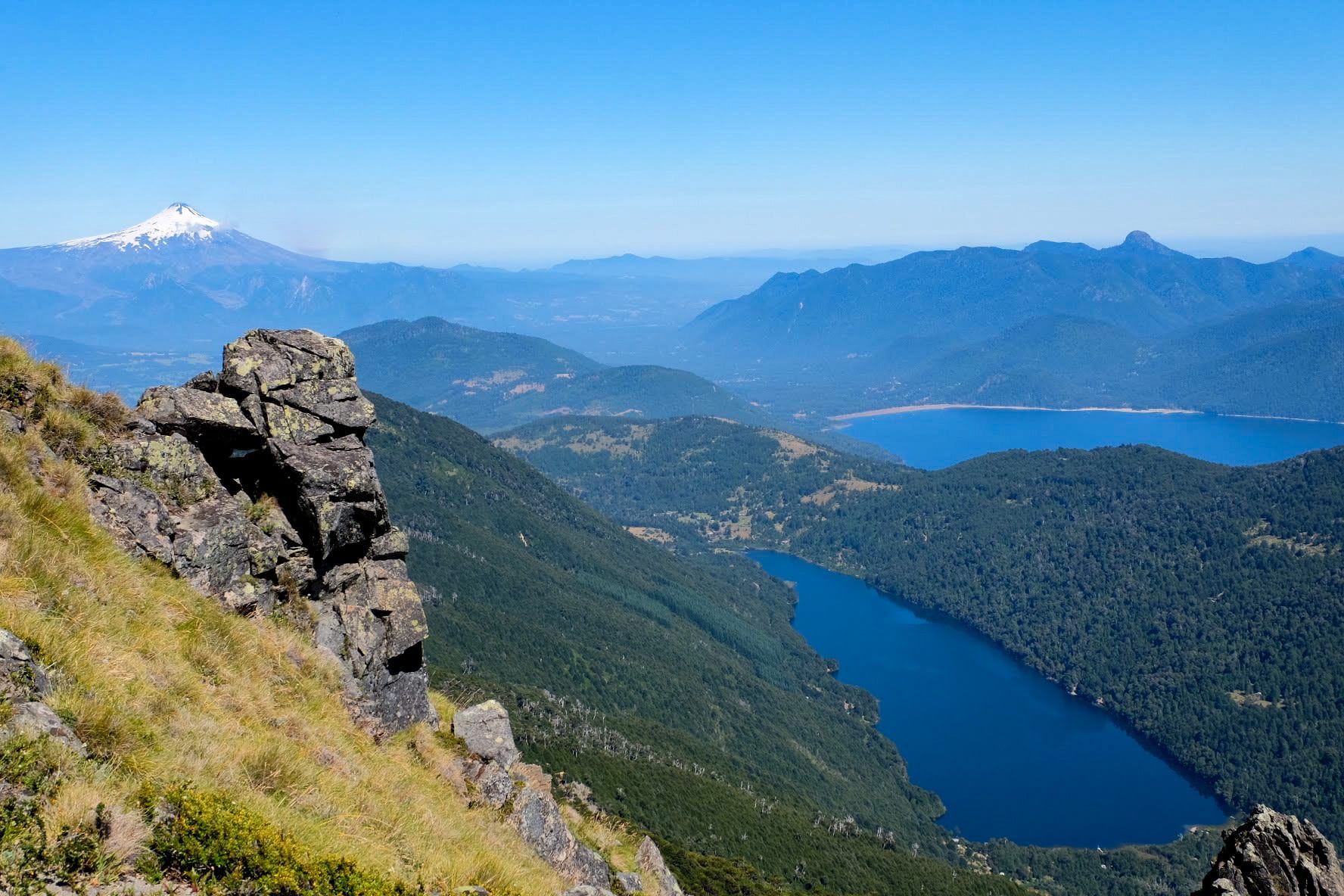 El Cani Reserve
This is a single-day hike or an overnight hiking experience. There is a phenomenal mirador (lookout) however it requires a steep 1,200 climb which is at times very challenging. There are so many beautiful lakes along this walk, with the monkey puzzle trees growing in abundance. Be sure to stop to enjoy the panoramic views, woodpeckers, foxes that you will likely see during your time here. The entrance for the park is 4,000clp which is $5USD. You can make your way there in Pucon by visiting the Pullman bus station from 8:30 am. If you wished to stay the night, you can camp by the lakes for 3,000clp ($3.70USD for a night.
4 Not To Be Missed Lakeside Beaches
Lago Caburgua
This is great for a day trip. Make your way to Bus Carburgua and take the stop at Playa Blanca 1,000clp ($1.25USD). Once there you will be gob-smacked by the serenity. The white sand, lakeside beachfront views with the picturesque mountain backdrop. From here I would walk to Playa Negro along coastline, this is just a short 25-minute stroll. During your stay here, be sure to take this opportunity to go for a swim, most of the year-round it would be rather cold but refreshing. If you come here during summer there are Watersport activities available at Playa Blanca such as JetSki hire, boat excursions being dragged along on an inflatable. I can tell you from experience this is a lot of fun. I was more than satisfied with the time I spent here, it was a nice change of scene from Pucon and it is not so well known to tourists. A very beautiful and quiet spot.
Playa Grande
This is just 5 minute walk from the main street in Pucon. Once you arrive here, you'll see this long stretch of black sand extending for quite some way. This is a super popular spot for many Chileans who flock here for swimming and socializing with friends and family. The great thing about this is that it will not cost you a thing, that's right it is absolutely free. Overall this beach is a convenient beach spot and a great chance to rub shoulders with some of the locals.
Lican Rey
This remote spot is a beautiful destination for a looped walk. Here one should do a short hike around the peninsula which costs just 2,000clp ($2.50USD). Here you can find many great swimming spots, rock jumps, and views of beaches on the lake Calafquen. The way you get here is to take a Bus to Villarica which runs every 15 minutes from the JAC bus station costing you just 1,000clp ($1.25USD). So you just need to go to the JAC bus station first to go to Villarica, then take a bus from here to Lican Rey. My best advice would be to go on a sunny day and you'll remember this spot forever. So scenic.
Playa Costanera Villarica
For this beach, you need to bus from JAC bus Pucon, the bus goes every 15 minutes and it takes 30minutes. Again this is a black sand beach, which is normally quite busy and it is close to town in Villarica. For me, it is worth going to if you're in Villarica otherwise Playa grande in Pucon is closer and nicer.
Did you know that Pucon has an average rainfall of 3000mm?! This means there are many rivers and waterfalls that you should not miss when you stay here.
Do Go Chasing These 5 Waterfalls
Salto el Leon
This was my favorite waterfall in Pucon, just epic. It is a 30-minute drive from Pucon which you can catch a bus headed to Currerehue and hop at walk the 1km walk into the Waterfalls. It costs just 2,000clp ($2.50USD) for the entrance. While I was here I saw rainbows coming from the water spray, an amazingly powerful flow of water splashing on the rocks below.
Salto el Claro
This is just 2 hours hike walking 6km from Pucon. There is a charge of 2,000clp for the entrance. It is a spectacular 90m high drop, with a large pool of water below which is always cold as it is always shaded, however, it is swimmable if you are brave enough. Overall it is a cheap half-day activity and a unique waterfall!
El Cerduo
To get here you must take a bus from Bus Caburgua in Pucon, then stop outside Rio Turbio. Walk or hitchhike from there. If you walk along the river you could avoid paying entrance. This destination is a great spot for a swim, as they're a beautiful clear waters, and a fantastic scenic spot for catching the sun. I would totally endorse this waterfall to visit, it is simply awesome, untouched, and a brilliant way to spend a sunny day.
Quelhue
There is a secret natural waterslide out here with a pool of water to swim in which I remember being very cold. One must walk 2:30hours which is roughly 10km from Pucon or drive to arrive here. Once at the car park you need to jump a wooden fence which is on the right side of the car park and follow the dirt track up the river to the falls. When I went I was brave enough to hitchhike as the locals are friendly and it is mostly safe in Pucon. I stress that one should always take care hitchhiking and be in tune with your senses, if it does not feel safe or right please do not get in the car. I remember this to be a really cool natural waterslide if you dare to try!! It is also free.
Linoico
Linoico is about 75km from Pucon, so if you want to go here it is best that you have a car and some friends to go with. If you do choose to take public transport, then Bus to Villarica 1,000clp then to Conaripe. You must then walk or hitchhike the last 5km. Once here drive to where the carpark is that mets the river coming from the mountains. Then walk along the river for 15 minutes until you find a set of waterfalls. There are crisp cold clear waters, with a glorious mountain backdrop with many large rocks. If I had done all the best things to do in Pucon I would consider this a great day excursion, as it is far away but a hidden gem. It is also free.
Well, I hope you are now well equipped to do what I regard as the best experiences in Pucon. You may not be able to fit them all in your travel Itinerary, however, that will only give you more reason to return another time.
Have a great time here in Pucon and enjoy.
Gracias,
Henry