Hey everyone, we are hoomiesclub back again with a new adventure. Hope you all are doing good and in great condition. We spoke about the very famous Garden route and then about the Cango Caves in our previous blogs.
Here in this blog, we are gonna experience a new place altogether. Following a beautiful visit to the famous Cango Caves, we started our journey forwards towards the Ostrich Farm. This amazing place is located at a distance of around 36 kilometers from the caves and it takes around 30 minutes to reach here.
Since we had our tickets already booked for the Cango Caves, we had to there earlier. Followed by this we decided to go back towards Oudtshoorn and enjoy this beautiful adventurous place. If you want, it is always better to pass through the farm beforehand and then continue your journey towards the caves and then to Cape Town.
Since South Africa is considered to be amongst the best country to visit Ostriches, there are plenty of options and various such locations.
The names being:
Cango Ostrich Farm
Highgate Ostrich Show Farm
Safari Ostrich Farm
Cape Point Ostrich Farm
Cape Point Ostrich Ranch
Since Safari Ostrich Farm is considered to be the best out of all, we decided to head over to this farm. It is the working farm in Oudtshoorn located just 6 km outside the center of the city. And it is even along the Garden Route. This place is very popular amongst the tourists and it welcomes thousands of traveler's throughout the year.
This is the only tractor tour on the ostrich farm within South Africa. They let you soak into nature and in return, you experience a fun-filled wonderful encounter with the largest birds of the world. Since it is the only place to experience a tractor ride on the farm. It is one of the best in here. You can have a happy time here. Loved the atmosphere and the fun-filled interactive session in this wonderful ambient environment.
You will get to know a lot about the history, ancient times, and even a lot of new stuff while being here. They run various tours here and tell us about almost everything about these amazing large birds.
Tour details:
The tour runs every Tuesday to Sunday Every hour.
Remains closed on Mondays. it is a one-hour drive safari where they let you have an awesome and lovely time with the ostriches.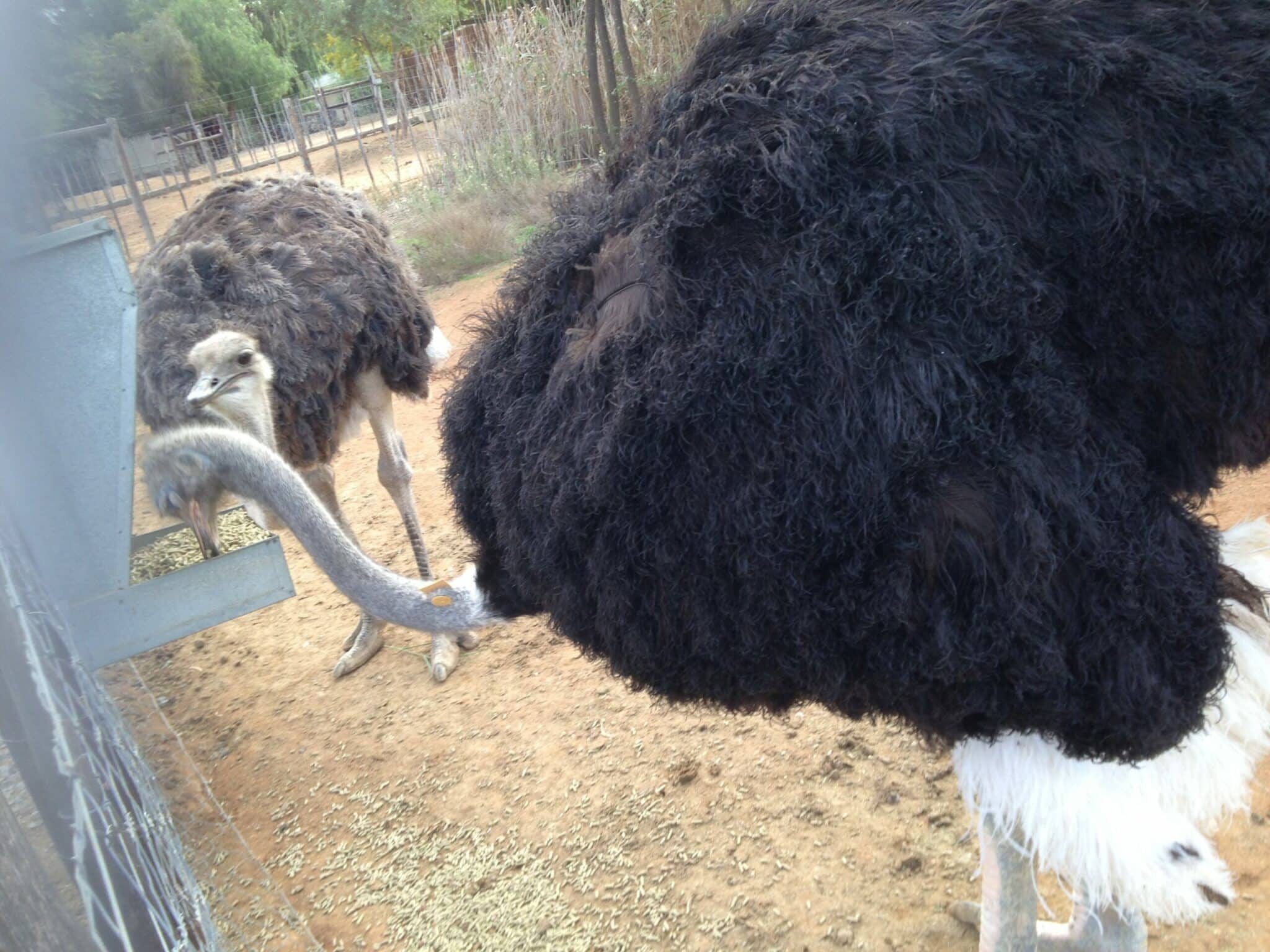 Timings:
9:00 A.M. in the morning to 4:00 PM in the evenings.
Tickets:
The tickets can be purchased at the counter outside the farm and can even be booked online through their official website. They offer discounts on group visits. Always it is advisable to book out in advance to avoid the rush.
Ticket rates:
Adults: 156 Rands
For children below 15 years of age, it is free.
ABOUT THE TRACTOR SAFARI TOUR
The entire tour runs for an hour and is divided into two parts. In the first half, they take you in the tractors, inside the breeding camps, and let you know more about them, their activities, breeding cycles and watch them run, play, eat and even get to watch them breed in nature.
This tour is the only place where you can experience various Zimbabwean, Kenyan, and South African ostriches. They have lots of ostriches all of different age cycles and age groups.
The last half is a walking tour, where you get to see the incubator room, the ostrich eggs and even watch them hatch inside these incubators. This is done through a hidden spy camera inside the incubator. Even they show you various kinds of ostrich eggs and feathers.
You can pass through them and get clicked. Photography is permitted. You can even feed the ostriches. Rarely if lucky, you might get to see the very rare white ostriches.
Things to buy:
Leather goods can be bought from the shop inside the farm and even that offer various discounts for the same.
Leather bags, wallets
Ostrich eggs decorated as a souvenir or ornaments.
This place is one of the must-visits in South Africa with very informative, excellent, and amazing staff.
They even offer amazing food made out of Ostrich Fillet or Steak. There is a nice beautiful restaurant on the farm if you wanna taste some amazingly delicious food. The rates are a bit pricey but the food does justice to the pricing.
THINGS TO KNOWN BEFORE YOU VISIT
Photography is permitted
Phones should be in silent mode
No unaccompanied children allowed
Avoid touching any feathers or eggs
This is altogether a great, beautiful experience. If you are along the garden route and your time to check out the farm. Even if you don't get to visit the safari ostrich farm, do visit the other lot of farms.
If you want to take a ride on an ostrich, do check out Ostrich Show Farm in Oudtshoorn. We definitely had a great day here and then we moved on and started our journey further towards Cape Town.
Thank you for reading us. We will be back very soon. Hope it guides you through and you loved reading us.
With lots of love
Hoomiesclub