How to earn money from Instagram, Facebook, or your own Blog – 3 Secrets revealed
Updated: June 22, 2021 by Traxplorio
Of course, it's all about reach and the long and patient road to building your own following…. not! You do not believe us?
Okay, admittedly, the well-known ways and great deals with brands still need the above-mentioned points. However, things have changed in recent years. Words like "Influencer" have become "Content Creator" and affiliate marketer is already a popular way to make money for a long time. In the past, these professions were looked down upon; today, they are being envied. Unfortunately, this has also led to many people wanting this supposedly "quick and easy money" with sponsored instagram marketing as well. As a result, followers can be bought as easily as ever these days, and more and more metrics have to be added so that a brand can determine whether an investment is worthwhile. This is why they are trying to focus on the engagement rate. 
Conversely, this means that you as an authentic person, even with a few 100 followers, can be more interesting for brands than someone who has bought 50,000 followers.
Now you're probably thinking, hmmm sounds logical so far but I'm still wondering how exactly I can make money online from Instagram, Facebook, or my own blog. For this, we'll give you 3 tips that will help you make money safely, without having to publish or promote things that you don't stand behind 100%.
This page contains affiliate links, meaning, we may receive a commission if you make a purchase by clicking our link (at no additional cost to you!) 🙂
1. Instagram & Affiliate Marketing
As already mentioned affiliate and instagram marketing are a very good way to make your first money. Starting with it has several advantages. The first is that signing up for numerous affiliate programs is fast, free and straightforward. The much bigger advantage is that while you are taking your first steps with affiliate marketing, you are also getting to know your own followers better. Not only will you learn the average age, gender, or other demographic data…. but also (and this is incredibly valuable!) what kind of information/products/services are most popular with your followers. Additionally, you'll learn how to best advertise those and communicate with your followers. This way you acquire very special and valuable knowledge that is unique in the world. No one but you knows how to best address this group of people. With this newly gained information, you naturally also have the best arguments for further partnerships with brands whose target group overlaps with your followers. Here you can find a list of affiliate programs that performed best in 2020.

1. OptinMonster (20% from every sale!)
OptinMonster is a great plugin that allows bloggers and website owners to help their users find exactly the information they are interested in. This, of course, keeps users on the site longer and gives them a better overall user experience.
Target audience: Any kind of website owners (bloggers, brands, restaurants, other businesses…)

2. Amazon Associates (Different commission depending on product type)
Amazon offers an affiliate program in numerous countries. This is also one of the biggest advantages of this program. Your followers on Instagram are most likely from different countries. Everyone knows and trusts Amazon. This additionally increases the conversion.
Target audience: Amazon offers almost everything, therefore you are 99% certain to find a product that matches your followers.

3. ShareASale (Different commission depending on merchant)
One of the most popular affiliate platforms on the internet. There are many different merchants to pick from. And the best thing is that many put their own marketing material. So they help you better understand and promote their products and services. Furthermore, there are numerous small companies and brands that are ideal for gaining initial joint experience with affiliate marketing.
Target audience: Once again, there is a great variety of different companies and brands from all industries. You will definitely find something for your niche.
4. Fiverr Affiliates  ($15-150 CPA – Cost per action)
Fiverr is the world's largest platform for digital services. And at the same time Fiverr is very popular. According to its own statement, a Gig is booked every 4 seconds. So why shouldn't a few Gigs be booked through your affiliate link? 😉 You will find all kinds of services that help people to improve themselves and their brand or business.
Target audience: There are really numerous options. Just browse around yourself and you will quickly find a service that could help you yourself. These kinds of services are likely to help your followers as well. From influencer marketing to your own website or graphic design. Anything in the digital world is possible.
5. Bluehost Affiliate Program ($65 for every qualified sale)
Maybe by now, you have already thought about making your own website 😉 Nowadays, creating your own website is no longer a witch's craft. Of course, there are also well-known modular providers… However, we always recommend building your website with WordPress. This way you always stay flexible. Bluehost is one of the best and scalable Hosting Provider for Bloggers to start with. On top of that, they are offering an excellent affiliate program and operate globally.
Target audience: Anyone who can benefit from having their own website and doesn't already have one, or website owners who have fallen for bad providers. (Bluehost also offers excellent comparisons to competitors).
It can make perfect sense to come up with a suitable strategy for a successful affiliate program. From our point of view, you can recognize promising affiliate programs by the fact that the companies themselves provide many tips / instructions and marketing material (in the form of images or videos). After all, every company should be interested in the success of its own affiliate program. On Instagram, you shouldn't overdo it with affiliate marketing. Who likes to follow an account that only shares and posts its own coupon code in the story 7 days a week? Instead, use Instagram to learn who your followers are and what their needs are. You have to be able to present these insights in a comprehensible way.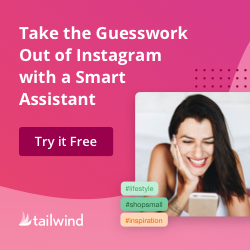 A great start to learn quickly and easily understand your followers and also collect statistics is Tailwind. We especially love Tailwind because it's not only a smart assistant that helps you get more reach and schedule your posts better…. but also a strong and great community behind it. You get access to so-called tribes that support each other and share their content. We've been using Tailwind ourselves for a year now and are thrilled to see how innovative they are. There are constantly new features that help you get a big advantage in seconds. For example, with Tailwind-Create you can design modern and very appealing call-to-action images super easily and quickly. From the feedback of your followers, you can get valuable impressions and present your content even more effectively. They are also providing you with great advice on how to attract and convert your ideal audience. And the best part – they are offering a free trial! 🙂 
Now you can talk to companies about so-called sponsored "product placements". This has the great advantage that you don't get paid per click or sale, but simply for displaying the products. Make sure that you only work with companies that you are convinced of and that fit your profile. Brands are looking for engaging and authentic users. This means that even if you have 3,000 to 10,000 followers, you can still already earn between $70 and $130 per post. 
If you're active on Instagram, there's one thing you probably own a lot of…. photos! 😀
Besides, through the likes and comments, you already know which photos are better received than others 🙂 So why don't you offer some of these for sale?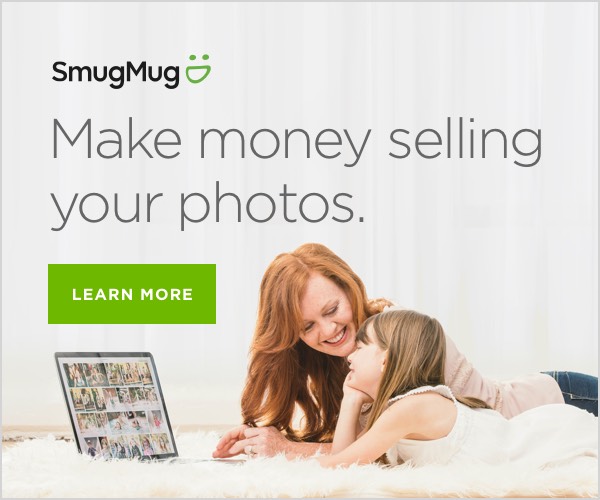 With our link, you also save 15% on all SmugMug packages 🙂
At SmugMug, you can make exclusive brands and other customers aware of you and your work. It doesn't matter if you are an amateur, professional photographer, or just an enthusiast. Here everyone can earn money with his photos.
The great thing about SmugMug is that you can put your pictures in the spotlight like a pro with selected designs and templates. Even if you have never made money with your photos before… here your Instagram photos look like the website of a professional photo agency.
Our problem at the beginning was of course also…. which photos do I choose? The first thought was, the photos with the most likes and comments will surely be well accepted…. but on the other hand, SmugMug has a completely different target audience than our Instagram account. So we also had to experiment a bit. Luckily SmugMug offers infinite storage…. so we uploaded a lot of photos for a start 😀
You can set up your account very intuitively and easily. And then it's time to use SmugMug's great features to share your work.
While we were editing our profile, we were also inspired by the great work of other photographers. So it's a great place to get some inspiration for your next photo session.
We recommend you start with a free 14-day trial (including a 15% discount with our link) and if you like it choose the Portfolio plan.
3. Join our upcoming Traxplorio Partner Ambassador Programm 🙂
We would like to make it even easier for you to make money with what you love in the future 🙂
Surely you know various instagram influencers and brand ambassadors. Unfortunately, this market is now very competitive and both sides are not always well-disposed to each other. Many brands are now unhappy to work with influencers because there are some black sheep among them. Some influencers want to make a lot of money and call very high prices. In addition, these influencers are more interested in money than in the products or services of the brands. I would like to clearly state here that there are of course also excellent influencers who support many brands with their hard work and conviction. However, it is becoming increasingly difficult for brands to find them. Young brands and start-ups in particular, as well as new instagram influencers or content creators, often have a hard time finding each other.
With our new program, we want to bring these two groups together. Brands and Startups can contact us and ask for support. We will forward these requests directly to you 🙂 You can then choose which brands you would like to work with and earn your first money with sponsored product placements.
More information will follow soon in upcoming articles. If you want to be on the priority list, sign up here 🙂
Get our FREE Ebook to save time and money on every trip!
Share it with your friends 🙂
Other Interesting Articles:
Follow us on social media:
Or Subscribe to our Newsletter:
Becoming a Travel Blogger has never been this easy!
By choosing Traxplorio, you can focus on your passion on your way to become a travel blogger! All you have to do is travel the world and experience new adventures. Write about your new exciting stories and share them on Traxplorio. We take care of everything else 🙂