It is often that the sudden, unexpected plans, end up being the best ones. That is what happened in December 2017, when my elder cousins, and some of their friends decided to take advantage of a long weekend, by going away for a short camping trip. As the youngest member of the six-man team, I was super thrilled, and had a hard time containing my excitement.
We planned on leaving early on Friday, and returning by Saturday night, since my high-school hiking trip was scheduled for Sunday. As the President of the Adventure Society, not attending the school trip was not an option. Eventually our preparations began on the eve of Friday, and dragged on to the next morning, as we got a little late from our planned departure.
We left for Nathia Gali at around 12:00 PM from Islamabad, subsequently reaching our destination three hours later. After lunch at a restaurant, we hired some local transport to take us to the Miranjani Base-camp, the start of the trail. We finally started the trek at 4:00 PM, knowing we had little daylight ahead of us.
Winters had well and truly begun, with the region already having experienced the first snowfall of the season, even though the foothills of Miranjani showed little evidence of it. Initially, there is a constant incline on this trek, until we reach the Miranjani Top. It was a bit challenging at first, but our bodies soon got used to it. Nearly one-hour into the hike, the natural light started diminishing, as a heaven-sent sunset arrived at the scene, stealing all our breaths away.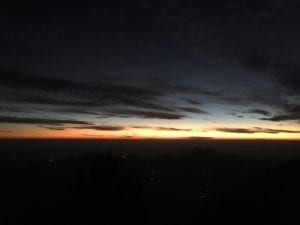 We were expecting snow, after reaching the mountain top, and in low visibility, it had the potential to be challenging. By the time we finally reached the top, the sky was nearly pitch black, as the stars unleashed their shine. We took out our headlamps, and cautiously started descending the other side. As expected, our path after the top was covered in snow, as I struggled to find my footing. Not going to lie, I was a little terrified at first, especially after I saw a pair of eyes reflected at me, from the depths of the wilderness. Being a beginner, I was determined to do well in front of the others, and I kept on moving quietly, without giving off any signs of weakness. Some parts were extremely technical, and a single slip could have proved to be very dangerous, however we were all lucky enough to not make any serious mistakes.
It was a full-moon, as some night light managed to make its way through the dense vegetation. After, almost three hours of trekking though the darkness, we finally saw the signboard for the guest house. We were extremely thrilled to reach our destination, however there was still work to be done.
The first task, upon our arrival, was to set up camp and prepare dinner. Different duties were delegated to different team members, and I was assigned the task of organizing our equipment and inventory. After the settling down process, we sat around the portable gas stove, waiting for our meal to prepare. As I took off my shoes, I realized a mistake I had made. I had forgotten to trim my toe-nails before leaving, and one of my nails was lodged into its neighboring toe. Since it was a snow hike, our feet were pretty much numb, and luckily I hadn't felt anything while walking. It was quite gruesome to look at, and this minor injury taught me to always trim toe-nails before a hike.
After dinner, I was extremely tired, I sat outside for a little while, but could not do so for long since it was extremely chilly. So I went into the tent, and tucked myself into a sleeping bag. Sleep stole me away almost instantly. It was the best sleep I've ever had.
Next morning, I was the first person to wake up, at around 8 AM. As everyone else lay unconscious, I got out of the tent and started exploring the heavenly surroundings. I even went inside the derelict guest house and observed its ancient wood and stone structure. I took some photographs from my Samsung Galaxy S5, which was my first phone/camera. It's hard to believe, how amazingly peaceful that place was. The sound of the birds chirping traveled with the winter wind, as it rustled through the forest, and the sweet scent of pine trees, it all combined magnificently to create a heavenly moment.
Everyone else, eventually woke up, and a little activity could be observed around the campsite now. Everyone relaxed around, taking pictures, soaking the winter sunshine. Reflecting back upon that moment now, as I write about it, I wish it could have lasted a little while longer, but like all good moments in life, we could never have had enough of it.
Soon it was time for breakfast, as we started to prepare for the long day ahead of us. After eating our meal, we started taking apart our tents, and packing our bags. By midday, we were all locked and loaded, to begin the return journey home.
As we started walking back where we came from, we got to witness the beautiful trail, which we had missed because of the dark, the day before. We saw our own footsteps in the snow, on the way back, still preserved as they were. Since everything was visible, we covered the distance very quickly, reaching Miranjani top in nearly two-hours.
At that moment, we saw something out of this world. A little girl, barely ten years old, was there with her father, but that was not the surprising part. They were ascending towards the top, as they crossed us, but after around 10 minutes they crossed us again, dashing down the mountain. As we later found out, the father was preparing her daughter, to become the youngest person to summit Mount Everest. Hopefully, she will be able to achieve that feat someday.
The little girl motivated us to start running as well, the only difference being the fact that we were carrying our rucksacks too. As a result, we were reached the bottom of the mountain in next to no time. From there onward, we hired some local transport to take us back to the small town, where our cars were parked. We reached the Nathia Gali, well before sundown, and began our second journey, the one back to Islamabad. On our way, we witnessed another scenic sunset, the perfect end to our two-day adventure.
Preparing for Dagri Trek:
Dagri Bangla is a great destination for adventure enthusiasts of all ages, however, in order to survive the wilderness, one must be well prepared. The following are some of the must-have's for this camping trip:
Warm Clothing (Temperatures are below freezing point in winters)
Basic Camping Gear (Tents, Backpacks, Headlamps. Sleeping Bags, Mattresses, etc)
Canned Food(3 Complete Meals minimum)
Sufficient Water Storage (No freshwater sources)
Rain Protection
Disposable Toiletries
Insect Repellents
Sun Protection
Ideal Itinerary

Day 1:
Depart Islamabad early morning. (Private/Public/Rented Transport available)
Breakfast upon arrival in Nathia Gali.
Hire Transport to Miranjani Base-camp.
Hire Porters/Guide.
Begin the 5-Hour Trek at midday.
Reach Miranjani Top, Lunch Break.(2-3 Hours)
Resume Trek, reach Dagri Guest House before sundown. (3-4 Hours)
Setup Camp upon arrival.
Light a bonfire, relax under the starry sky.
Prepare Dinner.
Day 2:
Breakfast
Explore the Guest House and surroundings.
Disassemble Campsite
Pack your stuff
Leave at noon.
Reach Miranjani Top and have lunch.(3-4 Hours)
Descend to Miranjani Base-camp in the evening.
Return To Nathia Gali by sunset.
Begin Return Journey to Islamabad