Brussels here we come! 😍
To be honest, I never really had Brussels on my list although it is so close to us (about 4 hours by car) 😛 On a rainy weekend we decided to spontaneously drive to Brussels, because bright sunshine was waiting for us there! 😍🌞
Brussels Tip 1: For all of you who are worried about the traffic in Brussels – it is quite relaxed and we found a parking place on the street very fast and easy 🙂
Brussels Tip 2: We booked our accommodation (near the European Quarter) via Airbnb. The location of the accommodation is not very important, because you can easily move using local transport 🙂
I immediately liked the neighborhood we arrived in very much! I love these little mini balconies at the windows 😛 Wonderful! So, before we even looked at how to get into the city, or reach other sights (we were unprepared this time and didn't think much about what we wanted to see 😀 )… I just took a wonderful walk through the neighborhood and explored everything else 🙂 I also found a supermarket and many small cafes and a nice little bakery (where I got us fresh bread the next morning 💗 ) 🙂
But now it was time to unpack everything and set off for the city (by feet of course! 😛 )
Our first walk into the city center 🚶
The first stop was right in the European Quarter. The place where many important decisions are made 😛 We decided to move on quickly, as I'm not particularly interested in it and the buildings are not super attractive 😀
All the more beautiful and surprising were the many smaller and larger parks we crossed on the way 🙂 But also all those who are interested in churches will enjoy themselves in Brussels! The St.Michael's Cathedral was especially beautiful, in front of it were some flowers planted and it was a nice atmosphere 🙂
But my favorite remains the beautiful parks (e.g. the Jubelpark)! Brussels really has a lot of green spaces 🙂
There is also a triumphal arch to discover 😛 Even near the city center there are still very extensive parks where people go in for sports activities or just enjoy the day. Overall, Brussels is a very active and lively city. And of course, all these parks are without entrance fee, so you can have a good time in Brussels at a very reasonable price 🙂
Brussels Tip 3: If you are going on such a walk, get some fresh fruits and other goodies in the supermarket 🙂 You can enjoy the time here very nicely with a small relaxed picnic in between 🙂
We wasted some time and arrived much later than expected in the city center… 😀
Relaxing at our favorite places
The highlight in the center is the Grand-Place or Grote Markt! This square is truly one of the most beautiful in Europe! The buildings are just incredibly beautiful!
Brussels Tip 4: You can probably imagine that the cafes here are extremely expensive… Nevertheless, you should definitely stay here for a short time and let everything work on you 🙂 We got a waffle on our hands and take-away coffee and simply sat down with many others on the street and relaxed a bit.
My favorite place, however, was another one… the Mont des Arts! 😍
Here you have a great view over Brussels and often meet street artists 🙂 We just sat down again and let our first day come to an end.
A hidden gem and famous sights 😊
The next morning – after the very tasty self-organized breakfast 😛 – we left quite early because we had some sights on our list, which are a bit outside.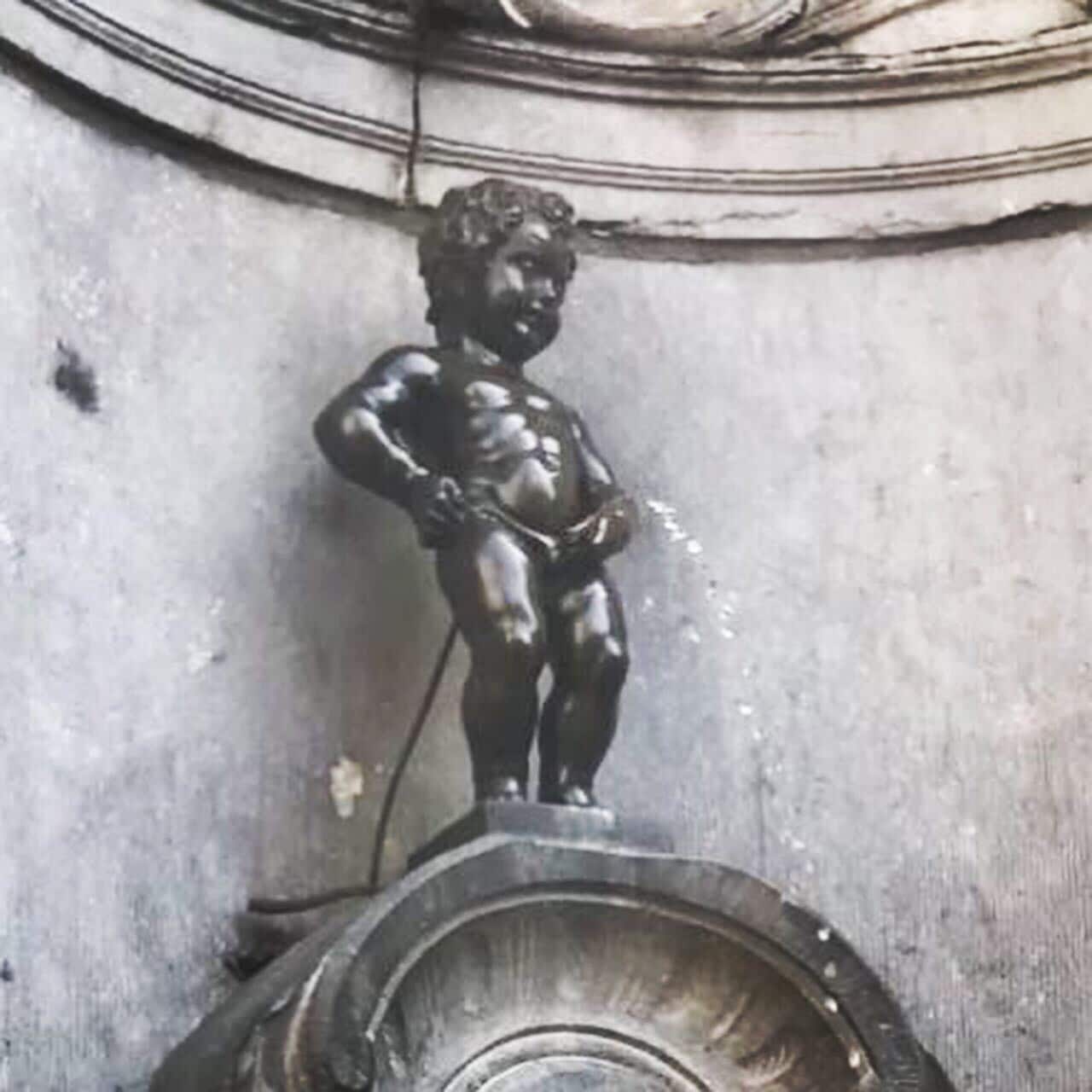 First of all, we checked out the world-famous Manneken Pis! 😛 We were actually very lucky because he was wearing several outfits during our stay! 😀
Brussels Tip 5: Don't hesitate to visit Manneken Pis more often, because he sometimes changes his clothes 😛 There is actually a small museum nearby, where you can see several of his old outfits 🙂
Everyone who has been there will be disappointed to find out that the little man really is very very small 😀
By chance we found other (much less known 😛 ) friends of Manneken Pis. Of course his best friend must not be missing 😉 Zinneke Pis!
And then there's the female equivalent! Jeanneke Pis! 😀 I deliberately don't tell you where to find the little "Pis Family" 😛 When searching, you can explore Brussels perfectly and also occasionally take a few side streets! 🙂
Now we were heading a bit outside to the Atomium!
Brussels Tip 6: The fastest way to get to the Atomium is with the U-6 in about 15 minutes 🙂 If you didn't get enough of walking, you can also get there in about 1 hour by feet 😛
I didn't really like the Atomium itself that much… We also didn't take the opportunity to go inside and look at the different spheres from the inside (I think it was also quite expensive)… But the trip to the Atomium is definitely worth it! Because there are a lot of great parks here again!
And my absolute highlight in Brussels… the little Japanese garden! 😍 Again, this is a great place for a nice snack on a park bench 🙂
Now you're probably wondering… So you were just wandering around in some parks all the time!? No, of course not! 😀 So here comes the reason why Brussels got the full Food & Beverage score for me! 😍
Food-Love! 😍🍿🍓
What is the first thing that comes to your mind when you are asked about specialties from Belgium? Right – waffles and beer! 😀 And that's what people in Brussels seem to like so much that they deliver both on the road 😀
But our first choice has been a tasty portion of Belgian fries! 🍟
Brussels Tip 7: We had our chips at Maison Antoine and were very happy with this choice! 😀 But here you probably get very tasty fries everywhere 😛
Then finally it was time… The first of many more waffles has been tasted 😍 They are incomparably good! And here too, you can relax and simply choose any stand where you buy your waffle 😛
Brussels Tip 8: If you are traveling together, you should share everything here 😀 This way you can try even more! 😛
In between we also had a little refreshment in the Chicago Cafe. The value for money here is just right 🙂
Our second breakfast in Brussels was at Peck 47! Here it was very, very tasty! Unfortunately, many other people know that too 😀 That's why:
Brussels Tip 9: Be sure to visit the Peck 47! But be there on time!!!
And in the evening we found the best Japanese restaurant I have ever been to! 😍 Maybe a little bit inconsiderable from the outside… but don't let that fool you 😉
Brussels Tip 10: If you like Japanese cuisine, you must try Minami! 💕
As you can see, the portions are huge 😀 and all of this at a more than fair rate! I would like to go back there right now… 😀
As you can see, we needed to walk a lot in Brussels, so that we could somehow make up for all the yummy things 😀 And I have not yet reported on the drinks…
Beer, Beer, Beer! 🍻🍺🍻
You don't have to look very hard for good beer in Brussels either! 😀 A very popular place to go to is the Delirium Cafe! The beer of the same name is for me the best in Brussels! However, there is more than just one beer that can keep up very well! 😀
Brussels Tip 11: A member of the Pis Family is close by 😛
Brussels Tip 12: A small (at least back then 😛) insider tip is the Brussels Beer Project
There are also some special beers here and the atmosphere inside is simply outstanding! You sit in a small brewing room and all the time you have the smell of freshly brewed beer in your nose! A little pub crawl is definitely a must on every to-do list of a Brussels stay!
If you want to approach the beers carefully, I recommend you to try a selection of different beers in small quantities 🙂 This way you are already well prepared for the pub crawl, because now you know which beers you prefer later 😛

Brussels Tip 13: Always remember that most beers in Brussels are very strong! So be careful when drinking 😉
Brussels summary
Brussels is a great city! And I'm sure it was not my last stay here 🙂 A nice weekend full of culinary delights came to an end 😛 Highly recommended for those who like to be outside in the fresh air and want to reward themselves with a little culinary treat 😛 But be careful with the beer if you still have to drive home by yourself as I did 😀