I'm going to share with you 3 parts:
What I would recommend for your trip there
What we did/saw.
Other places that might be of interest around Wenzhou.
Mandatory masks and train selfie from Ningbo to Wenzhou
So, due to Covid affecting EVERYTHING in the world, Expats living in China are on stricter travel plans. Some people are happy to take a COVID test each time they leave their province of residence, some people don't actually have to do anything. But for me, I like to keep it simple, so for the October holiday here in China, I stayed in Zhejiang but explored away from my home city of Ningbo.
I and two friends decided to check out Wenzhou, granted we had no idea about the city and just chose blindly. Before we left we looked into what was there and found very little information.
Hotel choice – At this point in China, it's difficult for foreigners to just stay in a hotel. Planning usually needs to be done and for some hotels, negative covid tests are required for foreign visitors. Luckily, Rachael knows how to choose wisely with hotels and chose the Atour International hotel based on the 'international' part of its name and well-known reputation. It did feel a little out of the way, but in reality, it was very close to the largest populated area.
Atour Hotel, Lucheng District – Double room
Day 1
We spent Day 1 finding the hotels first as the girls stayed at the Atour, while our male companion stayed in a different hotel in a completely different area of Wenzhou city. We all stayed in the Lucheng District which was ideal for the activities we managed to find. I used 'Hi China! Guides' to find some places to see, the majority appeared in Lucheng District which is why we stayed here.
We started by walking through Shuomen Street. Relatively plain during the day, filled with tiny houses inside the main street and goes through into a larger alleyway. However, it was quite beautiful in the captured photographs we took that afternoon…
After an 'exhausting' walk around the Shuomen Street area, we walked onto the riverfront. From here you could see 'Jiangxin Island' and the Ferris wheel that was located to the West of the Island. We also found a nice pagoda, no shortage of those in China, and had a relaxing along the river.
To say we wasted the first day would be quite an understatement! We achieved nothing! Except for finding an 'MT Cafe and Bar' where we proceeded to spend about 3 hours sitting, eating, and drinking before returning to Shuomen Street to see it at night.
Back at the hotel – dessert was delivered to the rooms between 10 pm and 10:30. This changed each day, with the first day being the popular Chinese dessert of Coconut milk with fruit. Day 2 was granola, mango, and yogurt mix with a glass of milk.
Day 2 – Jiangxin Island
We walked from the hotel to the river where we had breakfast at MTs Cafe and Bar. This took about 1 hour, 30 minutes in total, quite good seeing as we had absolutely no clue! MTs had a small brunch range but rather tasty.
After brunch, we walked to the Ferry port. It cost 28RMB (around £3) each for the ferry ride over to the island and we were definitely packed into the boat. The ferry boat not being for the seasick or the faint-hearted!

Jiangxin Island – Actually it isn't terrible! It had lots of 'scenic' spots on the island, which almost felt like the island was the place Wenzhou liked to store the good parts!
The island is a giant loop so it doesn't matter which direction you head in, you'll see it all. We walked off to the right and straight to a Pagoda. Following the path around, you can reach some nice trees and then some randomly placed sculptures where lots of ladies were posing in different positions. So we joined them!
After posing for a few minutes, we continued walking to discover that we were being followed by a Security Guard. As with everywhere in Wenzhou, the ability to speak Chinese is essential, so the strongest Chinese speaker of the group, definitely not me, asked why he was following us. He genuinely thought it was weird to see foreigners and believed we were Russian as we looked different from others he had seen. After finding out we were all British, he moved on.!
Selfie with our sneaky security guard before speaking with him
Continuing around the island, we reached a newly built Pagoda, we had a welcomed sit down break here. It was out of the way and as building work was still going on around it, we were mostly undisturbed.
Continuing the walk, we reached a bridge which led to a larger Pagoda tower. We climbed up the stone steps to walk around before coming back down and catching the end of a water music show.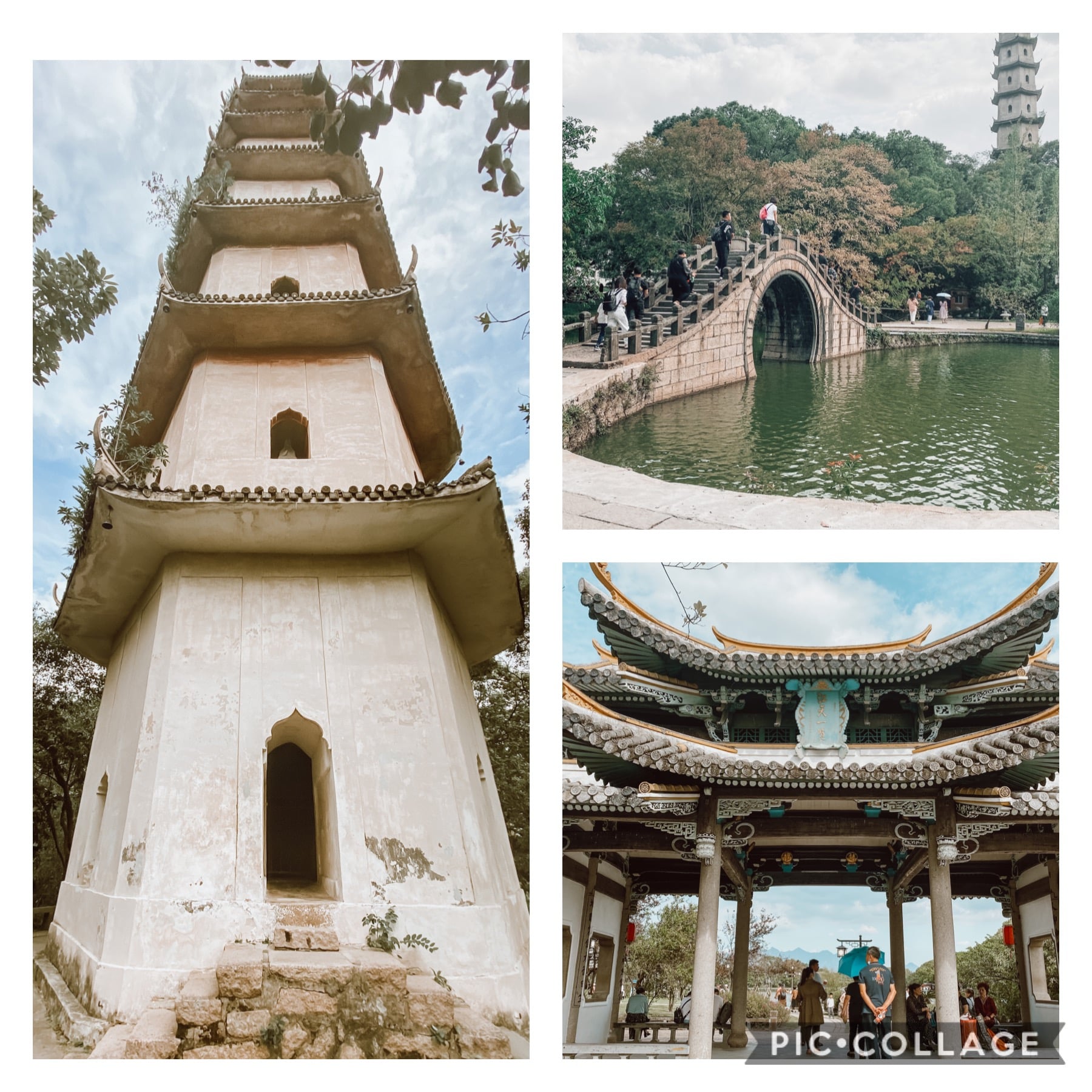 Left – The Tower Pagoda, Right Top – The bridge to walk over to the Pagoda, Right Bottom – A traditional Chinese style entranceway before the bridge
After seeing this area, we walked back around to the front of the Island which is home to the Jiangxin Temple. Inside here goes back for some distance with many smaller shrines inside. Masks must be worn at this time to enter the Temple area.
After this, we lined to board the return ferry to Wenzhou itself. There is an amusement park on the Island just we never worked out how to reach the West side of Jiangxin Island.
Back on the mainland, we ordered a DiDi to a street (and shopping area) we had walked by earlier that day. We did this as we had saved the location pin on WeChat as something of interest and food places. Little did we know this was actually Wuma Street, one of the most popular shopping streets in Wenzhou. As we walked along this street, we started to see a Tower at the other end. Due to hunger and lack of bathrooms, we didn't go any closer to the tower to explore and instead walked the opposite way through Wuma Street to find a different street with food places which we had seen earlier that day.

Walking through Wuma Street was incredibly crowded and loud, something which we hadn't experienced until this point in Wenzhou. After Wuma Street, we passed by two large park areas, with a note to return later. We did this as that morning, we had stopped and walked down a side street which was home to a number of little restaurants and food stores. We decided to have dinner (tea) at one place called Zizhu Vegetarian Restaurant. This was on the second floor above another restaurant and had an incredible Zen atmosphere. Here we enjoyed Japanese cuisine and calmness before emptying back onto the streets near the parks. The two parks we went through that evening were: Zhongshan Park and Huagai Mountain and Park. These were both still very busy but had a decent atmosphere.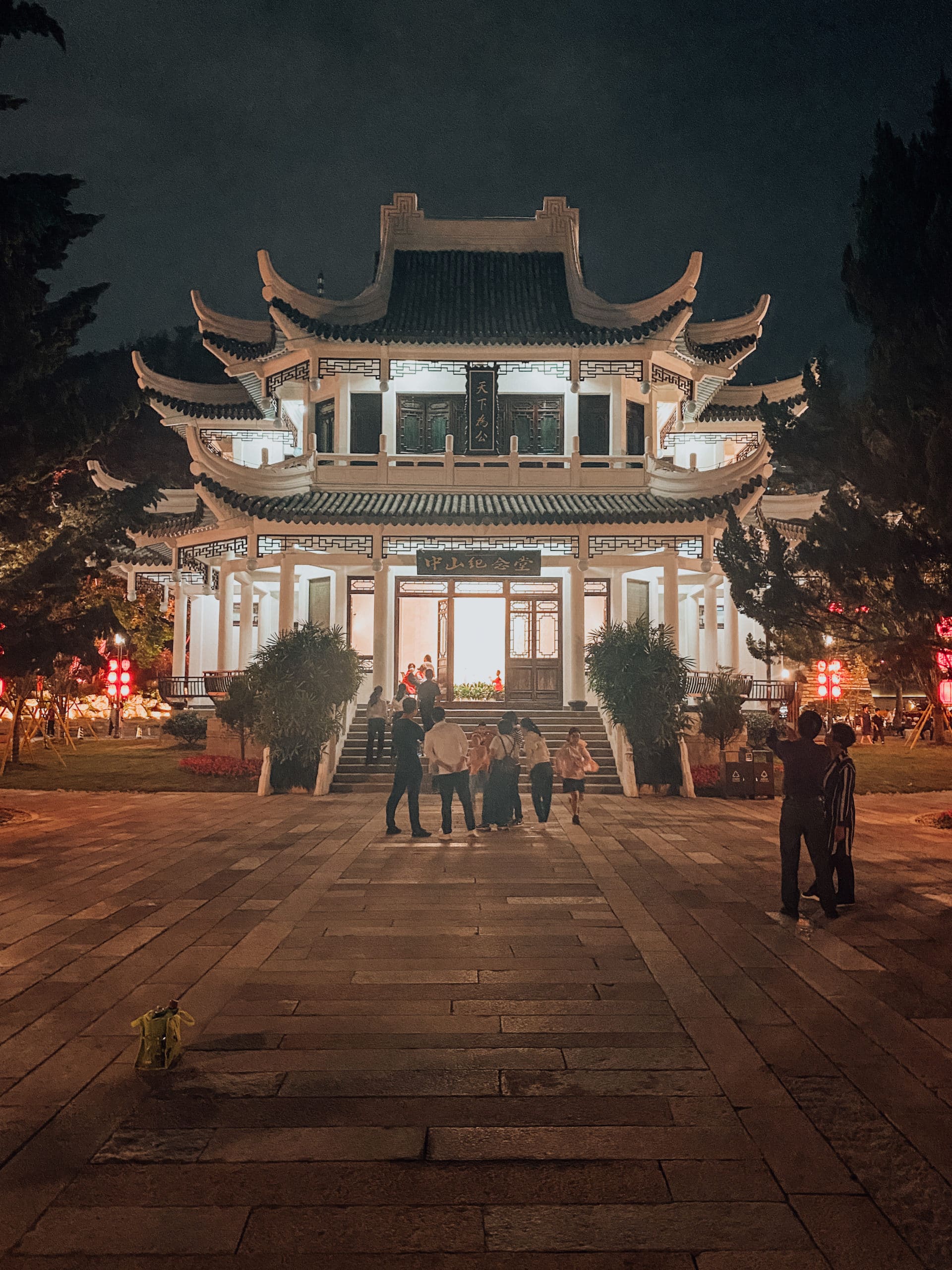 This was called the Huagai Memorial Hall, which could be interesting inside.
After passing by the parks, we reached Haitan Plaza which actually had night markets lined up inside it. We weren't able to fully enjoy these as most appeared closed, including the Night Market bar (we visited Monday-Wednesday some markets are weekend events).
We swiftly returned to Shuomen Street on our second night as we realized that the street is actually made up of many tiny bars in between the houses. We visited 2 different bars, one being a Cat Bar where we made friends with the Pub Cats. The second being empty when we arrived, which all 3 of us actually prefer, and it was rather cozy. There were more along the street but we went and drank in these 2 before calling it a day!
Bar Number 1 – befriending a cat, I'm sure there were 5 or 6 cats in there! This bar became very busy quite early on.
Bar number 2 – not too far down the street, our style, calm and quiet!
Day 3 – Final day! Check out in the AM
We had a lazy start to Day 3, as we would have to take our backpacks with us, we chose to stay as long as possible in the rooms in order to relax. We also had no idea what we would be doing today!
Turns out we went to Central Plaza. Which surprisingly was very empty. We found a coffee shop – Nicbooy and then walked over to a side street where we found an amazing Japanese sushi restaurant. By this time we were using an app called 'A-Maps', I haven't been able to find this in my Apple App Store though. We used it on an Android phone, this app showed restaurants and coffee shops within our location. From the coffee shop, it took around 20 minutes to walk for the food over a bridge and past a fascinating design for an apartment building.
After food, we returned to the Central Plaza area to visit Wenzhou Museum. This museum is incredibly interesting. I don't think I've ever seen exhibitions quite like it. From the history of Wenzhou to the future of our world. Including….


After the museum, we used A-Maps to find a coffee shop. The one we chose was called 'Vanilla Cafe' this place is amazing! I would completely recommend a visit here. The quaint cafe was hidden down a side street (feels like a theme in Wenzhou) and had amazing cakes! It got busy pretty quickly and as one table emptied someone would arrive to fill it.
Vanilla Cafe's street – Exactly! Looks like nothing!
Amazingly, after Vanilla Cafe, we went for dinner! We used A-Maps and found out there was a restaurant not too far down the street. 'Met Brunch'. This was again a pretty cool restaurant with benches placed on top of each other to fit more tables of people in but also to give a cool garden party feels to the place. The food here was quite westernized and really tasty!
After eating, we head to the train station 'Wenzhou South Railway' which was miles away from Lucheng District, Wenzhou Railway Station is definitely the better choice for arrival destination.
My recommendations:
I am, by no means, an expert on Wenzhou but I did enjoy these parts:
Huagai Mountain – It was just interesting, there are huge spotlights there in the evening and it was always busy around that area.
Shuomen Street – I would recommend here in the evenings/nights. This is when the bars open and the street really comes to life!
Jiangxin Island – Wouldn't use a full day there but it does have some of the recommended sights to see in Wenzhou.
Using A-Maps to find smaller restaurants and cafes as these were really enjoyable. Vanilla Cafe and Met Brunch we discovered on our final day and we wished we had used the app from the beginning.
What else can be seen around Wenzhou
A trip to YandangShan (Yandang Mountain) could be interesting. Its one Railway station before Wenzhou South from Ningbo and I would really want to go here. The mountains are huge but I have heard really good things about this mountain area.
Wenzhou also has a number of small islands off the coast. I only found out about these after I returned from Wenzhou and I wish I had known before. Dongtou Island and Nanjin Island are both recommendations I received from a local.