Unsurprisingly, Cornwall tops the list for the most popular post-lockdown destinations for short breaks and I can't recommend it highly enough. Cornwall has so much to offer for everyone. You can spend your day visiting colorful fishing villages, hiking on rugged coastal paths, or Surfing on white-sand beaches. If food is your raison d'être you will be in heaven in Cornwall. You can dine in style in a top restaurant (it's the county of Rick Stein and Paul Ainsworth ), eat fresh fish from the harbor, or indulge in the finest cream tea. Whatever you do expect a laid-back and stress-free holiday in Cornwall.  This simple lifestyle is what makes Cornwall a unique destination and the reason I will keep going back whenever I need a break from city life. So how do you have the perfect break in Cornwall? Here is my pick of the top 5 activities to do on a weekend in the southeast part of Cornwall.
Looe:
Looe is a little fishing town in Southeast Cornwall, divided into two parts by the River Looe. East Looe and West Looe once existed as separate towns with their very own Royal Charters. The two parts sit opposite each other and are connected by a bridge and ferries. West Looe is more residential therefore quieter and  East Looe features a collection of narrow streets dotted with little shops, restaurants, and coffee shops.
Looe is a popular holiday destination and gets very busy in the summer but if you visit out of season you get a real and authentic sense of the place.
Looe town center is quaint and home to an array of 16th-century buildings, modern boutiques, and catering places.
The narrow streets feel like a maze at times and just as you start to feel lost and a little claustrophobic, you get hit by the smell of the sea as you emerge into the pier and the beautiful Looe bay. walk for a few more meters and you find Looe beach which is one of the most beautiful town beaches I've ever seen. The beach is very popular with families and locals in the summer but we visited on a sunny October day and had it all to ourselves.
Polperro
Or the most beautiful village I've ever seen. Colorful little boats lining the shallow harbor, cottages that look like they're hanging from cliffs, narrow white streets, and landscaped gardens, walking in Polperro is like stepping inside a postcard and my only frustration was that my lens didn't quite capture its beauty. It's just one of those places that have to be seen to be appreciated. I don't have any plans to stop traveling the world but if life ever forced me to do so then Polperro is where I might retire.
Polperro is only 5 miles from Looe but you can walk between the two villages. It's a challenging but most scenic walk.
Halfway between Looe and Polperro lies Talland Bay with its rocky shoreline and pretty coves. There are two main beaches in Talland Bay; Talland Sand to the west has a lot of sand as its name suggests, even at high tide. At low tide, the rock pools are full of shrimps and crabs, a great spot for families with kids to swim and play. And Rotterdam beach to the east, smaller with less sand but better for swimming at high tide.
Freathy Beach
Freathy Beach is Cornwall's best-kept secret and only known to locals. The beach is adjacent to the South West Coast Path and requires driving. There is parking opposite the beach and access is via a narrow, winding cliff path. It is wild and totally unspoiled. Standing on top of the cliffs, feeling the elements, and overlooking the stunning sandy beach, you will feel the power of nature and an incredible sense of freedom.
Plymouth
Plymouth is in Devon but so close to Cornwall many people use it as a base to explore South East Cornwall. They are connected via the impressive Tamar bridge which is suspended over the Tamar River. But Plymouth is equally interesting so if you stay in one of the places listed above for a few days and wanted to tick Devon off your list then Plymouth is a great place to start.
Plymouth has a rich maritime heritage and one of the most beautiful natural harbors in the world. If you have a taste for nautical things then head to the Barbican Waterfront where you can indulge in a number of activities. It's National Marine Aquarium is home to the biggest exhibit tank in Europe which houses thousands of species of fish and marine life. If the weather is nice you can do a boat cruise where you can enjoy panoramic views of Plymouth Hoe, Sir Francis Drake's Island, and the historic Naval dockyard. Plymouth has also been named regional capital for culture and is home to many art galleries and shops.
Staying in Cornwall
Cornwall has a lot of great and budget-friendly places from hotels, guest houses to self-catering accommodation.  We stayed at Lydcott Glamping which is a Glamping accommodation on a farm only 4 miles from Looe and we loved being in a quiet and secluded location surrounded by nature.
Eating in Cornwall
Cornwall makes the most of its beautiful shores and rich aquamarine life and is the ideal destination for seafood lovers.
 Indulge in seafood with a sea view at the Sardine Factory
Set in an idyllic spot overlooking Looe's beautiful harbor, The Sardine Factory in Looe is part of Looe's heritage center where you can enjoy a private tour of the museum and learn about Looe's fascinating maritime history.  The Sardine Factory is owned by Award-winning Chef Benjamin Palmer and is one of just 22 new restaurants in the 2020 Michelin Guide to be awarded a Bib Gourmand. The restaurant prides itself on its simple but extensive menu which reflects a passion for Cornish seafood and local seasonal produce.
Try Cornish fast food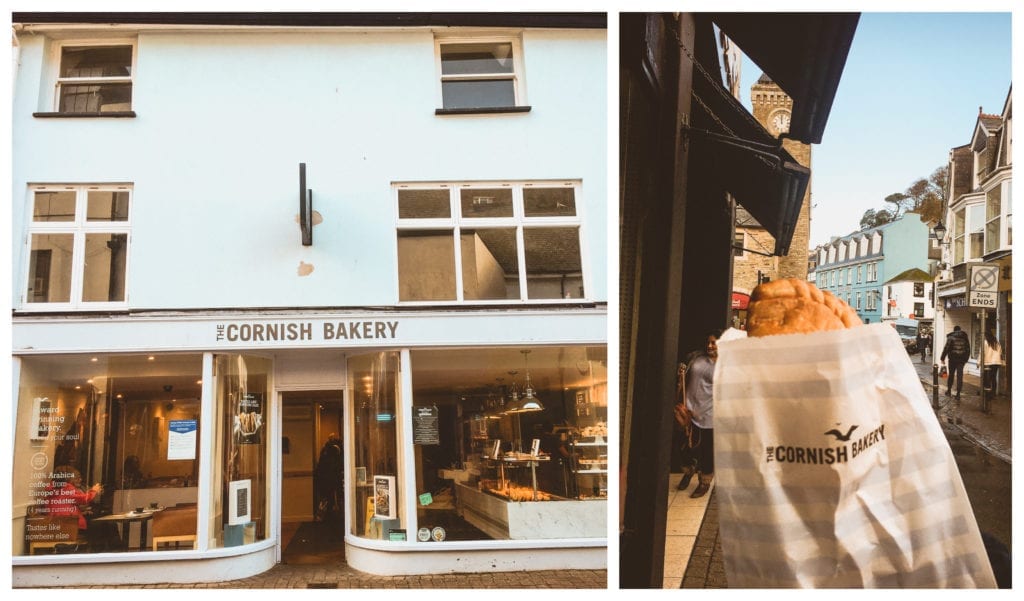 Feeling peckish but don't have time for a full meal? Instead of rushing to MacDonalds (you may not find one by the way), grab a Cornish pasty! I've had Cornish pasties in places all over the country but Cornwall has the most delicious ones by far (followed closely by Brixham in Devon).
Enjoy afternoon tea with Scones
Jam first then cream! Bean and Scones is a quaint little café in the lovely village of Polperro. You would need to walk past it in order to get to the harbor so make sure to stop and enjoy a drink and delicious scones and cakes.