Welcome to the turquoise paradise! 🏝🌎
From Toronto we went by plane to the island New Providence with its famous capital Nassau for an affordable price of about $275 (the typical European low cost airlines unfortunately do not exist in the American area). On arrival at the airport building our first glance fell on the live band, who created a holiday mood with Hawaiian shirts and Caribbean music and put a smile on our faces. This is how we had imagined our reception! 🌺😊
Out of the airport we were looking with kit and caboodle for the bus stop, which should be located a little outside at a gas station… until a very nice cigar smoking local picked us up. 🙌 Basically, you should certainly not just get into the car of strangers in a foreign country. But in this moment this possibility seemed to be the best, because there was no taxi in sight for miles around. For only $10 we reached our accommodation at Sandyport Beach. 🐚
Tip no. 1: Stay overnight in the Hostel BahaSea Backpackers with a breathtaking view to the sea.🌊
Right at the beginning we were warmly welcomed. The location is really fantastic and you will see that the owners have already put a lot of love to this sweet accommodation. By the way you can watch a beautiful sunrise from the many small terraces of the hostel (or directly from your bed), absolutely worth seeing! 🌅😍
Off the beach bed: what you can do on the Sandyport Beach 💪
Tip no. 2: My absolutely worthwhile recommendation: a kayaking trip over the turquoise blue sea.
The BahaSea lends these for two hours free of charge to its guests, so we of course enjoyed it immediately.The wild ride starts! 🚣It is wonderful to paddle all alone across the beautiful sea, having the opportunity to dock on a deserted beach and enjoying the time there. 🏖
But be warned: it is not easy to get back into the small boat… Tristan can tell you a thing or two about it! 😜😅
Tip no. 3: Swimming with pigs! 🐷… not on the touristic and overpriced tour to the pig island (Big Major Cay), but directly at the accommodation's own bay.
Usually five people plus Akeem, who takes care of the pigs, take part and you have the opportunity to feed and pet the pigs in the sea. We had so much fun that afternoon and it is somehow special because not everybody goes swimming with pigs. Soberly regarded, however, they are still pigs and sometimes they can be quite voracious and greedy and have no inhibitions to do their "business" right next to you. 💩😂
You want to relax? Nothing more than that! 🔆
If you want to spend a day at the sea like we do, you can do so directly at the neighboring beach.
Unfortunately the beach was not as extensive as we knew it from our other Caribbean vacation. Besides, there are big, slippery stones in the sea, which make the entrance a little bit more difficult. The whole thing has thus also something positive, because other people are there as good as not to find and so we could relax wonderfully, there. 😎
Where to eat and drink
Traveling and experiencing makes hungry, therefore it is a good thing that next to the Sandyport Beach there is a clean little village that is lined with palms. 🌴
There you will find a small yacht harbor, bars, restaurants, a supermarket and the fast food chain Wendy's, similar to Mc Donalds with much juicier burgers. 🍔 I have to admit, I have become a real Wendy's fan during this short time – I just love the Baconator – good and cheap! 😁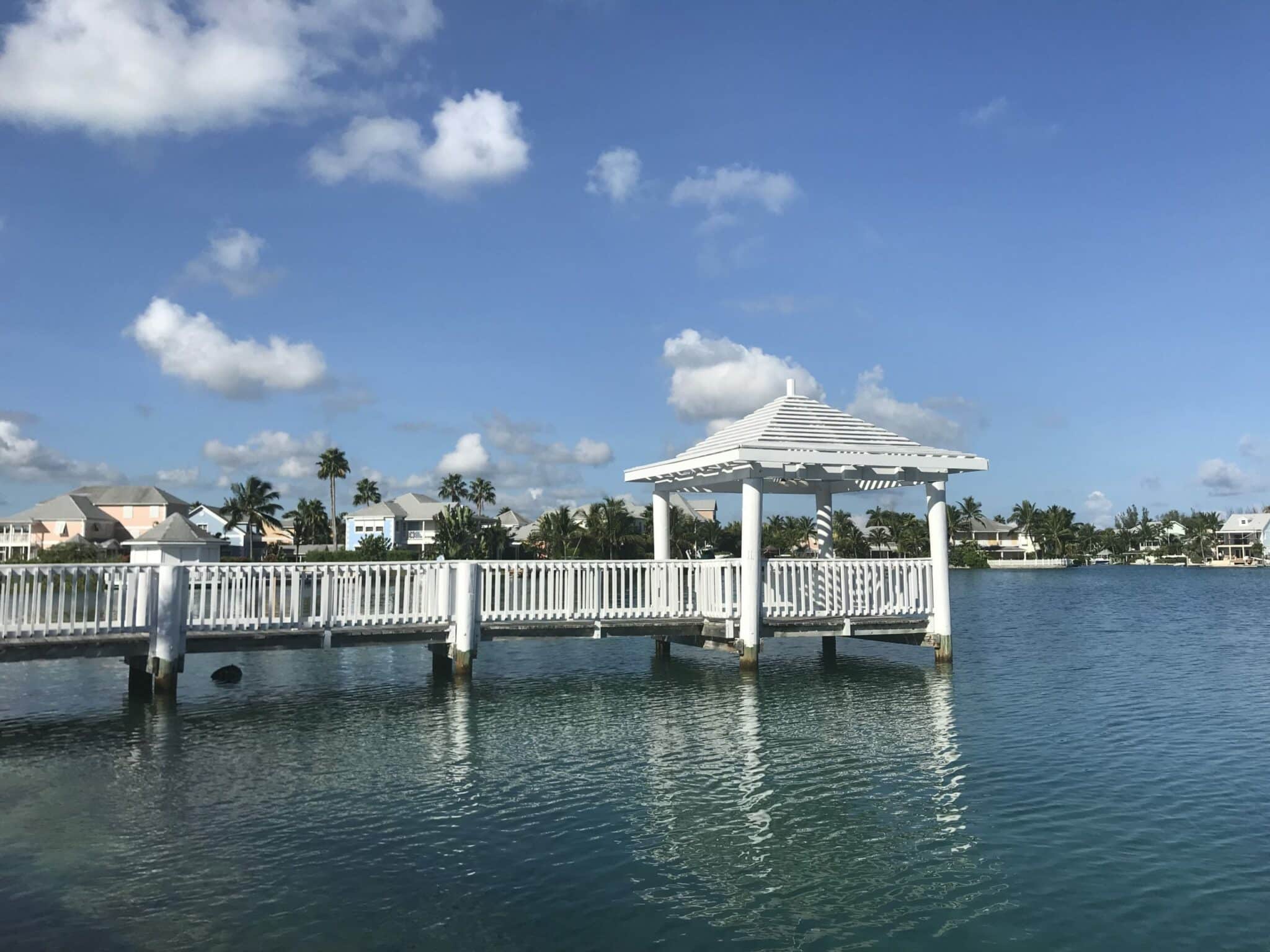 Tip no. 4: If you want to enjoy a great sunset by the water, the Twisted Lime Sports Bar & Grill is the place to be. From the terrace you can look directly onto Sandyport Bay and enjoy a delicious cocktail and a snack.
What can you experience outside Sandyport? Go to Nassau!
Take a day trip to Nassau. The easiest and fastest, but certainly the most expensive way to get there is by taxi, or you decide like us to do it, with the locals in a jitney, the cheap bus that connects many places with Nassau for only $1,25. 🚌 On the way you drive along the beautiful beaches, palm trees, luxury homes and hotels, so that even the time on the bus is not lost. Unfortunately the jitneys only run until the evening. Therefore we decided to start our trip to Nassau already in the morning. 🕘
Arriving there, we first explored the colorful alleys, the Christ Church Cathedral ⛪, the harbor where the big cruise ships dock 🛳 and visited the Hard Rock Café, as in almost every city, so that Tristan could buy his T-shirt. 😁 Past countless palm trees, restaurants and bars we went to the Nassau Straw Market. The market hall is full of country-typical straw goods, carvings, bags and other souvenirs of the Bahamas. 🛍 If you arrive in the morning like we did, you are almost alone, so you don't have to walk through the aisles with hundreds of tourists. Of course I also took a little souvenir with me. 😏
After a short stop in an air-conditioned bistro and a cool Sands 🍺, we strolled uphill past the pink-white Government House to the beautiful Graycliff Hotel.
Tip no. 5: Be sure to visit the 18th century retirement home of pirate Howard Graysmith!
The hotel offers a tropical green garden with a large pool and located a chocolatier, the first 5-star restaurant in the Caribbean, a huge wine cellar and an own Cigar Company where we could watch the cigar production. This hotel is a real haven of peace and definitely worth a visit! 💚🌴🌿
A few meters further on, you will find the National Art Gallery, which is why there are so many colorful little houses and street art.
Hungry and thirsty from all the running and amazement we walked downhill in direction to…
Tip no. 6: Tiki Bikini Hut! 👙🏝
The Beach Bar is located on Junkanoo Beach and offers exactly what you would expect from a beach bar – fruity cocktails, cool beer buckets, delicious chicken wings, Caribbean rhythms, a relaxed atmosphere by the turquoise sea and the possibility to drink from coconuts! 😍 You need more of this? Here comes…
Tip no. 7: … our absolute favorite bar during our Bahamas vacation: The Daiquiri Shark (near the Cable Beach).🍹
Finding this "fruity" daiquiri bar was a real stroke of luck, because the actual plan was to spend a relaxed day at the beautiful Cable Beach. What we did not know: it was impossible to get there. 😒 We did not get 10 meters far until a security man asked us to turn around, as these were private beaches of the luxury hotels. Unfortunately there was absolutely no possibility to stay there without passing one of the hotels. So we decided to have a drink after the disappointment… and there was more than one! 😅 The small wooden bar consists on a lot of exotic fruits, from which the friendly bartender mixed us the most delicious and freshest daiquiris (that were even refilled for free after a small tip). 🍉🍊🍍🍓We loved to spend our time here – a MUST when you are around! 👍
Bahamas summary
Basically, the Bahamas are surely rather an expensive place. But with a few tips and tricks you can experience a great trip at a cheap rate.😉 For us it was the perfect mix of relaxation and discovery. The city of Nassau as well as the island New Providence are definitely worth a visit. And last but not least a little tip: pay a little attention to the weather conditions. We travelled in the Hurricane Season when Hurricane Florence raged over the sea.🙈 Fortunately it didn't hit us, but the waves were extremely high and whipped against the rocks at night. It is a bit adventurous, but not necessarily to everyone's taste.