Fishing during your trip? Yes! It becomes more and more popular 🙂 Catch your own fish and taste it immediately – an incomparable taste. Of course, you should be prepared for this. We intentionally left out the standard equipment like a fishing rod etc., because you might want to rent it on-site first to see how you like fishing 🙂 On our fishing packing list, you will find important must-have gadgets for your next trip.
This packing list contains items that we have tested ourselves on several fishing trips. No matter if you are fishing for the first time or you are an experienced fisherman – here you will definitely find a useful gadget that is not yet on your packing list 🙂
14 Must-Have Travel Gadgets for your Fishing Packing List
This gadget is very useful if you forgot to use the insect protection or the effect has worn off. The bite away is an electronic device for chemical-free external treatment for insect bites/stings such as mosquitoes, wasp, and bees. Thanks to it, a minor insect bite or irritant does not need to turn into an ongoing issue. It is simple to use: by pressing one of the two buttons just once (3 – 5 seconds) a temperature of around 124°F is reached and maintained for the selected time, providing relief from itching and swelling within seconds.
Do the fish not bite today? Then you can pass the time with this great card game until the next catch. With the UNO Splash Special Edition, you get waterproof plastic cards of the popular game classic. A useful clip also ensures that no card gets lost on the beach. Great quality for fun while fishing.
Nothing tastes better than self-caught fresh fish 🙂 This mobile notebook grill is perfect for this. Having a barbecue when fishing in the evening creates the best atmosphere for your outdoor adventure 🙂 Moreover, this grill is especially light and space-saving.
This powerful solar charger offers a huge battery backup for use in all kinds of outdoor activities. Additionally, it is waterproof. An iPhone 11 for example can be fully charged over 3 times! Perfect for your next fishing trip to charge up your equipment. Make sure to put this one on your fishing packing list.
5. USB Rechargeable LED Headlight Flashlight
Night fishing has its own charm. With this headlight, it is no longer a problem. Whether you are looking for something or need to find the right direction. Even in emergency situations, an emergency signal can be sent. Therefore you do not have to be afraid at night during fishing 🙂
The next fishing gadget is about a sensitive topic. Of course, a lady has to go behind the bush from time to time 😛 Discreet, reusable, funnel-shaped female urination device. GoGirl provides a revolutionary bathroom solution for women to go anywhere. Great for traveling and a must-have for your fishing packing list!
These led lights can be used as flashlights or lanterns. You will never need to worry about draining batteries! Never be out of power! ThorFire lanterns can be either charged via regular Micro USB charging cable or hand cranking when you are out of power supply. Very easy to recharge this light. Also, it can be used as an emergency power bank 😉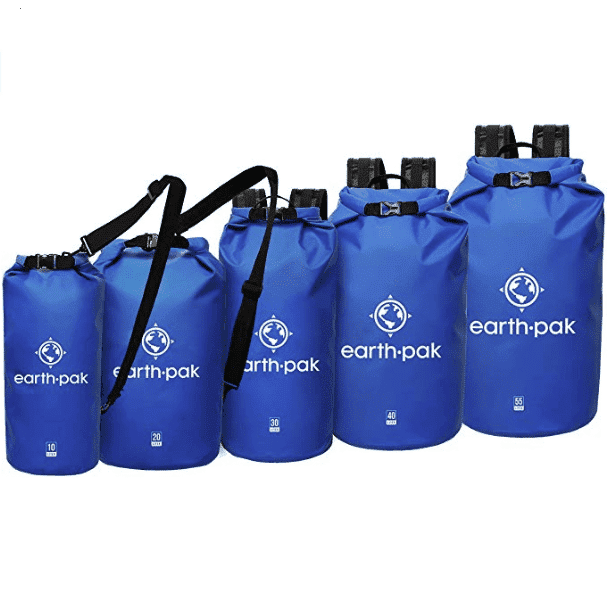 This Dry Bag Collection Backpack is one of the most reliable – and durable – companions to have by your side. By day, have it carry and protect all your gear. By night, use it as a pillow so it will never leave your side. From 30L to 55L sizes, the Dry Bag Backpack is sure to cover more than just the basics for your fishing or other outdoor adventures.
We also think about your health! Dehydration is an often-underestimated danger. That's why you should drink between 1,5 and 3 liters of fluid every day, depending on your level of activity and exposure to sunlight. That is why a water bottle should not be missing from your fishing packing list.
10. Fast Drying Microfiber Travel Towel
More absorbent than ordinary towels, and can be air-dried and reused in a short time. If you or your equipment should unexpectedly get wet, you are well prepared. It's also very light weighted, you can hardly feel it when you put it around your neck. A perfect addition to your fishing packing list 🙂
11. Columbia Rain Jacket Women
The Rain Jacket from Columbia is somewhat of an all-rounder – you'll be ready for whatever the day brings. It features Omni-Tech technology that guarantees waterproof and breathable fully seamed construction to shield you from rain-heavy days when you're out on the trail. The material is ideal for your next fishing trip.
This Jacket is the perfect companion for all outdoor activities. Softshell is made from woven fabric, making it comfortable in light rain and windy areas. Be sure to put it on your packing list for your next fishing adventure.
13. Multifunctional Head Scarf
Whether strong wind or unexpected rain, the multifunctional head scarf protects you from weather conditions. It has more than 12 different dress ways. When going out for fishing, wearing it as a face mask, headband, scarf bandanna, or neck gaiter. It can protect your face, head, neck, and ears from being overexposed to the harmful rays of the sun and keep your nose/mouth clean from breathing dust.
You only need one tool when it changes into 16 – perfect for Fishing and Survival Kits. It's small and lightweight makes it easy for backpackers wanting to travel very light and fits into every pocket. There is not much more to say. Experienced fishermen have long appreciated the value of multitools and this one has many excellent ratings.
Conclusion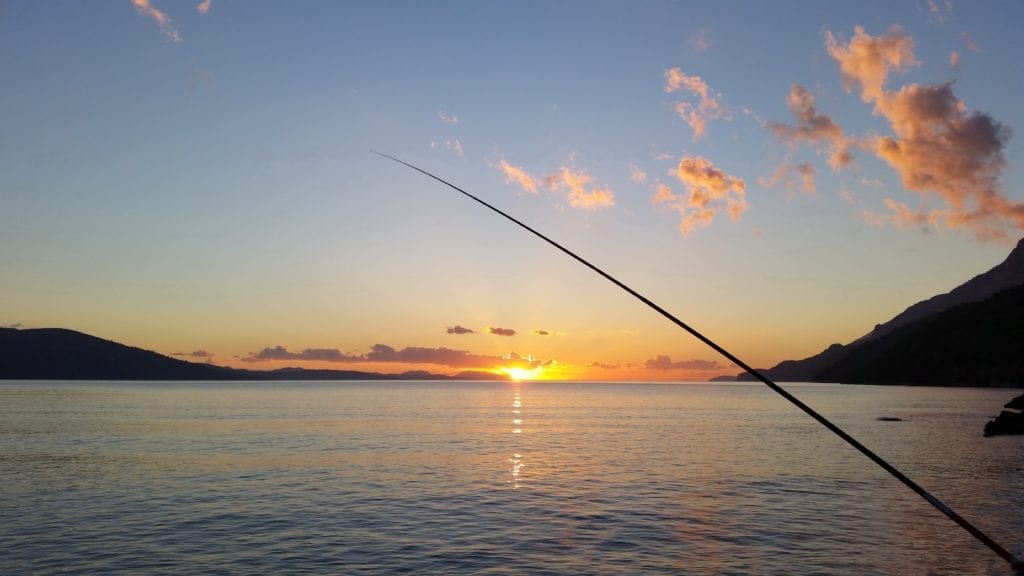 We wish you a good catch! You will surely experience unexpected moments and have great stories to tell afterward! We would be happy if you would share those stories here on Traxplorio. If you have any feedback on our gadgets, or if there is something missing on the list, we would be happy to read about it in the comments 🙂
Safe travels, your Traxplorio Team!