I want to start this post with a disclaimer; we didn't actually spend all four days in Milan as such. Milan is a beautiful city, but unless you are a major aficionado of Museums and Art, most of it can be seen in a day or 2. So, we spent 2 days in Milan, 1 day visiting Como and 1 day visiting Bergamo… read on to find out how to spend your 4 days in Milan-ish.
Day 1 – Exploring Milan
For this trip, we found through Skyscanner that it was actually more cost-effective to fly in and out of different Milan airports. This suited us just fine as our hostel was close to the main train station and therefore it was pretty easy to get around. We arrived in Milan Malpensa airport which was an easy train journey into the main train station. The main station is a spectacle in itself, so even if you don't need to hop on the train, I would highly recommend setting aside some time to have a look!


Milan Central Station
Once we arrived at the station it was just a short walk to our hostel the Central Hostel Milano. We booked a private 4-bed room as there were four of us. We had a shared bathroom and kitchen but, as the hostel is made up of a series of flats, we were actually only sharing with one or two other rooms. The hostel was clean and pleasant and would definitely recommend it for its location – about a 10-minute walk from the central station and a very short walk to the top of Corso Buenos Aires – our next stop.
After unloading at the hostel we decided to spend the afternoon wandering Milan and seeing some sights. Milan is quite compact so once we had walked along Corso Buenos Aires – the longest shopping street in Europe at 1 km – we were right in the center of Milan at the Piazza del Duomo. The Duomo itself is obviously one of the key reasons for visiting Milan and it is absolutely stunning. The facade is incredibly intricate and the sheer size of the cathedral is breathtaking. We bought a combined ticket (Duomo pass stairs – 13 euros) to see the inside of the cathedral and climb to the roof. We arrived here quite late in the afternoon so we opted to see the roof today and come back to visit the inside of the cathedral tomorrow. Luckily, your ticket allows this so don't feel that you have to do it all in one go.


Roof of Duomo
Climbing to the cathedral roof was probably my favorite part of Milan itself. The views and details are so beautiful and it's just a really surreal experience that I've never had anywhere else. From the roof, you also get a great view of the Galleria Vittorio Emanuele II, which is by far the most beautiful shopping mall I have ever seen. It is also the oldest shopping mall in the world! Once we descended, we headed into the mall but only to marvel at the architecture as the shops inside were very much outside of our price range!


Galleria Vittorio Emanuele II – World's Oldest Shopping Mall
Now, having been in Milan for a few hours, we decided it was high time we had an Aperol or three. We decided to hunt out a bar which was a little further out of the center in order to be a little more wallet-friendly. We found an adorable little bar called Vinyl, which was really friendly, a bit quirky, and perfect for the price as an Aperol or Campari Spritz was just 5 Euros. Following a few drinks, we decided to head for some food. On the way to Vinyl, we had spotted a few trattorias (independent, family-run restaurants) and we settled on one of these for dinner. If you are visiting Milan, I URGE you to visit Trattoria Caprese on Via Ugo Bassi. The food was absolutely incredible and so well priced, the portions were enormous, the staff was incredibly friendly, and there were lots of little perks to accompany our meal; a glass of prosecco on arrival, a taster of one of their starters, truffles after the meal and a selection of liqueurs to taste (at no extra cost). Needless to say, we left full, happy, and more than a little tipsy. We left a very generous tip but they definitely deserved it. You can check out my review here.
Day 2 – Museums and Galleries
If there's one thing Milan is famous for, its art! We decided to spend our second day in Milan soaking up a bit of culture. Naturally, we started the day with an espresso and pastry before hopping on the subway to our first stop – Sforza Castle. If you don't fancy pottering around a museum then it's still worth a trip here to see the castle itself. It's beautiful from the outside and is surrounded by a park which is lovely to sit and sun yourself in. You can even enter the castle for free to see some of the main areas.


Sforza Castle
We decided to buy the combined ticket for all of the castle museums and some other museums around Milan. It is just 12 Euros for a tourist museum card which is valid for 3 days and gains you entry into lots of museums around Milan. It can be purchased in any of the museums where it is valid. For the full list, check here.
In Sforza castle, there are museums for almost anything imaginable. We saw history, art, musical instruments, pottery, furniture, photography, and ancient Egypt. We spent a good few hours wandering around here, but I'll admit you can get a bit of museum fatigue after a while so it may be worth doing this across two days or else just picking the exhibitions which are of most interest to you. After visiting the castle museums, we headed into the park to grab some lunch. There were plenty of kiosks around the park selling sandwiches and things so we popped by one of these and then enjoyed the sunshine for a while.
After lunch, we headed back to the Piazza del Duomo to visit the inside of the cathedral. As expected, this was equally as breathtaking as the outside and also contained a lot of history. There were lots of informative plaques helping you to understand the decoration and embellishments around the cathedral. As is always the case in Italy, remember you need to have shoulders covered if you are entering any church or cathedral. I always keep a scarf or something in my bag to quickly throw on in times like this.
Following the cathedral, we used our museum card once again and headed into the Museo del Novecento. This was a really interesting museum which had more modern art. They also had a really great temporary exhibition which the museum card allowed us access to. I would really recommend this museum as well for its amazing views over the Piazza Del Duomo!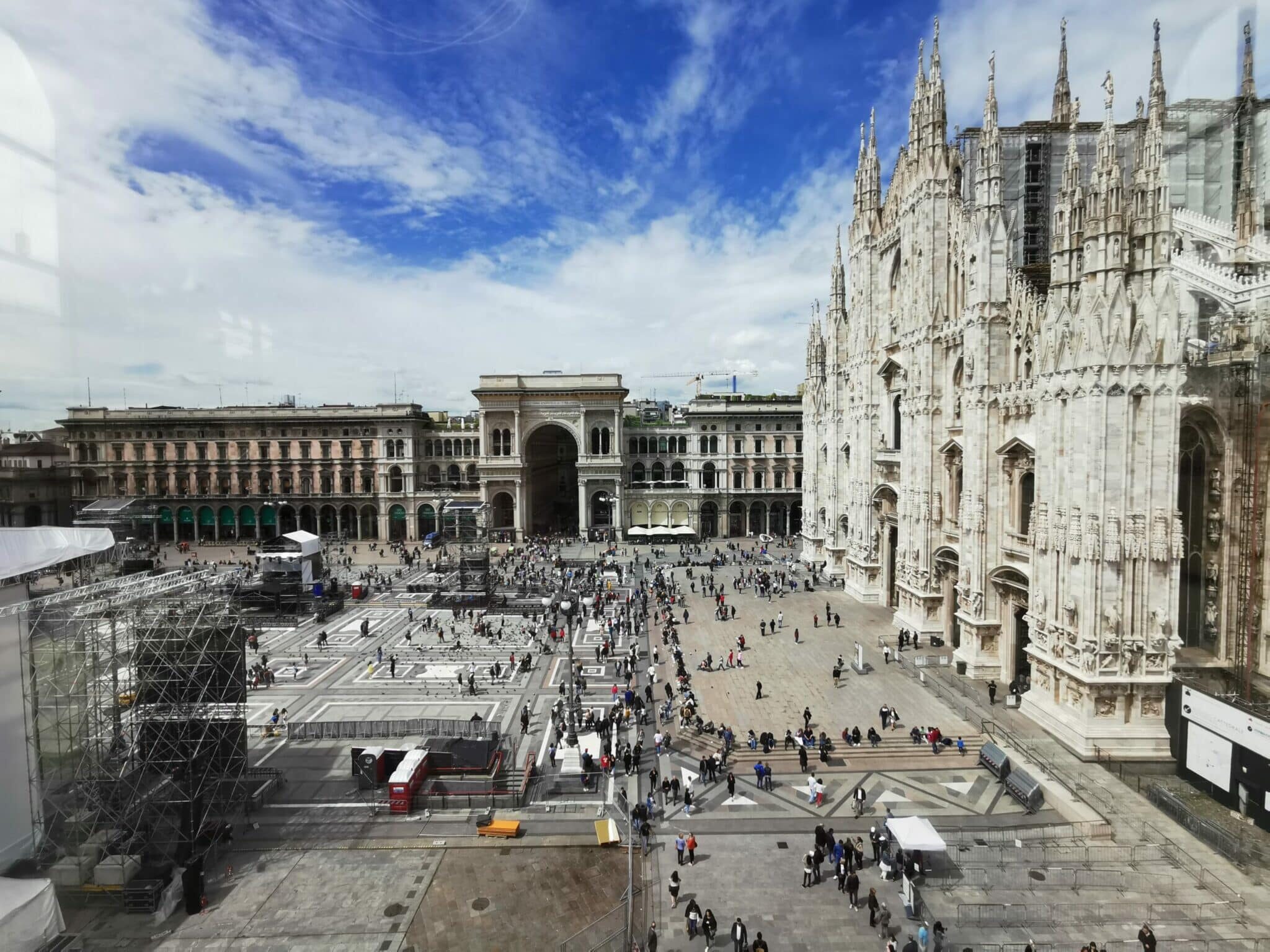 View over Piazza Del Duomo from Museo Novacento
Obviously, one of the big reasons to visit Milan is to see Da Vinci's 'The Last Supper'. We opted not to do this as we felt the price was quite high and we were not too bothered. However, if this is something you would like to see then be sure to book your tickets well in advance of your visit as there were no tickets available whatsoever by the time we arrived.
For our second evening in Milan, we decided to head slightly outside of the center and visit the Navigli district. This is a series of canals that are surrounded by lots of restaurants, bars, and cafes. It has a really lovely feel to the area. In particular, it is famous for its 'aperitivo' which is when you buy a drink for around 8 Euros and can then have small plate access to a buffet inside the bar. We decided not to have a proper meal and to do this instead and it was definitely worthwhile. We had a lovely seat right by the canal and enjoyed a rather sumptuous buffet! I would recommend having a wander around first to scope out your options and not just head into the first place you see. The prices range from 6 to 15 euros but there are definitely places where the food looks more appetizing!


Navigli
Day 3 – Como
So on day 3, we decided to head out of Milan and visit Lake Como. We headed to Milan Station and purchased a return ticket to Como for 4 Euros – yes you read that right! There are two options for tickets, one is about 3 times more expensive but gives you a more reasonable layover time. When you look at the layover for the 4 Euro trip it seems impossible at just a couple of minutes. Don't panic, however! We were herded off the train at the layover by the stewardess and pointed in the direction we needed to go – it was a quick dash across about 3 platforms but they are obviously used to it so it wasn't a worry.
When we arrived in Como it was just a short walk from the station into the main square. The main square of Como itself is beautiful with stunning views over the lake and surrounding landscape. It is very vibrant with street performers and surrounded by tourist shops. You can catch a boat from here out onto the lake but, as the crowds were so huge, we decided to take a walk a little further around the edge of the lake to find a quieter spot for a picnic.
I cannot recommend this enough. It was a fairly low-cost day out and the views were honestly breathtaking. We didn't walk an especially long way but we passed lots of beautiful houses, quaint viewpoints along the lake, and wound up at the beautiful Villa Olmo. This is a large villa overlooking the lake which is free to wander around as long as there is no event going on. There are also beautiful gardens to the front and back which provided the perfect spot for a picnic!


View over Lake Como from Villa Olmo
Upon returning from Como we decided we couldn't leave Italy without going out for a pizza. At the recommendation of our hostel owner, we visited Piccola Ischia (we visited the Via Morgagni branch), which was only a short walk from the hostel. It was a rather uniquely decorated pizzeria that was owned by a family from Napoli – the supposed birthplace of pizza! Whilst being surrounded by some rather alarming mannequins and a whirlwind of Napoli football memorabilia, we enjoyed probably the best pizza I have ever eaten. The menu had a huge selection of options and you could have 'great' pizzas which were impossible to finish in one sitting for under 15 euros.
Day 4 – Bergamo
As I mentioned at the beginning, we flew into Milan Malpensa, but we flew out of Bergamo. Bergamo airport is slightly further outside of Milan but is still only a short train ride from the central station. Our flight wasn't until the evening so we decided to spend the day exploring Bergamo itself. This hadn't necessarily been our plan but I am so glad we did and, even if you are not flying from Bergamo, I would recommend setting aside a day to visit.
We arrived at the station in Bergamo and booked a ticket for later that day to take us to the airport, before heading into Bergamo itself. All of the kiosks around the train station sold bus tickets to the airport for just a few euros. Bergamo itself is beautiful and we walked down the main parade to see lots of beautiful buildings and streets. The main attraction, however, is the old city – known locally as Citta Alta due to its location above the main city.
To reach the old city you can take a funicular up the side of the cliff for just a few euros return trip. The views from the funicular are beautiful and it is just as beautiful when you reach the top. Although cars are allowed in the old city, there are very few around and it is largely made up of winding cobbled streets. In the main square, there is a beautiful cathedral, which is incredibly ornate inside, and a bell tower which you can climb for even more incredible views.

View from Bergamo bell tower
We spent a few hours in Bergamo and it was one of the most beautiful places we saw in Milan. The cathedral and bell tower is a must, but even just wandering the streets, grabbing a slice of pizza or focaccia, and gelato, is a great way to spend a few hours. It was the perfect end to our trip!