Are you a hiking enthusiast? Do you want to make sure that you reach your destination without any problems on your next hike? 🙂 Then this is the right place for you! We have great must-have travel gadgets for your next hiking trip. Especially during covid-19, many people discovered their love for hiking! To be one step ahead of them and to make sure you have no problem with more challenging terrain, check out our hiking packing list 🙂
This packing list contains items that we have tested ourselves on several hiking trips. No matter if you just want to hike for one day or plan a longer trip – here you will definitely find a useful gadget that is not yet on your packing list 🙂
18 Must-Have Travel Gadgets for your Hiking Packing List
1. Lowa Men's Renegade GTX Mid Hiking Boot
This hiking boot is your perfect companion!
AT A GLANCE:
All-terrain, GORE-TEX waterproof, breathable hiking boots for day hikes and light backpacking
Climate-control footbed wicks away moisture for comfort
Durable Monowrap frame reduces boot weight
Full-length nylon shank for stability
Rugged Vibram outsole helps maintain grip
2. Lowa Women's Renegade GTX Mid Hiking Boot
Of course, this hiking boot has all the advantages of the version for men. Additionally, it is perfectly adapted to the female anatomy. We have tested both pairs and used them for years. A clear recommendation for your hiking packing list.
Whether strong wind or unexpected rain, the multifunctional head scarf protects you from weather conditions. It has more than 12 different dress ways. When hiking, wearing it as a face mask, headband, scarf bandanna, or neck gaiter. It can protect your face, head, neck, and ears from being overexposed to the harmful rays of the sun and keep your nose/mouth clean from breathing dust.
4. Ultra Lightweight Packable Backpack
When traveling, you may not always have a big backpack with you. This ultra-lightweight foldable backpack is a very good alternative and is on our packing list for every trip. Designed for everyday use or short travel adventures. The daypack's adjustable breathable straps ensure a proper fit and comfortable all-day use. Perfect for a day hike as you can store it in a bag if you don't need it 🙂
With their telescopic poles, these walking poles are ideal for any size. They also make them ideal companions on your hikes as you can easily make them small when you don't need them. The quality makes them last for a long time. Highly recommended for your hiking packing list.
6. GOT BAG Sustainable Thermos Bottle
Whether you are on a hike or an extended walk, sooner or later you will need something to drink. Dehydration is an often-underestimated danger. This sustainable alternative keeps your drinks hot or cold for up to 7 hours on the go. In addition, with the purchase of a GOT BAG water bottle, you support the fishermen who carry out plastic clean-ups in Indonesia with 5,- Euro. We think this is an awesome initiative, as plastic pollution in the oceans is something that concerns us all 🙂
With the code TRAXPLORIO10 you get 10% off your entire order 🙂
The Columbia Jacket is somewhat of an all-rounder – you'll be ready for whatever the day brings. It features Omni-Tech technology that guarantees waterproof and breathable fully seamed construction to shield you from rain-heavy days when you're out on the trail. We own it ourselves and it is really useful for a hiking trip.
I really love this Jacket! You'll be ready for whatever the day brings. Softshell is made from woven fabric, making it comfortable in light rain and windy areas. It is a great companion for your hiking trip. Definitely one of the first things on my packing list 🙂
You only need one tool when it changes into 16 – perfect for Hiking and Survival Kits. It's small and lightweight makes it easy for backpackers wanting to travel very light and fits into every pocket. There is not much more to say. Experienced hikers have long appreciated the value of multitools and this one has many excellent ratings.
Nothing can ruin a great hiking trip more than annoying insects. That is why this Insect Repellent Spray should definitely be on your hiking packing list. It keeps you and your family protected for hours, so the fun doesn't have to end.
This gadget is very useful if you forgot to use the insect protection or the effect has worn off. The bite away is an electronic device for chemical-free external treatment for insect bites/stings such as mosquitoes, wasp, and bees. Thanks to it, a minor insect bite or irritant does not need to turn into an ongoing issue. It is simple to use: by pressing one of the two buttons just once (3 – 5 seconds) a temperature of around 124°F is reached and maintained for the selected time, providing relief from itching and swelling within seconds.
Whether you're using your digital camera, GoPro, or a smartphone, this Panoramic Motor Tripod Head brings easy balance to every recording session. Amateur and pro photographers and videographers can achieve more advanced effects including beautiful panoramic landscapes, cool time-lapse videos, and much more. We were very surprised by this little gadget!
The all-new Capture is the most secure, convenient, accessible way to carry your camera, period. Unlike a camera strap, Capture keeps your camera rigidly stable while hiking, biking, or moving around the studio. Unlike a camera bag, Capture keeps your camera instantly accessible with the click of a button. We love this practical little Clip 🙂
Our top recommendation is to navigate your hiking trails without running out of power! This a powerful solar charger for use in all kinds of outdoor activities. Additionally, An iPhone 11 for example can be fully charged over 3 times! Perfect for your next hiking trip to charge up your equipment. Make sure to put this one on your hiking packing list.
While hiking you are exposed to the sun for a long time. And of course, you want nice brown skin without sunburn 🙂 After all, you want to stay healthy for a long time and enjoy many more hours of the sun 😊 This sun lotion also comes with a seductive exotic scent.
16. MSR Hubba Lightweight Backpacking Tent (1 or 2 Person Tents available)
The ultimate backpacking hiking tent! It is a quintessential 3-season tent. Easy to carry, quick to set up, and roomy enough for hanging out, it lives at the intersection of lightweight and livable. While others are still setting up their tent, you can already relax around the campfire 😛
And finally, we have your perfect travel companion: your personal travel journal. It is perfect for recording your memories of new experiences such as trips, vacations, and all of your first-time adventures! You can also use it to plan the next routes and note down important tips that you receive while you are on the road.
The last hiking gadget is about a sensitive topic. Of course, a lady has to go behind the bush from time to time 😛 Discreet, reusable, funnel-shaped female urination device. GoGirl provides a revolutionary bathroom solution for women to go anywhere. Great for traveling and a must-have for your hiking packing list!
Conclusion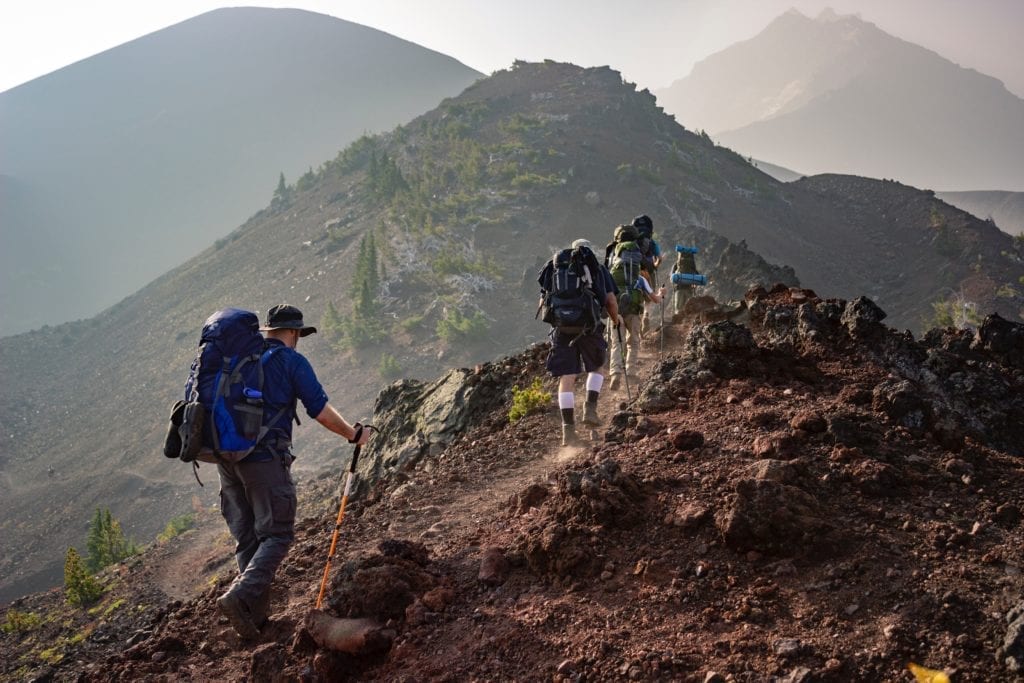 Well, have a great time in nature! You will surely experience something unique and have a lot of fun. We are very excited to read about your new adventures here on Traxplorio 🙂 With our packing list, you can easily solve every problem in no time 🙂 We are also looking forward to ideas for further gadgets or feedback on the existing ones. Feel free to write in the comments 🙂
Safe travels, your Traxplorio Team!