Hambantota is a popular tourist destination in Sri Lanka. The city was completely destroyed by Tsunami in 2004, but now it is growing up to be the 2nd major city in Sri Lanka after Colombo. Famous for its biodiversity, this region is home to approximately 20 wildlife sanctuaries and popular national parks. Hambantota has been an important city from even before colonial time and hence the depths of the past that one can uncover here are uncertain.
Going down the southern coast of Sri Lanka will allow you to pass by some interesting towns and attractions that showcase the illustrious history and culture, along with the natural wonders the island possesses. Hambantota is well-known among travelers for its salt flats and intensely hot arid zone climate. With all-encompassing sandy beaches on the side, it is a convenient base city for tourists exploring nearby places. There are a number of places to visit in Hambantota that one must explore to be familiar with the culture and lifestyle of the city!
Places to Visit in Hambantota
Yala National Park
Yala National Park is a 978.807 sq km national park. It has been divided into 5 parts, out of which only 2 are open to the public. Home to a large number of animals and birds, this place attracts innumerable tourists on a regular basis. It has a very high density of leopards. A large number of elephants also live here. 215 species of birds and 44 species of mammals can be observed here in their natural habitat. To traverse through the jungle, visitors usually have to book a jungle safari which takes them through the entire place.
 Birds Research Center & Resort
The Birds Research Center & Resort is Asia's largest Birds Park and Research Center located in Hambantota, Sri Lanka. This park is believed to be home to over 180 varieties and around 3200 endemic and exotic birds today. If you are a bird lover, then this research center could be your perfect escape. This park is dedicated to bird enthusiasts, besides those studying ornithology. We will take a deep look at this bird park in my next blog.
Ridiyagama Safari Park
One of the most popular things to do in Hambantota is to visit Ridiyagama Safari Park. This 500-acre safari park seeks the attention of nature-lover travelers to Sri Lanka. Opened to the public in 2016, this park has numerous attractions for visitors to observe. If you want to know more about this park you can check my previous article on Traxplorio.
Ramba Viharaya   
Often one of the more overlooked places in the coastal town, the Ramba Viharaya is one of the ideal places to understand how the kingdoms of old incorporated Buddhism into a major part of their lives. This particular temple stemmed from the era of the Polonnaruwa Kingdom between the 11th century to the 14th century.
 Mirijjawila Botanical Garden
One of the five botanical gardens in Sri Lanka, It is popular among the locals and tourists for its scenic beauty and serene walking trails. The total area of the garden is about 300 acres. Though located in Sri Lanka's dry zone, is a flourishing attraction in Hambantota. Built-in 2013, the garden was made to improve the area's biodiversity, and as a result, is home to a diverse variety of flora and fauna. Hop into one of the carts for a quicker way to explore the garden.
Bundala National Park
A must-visit for all animal lovers, Bundala National Park is located very close to the city center of Hambantota. It's much smaller in size in comparison to other popular reserves like Yala National Park. Recognized as an internationally important wintering ground for migratory water birds, it receives national and international tourists throughout the year. Apart from watching the birds, you also find several rare flora and fauna in their natural habitat here. This park is popular as the "world at the edge" where land, sea, and wetlands meet.
Madunagala Hot Spring
Sometimes called the Mahapelessa Hot Spring, this particular hot spring is known to be a sacred one in which many a pilgrim from around the country would bathe in its waters. The waters are believed to have several healing properties, especially for certain types of skin diseases. There are 7 hot water tanks with 7 different water temperatures so one can choose from which to take bath according to their comfort.
There is also a small park for kids and a place with animals- like rabbits, turkeys, hens, and fish. This is perfect to keep the little ones occupied and entertained during your visit.
Walawe River Safari
Known for its rich biodiversity, this area is perfect for spotting some wildlife. In fact, many visitors across the universe visit this place to encounter the 6 varieties of mangroves besides 52 fish species, 72 bird species, 38 plant varieties, and of course 28 animal species. During the river safari, you can get a chance to see the water animals in their natural habitats.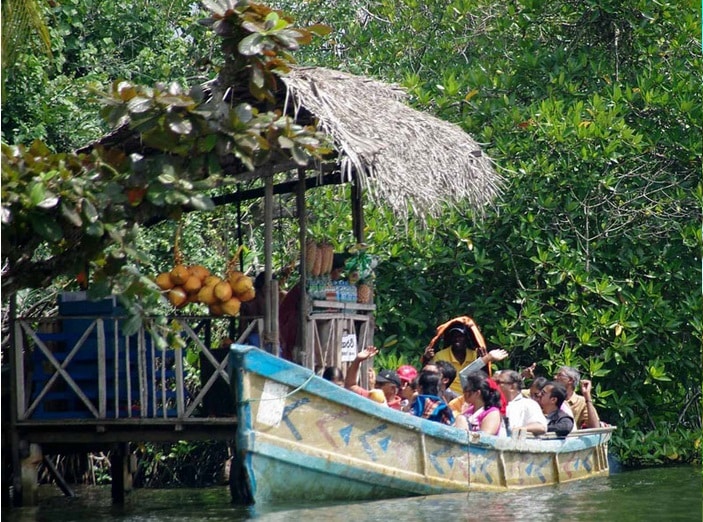 Martello Tower
The Martello Tower stands to be a unique piece of colonial heritage, as it is the only fortress of its kind in the whole of South Asia. Built-in the early 19th century by the British, it was used as an important defensive complex when the Kingdom of Kandy led a battle to drive out the colonizers. Although small, the tower is believed to have had heavy armament, which ranged from howitzers to 18-pounders. Presently, the tower serves as a museum that showcases the transformation of the fisheries industry in the area.
If you are planning to visit Sri Lanka in the near future add a trip to Hambantota to your itinerary and experience a blissful vacation. Enjoy a holiday in the lap of nature with a visit.