Day 1
Jibhi is one of the hidden treasures in Banjar valley of Himachal Pradesh and on the banks of the rippling Tirthan River. There are wooden houses built along the route which makes this town look elegant. This is surely an idle place where you can just pack your trekking bags and get out with your friends to trek and relax with mother nature.
So we started from Delhi, on 1st Oct at the night and it turned out to the night that we can't forget ever, missing tempo traveler ( got two cars at last moment), a lot of traffic due to the long weekend, one member pickup issue, Driver Playing old songs which were not bearable by anyone ( no AUX no Bluetooth, only we can play through his pen drive and that too by joining two wires in the car), Car hit by roadways bus, tire puncture, stepony not good et, all this made me remember that dialogue from the movie Jab we met "Please Babaji Ab tho haad paar ho chuki hai, Ab iss raat main koi excitement mat dena, boring bana do ji ab iss raat ko Pleaseee".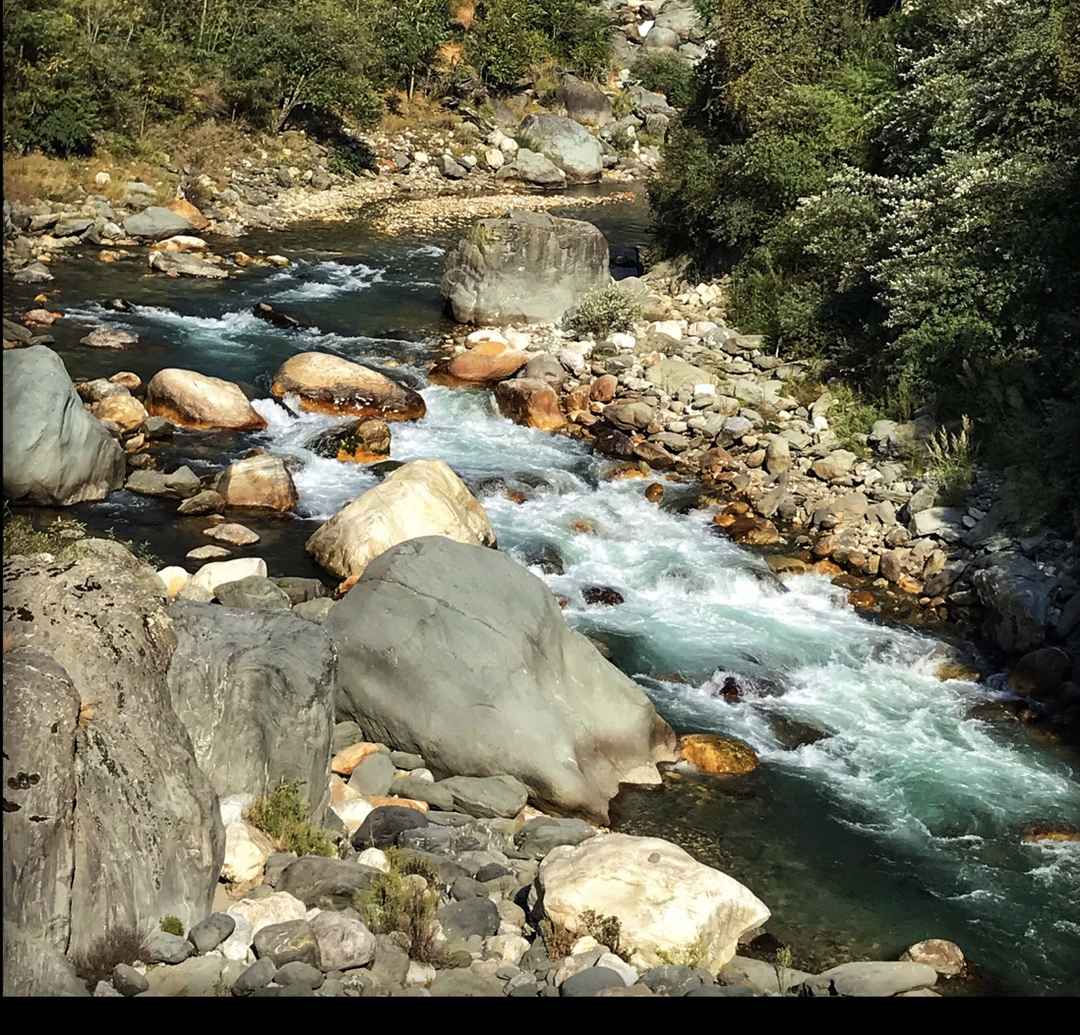 In between on the way to Jibhi
Finally, we got our tempo traveler around 4:30 in Chandigarh and a smooth journey started, expected time we thought we will reach was around 11-12 but we reached around 4 PM due to heavy traffic and in the end, the traveler was stuck in Jam almost before 1.5 km, so we all decided to walk instead of waiting. We found many people there who were the same as we started at the same time and still on the way.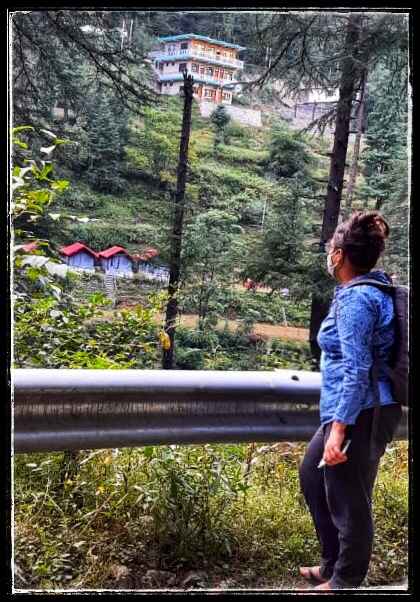 Our hotel was at a fabulous location on one side we have a river flowing & on another side we have Jibhi waterfall just 5 mins walk away. So after check-in, we decided to visit the waterfall first. The hotel staff guided us and ensured that they will come to take back if it will be dark.
The Jibhi Waterfalls is covered up inside the woods that can't be seen until you are well inside the thick timberland. The spouting of water streams like music makes the entire spot charming. The Place was awesome with a wonderful ambiance that made all of us jump into the water.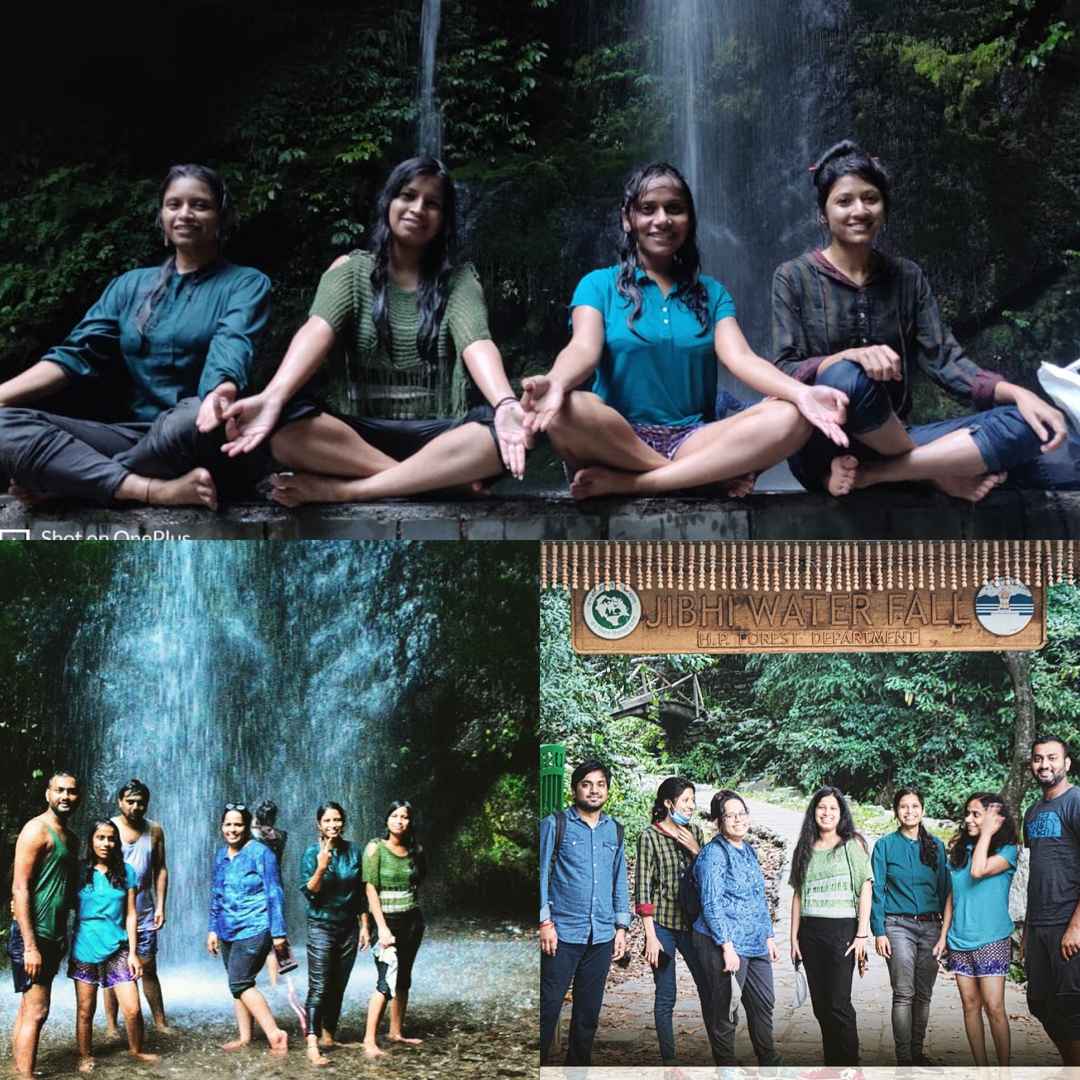 Happy Faces enjoying the Fall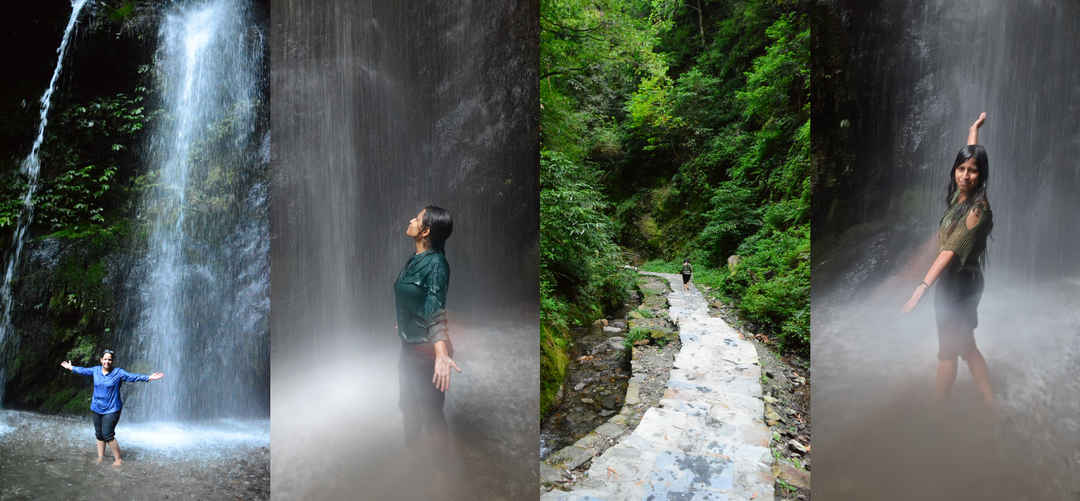 The water was damn cold but we couldn't resist ourselves and everyone jumped into the fall as the hotel was just five minutes away and we can walk and change easily. Other people in the fall were regretting that they can't come inside the fall as changing rooms were not there. Later we went back changed and enjoyed snacks and dinner along with a bonfire.
DAY 2: Jalori Pass
Early morning everyone woke and went for walk to the nearby riverside and later after having breakfast we headed to Jalori Pass start our trek to Serolsar lake.
Team – all set for the trek
Jalori Pass is a beautiful place where you can get dislodged in nature. You can listen to the minimal whispers of nature and also the sound of the breeze that flows. It is a must-visit place due to the serenity brought due to the pine trees and the beautiful shapes of rocky hills. The surrounding of this place is mesmerizing, which makes it a must-visit.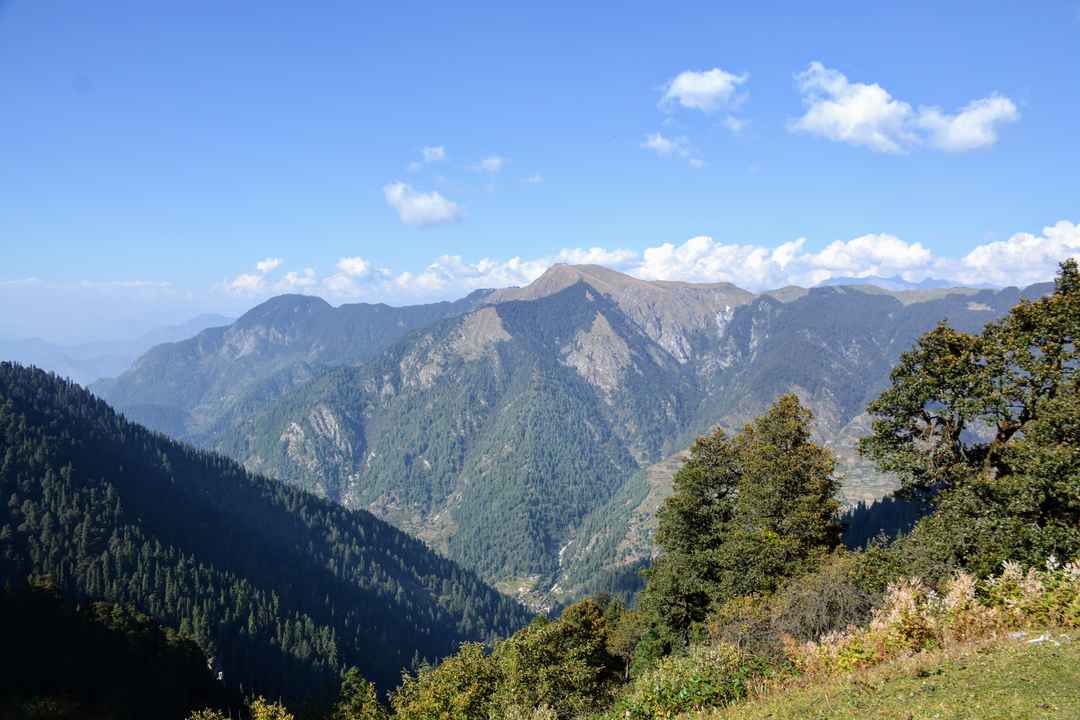 The Trek: Around 9:30 we reached Jalori Pass which was 30 minutes away from our hotel, to start our trek to Serolsar lake. The trek to Serolsar lake from Jalori takes around 2 hours one way for slow trekkers like me. Locals can do that in 45-60 minutes. The trek is scenic and you feel like stopping for pictures at every turn. we were a group of 11 and due to different speeds all divided into 2-3 groups, I was second last to reach the lake.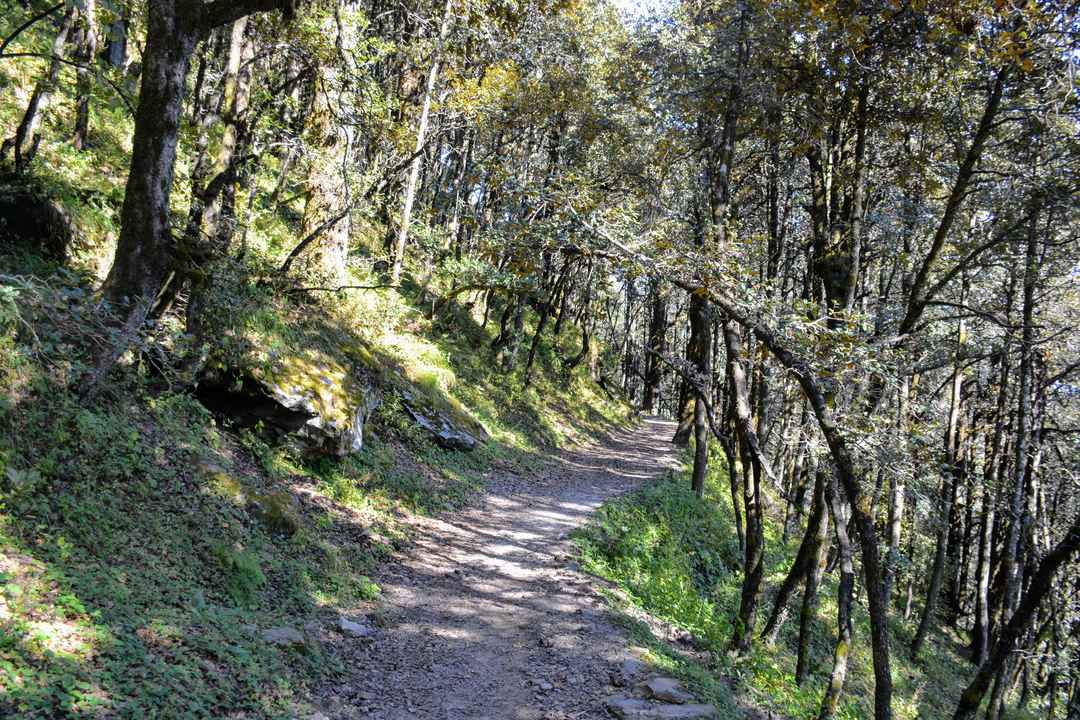 Some shot in between the trek :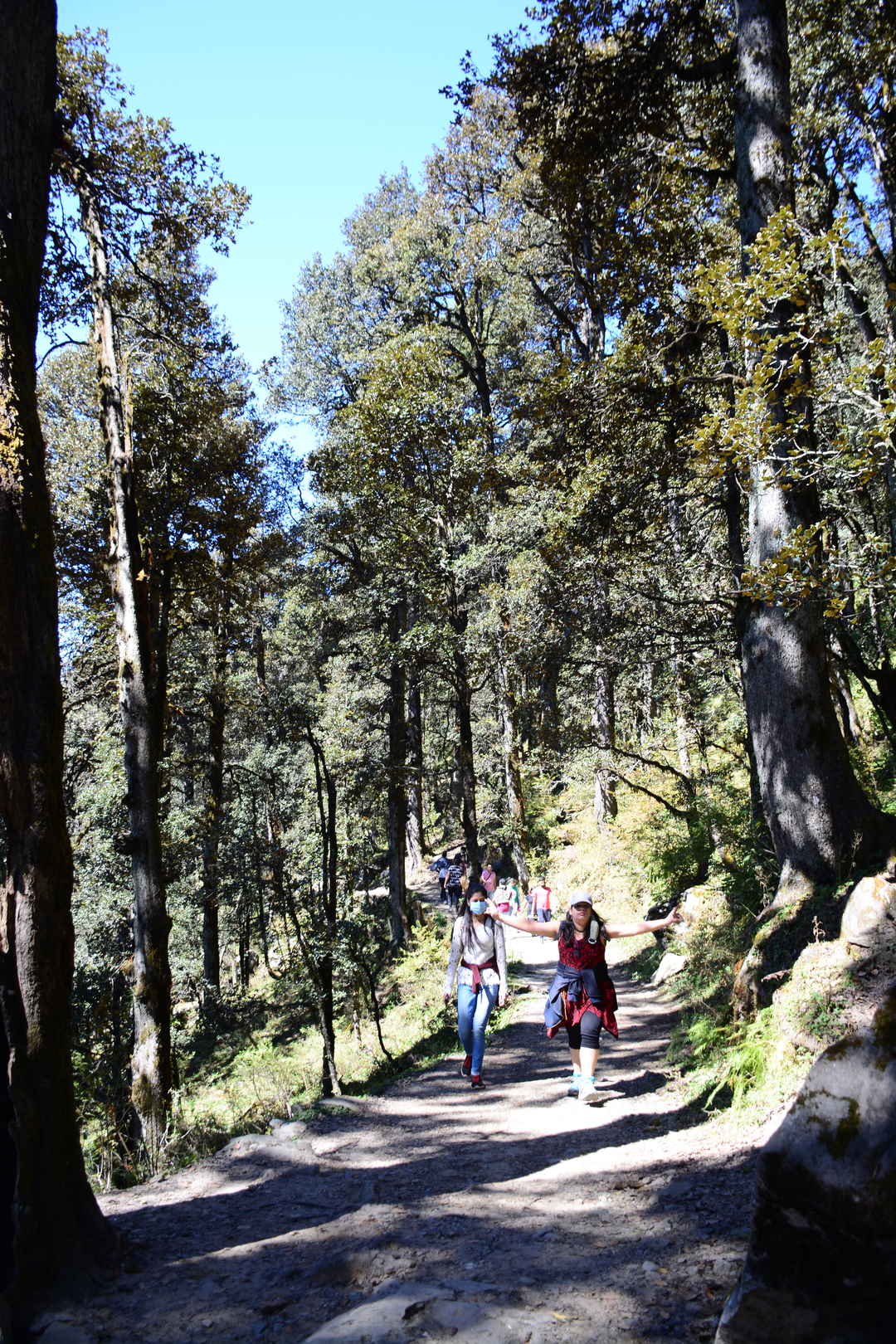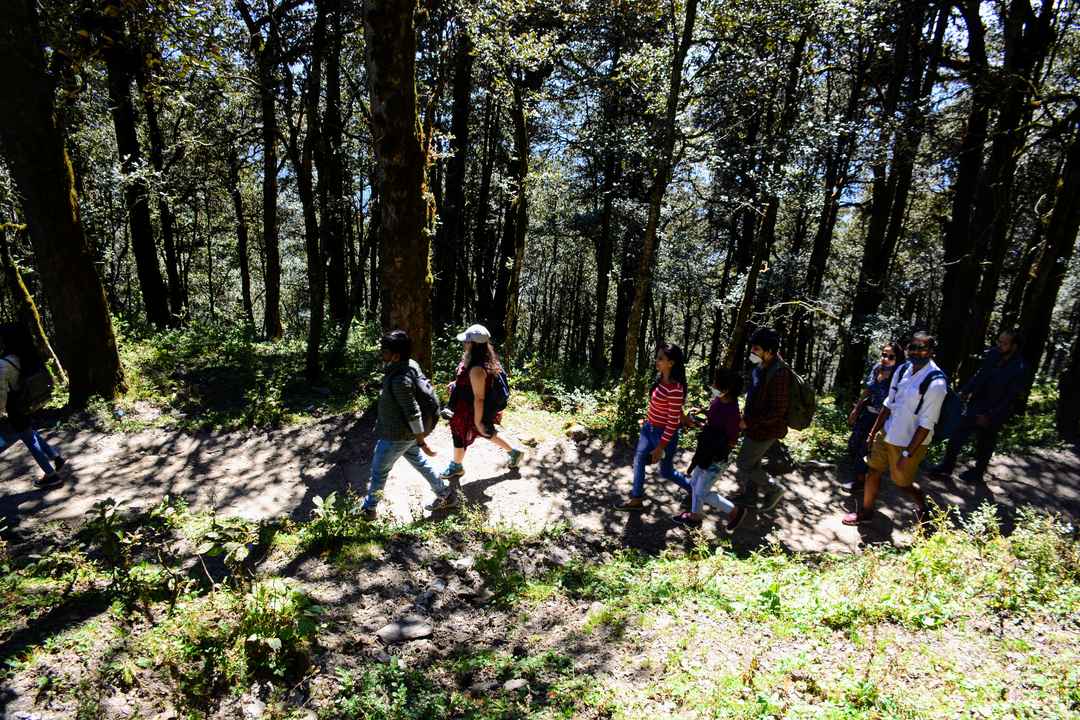 Serolsar lake (also called Serol Sar) is located at an altitude of 3,199 meters (10,496 feet) above sea level. The lake itself was small and was fenced all around as it is considered sacred. You cannot touch the water. The Lake is dedicated to Budhi Nagin. There is a temple of Budhi Nagin (old snake goddess), a holy spot next to the lake. It is believed that the goddess 'Buddhi Nagin' resides inside the Serol Sar lake and is the mother of 60 'Nag Devtas' in Himachal. It is also said that Pandavas visited Serol Sar in Dwaparyug during their exile period and planted rice here. If you want to offer your prayers to the Budhi Nagin, do so at the temple located next to the lake. No matter how adventurous it looks, do not get into the lake or standing on it when it's frozen. The locals worship their deity and the lake. If they see you getting in it, it may hurt their sentiments. Some may get violent and hurt you too.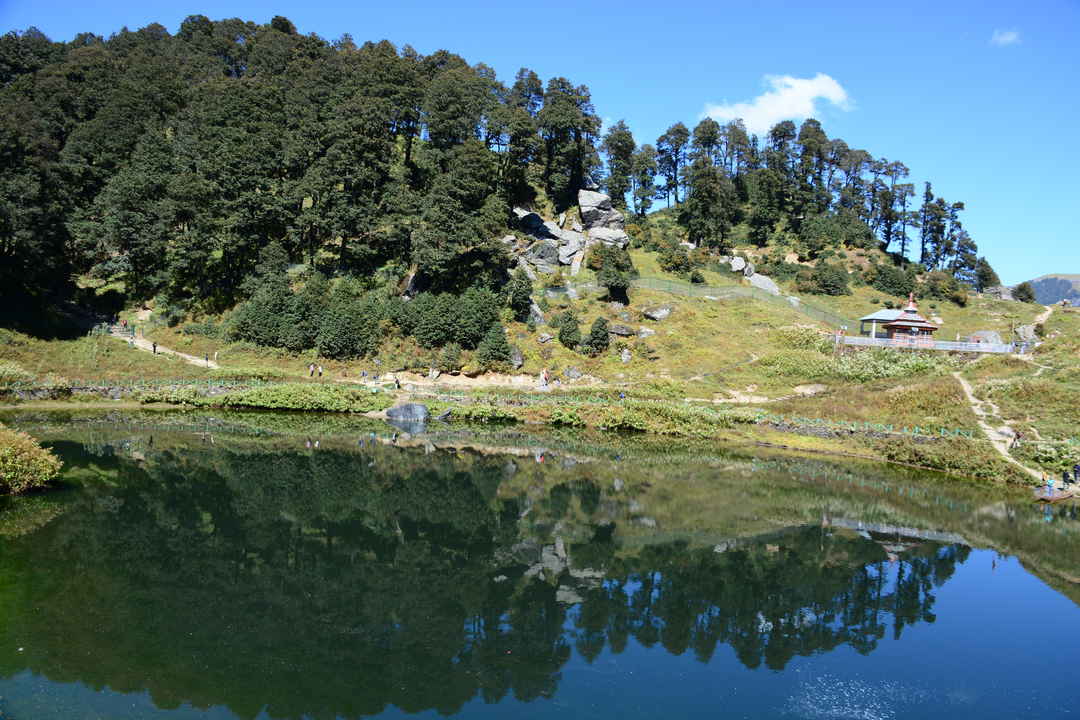 Serolsar Lake View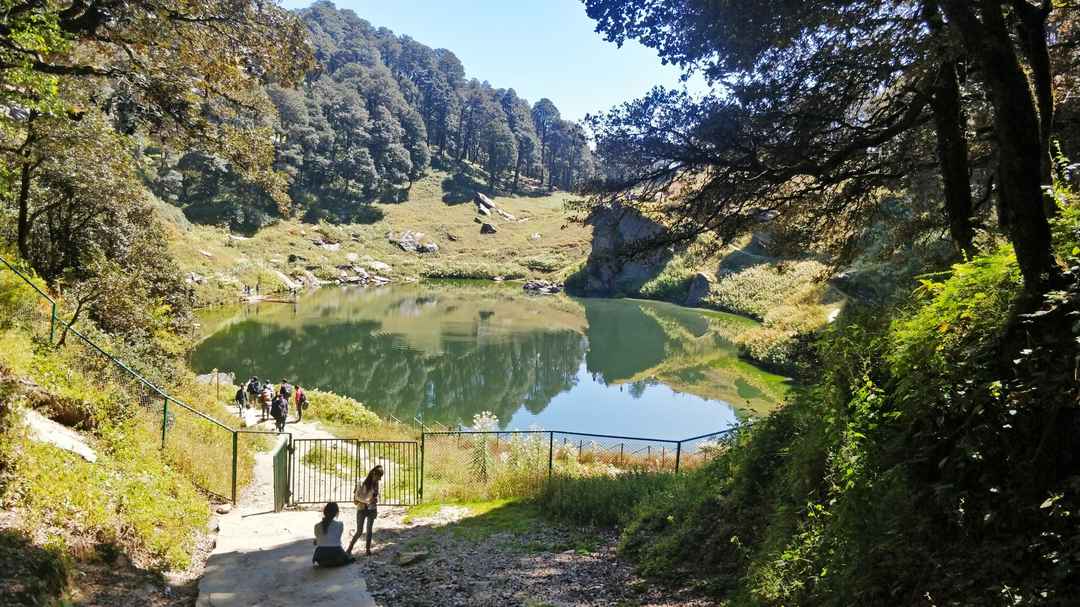 Serolsar Lake View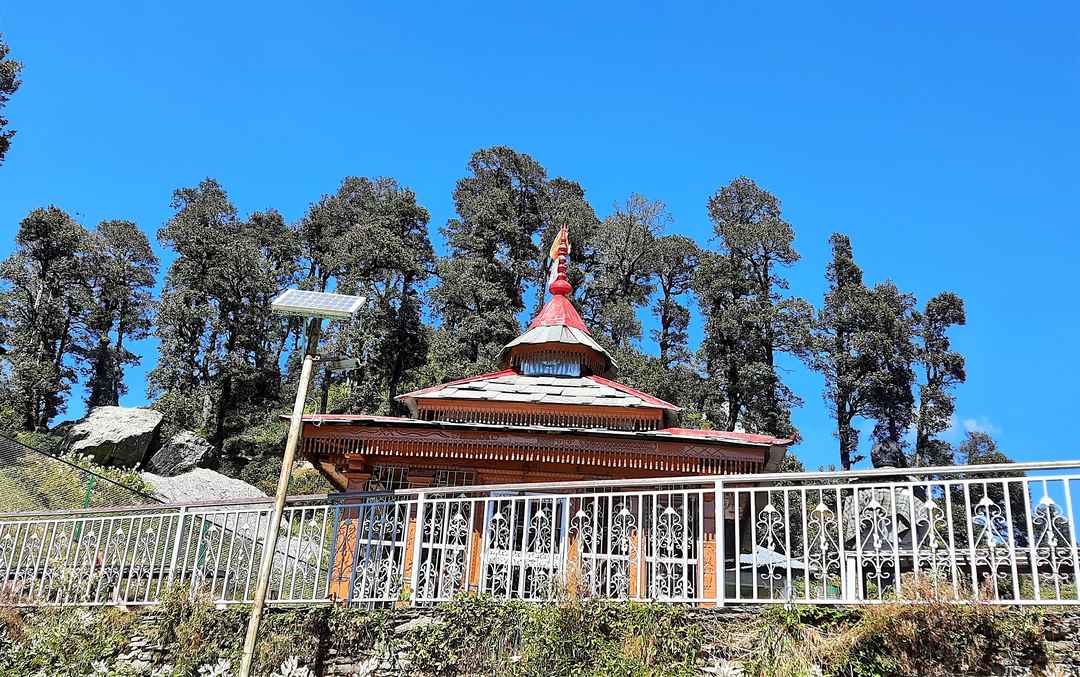 Temple at Serolsar Lake
We took some pictures on the hill top on one side or lake and had some walk around lake and temple and started our journey back to Jalori Pass.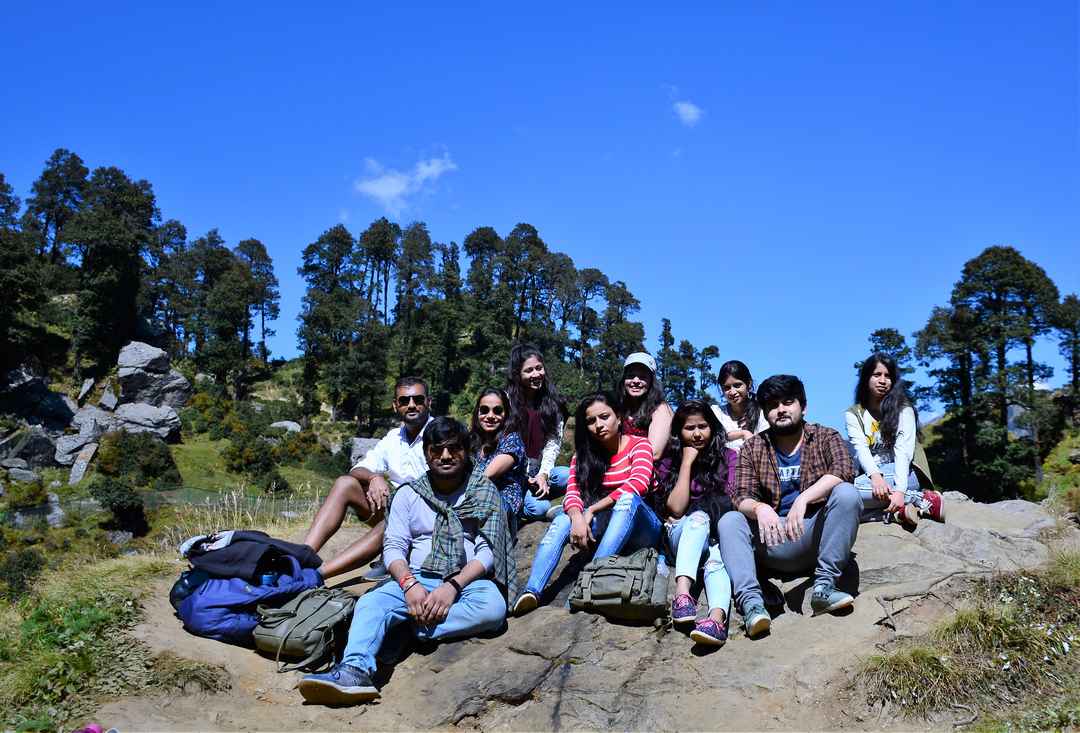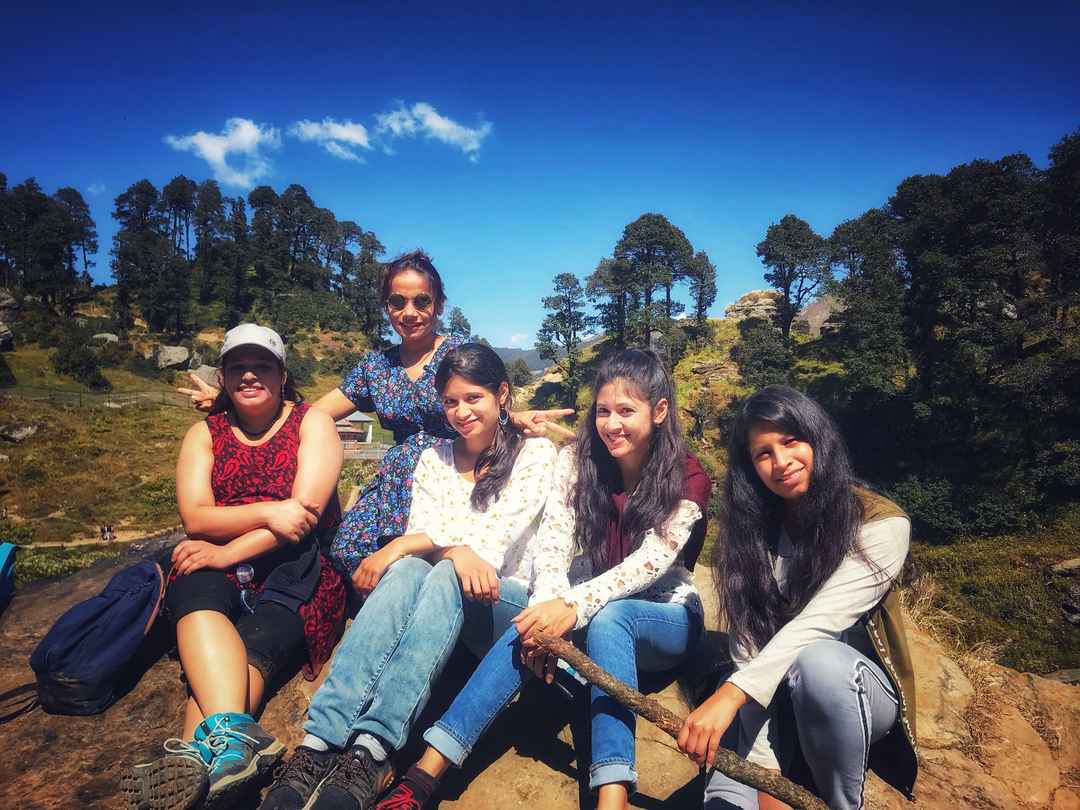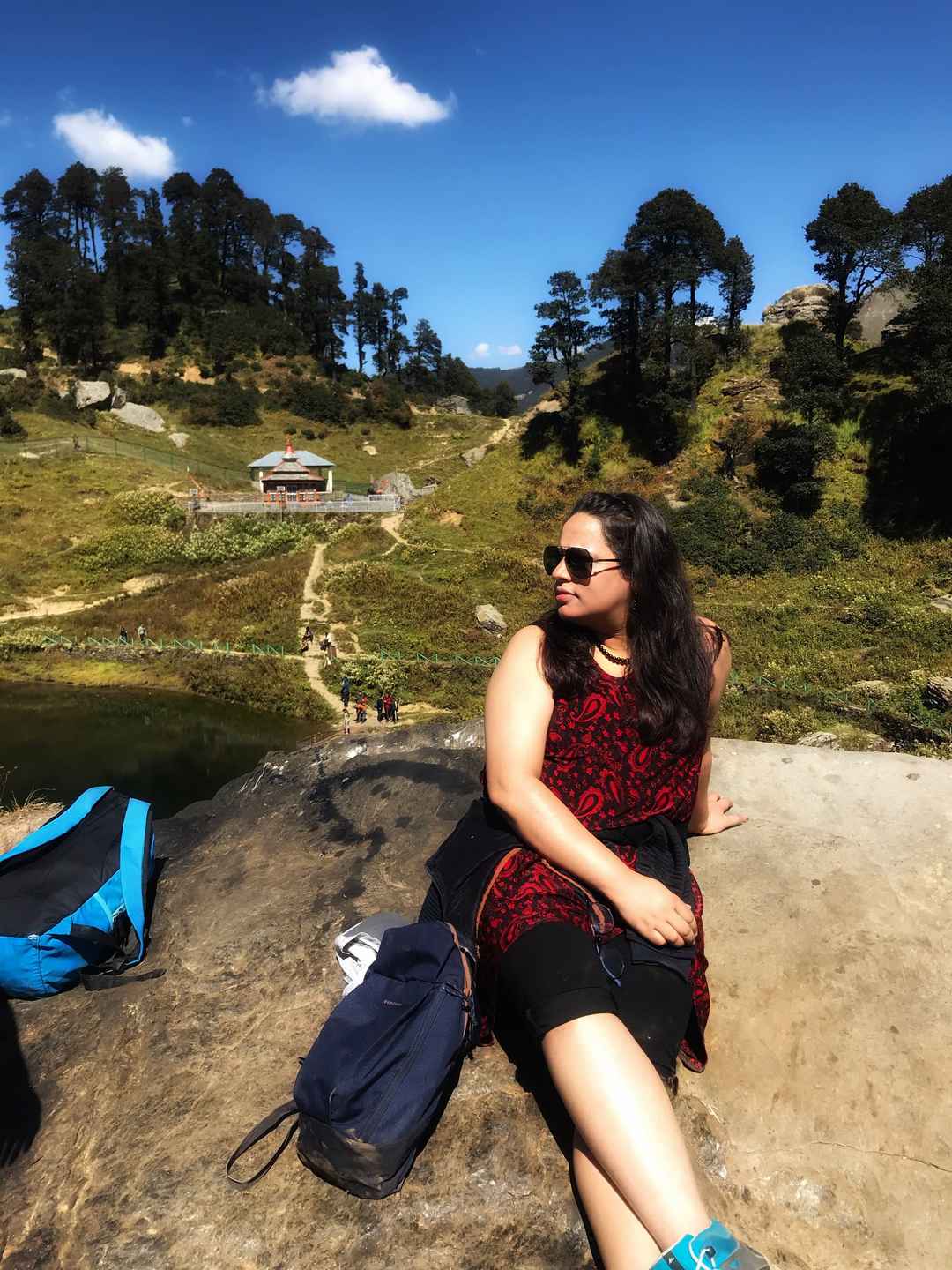 Again while returning we all spitted in groups and we stopped at a small café near the lake for Maggie and lemon ginger tea, others continues as they wanted to have something after completing the trek.
In between the route we came to a point where two paths were ahead one was going up and one was going down, one person advised us to take down path stating that its less difficult one ( which is not true ) in starting it was just going down down down, but later it had steep climbing which was very difficult and it took most my time, thanks to my friend Jiggi who was with me and motivated me. We didn't saw anyone else except him and us on that path, regretted listing to him.
As we had to stop many times in between on that path we took some pics too.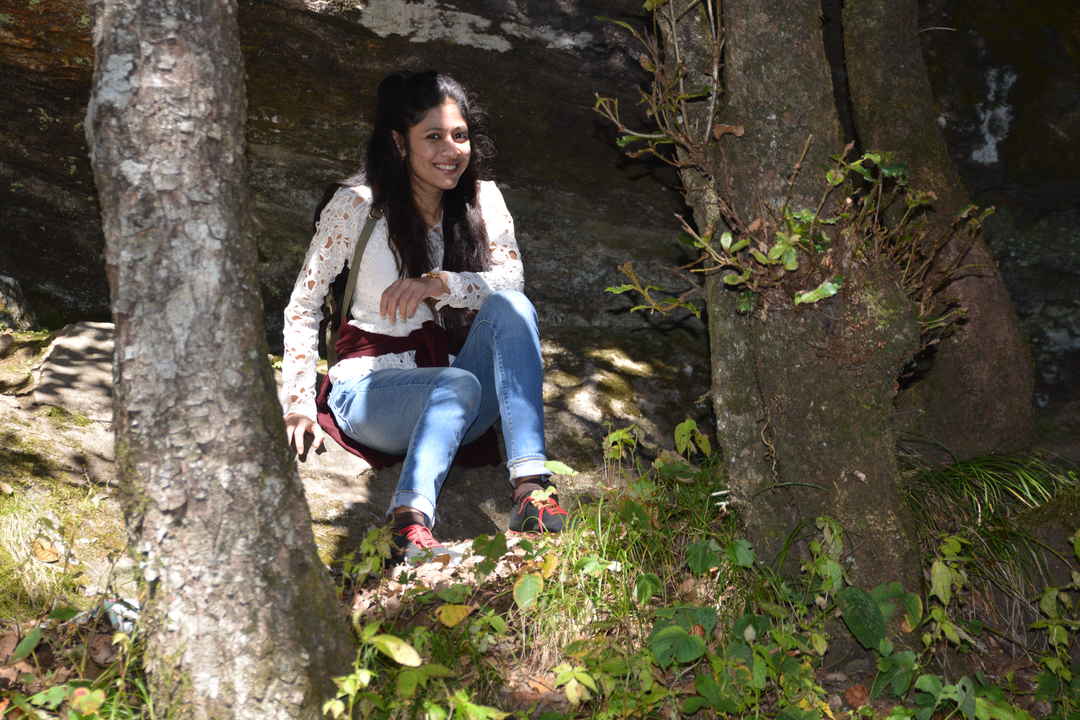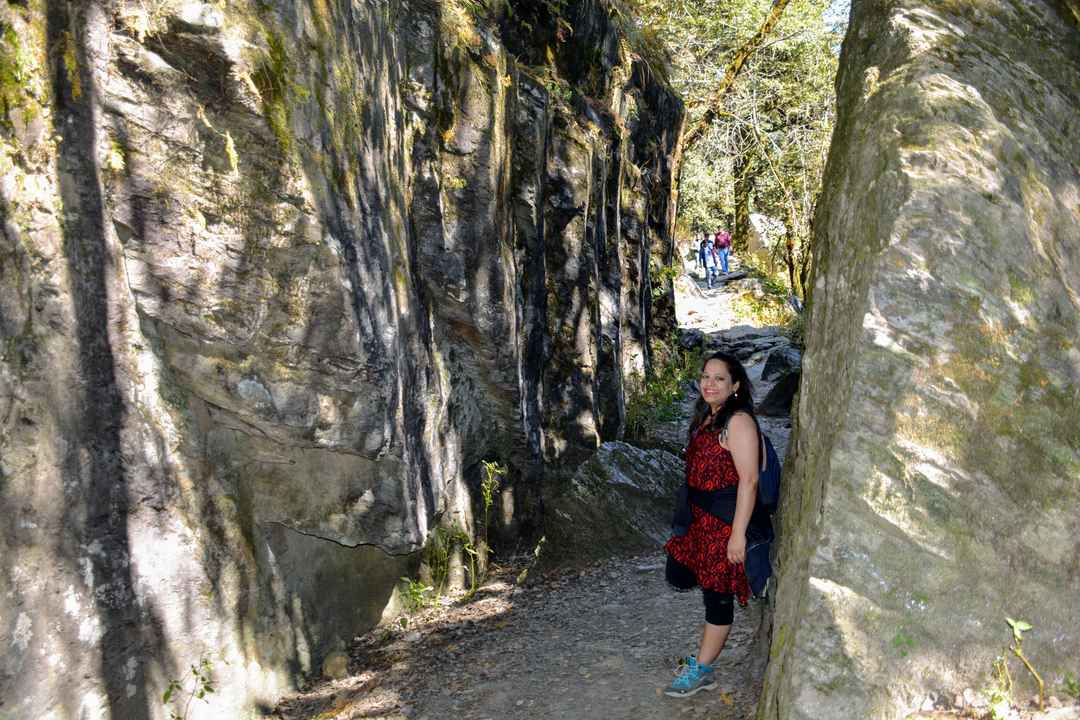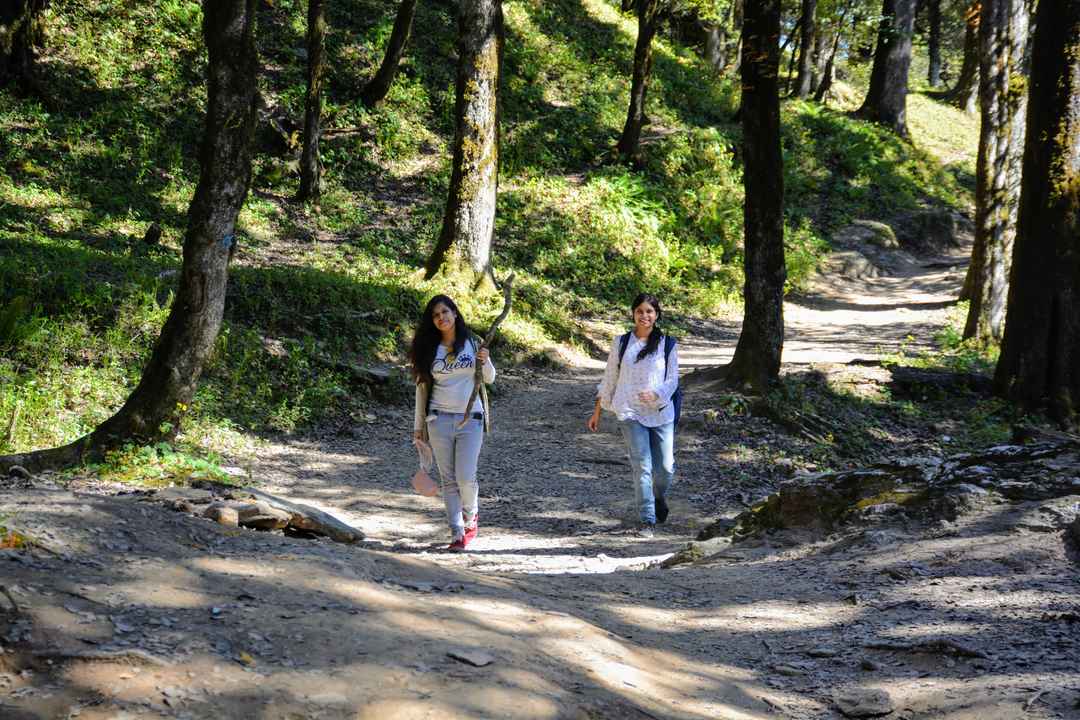 Later after finishing this difficult path we met our mates who were waiting for us on the hilltop and called us up to take some pictures as it has an amazing view. We climbed again and took some pics there also.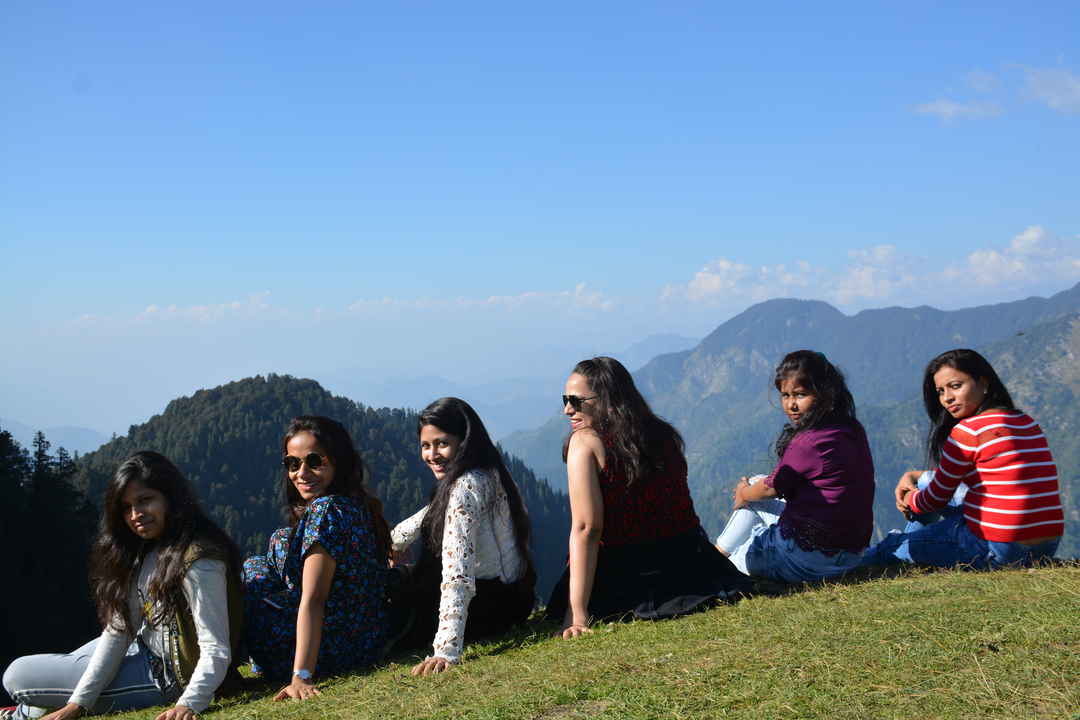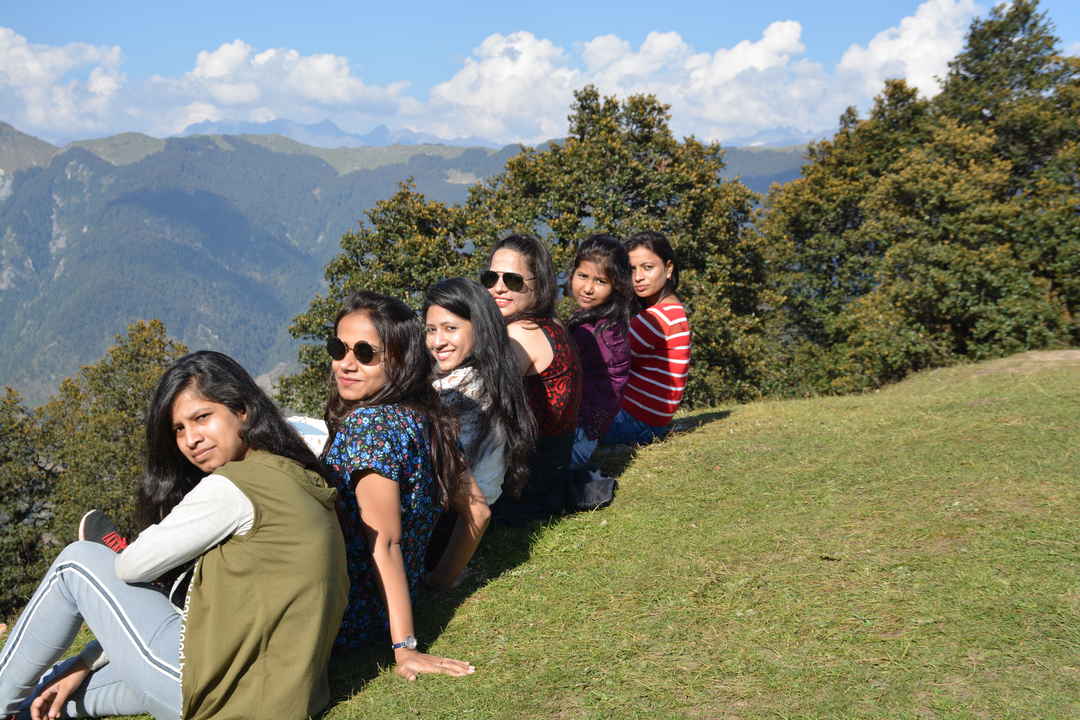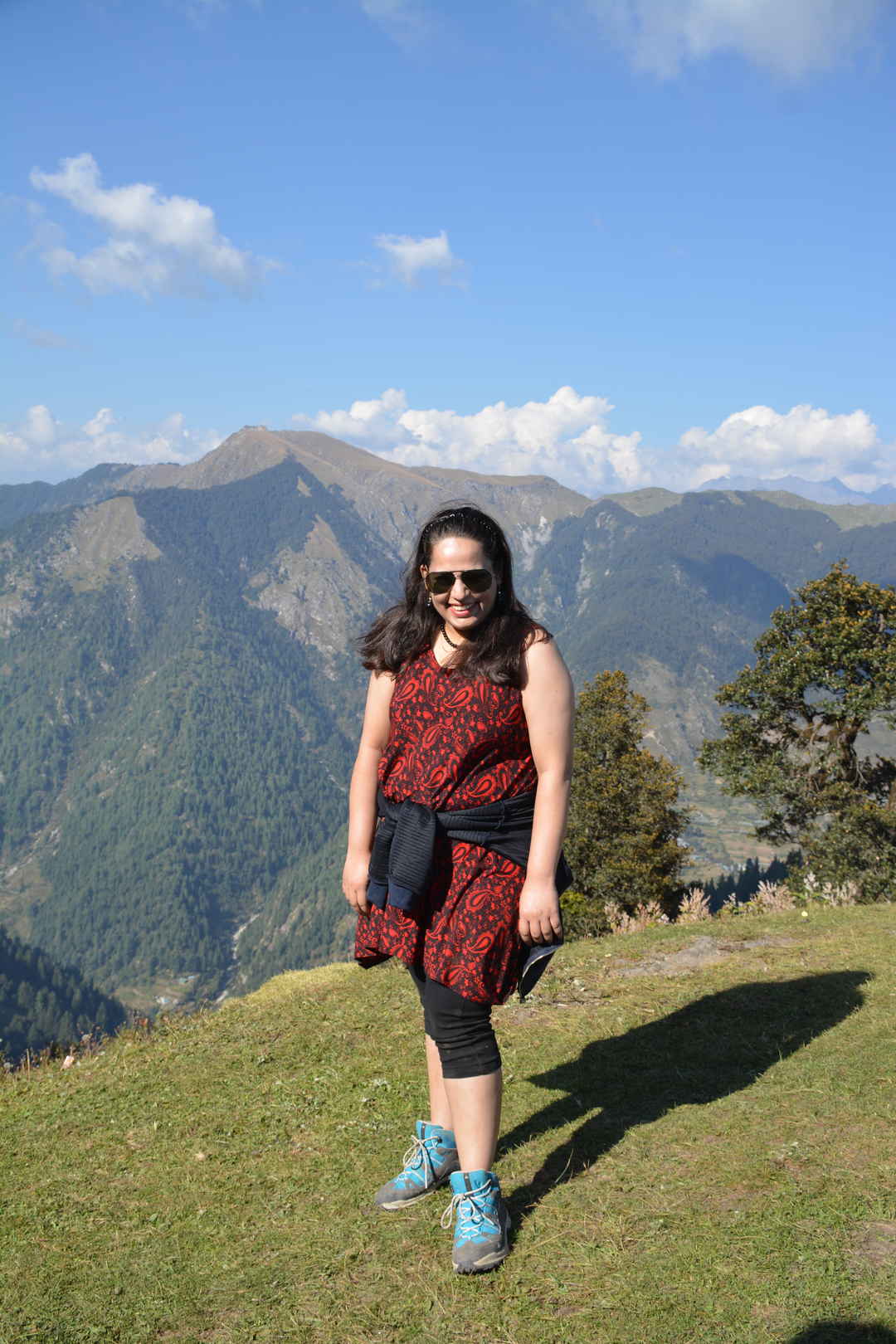 It took almost 2 hours again to get back to Jalori pass, our traveler and guide were waiting for us for a long time. There is one more trek option available there to the fort but that it long trek almost double to this one.
Later in the evening, all went to the market to explore things in Jibhi, to check if they can get some souvenirs and to try some local food. At night, we had a bonfire session and we played antakshni till 12:30 AM.
DAY 3: Visit Tirthan Valley – Chhoie Waterfall & Fishing
On day three everyone woke up late and started the journey around 12 after breakfast and checking out from the hotel. The day to visit Tirthan valley which is almost 15 km away and it took us 1 hour to reach there.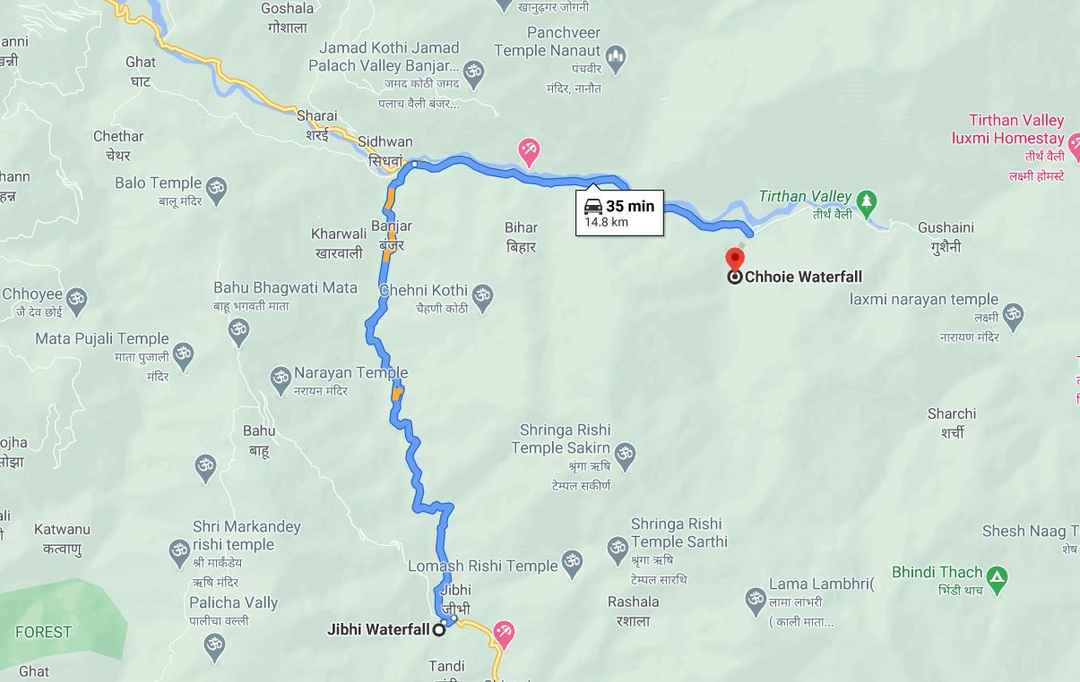 Our First Destination was Chhoie WaterFall.
Chhoie Waterfall in Tirthan Valley can be reached through a short trek of 3 km walk that begins from Village Nagini which takes about 1 hour. The waterfall is named after the local deity Chhoi Mata and locals come to worship the goddess at one of the trees before the waterfall. At the starting of the trek, it has cemented stairs which are a bit tiring but the later trek is ok. On the way, you get a very beautiful view of the Tirthan valley and the waterfall is surrounding by dense trees and plants which give us an amazing view as well.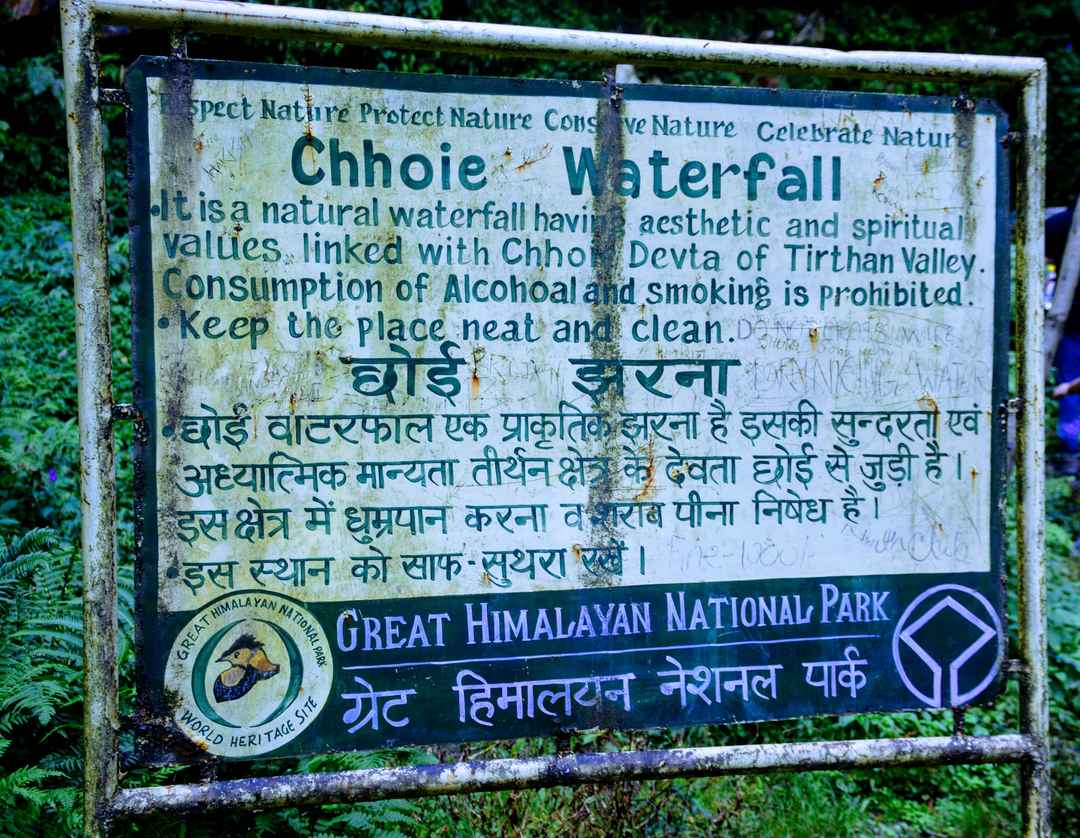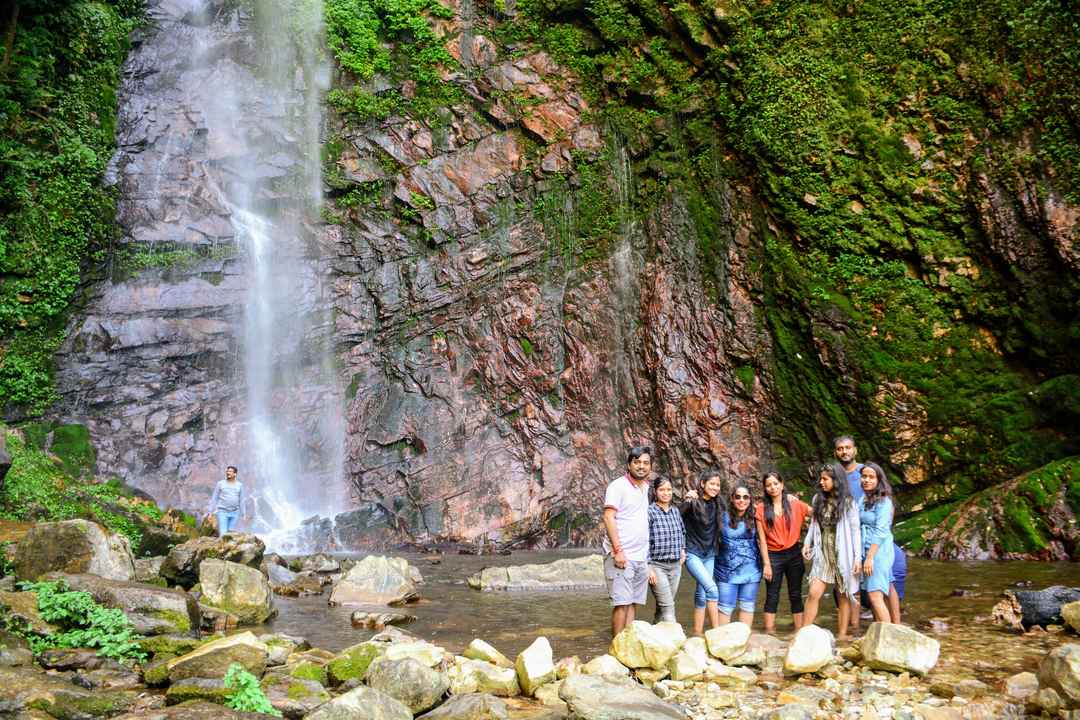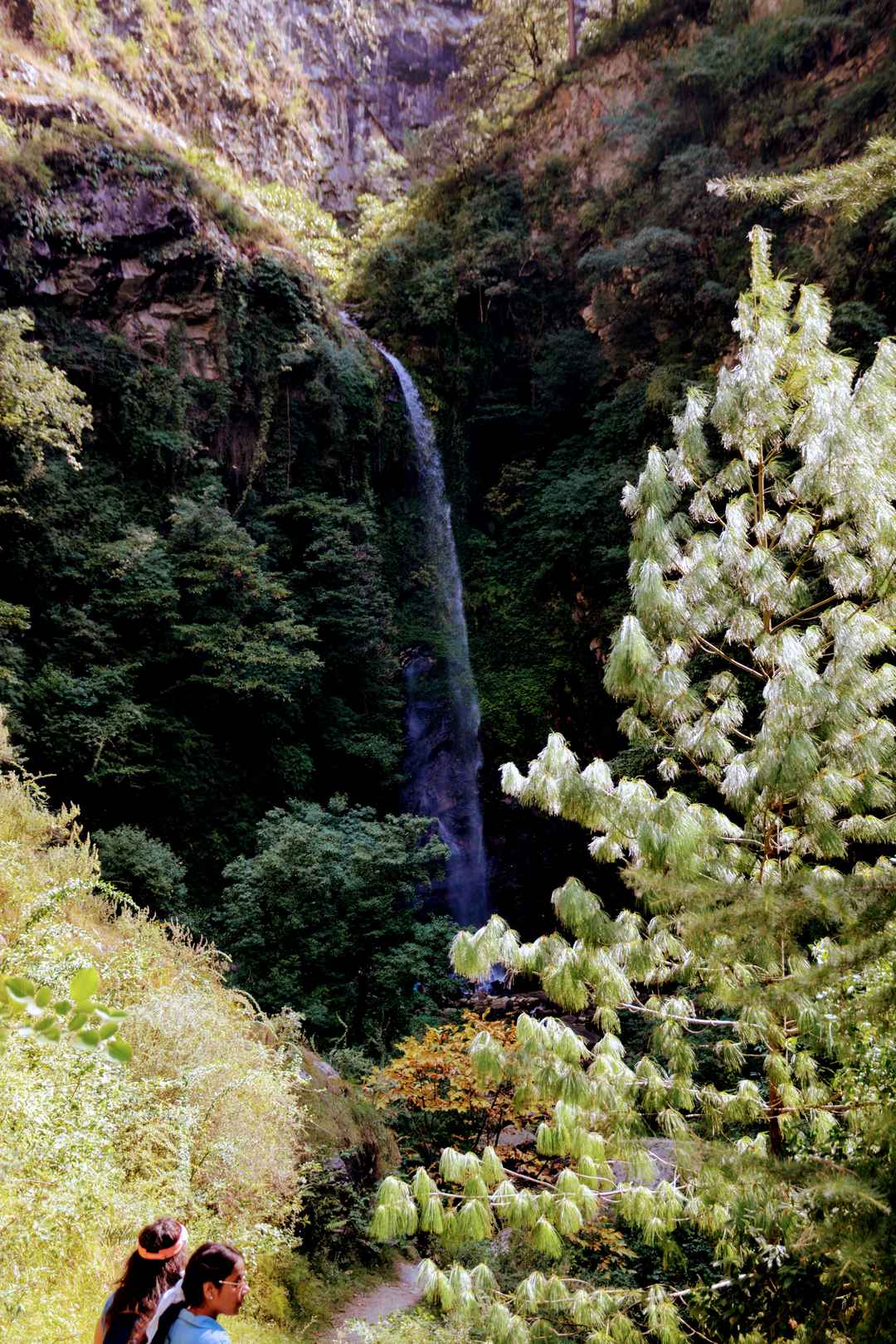 We took some pictures but later one local lady came and told us not to step into the water as they use this water for various purposes. After a small photo session, we started going down and I took some pictures of the village house in between also of the valley.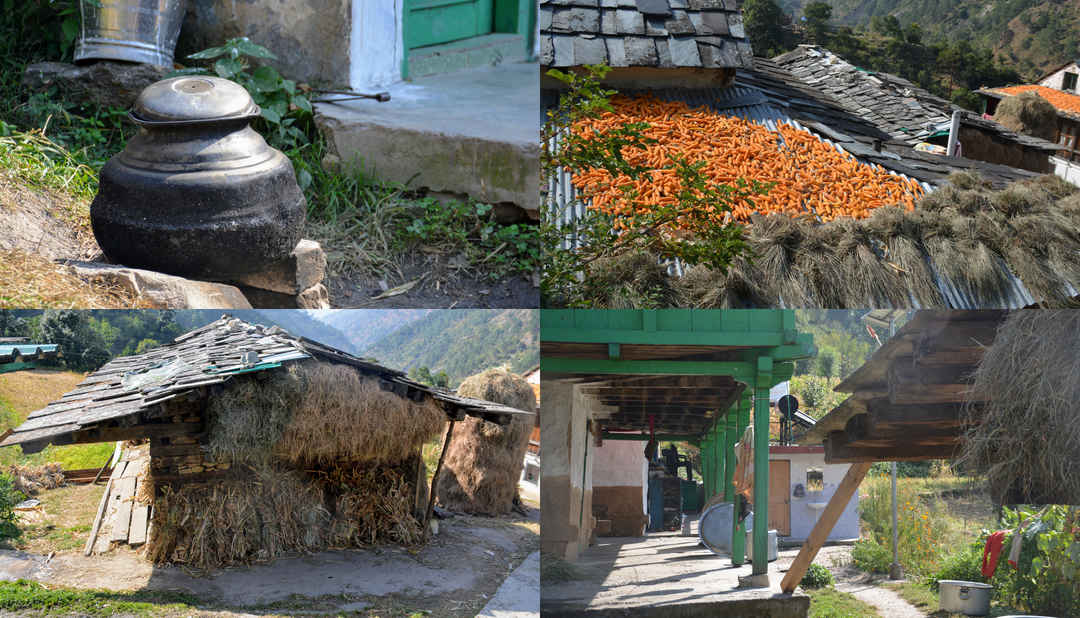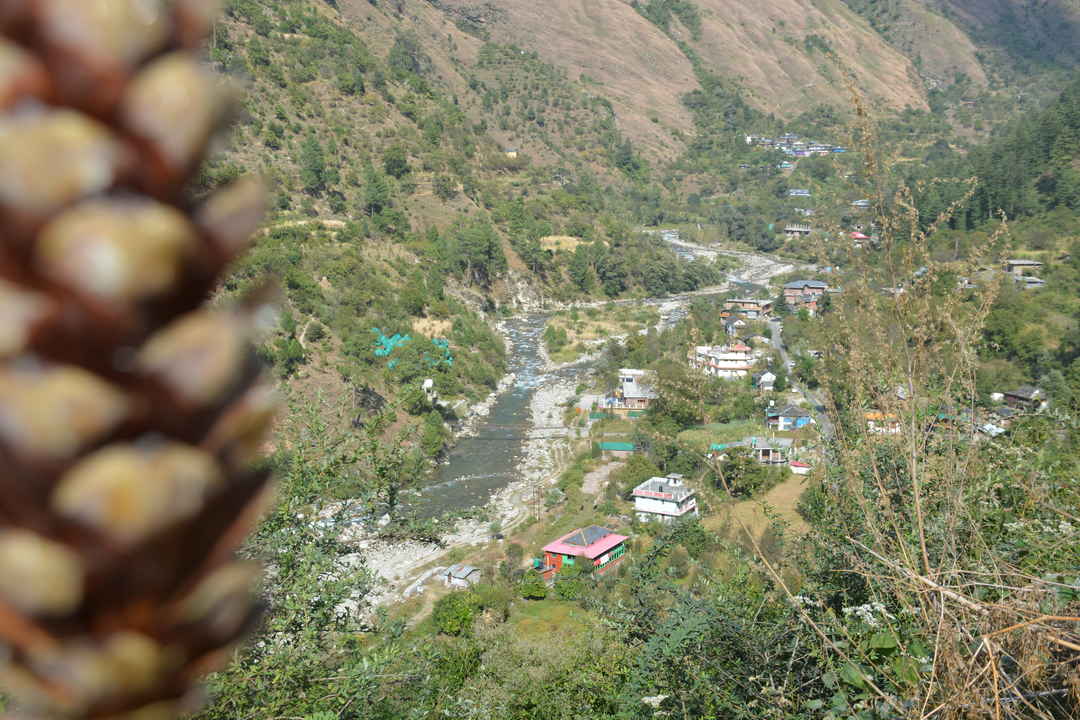 After coming down we went to the River bed to relax and do some fishing, Trout fishing is popular here in Tirthan Valley and the crystal clear Tirthan River waters are the ideal spot for it. Guide took 1500 for the group and gave everyone change to try, although we were not successful.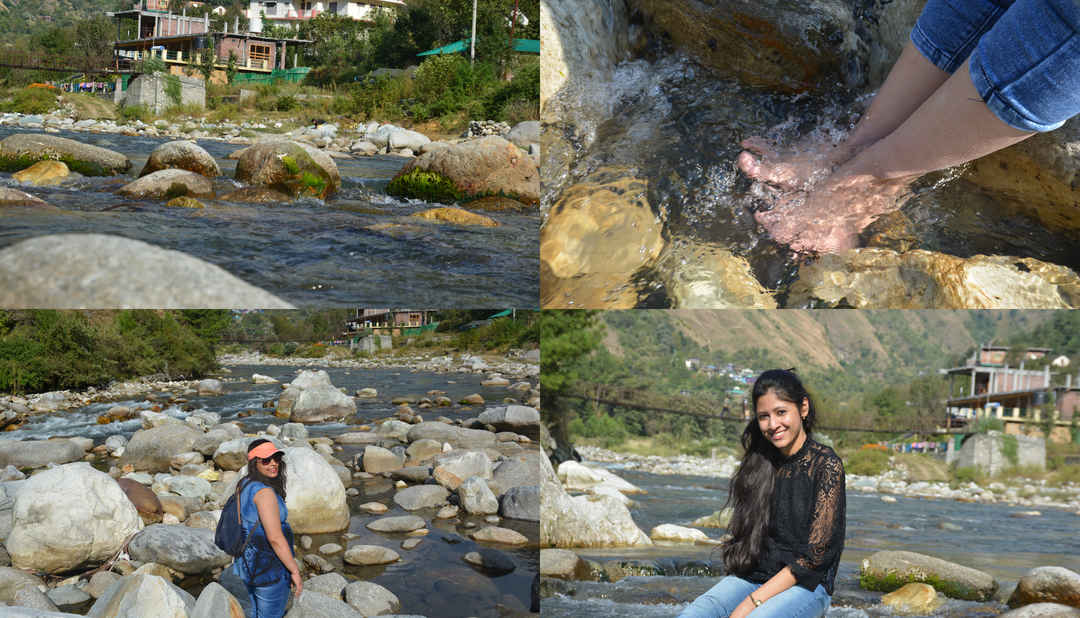 Fishing Videos & Pics.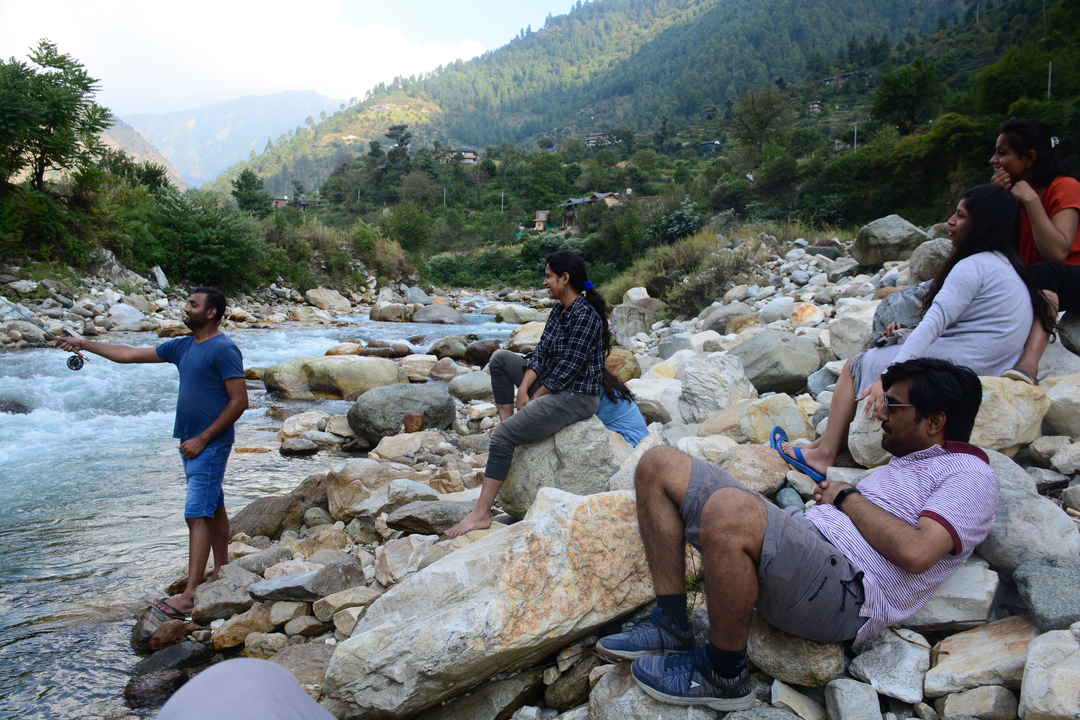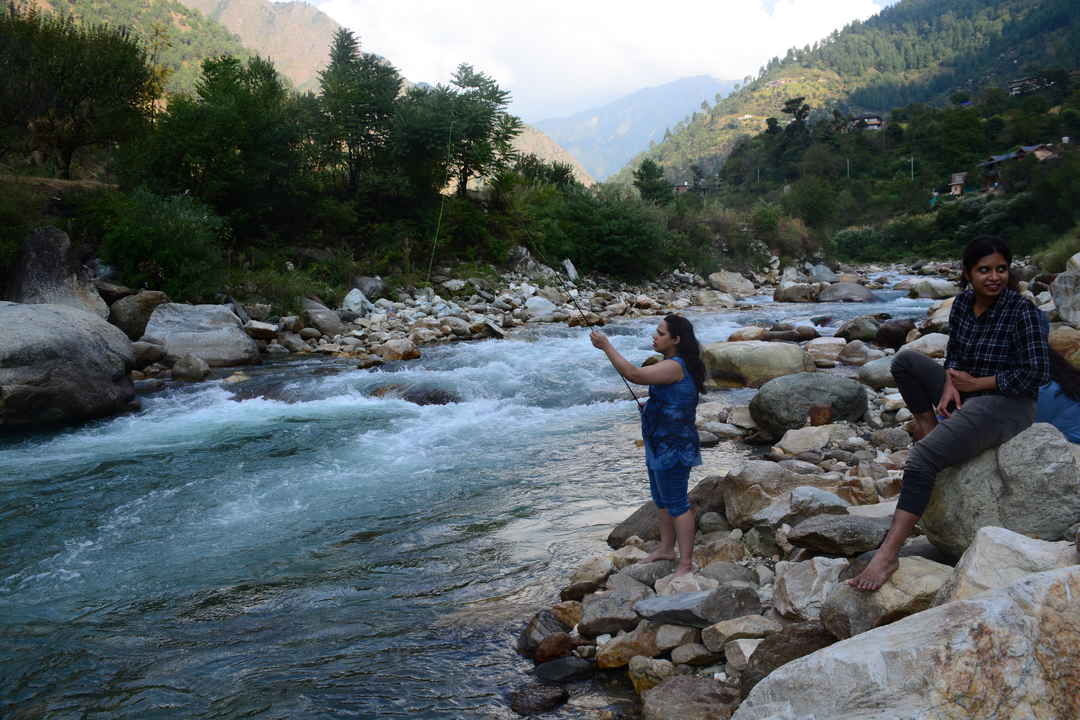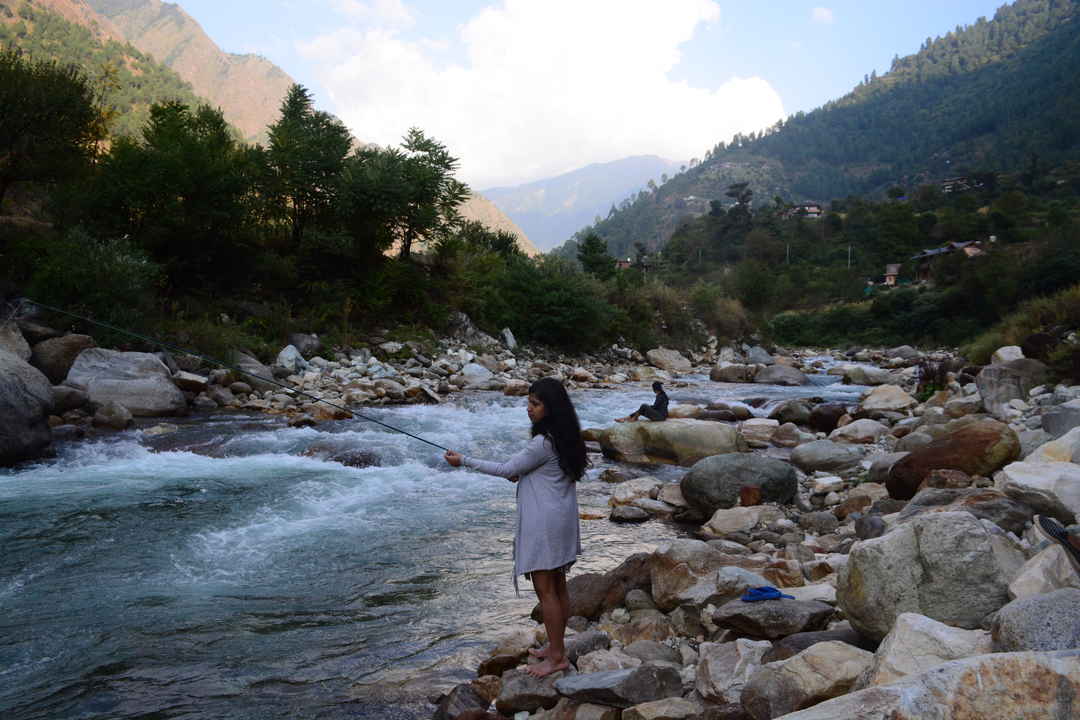 After this Activity we started our journey back to Delhi, it took 16 hours to reach Delhi.
Some More Pics & videos from the Trip: