JERICOACOARA – BRAZIL 🏝
---
FACTS ABOUT JERICOACOARA (JERI)
→WHERE IS JERI LOCATED ?

🌎
Jericoacoara is located in the Brazilian state of Ceara, some 300 km west of Fortaleza. 
→WHAT TYPE OF DESTINATION IT IS?

🌴
It really is a seaside vacation: there you are in the heart of nature right in the middle and the dunes. It is a peaceful place, perfect to relax, there are also spots to practice kitesurf / windsurf / surf. But if you're also a party animal the heart of the city is very animated at night.
→

WHAT ABOUT THE WEATHER? 🌤
A year-round destination: sunny and hot most of the time ! However, there is a rainy season (but it doesn't rain all day long 😉).
From 35 °C in summer (and higher…) to 22 °C in winter.
→

BEST MONTHS TO GO THERE? 🗓
"Rainy" season (blue lagoons between the dunes, discount on hotels prices) : January – middle of June.
"Windy" season (full of tourists, perfect for kitesurfing) : August – November.
If you are one of those who dream to see the famous sunsets of Jeri every day and do not want to run the minimum risk of passing a cloudy day you should schedule your trip between the months of July and December (driest months and blue sky guaranteed !).
---
HOW TO GET THERE
(and come back…) 
If you're staying some days in Fortaleza you'll find a lot of travel agencies offering 1 day trip to Jericoacoara, but don't make the mistake to book one of those ! You won't see anything of Jeri if you stay only one day, and I promise you don't want to miss this experience.
Once you're in Fortaleza you have two options :
> By 4×4 transfer / bus shuttles (4 to 6 hours) : 
You can take one from the airport of Fortaleza, or book one from internet which is better because you can say at what time you want to leave (and the driver will wait for you, no matter what time of the day / night it is). You might wanna stay in contact with your driver so he can take you back to Fortaleza when leaving Jeri !
To pay the transfer it really depends on the company and / or the driver, but most of the time you'll have to pay in cash.
The value of the 4×4 transfer price (6 people) is 700 R$ one way and 1400 R$ way and back in total.
By plane
Nowadays there is only domestic flights arriving to Jericoacoara airport.
---
A BIT OF HISTORY OF JERICOACOARA
The word "Jericoacoara" means "Lair of turtles" in Tupi, an indigenous language,
Since 2002, Jeri became a National Park, top Brazilian status of environment protection,
It used to be a small fishing village, and nowadays it is the kind of idyllic place where you end up deciding to stay for longer than you originally decided.
---
WHY YOU SHOULD NOT BE AFRAID OF THE RAIN SEASON
> When is it ? 
From January to the middle of June !
There are many reasons (but not that much) why the rain season is a good time to come ! 
> Not every day 
First of all, it does not rain every day, and when it's a rainy day it does not rain all day long.
> The rain water is hot 
Yes here in Brazil the rain water is not cold ! But still, it is tropical rains, so it is quite violent.
> More quiet
If you don't like places when it's full of tourist you should come during these months !
> It cools down the temperature 
Would like to spend 1 week under 33°C ??
> Blue lagoons 
And the most important one !  
It's during these period that you'll be able to see the famous blue lagoons of Jeri !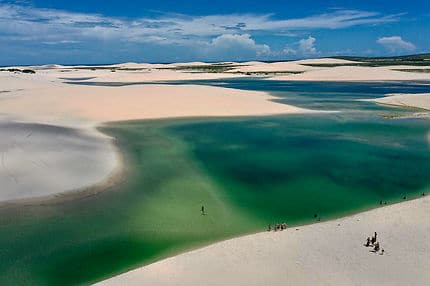 ---
JERI HAS A LOT TO OFFER…
Here is a map of Jeri that I find very interesting (I have added some of the most interesting points). 
→ 

INCREDIBLE LANDSCAPES 🌅
Where ever you will decide to walk you will be delighted by the landscapes of Jeri. There are some well-known spots that you can visit without a guide :
In Jericoacoara the sun sets every evening over the sea. A good spot to admire a sunset is the "Duna do por do sol" (sunset dune). It is easy to recognize: there will always be people on this dune, small sellers, sometimes musicians. I love this atmosphere!
One other amazing place is Pedra Furada, it is a huge natural rock with a hole in the middle, you can also see the sun setting right on the hole. I haven't had the occasion to capture this, but the the walk to get there is super nice !
→ PERFECT FOR WATER SPORTS

🏄
You have different spots for kitesurfing, surfing and windsurfing. There are also schools for this. A good one is Bobwindschool, actually it it where I have learnt to surf !
If you're lucky you'll be also able to kitesurf over the natural blue lagoons, that is incredibly cool !
→ PARTY 🎉
Almost every night at the beach there are different parties. There is also samba parties, just ask at the hotel / pousada where you are staying and the locals will tell you where you have to go tonight.
BUT you must try Cafe Jeri. It's in a rooftop of a restaurant, it is free (except for the drinks), the musicians are playing in live, there are many "attractions" like a mermaid swimming in a pool, people playing with fire… There is an incredible view over the ocean and the sunset. It opens at 4.00pm and close at 8.00pm, but I can tell you, you won't quit Cafe Jeri without being a bit drunk.
→ 

AMAZING EXCURSIONS ⛵
Going on excursions in Jeri is cool because you do the path in buggy / quad / motocross. In the center of the city you will find many agencies taking care of the excursions. The main one are the following : Lagoa do paraiso, Lagoa Azul, visit the natural reserve,  horseback riding, buggy rides… Here is a link with everything that you need to know.
---
SOME TIPS ABOUT BRAZIL 
→ 

BRAZIL DANGEROUS ?

Yes, Brazil is a so-called "dangerous" country. You should know that the locals there are very nice, warm (they really know how to welcome and take care of you), endowed with a lot of humor, and who love to party. They are a very laid back people. However, poverty means that there are some people who are neglected.

The only think you can do is be careful, but that does not mean to be paranoid! Here are some tips of things you should / should not do :
At the beach don't leave your stuff without any supervision while bathing
Don't leave your phone 'in sight' in crowded places, leave it in your bag.
Don't leave a seller with your credit card without you being able to see what he's doing with it (he will hack it)
In big cities, late at night, do not store all your money in one place, plan a small sum that you will give if you are harassed.
If you get harassed don't try to defend yourself, give what people are asking for (money, phone…)
It may seem a lot and scary, but know that I never had any worries in Brazil, even in the most "dangerous" cities. There are even cities where all this does not need to be applied, it is really just in case.
→ 

CAREFUL WITH THE FOOD / WATER

At the beach don't buy water from the small sellers, it could be that the bottles are filled with "non-potable" water and I'm sure you don't want to be sick during your vacation! For this, I recommend asking for sparkling water.
→ 

THE SUN

Please protect your skin from the sun, always!
→ 

LANGUAGE SPOKEN

The official language is Portuguese, it is (sadly) not everywhere in Brazil that people speak English, but I'm sure you'll find a way to make you understand.
---
I hope this article was helpful and give you the desire to explore Jericoacoara. It is an incredible and awesome place, if there is one place I want to go with my friends it really is Jeri ! 
Do not hesitate to contact me 😉🌺