This is the last day of my trip to Bali. 3 days are unfortunately not enough to explore this beautiful island. It is full of charm at every step… I can't put this beauty into words. Also, I met a lot of people. The hospitality in Bali is known throughout Indonesia. But if you are a foreigner, respect the natives and get to know the history and culture.
On the last day, I came to Tanah Lot Temple. This is the main icon of Bali which is very beautiful. I have wanted to come here for a long time. There you see the vast expanse of the sea. The waves are very calming – I feel like I'm in paradise. Besides, the whole place has something magical. The soft sand there reminds me of Yogyakarta.
With its beautiful architecture, the uniqueness of Tanah Lot Temple offers some special features. For example, it has an unusual location – it is located on a rock and reminds Pura Luhur Uluwatu. It is a pity that I did not stay there until late afternoon, because at Tanah Lot Temple one of the most beautiful sunsets in Bali can be admired. Nevertheless, it was a beautiful day for me and I am happy that I have been here.
The day I went to Tanah Lot Temple, I only thought of the holy water in Tanah Lot to wash my face and drink a little. Before that, I went to Tanah Lot Temple with some drama. So today I enjoy everything 🙂 If you come here, be ready to stand in line to take photos. There are a lot of tourists here taking photos – myself included 😛
In Tanah Lot Temple there is also a Holy Snake. They believe that if you hold on to something and ask for it, it will come true. Who knows, but just believe in it because Bali is a very sacred place. The place is really amazing for me.
After that, we only had a little time left, because I had to be on my way back to Jakarta by 8 o'clock in the evening. So we made a short detour to Melasti Beach.
Melasti Beach seems like a new tourist spot in Bali because it is not that crowded. But there are a lot of wedding photos taken there. This new place offers amazing photo spots on the cliffs. Actually, I want to take photos between cliffs too. Because of the limited time, I could not explore the area like I would have loved to do… I just found out that this is a nice sandy beach.
On this beautiful beach I watched the sunset. Here it is in any case much quieter, because this place is not yet so crowded. Here you could have spent more time for sure.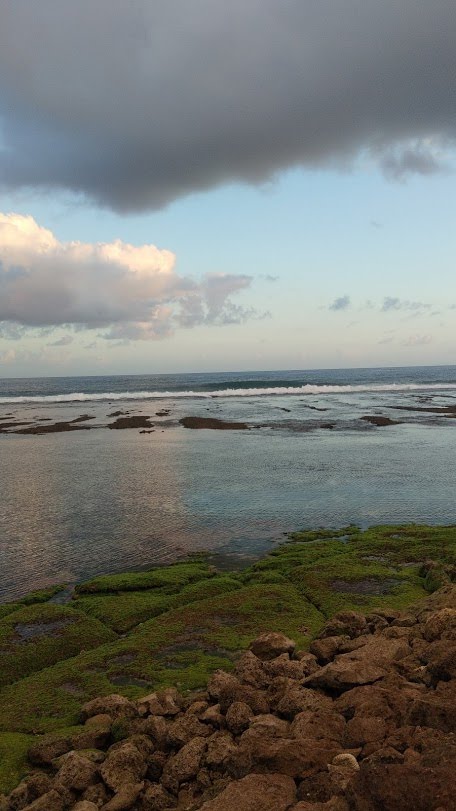 My memory of those three days in Bali makes me really miss Bali. Maybe soon I will go to Bali again to explore it further. I got many recommendations from my friends about new places. Bali I miss you. Next time I want to come back without any drama and with lots of great new memories and fun. You should definitely go to Bali too and enjoy the beauty of the island. Thank you so much for reading me 🙂