My first travel 6 years ago was to Marrakech that located in Morocco, where magic, beauty and fun rituals occur. When we talk about Marrakesh, we talk about the ancient history of a city where all civilizations lived, as it is considered one of the 10 best tourist destinations in the world. What Marrakech is most famous for is the city's diverse features: the local markets of a popular nature, as well as a group of gardens, palaces and neighborhoods that are of an archaeological nature. And its delicious food …. Here are some places you should visit:
* Jamaâ El Fna Square is one of the most important tourist places in Marrakech due to the fact that it is one of the ancient places constructed in the fifth century AD, so that you will find several ways to entertain: the most important of which is watching the most beautiful snakes shows that attract thousands of foreign tourists, you will also find storytellers and folk tales Fun, in the evening there are several concerts
*Majorelle Gardens: This park attracts fans of rare plants and flowers. This park is located in Gueliz, and its founding dates back to 1924, where the French painter Majorelle decided to establish a distinctive garden and painted the building of the park in blue (after the death of this man in a traffic accident, the Moroccan state decided to name him in his honor) and this garden contains A variety of plants, the most important of which are aloe vera plants in all its forms.
Entrance tickets to Majorelle: 40 Moroccan dirhams
*Douar Mouassine (or Marrakech Market): Once you enter this market you will feel a mixed feeling, perhaps it is a feeling of dread mixed with dazzling, you will feel as if time has returned you centuries back, it is a diversified market. There are shops that offer antiques and rare antiques, and some of which offer popular clothes. You will also find accessories and shoes sellers and a number of cafes. I advise you to stop a little and get excellent Moroccan tea and take pictures ….
The second day I visited these places:
*Menara: tourism in Marrakech will take you to the gardens of the Menara, those gardens that were built in the era of Almohads, but were not at that time constructed with the aim of tourism as is the case now, but were a center for training soldiers to swim, because the Almohads were interested in protecting the country, so their training on protection miscellaneous. Al Manara gardens includes a deep pool. This pool gets water from the atlas mountains of the Mediterranean. The garden is also adorned with a group of trees. You can take a set of photos amid this picturesque nature.
*Cyber parc Arsat Moulay Abdeslam. One of the most important tourist places in Marrakec, and the most attractive to tourists, this park enjoys a great deal of calm, and it also guarantees to the visitor the privacy he needs ,this garden contains a large group of trees and plants,so you can wander between them to inhale the largest amountof clean air. Arsat Moulay Abdeslam park is a short distance from jamaâ El Fna Square, so you can go to it after you end your tour of the square, you van also bring enough food; and lunch between green spaces. You can also buy Moroccan flavored tea from the cafes available in the area.
*the Artisan Market: is one of the best tourist places in Morocco on general,especially for those who love shopping.
Travelling around the market is not stressful, and you will be able to see everything that you want to buy made in front of your eyes, it is really a rea pleasure, especially for those who want to get to know more about crafts and acceptable prices to a large extent, and you can negotiate with sellers to get goods at lower prices, so do not pass travel to Marrakech without going to the Artisan Market.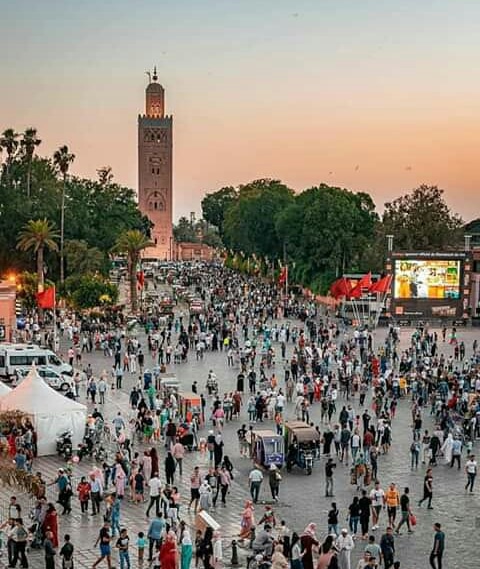 On the third day I visited this place:
*Al Bahia Palace: this palaceis one of the historic landmarks in the city, and was established during the reign of the Alevi State,in the nineteenth century.
The walls of this palace carry the fragrant history, the walls are adorned with prominent reliefs, with a distinct oriental appearance, in addition to the beauty of the inscriptions and the accuracy of their making, the palace consists of several wings and halls, allowing the visitor to walk between them, and know what was going on in this era, in addition to this the visitor can take the beautiful pictures accompanied by these great buildings, which reflects the Moroccan architecture.
Entrance tickets to Bahia palace :10 Moroccan dirhams.
I Aldo attendre thé film festival, which incluses actors ans directors from all the World.
Food
As for Marrakech food, you should go only to jamaâ El Fna Square,where it is served and these restaurants are under supervision of the authorities and officials for the safety of citizens as well as tourists.
Couscous comes at the top of the meal list, and it is perhaps the most famous Moroccan cuisine in the world. It is customary for Moroccans to eat it every Friday immediately after returning from Friday prayers.
Besides couscous there are tagine. Also the head of the lamb evaporated, which is a roasted and evaporated lamb head, served with salt and cumin.
There is Tangia, which cannot be completed without visiting Marrakech without tasting it, and it is a traditional cuisine that is unique to the city of Marrakech. It is a lamb or beef with added spices and sour cooked in a jar of pottery for a whole night on low heat over hot charcoal until the bone falls out of the meat and get delicious broth.
As for the Moroccan people in general, it is a hospitable and generous people, and the also have a good sense of humor they always give everyone a helping hand. And if you need any help while you are in Morocco do not hesitate, people will help you inevitably.