Cape Town is where I started my trip to Africa. For various reasons, with my one of my friends who with I originally planned to go to Africa, we only shared our time in Cape Town, then I continued further north by myself and she with her sister on safari in Kruger.
But our time in Cape Town was amazing and we loved the city. Good weather, nice neighborhoods, international variety of food with good restaurants and bars, many trekking possibilities and beautiful views. A favorite city in the world. The only trouble point is they have been experiencing a water crisis and many restrictions on its consumption. For now it´s not enough to affect tourism, except that in most public toilets there is no water and they only have alcohol gel (hand sanitizer). But I think it is a good example to learn from what the whole world will probably have to face later, and strategies to recycle water can be very useful (for example, in each house they have set up a system to recycle shower water and use it in the toilet). As they advertise everywhere: "every drop counts".
Regarding the tourist attractions of this great city, some information:
The neighborhood where we stayed (Green Point) was very nice. Nearby is the V&A Waterfront, a very "cute" but nice mall that even has a replica wheel of the London Eye. That´s also the place where the ferries set sail to Robben Island, the island with the cell in which Nelson Mandela was imprisoned as well as several victims of the appertheid. But among so many things to do in this city and because sometimes the ferries are canceled when there is a lot of wind, we couldn't go there. Near Green Point there is also the football stadium that was built for the 2010 World Cup and it´s also right in front of a beautiful park called Green Garden.
So on our first day, after going out for an early morning jog around the neighborhood and the waterfront to cope with jet lag, we used our first morning to tour the city center: Castle of Good Hope, Parlament, The Company's Garden and Green Market, which is an artisan market. Also close to the center was the Muslim neighborhood of Bo Kaap that has houses with different colored facades, several cafes, very picturesque.
After that tour, we went to lunch at Camps Bay, a very beautiful and super top beach, with nice restaurants looking at the sea. We spent a relaxed afternoon. We walked several kilometers back to our accommodation in Green Point, passing by Sea Point and the Mojo Market. Very entertaining, there were several food stalls, drinks and played live music.
Table Mountain is the great mountain visible from the entire city. Its top looks flat as a table, hence its name. On top of it you can find the Cape Town National Park. There is a cable car that goes up to the top and has been operating since 1929. The highest point of Table Mountain is 1085 meters above sea level. Thanks to the climate and a very low level of air pollution, they make the view really beautiful. There are several trekkings to do, including some that start from the botanical garden. It was funny how all South Africans cared a lot about the weather to recommend whether or not to go up (coming from the south of Chile I don´t really care about the rain). With my friend we finally made the classic path where all the tourists go up. We had a super warm and pleasant day, although it was cloudy upstairs and we could not see the view towards the beach. Among the rocks we found dassies ("rock daman") and there was a cafeteria to hang out. We went down on the cable car.
After a few cloudy days, the sun finally came out in all its glory. We took an Uber and set off to Cape Point and Cape of Good Hope – the southernmost point in Africa. This point has historical importance but also for the ecosystem, since here two opposite currents converge, Agulhas and Bengüela, which meet at Cape Point and allow for a varied flora and fauna in South Africa (so that it´s not just desert like its neighboring countries). Agulhas is the warm current that comes from the Indian Ocean, Bengüela is the cold current that comes from the South Atlantic. Along the way there were many baboons, which are wild monkeys. We also saw an ostrich, lizards, and many seabirds.
On the way back we passed Boulders Beach, which is between Cape Point and Simon's Town. It is a very quiet residential white sand beach with a colony of African penguins. They are so named because they are the only penguins that breed in Africa. They are white below to camouflage themselves from predators when they look up, and black above to camouflage themselves when they look down. They are an endangered species, but on this beach they have managed to protect them and increase the colony to about 2,200.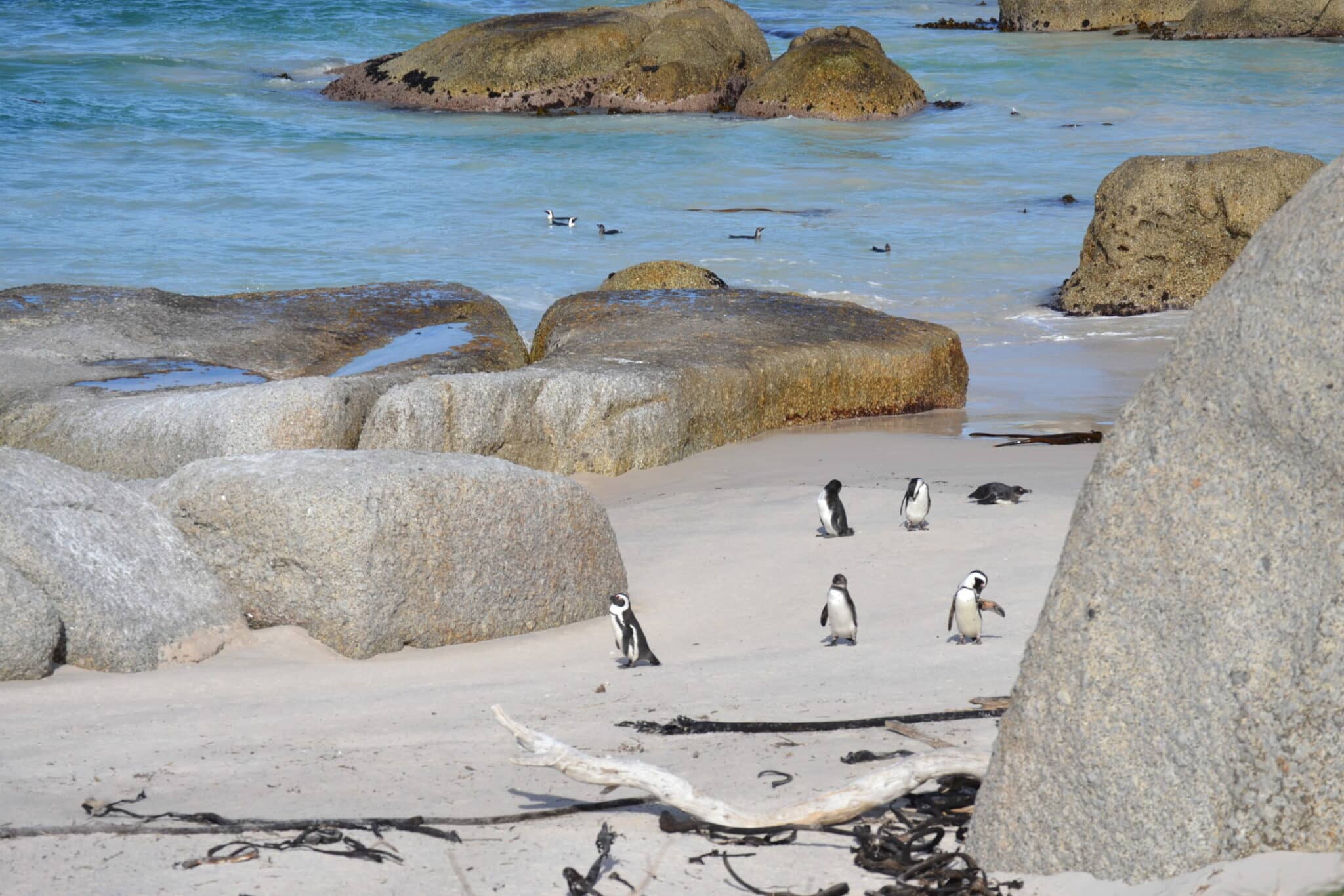 Nearby they recommended me to do a trekking at Chapman's peak, there was no time to go. But on the way back we visited a famous vineyard near Cape Town called ¨Groot Constantia¨ and which is more than 300 years old. The most famous vineyards are said to be in the Robertson Valley, but it is a little further. We took advantage of having a late lunch with a few glasses of wine and walked around the vineyard for sunset time, super nice, highly recommended visit.
Finally my last day, now without my friend, was dedicated to nature. I started very early in ¨Kirstenbosch National Botanical Garden¨, they are the royal botanical gardens at the foot of Table Mountain. Beautiful and very quiet to spend a morning.
After lunch, taking advantage of the fact that it was my last afternoon and it was a sunny day, it had to be dedicated to go up to see the panoramic views of the city. Lion's Head is a small mountain that lies between Table Mountain and Signal Hill.You can walk to its top in about 1 hour and the views are truly spectacular.
Next to it is Signal Hill, where you can get by car. There is a covered surface from where they go paragliding and at sunset time, perfect to sit and watch the sunset. Round end for my stay in this wonderful city!
By the way, if you were wondering, there are lots of options for clubbing, taking some drinks, karaoke and dancing. We also had a lot of fun during the evenings!